Android phones have introduced an amazing security feature: Factory Reset Protection (FRP). It automatically gets activated once you sign in to your Google account.
This feature offers protection from unauthorized access, but at the same time, it gets troublesome when it locks your phone upon resetting.
So, what would you do if you accidentally forgot your google account password? Will you be able to access your phone?
To help you in this situation, we have mentioned three efficient ways to Run FRP bypass. So, let's go through all of them and find a way to unlock your phone.
FRP Bypass Without OTG in 1 Click
Often people consider the OTG method to bypass FRP, but it doesn't work all the time. If your OTG is not working, you can count on Unlockit Android, one of the best FRP bypass tools.
It allows you to quickly bypass FRP on Samsung smartphones without having to go through a complex procedure.
Throughout the unlocking process using Unlockit Android, you wouldn't be asked for installing extra frp bypass APKs, using TalkBack or OTG.
You can get into your device again and set up a new Google account when the FRP lock has been removed.
Furthermore, the program is compatible with most of Samsung devices running Android 6 to 12.
Now, let's see how this effective tool solves your issue in just four simple steps.
Step 1: Connect Your Phone to the Computer
Plugin your smartphone with a computer with the help of a USB cable, and once you download the tool on your computer, install it and click on "Start".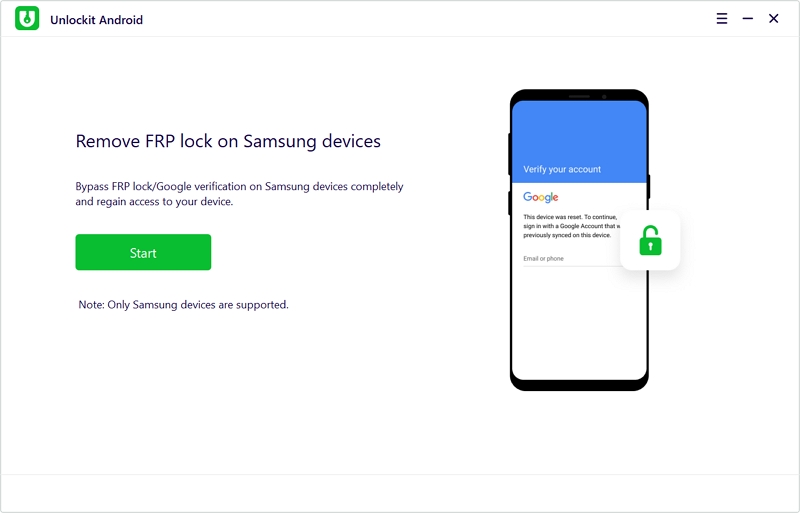 Step 2: Select the One-Click FRP Bypass Mode
Then, you'll need to choose the first option "All Android Versions" since it works on all Samsung smartphones.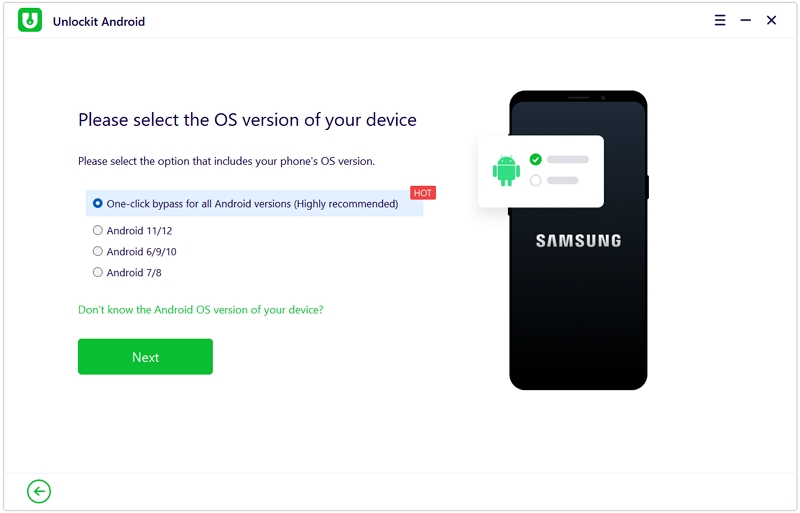 Step 3: Let's Prepare to Bypass FRP
You will see some secret codes on the screen. It will ask you to enter these codes according to the given instructions. After that, permit the "USB debugging" on your PC.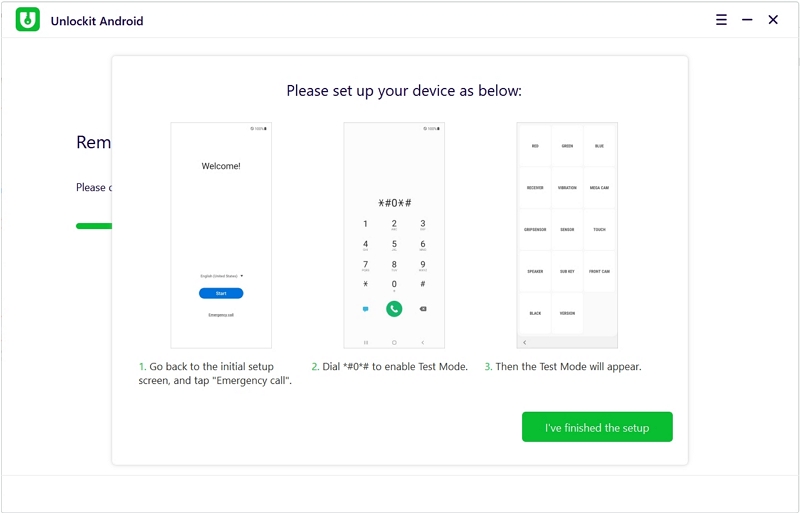 Step 4: Bypass FRP Successfully
After following all the instructions, Unlockit Android will do the rest and ask you to wait for a few seconds.
There you go, your bypass has been successful, and you can access your phone easily.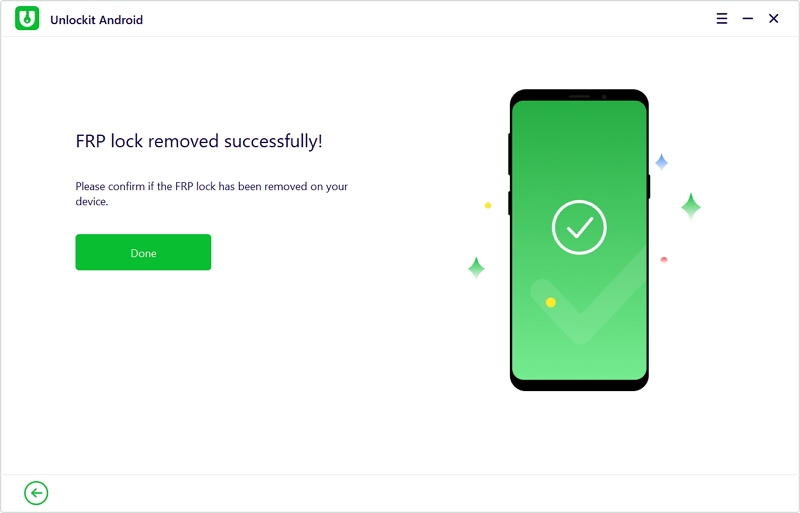 How to FRP Bypass With OTG
Bypass FRP with OTG and Factory Resetting
Another method to ease your trouble is the OTG method for bypassing FRP. It involves utilizing a third-party Android app, which enables you to factory reset without accessing the device Settings menu.
All you need are a computer, a flash drive, a FRP bypass APK, and an OTG cable to follow the steps and get your phone unlocked.
Check out all the steps here:
Step 1: First of all, you need to download the APK file on your computer and install it by using your OTG.
Step 2: Secondly, connect the flash drive to your PC, and copy the APK file in the root directory.
Note: If you want to make things easy, do not copy this file inside any folder since it might cause trouble finding it.
Step 3: Now connect the OTG cable and your smartphone. And at the same time, you need to attach the flash drive to the other side of your OTG cable.
Step 4: Your Android device will automatically start launching the "File Explorer." It will show the root directory of your flash drive to which you connected your phone.
Step 5: Now, access the APK file, and you will see a dialog box on your screen at this stage.
Step 6: The pop-up will warn you that the sideloading of applications is being blocked by default. You just need to click the "Settings" tab and proceed further.
Step 7: Enable the "Unknown Sources" options, and click OK. Now you can install the APK file.
Step 8: Once the file is installed, click open. Now, it enables you to open the Settings menu.
Step 9: Now unplug the cable from your smartphone.
Step 10: From the phone "Settings," click on the "Factory Reset" option.
So, after following all the steps, you need to factory reset your smartphone, and you will be able to access it without any problem.
Bypass FRP with OTG and Google Maps Settings
If you are using Samsung devices running Android 10, we have an advanced method for bypassing FRP in your smartphone.
For this method, you should use a PC to install software that will send a popup message on your Android phone.
Follow the steps:
Step 1: First, you need to download an easy Samsung FRP tool on the desktop.
Step 2: Connect your smartphone to WiFi and your PC using a cable. Proceed further when your PC detects the Android device.
Step 3: Tap "Bypass FRP" using the downloaded software interface. Next, press OK, and you will eventually see a popup message on your Android phone; click "View."
Step 4: Hit the "Accept & Continue" option, then "Next," and then finally, access A12's "Settings."
Step 5: Slide down and click on" About Chrome." Then click on the "Question Mark" and search for "V." Now you have voice access.
Step 6: Again, slide down and tap on the option "Change Google App Settings." Click "iPhone and iPad," and go to "Privacy and Security."
Step7: Go to Google Maps timelines and tap on "Location History." This will launch the Google Maps app.
Step 8: From the application, click "Skip," then hit the "Back Arrow." Afterward, click on the "Point Location" icon before tapping "OK."
Step 9: You will see a menu button on the top-left corner of the screen. Click on it. Now tap the "Start Driving" option and select the Mic icon. Make sure to speak loudly (Open Settings).
Step 10: In this step, you need another Android device that needs to be connected to your smartphone by an OTG cable. Go to "Accounts and Backup," select "Smart Switch," and start downloading. Wait for a few seconds and click on Agree.
Step 11: Tap Smart Switch again, and choose the Allow button. Next, press "Receive Data."
Step 12: Select "Galaxy Android" and the "Cable" option.
Step 13: You have to install a Smart Switch app on the other Android device as well since It will help you connect both devices together and transfer your Gmail account to the other Android phone.
This way, you will successfully bypass the FRP on your Samsung. After installing the app, click "Send." Next, select Data, and then "Cable."
Step 14: Connect the OTG cable to your Samsung device, and the other end of that cable should be connected to the other device.
Step 15: You will see a popup window on your locked phone. Tap on "OK." Now press "Allow," and both devices will be connected to perform the FRP bypass.
Step 16: Click "Settings" and then tap the "Transfer" icon from your locked Samsung Galaxy.
Step 17: You must click on the "Copy" option from your other device. This action will copy your Gmail account to your locked phone.
Note: It is essential to remember the credentials on the Gmail account of your other Android phone.
Step 18: Finally, click the " Go to the Home Screen" option from Samsung Galaxy A12 Android 10 and disconnect the two different devices since you are done with the FRP bypass.
You just have to finish up the Samsung setup wizard, and there you go having full access to your phone.
The process is a bit lengthy but it works like a charm!
Which Method is Better to Go with?
Among the three mentioned methods, the OTG method works fine for limited Samsung Galaxy models and gets troublesome with advanced versions. You may need to use an alternative for advanced Android versions.
As far as the Easy Samsung bypass tool is concerned, you will find it challenging to follow all the steps bit by bit.
It's suitable for someone pro in the tech niche, but it gets difficult for local individuals to understand and follow the lengthy procedure.
So, last but not least, the Unlockit Android method is the easiest, quickest, and most feasible option for all Samsung Galaxy Android phones since it applies almost the same process and works for all versions.
Wrapping Up
Getting your phone locked could be devastating sometimes, especially when you don't remember your Gmail credentials and urgently need to use your phone.
However, Android phones incorporate a life-saving feature called FRP bypass, but it's not a piece of cake to get done with. You need to follow specific steps and methods to run the FRP bypass and unlock your phones.
For this season, we have mentioned three different methods for bypassing FRP, among which the Unlockit Android method seems to be the easiest and quickest option to bypass FRP without OTG.
No matter how hard it gets to unlock your phone, this software can perform the FRP bypass within three minutes! What else do you need? Go for it!