Most Android devices that run the KitKat OS (4.4) can be easily compromised by a simple factory reset.
It erases all data including passwords and PINs, which is supposed to protect the phone from intruders if stolen or lost.
Google's solution to this was to integrate Google verification or Factory Reset Protection. This acts as a security feature for lost Android devices.
It will lock out your device unless you successfully log in to your Google account. But what if you forgot your account details?
Is there a way to bypass this Google verification after you factory reset your device? Read on to learn more.
What is Google Verification
Google Verification, also named Factory Reset Protection (FRP), is a built-in security feature for Android devices.
It was first integrated into the Android OS version 5.0 (Lollipop) and is still available on all Android devices today. FRP is automatically enabled once you set up your Google account on your Android device.
As an anti-theft feature, it prevents anyone from bypassing the Google login page after a factory reset.
It ensures that even though any security measures are erased, the user still has to log in with the right Google account details to make the phone usable.
(1-Click Solution) Bypass Google Verification After Reset Using Unlockit
Doing a factory reset on your Android device is now more complicated with the addition of the Google verification feature.
You might feel hopeless if you cannot remember your Google account's login credentials after several login attempts.
Fortunately, Unlockit Android by Foneazy can help you solve this issue. It is effective at bypassing the Google verification or Factory Reset Protection feature on all Samsung devices running the Android OS from 6 to 12.
The FRP lock can be removed in just one click with the latest version of Unlockit Android which applys a simple process that walks you through each step.
You don't need to use talkback, an OTG cable, or an additional frp bypass APK during the process. After unlocking the FRP lock, you can set up a new Google account and password on your device.
To bypass the Google verification feature after resetting your Samsung phone, follow the steps below or check the video instead:
Step 1. Connect your Samsung device to Unlockit Android
Download Unlockit Android on your computer, then install it by following the steps provided.
Then, open Unlockit Android and from the main menu, click Start. Connect your Android device to your computer via a USB cable.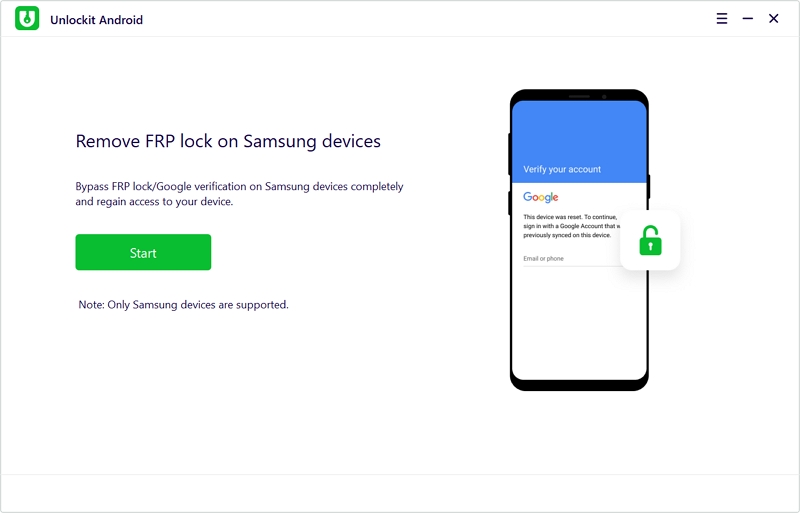 Step 2: Choose the 1-click FRP bypass technique
Next, ensure that your device is connected to stable Wi-Fi. Then choose the All Android Verions from the options and click Next.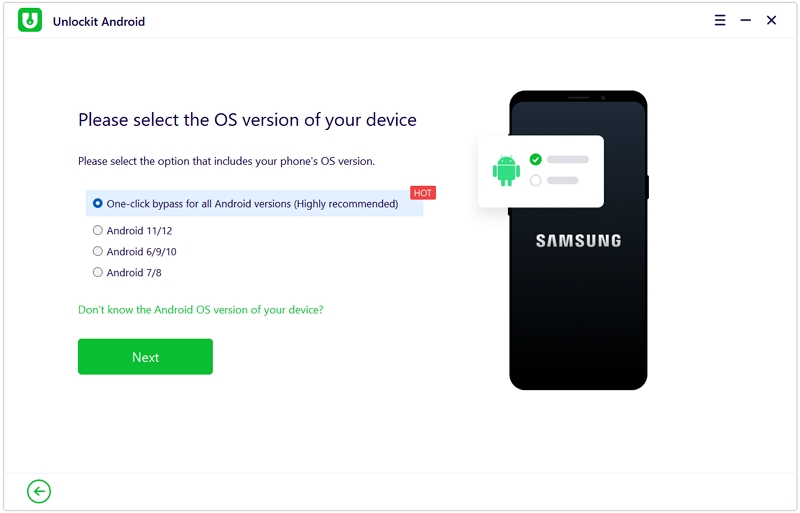 Step 3: Starting bypassing FRP
At this point, follow the on-screen instructions set by Unlockit Android to start bypassing FRP.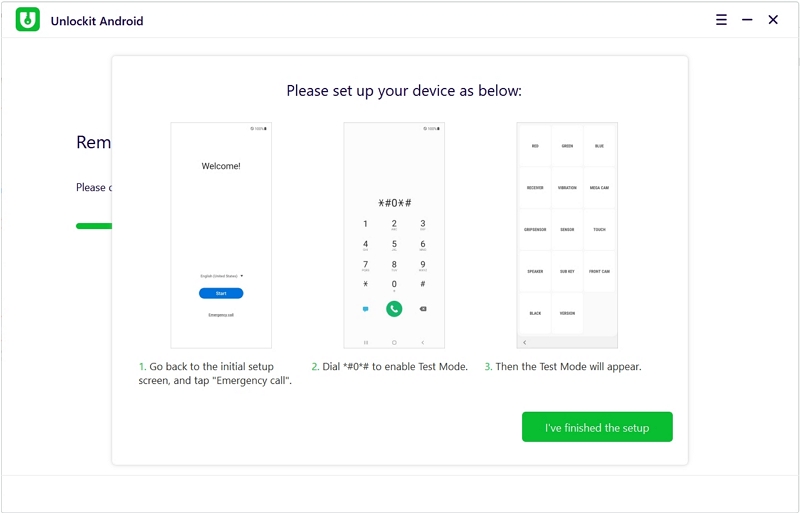 After a few minutes, the Google verification feature will be bypassed.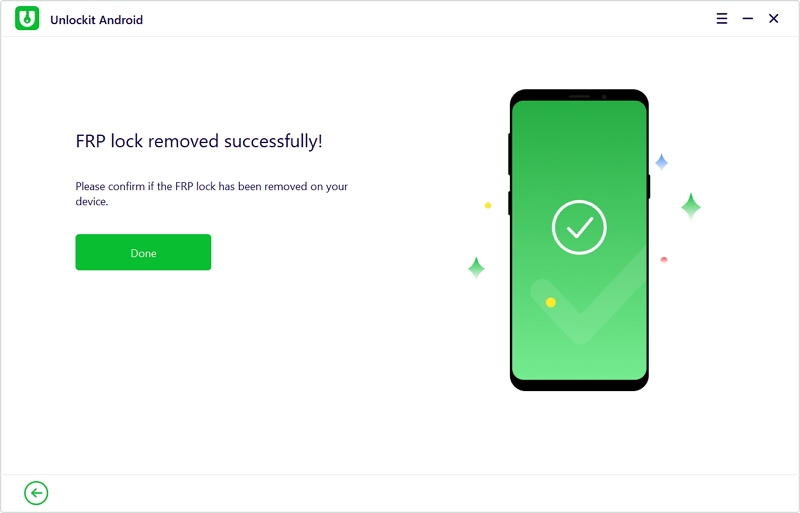 Bypass Google Verification on an Android Phone without PC
If you don't want to download external software, you can always try these next methods to recover your Google account.
Recover your Google Account
Before bypassing FRP with external software, you can try to recover your Google account's login credentials first.
Using other devices you currently have—such as a computer, tablet, or another phone—open your browser and recover your Google account using the various recovery methods:
If you forgot your email, you need to enter the full name and mobile number registered to your account. A verification code will be sent to your mobile number.
If you forgot your password, you can either:
Type in the last password that you remember and see if it matches the old password
Request a verification code to be sent to your recovery email
Request a verification code to be sent to your registered mobile number
Once you have the verification code, use it to create a new password for your email. You can now log in to your Google account.
Remember that it may take up to a day to sync your new password on your account, so you might have to wait 24 hours before you can log in successfully.
Bypass FRP Using Google Keyboard
There's a neat trick to bypass the FRP feature using your phone's Google Keyboard. This method is not a guarantee due to security patches, but it is still worth a try:
Connect your phone to a stable Wi-Fi and use the on-screen Google Keyboard layout.
On the sign-in page, tap the email field and press the @ sign on your keyboard.
Choose Google Keyboard Setting from the set of options.
Tap on the three dots (options menu) on the top-right corner of the screen and choose Help & Feedback.
Then, tap the Search Google & Send Result From Your Keyboard option.
Tap on any word from the guide on the screen. Your chosen word will be highlighted in blue. Next, tap Web Search.
Choose Google App; it will display the search results for the word you have chosen.
Press the search bar on the top of the screen and search for Settings. Tap on the Settings icon from the search results.
In Settings, go to System > Backup & Reset > Factory Data Reset. Your device will now undergo a factory reset without the FRP feature enabled.
Once your device restarts, connect it once again to your Wi-Fi. It will go straight to the default lock screen.
Use the FRP Bypass APK
In case you cannot recover your Google account, you can use FRP Bypass APK. This free tool unlocks your device by bypassing the FRP feature set by Google.
It also works on most Android devices. All you will need is a USB OTG (On-The-Go) that's compatible with your device, and a flash drive.
Here are the steps to downloading and installing FRP Bypass APK on your Android phone:
Download FRP Bypass APK on your computer using this link.
Transfer the application to your flash drive.
Open your FRP-locked device. Using the USB OTG cable, connect the flash drive to your device. This will open the File Explorer app automatically.
Before installing the app, turn the Unknown Sources setting to On. Then, proceed to install FRP Bypass APK on your device.
Once the installation is done, open the app and go to Settings and tap Backup & Reset.
Tap Factory Data Reset and tap Confirm.
The device will now undergo a factory reset without the FRP feature enabled. You can also set up a new Google account once it turns back on.
Use FRP Bypass APK Without OTG
In this method, you will need to have a stable internet connection to successfully bypass the FRP without a USB OTG cable. Here's how to do it:
Open your FRP-locked device and connect it to a stable Wi-Fi.
On the FRP tool screen, tap the Settings icon on your keyboard.
Go to Menu > Help & Feedback. Then type any word and press Share.
Next, go to Messaging > New Message and type any number on the To field.
Tap on Contacts and go to Call > New Call.
On the dial pad, key in #*#4636#*#.
Tap on Usage Statistics and press the Back button. You will now land on the Settings app.
Go to Backup & Reset and press Factory Data Reset. This will prompt your device to undergo a factory reset without the FRP feature.
How to Prevent Google Verification from Occurring
The Google Verification feature is a great addition to Android devices. However, it also has its downsides.
Access errors may occur once the FRP-locked device will not accept your login credentials, even if you have access to your Google account.
This is optimal if you want to sell or pass on your device to someone else. After doing a hard reset, the new user can easily log in to their Google account and use the device without any restrictions related to FRP.
Here are the steps to prevent any FRP errors from occurring after a hard reset:
Open Settings.
Go to Cloud and Accounts > Accounts.
Select your Google account and choose Remove account. Then, tap OK to confirm.
Final Thoughts
The Google verification or FRP feature is a great way to prevent any unauthorized access to your device, even after a hard reset.
It keeps the phone in an inoperable state unless someone hacks into your Google account details.
There are times, however, when you might forget your Google account's login details, which will keep you stuck on Google's login screen.
Unlockit Android is a trusted bypass tool that will be the perfect fit for this situation. Additionally, there are other bypassing methods that can hopefully help you unlock your phone.