If you are looking for a solution to bypass FRP lock on your Android device, you may have come across Fastunlocker FRP APK.
This is just one of the many APK FRP unlocking tools that promise to bypass FRP lock on Android devices without having to connect the device to the computer.
But is Fastunlocker FRP APK effective? In this article, we will talk about Fastunlocker is and how it can be used to bypass FRP lock and you should be able to decide if this is the right FRP bypass solution for you.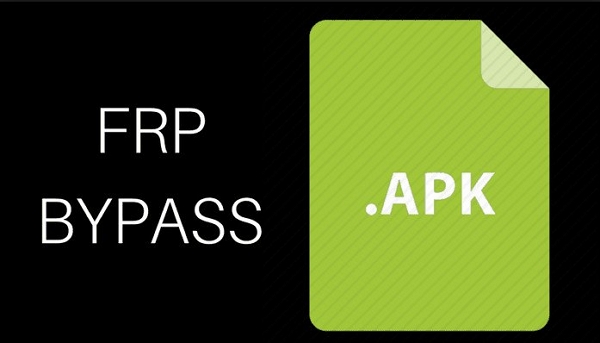 What is Fastunlocker FRP Bypass APK?
Fastunlocker FRP APK is an Android application that is designed to help remove Google account lock from Android devices.
Because it is an application that you install on your device, you don't need to connect the device t your computer to unlock it.
It works for most Samsung device models running Android 5.0 Lollipop to Android 11.
Download Fastunlocker FRP APK
Fastunlocker APK is a small file that you can download to your device easily and quickly. You can get the latest version here: download link. It is also completely free to download.
How to Use Fastunlocker FRP APK
Once you have a copy of the Fastunlocker, you can use these steps to unlock your device:
Step 1: First, you will need to access the Chrome Browser on your FRP-locked device. There are various ways to do that.
Step 2: Use Chrome to go to the link above to download and install Fastunlocker APK to the device.
Step 3: Open it after installation and then tap on the 3 dots in the top right corner.
Step 4: Tap on "Sign in" and enter your Google account and password.
Step 5: Once signed in you can restart your phone and you should be able to complete the initial setup steps without getting stuck on the FRP lock screen.
2022 New Way: Samsung One-Click FRP Bypass
The process of accessing the browser on your device so that you can then install Fastunlocker APK is highly complicated and most people are unable to complete it.
If you don't want to spend hours trying to access Google Chrome on the FRP-locked device, we recommend using Unlockit Android instead.
Unlockit Android is a desktop solution that is designed to greatly simplify the process of bypassing FRP lock on your device, allowing you to unlock it in just a click.
The following are the reasons why Unlockit Android is a far better solution and a good investment:
It's an all-in-one FRP bypass tool that can remove all Samsung FRP locks.
It easily bypasses Google Lock Screen on Samsung devices running Android 6-12.
It has a simple user interface, allowing you to unlock your device even if you don't have any tech experience.
Safe and secure to use.
Regular software upgrades.
Here's how to use Unlockit Android to bypass the FRP lock on your Samsung device:
Step 1: Start by installing Unlockit Android on your computer.
Step 2: Launch the program and click "Start."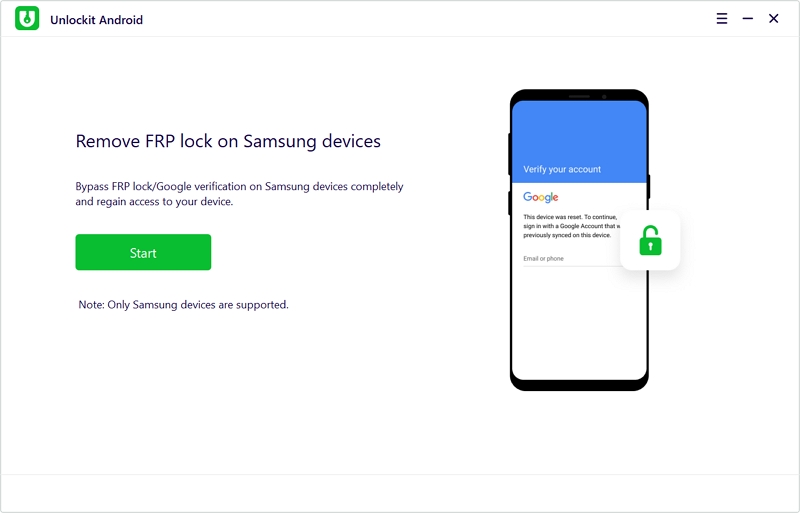 Step 3: Then connect the locked Samsung device to the computer.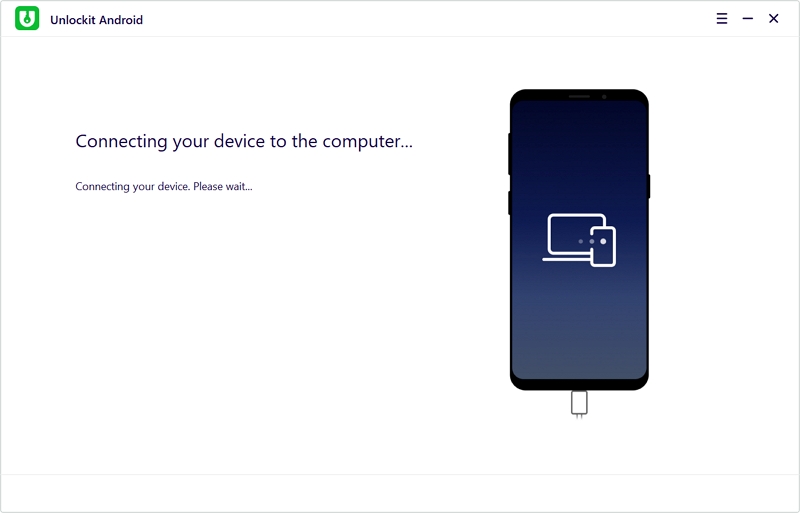 Step 4: Choose All Android Versions from the list to enable one-click bypass mode and click "Next."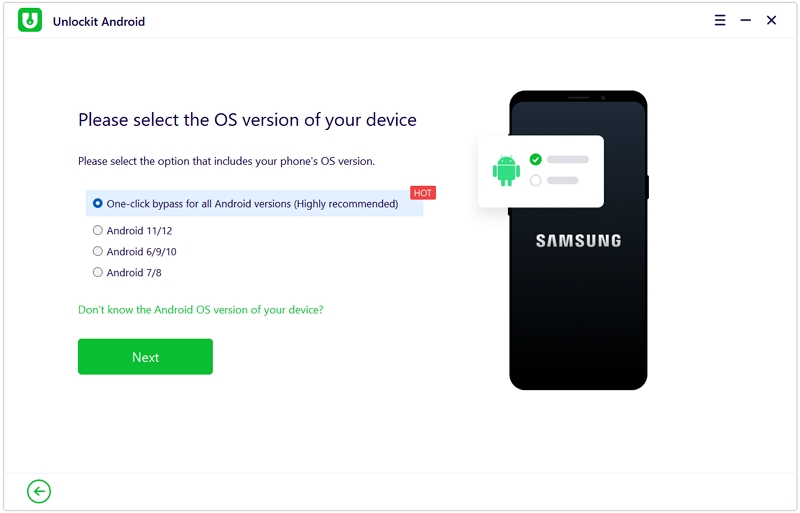 Step 5: Unlockit Android will start removing the FRP on your device. Then you'll need to follow the onscreen instructions to set up your device during the removal.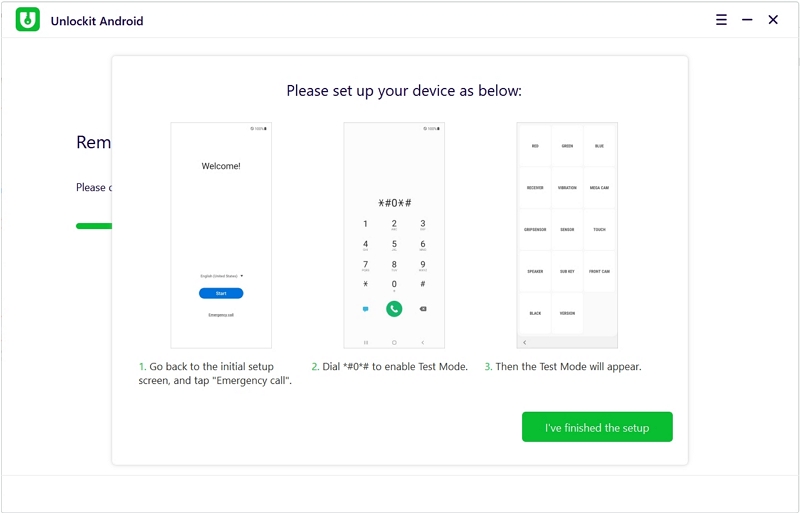 Once the process is complete, your device will restart and you can set up the device as new and you will no longer see the FRP lock screen.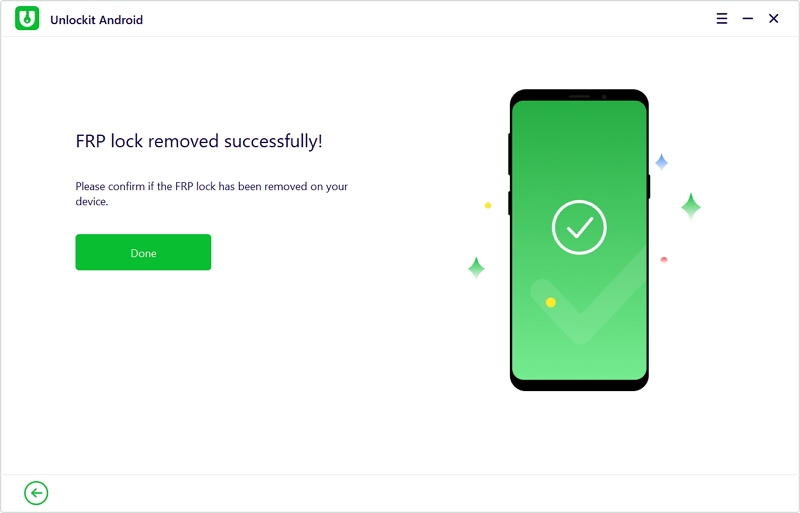 Conclusion
There are a lot of tools in the market that all claim to help you bypass FRP lock. But most APK solutions like Fastunlocker are often very difficult to use.
If you find that you just can't get past the steps to access Google Chrome on the FRP-locked device, you may benefit more from Unlockit Android which simplifies this process by eliminating this step completely.