If you have an Android device that is running Android 5.1 or higher, you may know that your device has a feature known as Factory Reset Protection (FRP).
This is a security feature that connects your Google account to the device. When it is enabled, you will be prompted to log in to your Google Account every time you reset the device.
If you forget the password or you purchase an FRP-locked second-hand device, you may find that you are completely unable to use the device.
But the device doesn't have to be completely useless to you. Here, we will look at an FRP bypass tool that is designed to help you out of this situation.
Known as FRP King Tool, this tool is designed to bypass the FPR lock on Android devices and in this article, we will show you how it works.
What Is FRP King Tool
FRP King is an FRP bypass tool that can help users bypass FRP locks on various Android devices including devices running Android 12.
It works by giving the Android user access to the browser on the device, which can then be used to unlock the device by removing the Google Account that is connected to the device.
To use it, you will need to install the FRP King tool on your computer, put the Android device in MTP mode and then connect it to the computer.
The program will then detect the connected device and allow you to bypass the FPR lock. We will walk you through this process in more detail below.
But before we do, let's first provide you with a download link to install the program.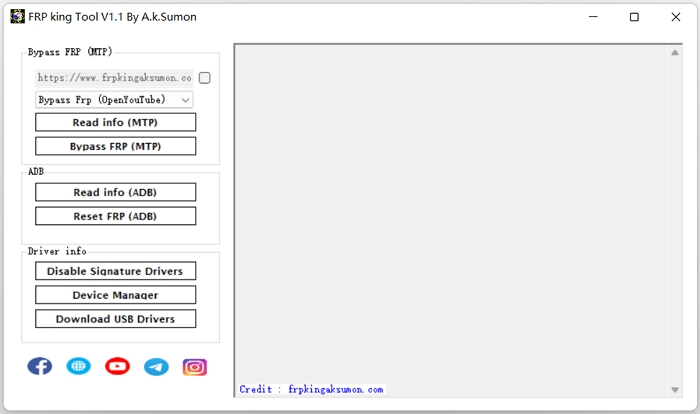 Download FRP King Tool
The following is a reliable download link that you can use to download the latest version of this program, along with additional information about the program:
File Name: FRP king Tool V1.1 By A.k.Sumon.zip
File Size: 9.61 MB
Download Link: https://www.frpkingaksumon.com/2022/02/frp-king-tool-v11-by-aksumon-direct.html
This program is compatible with all versions of Windows including Windows 10.
How to Use FRP King Tool
Use these steps to bypass FRP on your device using FRP King:
Step 1: Download FRP King and extract the file.
Step 2: Find the exe file and click on it to begin installing the program onto your computer.
Step 3: You'll need to install Samsung USB Driver at first.
Step 4: After that, connect the Android device to the computer.
Step 5: Open FRP King tool and from the options, you see on the screen, click Disable Driver Signature and your computer will restart.
Warning: when you click this button, your computer will restart without any notifications. Do remember to save the file and data on your computer before you click this button.
Step 6: After your PC reboots, click Alliance Shield (Galaxy Store) from the list.
Step 7: Then, click "(MTP) Bypass FRP". Watch the screen of your Samsung device and follow it to begin the process.
In a few minutes, the FRP lock will be removed and you can continue to set up the device.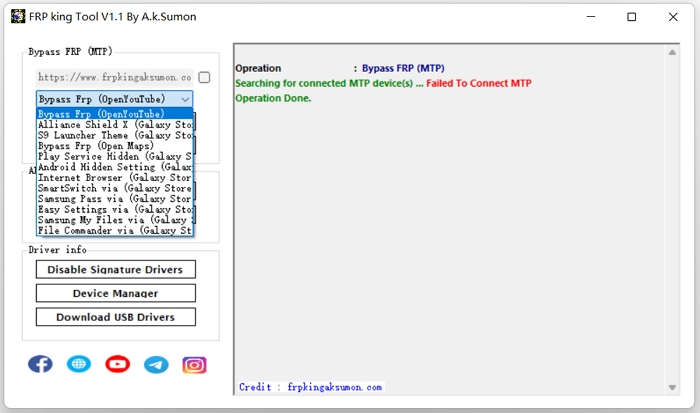 Review of FRP King Tool
The main problem with FRP King is that the process can be lengthy and time-consuming. Other users reported that the tool is unable to detect the connected device, which can make the process of bypassing FRP lock using this tool impossible.
This tool currently supports Android 12, Android Q10, Pie9, and Oreo 8.0, but not Android 5, 6, or 7. If your device is not supported, please proceed to the last part to try another alternative software that we recommend.
Furthermore, because we clicked the Disable Driver Signature option directly during our test, the computer rebooted immediately, and several important files were not saved, which made us feel uncomfortable.
However, unlike other small frp unlocking tools, this product has a official website and provides the official download URL, which allows users to use the product more safely.
Easier to Use Alternative: Unlockit Android
If you would rather use a reliable solution that guarantees you will be able to bypass FRP Lock on your device in a few minutes, we recommend using Unlockit Android.
Unlike FRP King Tool, Unlockit Android is a simplified solution that works the same way every time and one that will unlock your device in a matter of minutes.
The following are the main features that make Unlockit Android a far better alternative to FRP King Tool:
It will remove the FRP lock from any Samsung device in a few simple steps.
It is so easy to you use: you don't need any technical expertise to use it.
It supports all Samsung devices and all versions of Android OS from Android 6-12.
Here's how to use this program:
Step 1: Unlockit Android is a desktop solution so you will need to install it on your computer to use it.
Just use the download button below to download the setup file and then follow the instructions to install the program.
Step 2: Open the program after installation and connect the Android device to the computer using USB cables.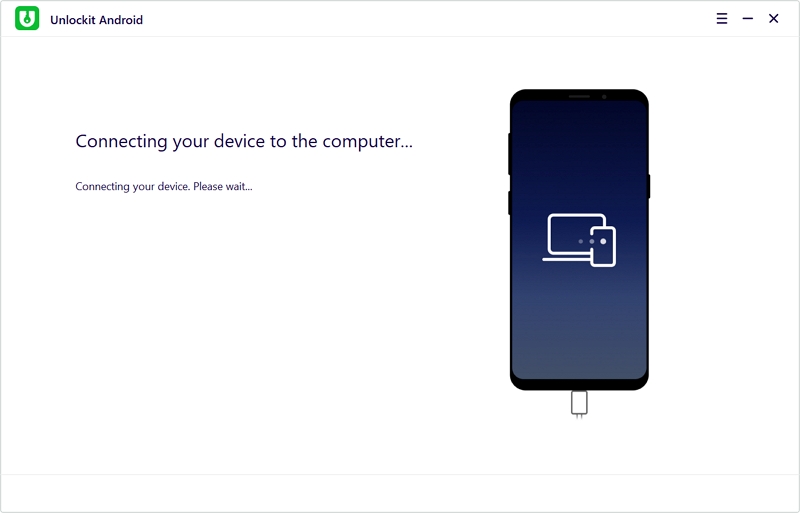 Step 3: In the next screen, select the version of Android or you can try the fist option.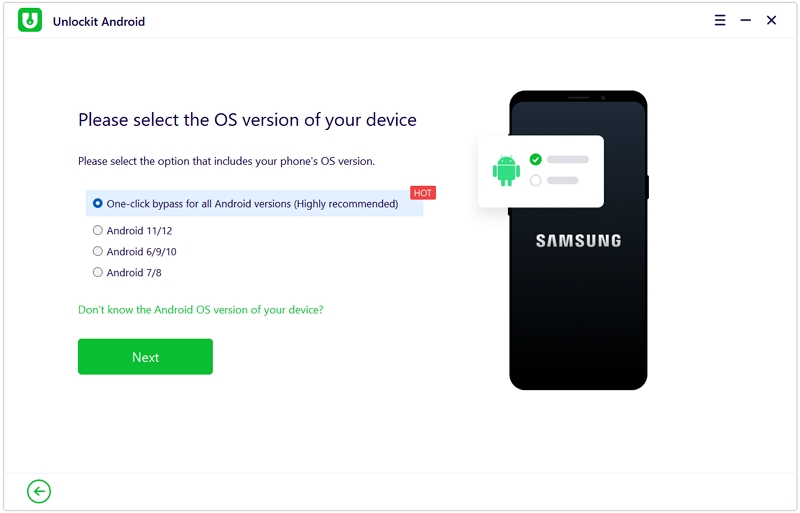 Step 4: Follow the instructions that appear on the device screen to set it up. The setup instructions are different depending on the version of Android running on your device.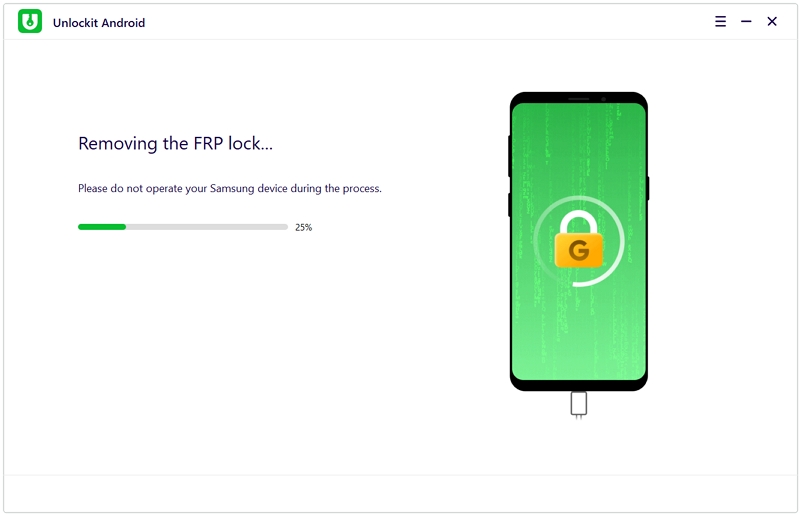 Step 5: Wait for the process to finish and the FRP lock on your device should be removed.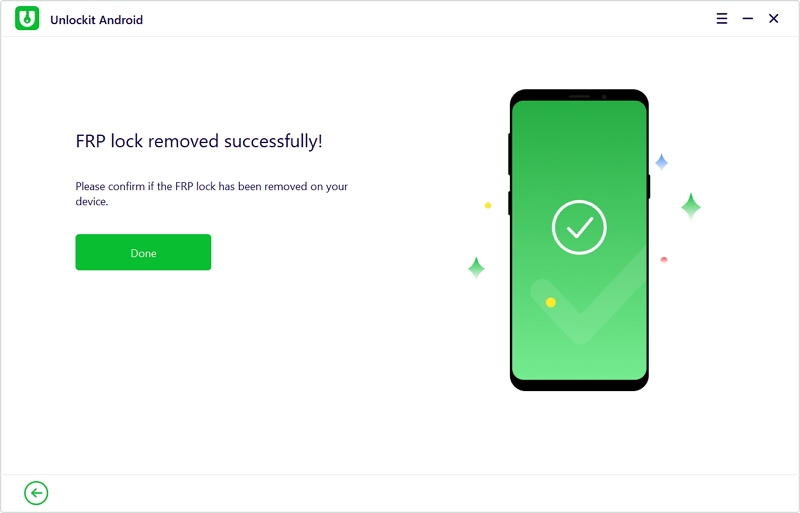 To Conclude
Most of the solutions that you will find on the market to bypass FRP on your device do not work or are too complicated to use.
When compared to other small FRP bypass tool and solutions, FRP king Tool is still safer and more effective. However if you want better device compatibility and a simpler solution, you can try Unlockit Android.
It is a solution that has simplified the process as much as possible to guarantee your success.