A Google (Factory Reset Protect) lock has been a security feature since Android OS Version Lollipop (5.1). It provides a built-in feature that protects both your device and your information via screen locks and data encryptions.
While the intent was to protect data from theft, there can be downsides when you get yourself locked out. If you have caught yourself in a similar predicament, this article will be all you need.
We'll be discussing a few methods of solution to unlock a Google locked device. Caught your attention? Read on.
What is Google Lock
Google FRP lock is a built-in security precaution that stops uninvolved third parties from snooping around and getting access to your personal data. This is enabled automatically once a Google account has been registered to the device.
Should someone reset your device, FRP will ask them to provide the credentials of the Google account signed into the mobile prior. If your device has undergone a factory reset in any way other than from the Settings in General Management, the FRP Lock will be enabled.
This way, any unauthorized third-party won't be able to access sensitive information. FRP can also be disabled by removing the signed-in Google account from your phone's settings.
Is It Possible to Unlock the Google Locked Phone?
The short answer is yes.
First off, if a phone is marked as "Google locked," it signifies that the device's Google account verification feature has been enabled following a factory reset.
In particular, it refers to the Factory Reset Protection (FRP) lock for Android smartphones. Additionally, if your phone is missing, the FRP lock can be enabled using Google Find My Device.
How to unlock the FRP lock on your device? Read on.
Contact the Original Owner
When you buy a used phone, you sometimes go through the setup procedure and are prompted for a Google password. This scenario suggests the previous owner didn't delete their Google account.
Thus, contacting the original owner should be your first action. This way, you can unlock the device without going through Google verification. Once it has been unlocked, you may now set up the phone with the appropriate credentials.
Unlock a Google Locked Phone without Password Using Unlockit Android
FRP following a factory reset undoubtedly gives a further layer of security. However, not everyone can recollect the pin they created previously or find the previous owner or the merchant to unlock the device..
Foneazy therefore released a Samsung FRP bypass software named Unlockit Android that allows users to bypass this security setup on Samsung devices quickly with just one click!
In addition to being reliable, it also has a user-friendly interface that doesn't require you to learn any technical skills.
In light of this, once Unlockit Android has been downloaded and installed, you can follow these simple steps:
Step 1. Start by opening the Unlockit Android interface and connecting your device to your PC. Click Next to proceed.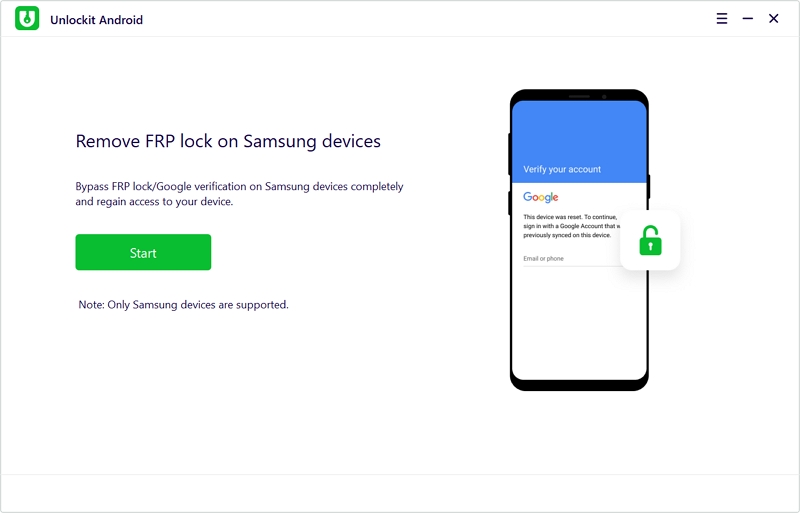 Step 2. After that, Unlockit Android will ask you to select the OS version of your device. Choose the first option One-Click Bypass mode for All Android versions and then click Next.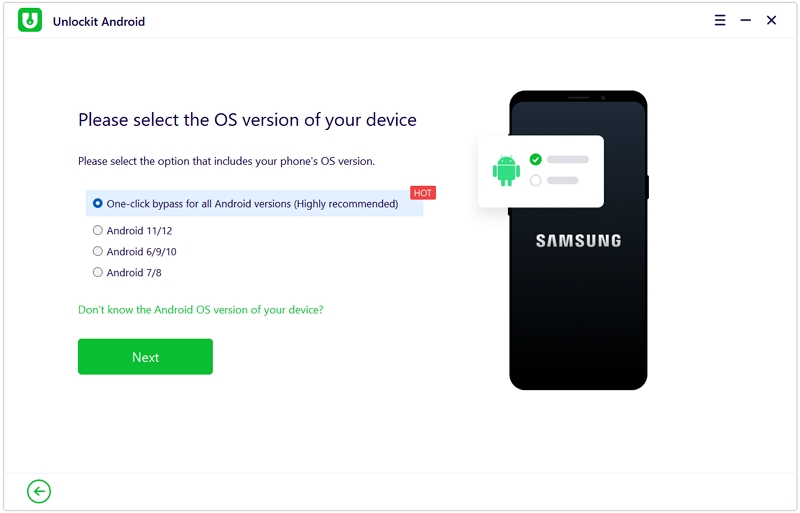 Step 3. During the unlockign process, you will need to enter the test mode and enable USB debugging from your device. Keep your device connected throughout this process.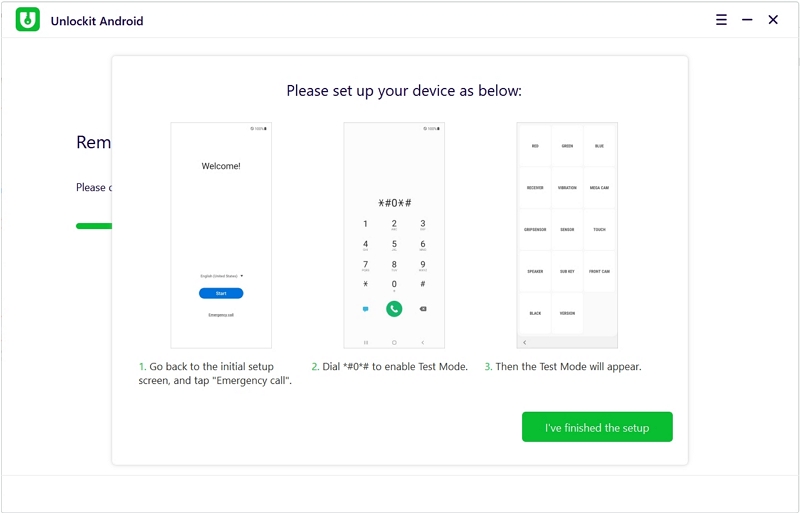 Step 4. Once the process is finished, your device will restart. The Google lock on your phone should be removed by now.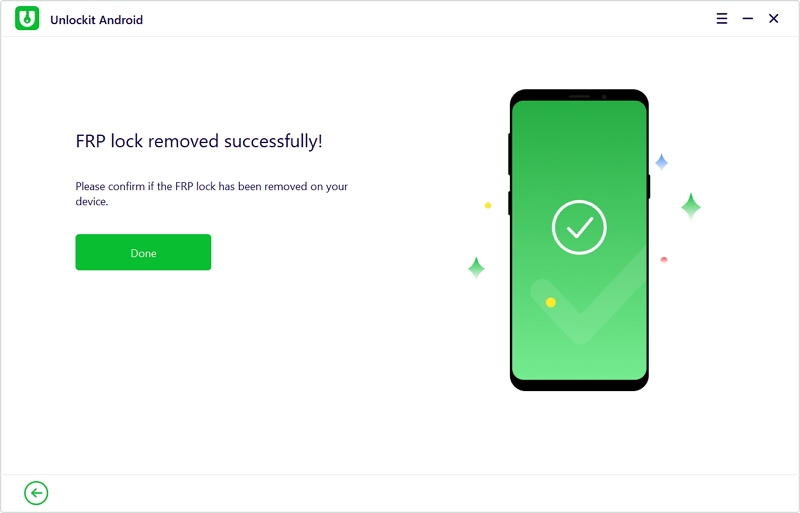 Unlock Your Own Google Locked Phone Via Google Account Recovery
You can also try to reset the Google password if you it's your own device and you forgot the original one. The first option in the list is to text or call the phone number connected to the account to confirm your identity.
If that doesn't work, try alternative methods such as the Recovery Emails or the Answers to Hidden Questions. Here's how to do that:
Find the Password via Recovery Email
If the recovery email associated with the account is available, follow these steps:
Go to the Google Account Recovery page and select the Forgot email option.
Then, enter the recovery email address of your choosing. After that, click Send for a one-time code to that address.
Next, log in to your recovery email and check for the verification code.
After entering the six-digit code provided, follow the embedded link to change your password.
Find the Password by Answering Secret Questions
Another method to try is answering Secret Questions–something you've set up while acquiring a Google account. Here's how to do that:
Click on the "Try a different question" option to answer secret questions.
Then, answer correctly the year and month when the original account was created. This is how you get a chance to set up a new password.
Wrap Up
A factory reset won't be enough to unlock the Google account verification. Still, the good news is that it may be easily avoided if your account is deleted before the reset.
Additionally, if you plan to give your device to someone else, it is best to make sure your own account information is secure and removed.
If you have any other questions or queries about a google locked phone, feel free to share your thoughts below.