Android phones have various security features for keeping your data safe. One of them is the Google Factory Reset Protection or FRP.
It serves as a safeguard that keeps all device apps and data in a safe place, unless the correct Google account is logged in. This security feature is handy in case your phone is lost or compromised.
But what if you forgot the login information for your account? In this guide, we will show you how to remove the Google FRP feature on any Android phone so that you can do a factory reset without logging in to your Google account.
What is Google FRP?
The Google Factory Reset Protection is a feature that has been integrated in Android phones since the release of the Lollipop OS (5.0).
It is a built-in feature that is automatically enabled once you register your Google account on the device. Google FRP mainly protects your device information, including passwords and screen locks.
It is important to know that this feature will only be disabled if you remove your Google account prior to doing a Factory Reset.
This means that after doing a factory reset, your phone will be completely useless unless you successfully log in to the Google account that is synced to the device.
Bypass Google FRP Lock on Any Android Device
Remove Google FRP Lock on Any Samsung Devices in 1 Click Using Unlockit
There are numerous Samsung FRP bypass tools on the market that can be used for removing FRP. But the main issue of them is that most of them are risky and complicated to use.
Furthermore, due to a lack of technical support, they may be not compatible with the most recent Android versions.
We therefore created a FRP bypass tool called Unlockit Android that can be used to get around Google verification on different Samsung models and Android versions in order to avoid these kinds of incompatibilities.
It works with all Samsung devices running Android 6, Android 7, Android 8, Android 9, Android 10, Android 11, and Android 12.
Moreover, bypassing has become even easier in the latest version of Unlockit Android. The FRP can now be removed with a single click.
To remove Google FRP lock on your phone using Unlockit Android, perform the steps below:
Step 1. Download and install Unlockit Android on your computer.
Step 2. Next, open the tool and click the Start button from the screen.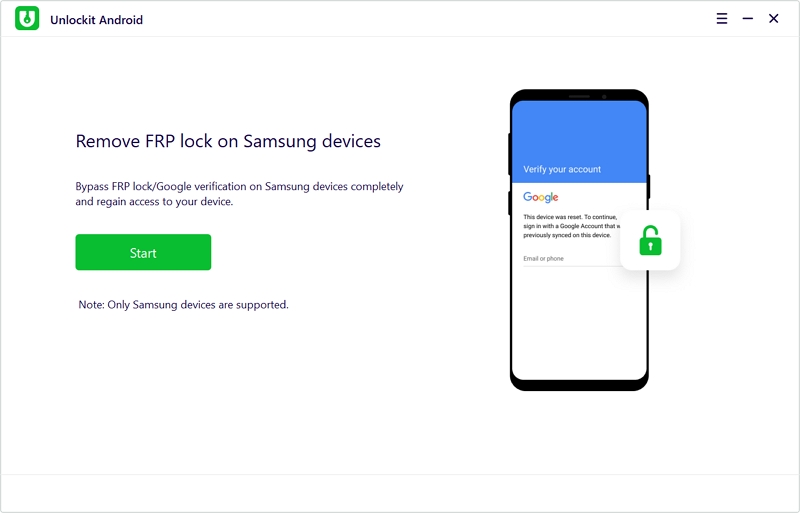 Step 3. Then, connect your device to the computer using a compatible USB cable.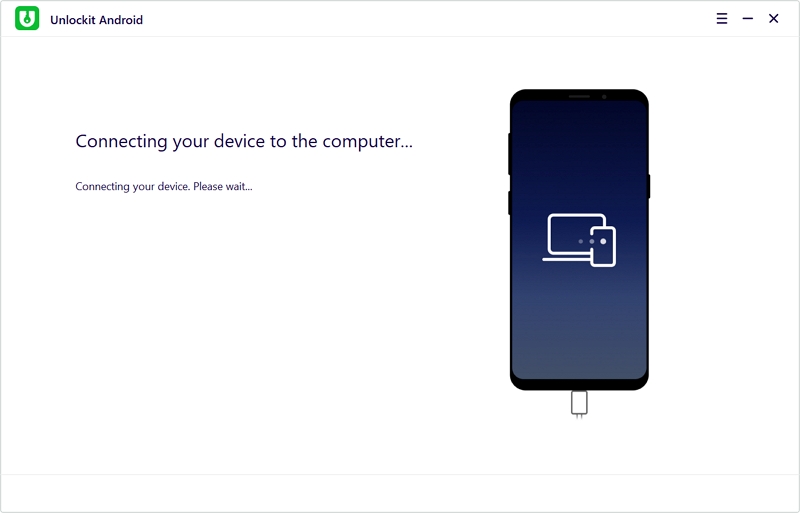 Step 4. You will now need to choose the first one: All Android Versions from the list to enable the one-click bypass mode.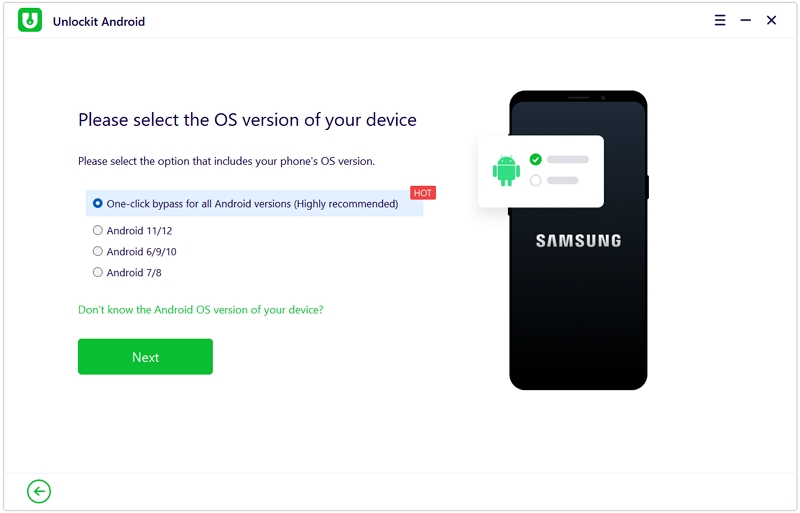 Step 5. Next, Unlockit will start the removal process. Follow the on-screen steps to enable test mode and USB debugging during the process.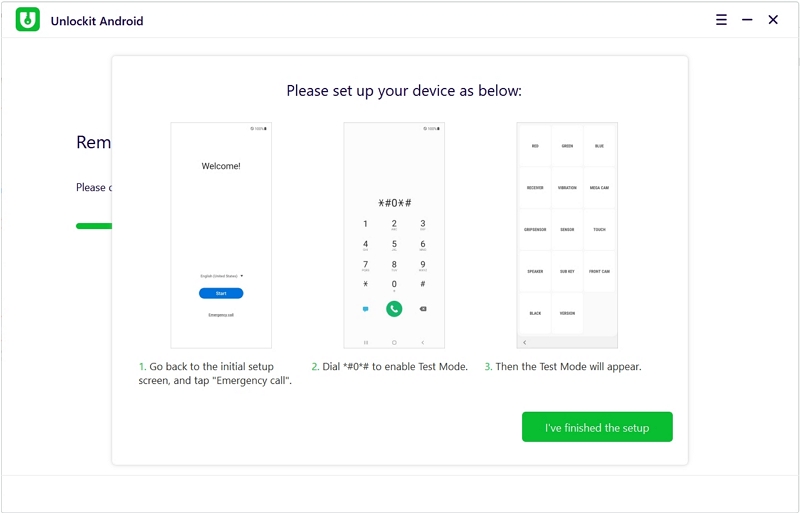 Once you complete all steps, your device will restart and the Google Lock FRP feature should now be removed from your device.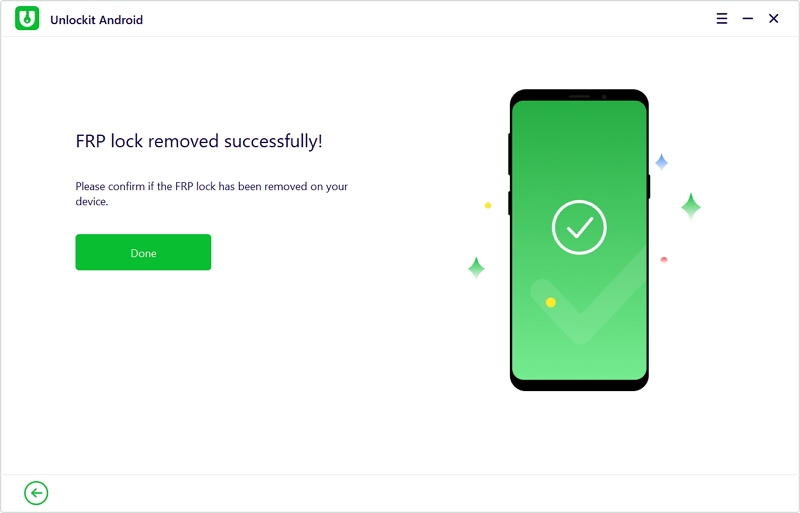 Bypass Google FRP Lock Using FRP Bypass APK
If you did a factory reset on your Android phone without removing the synced Google account, you will receive this error code:
"This device was reset. To continue, sign in with a Google Account that was previously synced on this device."
This will also likely happen if you bought a used device, since the owner's Google account could still be logged in. One way to go about this issue is to log in to a Google account that is currently synced on the phone.
But if you don't remember the log in details, or if the seller is unreachable, you can also use the FRP bypass apk to remove te FRP lock. Just follow the steps below:
Charge your phone full battery and keep it plugged in.
Turn on your phone and go to the Google login screen. On the email field, type the word subscribe and long–press on the entire word to select.
From the options, choose More > Assist. The Google app will soon open.
Using the search bar, type in chrome. From the suggestions, select the Chrome icon to open.
Type in test dcp app on Chrome's search bar and open the first link.
Next, download the dcp apk file from the page.
Go back to the Google app by pressing the back button. Enter the word download in the search bar and select the Downloads folder.
Select the Test DCP icon and install. Ensure that your phone is still fully charged and plugged in.
Next, open the Test DCP app and navigate to the Encryption option.
Follow the steps on the screen to remove the Google FRP. Your phone will restart several times during the removal process. Also, allow all permissions being asked by the Test DCP app.
Once the Google FRP is removed, your phone will go straight to the home screen without asking for your Google account.
Then, go to Settings > Factory Reset. The Google FRP feature on your phone should now be removed.
Bypass Google FRP Lock using OTG Cable
If you are stuck on the Google account login screen with your Samsung phone, you can also bypass it by using a USB OTG drive that is compatible with your phone.
Do the following steps to bypass the Google lock FRP on your Samsung phone:
Download the RootJunky apk file to your computer and store it in an OTG drive.
Turn on your phone and insert the OTG drive. The File Explorer app will automatically open.
Find the RootJunky apk file and install it. Once done, open it and allow all permissions being asked.
Your phone will directly go to your Settings app. Navigate to Backup and Reset > Factory Reset. Your phone will now open with the Google FRP disabled.
Avoid Google FRP Lock by Deactivating FRP in your Android Device
If you have access to your Google account or remember your Google account credentials, you only need to enter the correct login details and your phone should now be unlocked.
This is by far the safest and easiest method since you do not need any software or device to unlock your phone.
Also, if you are planning to use a new Google account, the first thing to do is to remove any existing accounts that will trigger the Google FRP once you do a factory reset.
To remove a Google account on your Android device, follow these steps:
Go to Settings > Accounts.
Select Google. You will now see all Google accounts that are currently logged in.
Select the account that you want to remove.
Tap More options (three dots) on the top right corner of the screen and select Remove Account.
Final Thoughts
The Google FRP is a useful feature of your Android phone which makes it more secure. It keeps all your phone's data and confidential information safe from intruders once they attempt to do a hard reset.
However, if you forgot your Google account's login credentials, you too might get locked out after doing a factory reset. The methods we listed above will hopefully guide you in bypassing Google FRP from your Android phone.