Factory Reset Protection, also known as FRP, is a built-in security feature that is included in all new Android devices.
It acts as a gatekeeper that prevents a factory reset from pushing through unless the user logs in the correct Google account credentials. This secures the device and safeguards it from intruders.
However, there are cases where you might want to do a factory reset but you forgot the password to your Google account.
This article will guide you through how you can bypass Samsung FRP using RootJunky so you can access your phone again.
Let's jump right in.
What is RootJunky?

One of the best ways to access your phone that is FRP-locked is through the use of third-party software. A good example of such software is RootJunky.
RootJunky is a famous FRP bypass tool for Samsung devices that bypasses FRP locks and removes Google account locks.
Key Features
RootJunky not only bypasses FRP locks on your Samsung device, but provides a lot of other features as well. Here is a list of its notable features that are relevant to this article:
Bypasses FRP locks for Samsung devices.
Removes Google accounts and can add or create a new one.
Locates previous account details belonging to your device.
Aside from these, RootJunky also offers many other modifications for Android devices that are unrelated to FRP.
How to Use RootJunky Samsung FRP Bypass
The process of using RootJunky to bypass FRP on Samsung devices can get pretty complicated and may contain some technical terms.
Don't worry because we will guide you through the process step-by-step. Before you proceed, you will need to have an SD card to transfer the APK to your device.
With your SD card in hand, follow these steps on how to use RootJunky to bypass FRP:
First, download the RealTerm program and install it on your PC.
Next, download the Rootjunky FRP APK and transfer it to your SD card.
After that, connect your device to your PC using a USB cable.
Ensure that your phone is connected to a wireless internet connection.
Now, launch the RealTerm app on your PC and check the document named "HALF DUPLEX".
Next, open your computer's My Computer, then head to Manage > Device Manager > Modems.
Here, a Samsung device should appear under Modems. Right-click on it and select Properties.
After that, select the Modem tab under Properties and take note of your port number. (Example: "com5")
Now, go back to RealTerm and click on Ports. Enter your port number and click on Change.
Next, click on the Send tab and input the following two commands using the Send ASCII button:
First input "at+creg? \ r \ n:"
Then input "atd 1234; \r \ n." Don't forget to remove the quotation marks.
Finally, a dialer pop-up should appear on your Samsung device which will confirm the success of the operation.
It is a pretty grueling process, especially for the more casual users. But once you've done all the steps, you should be able to access your device again.
Alternative to RootJunky – Unlockit Android One-Click Bypass
As you may have noticed, RootJunky is rather hard to use to bypass FRP lock on Samsung devices. Inexperienced users might get lost in the process.
If you are looking for a more convenient and simpler option, you can try to use Unlockit Android instead. It is a multi-functional tool that has an easy-to-use interface that is a whole lot simpler to understand.
It makes it possible to bypass the Google verification screen with just one click in the latest version of Unlockit Android.
The following are the main features that make Unlockit Android a far better alternative to RootJunky:
It will remove the FRP lock from any Samsung device in a few simple steps.
It is so easy to you use: you don't need any technical expertise to use it.
It supports all Samsung devices and all versions of Android OS from Android 6-12.
High success rate and customer support.
Here are the steps on how to use Unlockit Android:
Step 1. First, download the application on your PC and install it.
Step 2. Now, launch the application on your PC. After that, click on Start to start the FRP bypass process.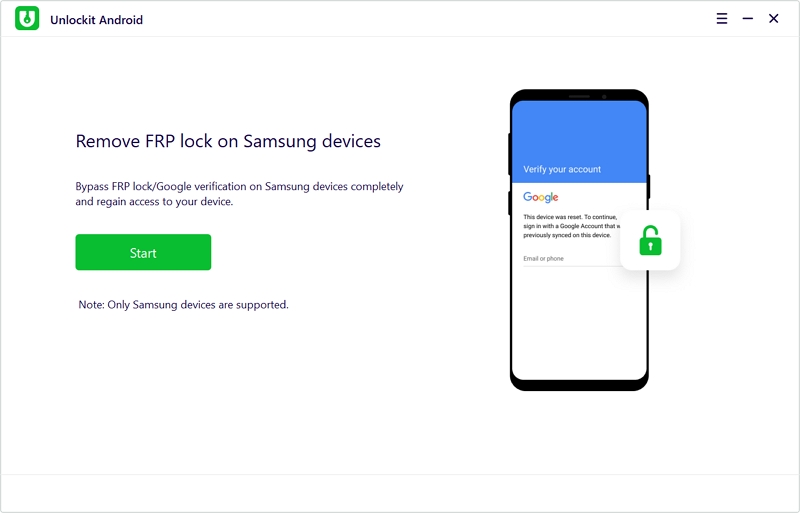 Step 3. Connect your Android device to your PC through a USB cable.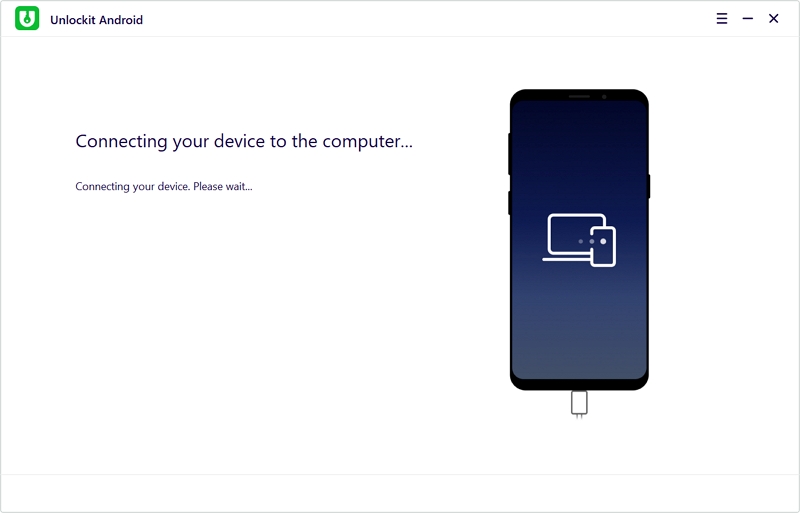 Step 4. A list of OS versions should appear on the next screen. You should choose the first one: All Android Versions to enter the one-click bypass mode. After doing so, click on Next to confirm.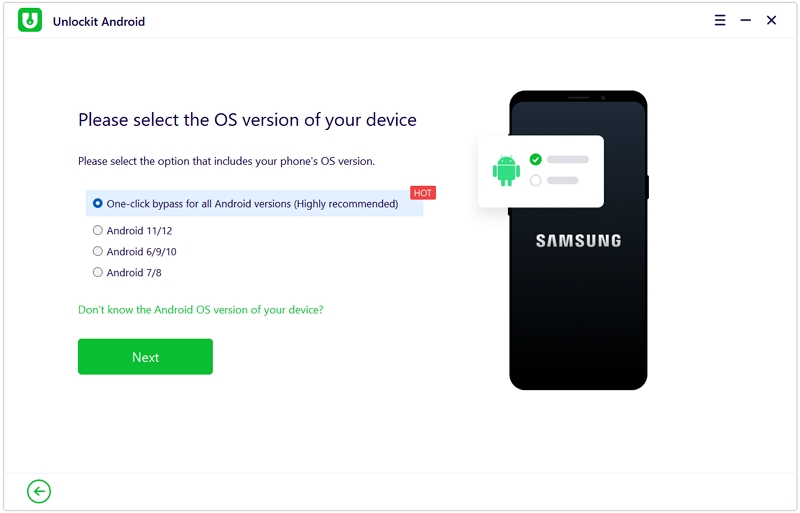 Step 5. Now, the app will start removing the process. Avoid disconnecting of the device during the entirety of the process.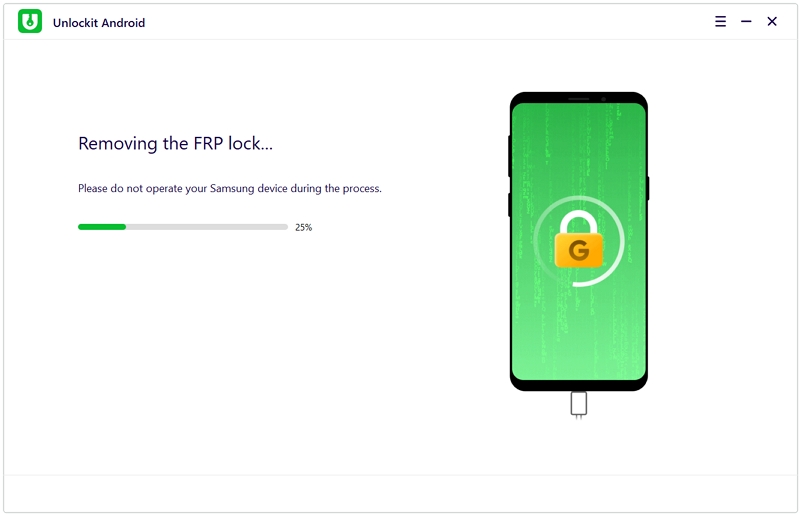 Once the process is completed, your device will restart and you can now set up your Android device and use it freely.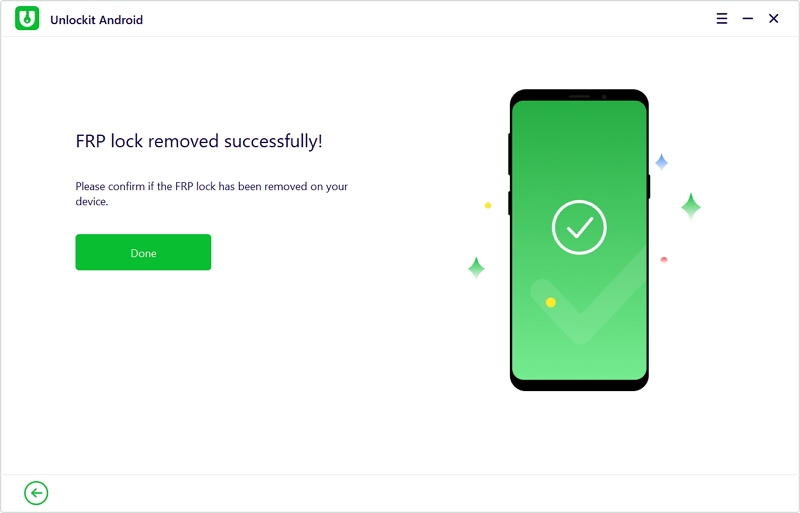 It is a pretty straightforward process that even a beginner can easily complete.
Wrapping Up
FRP is meant to protect our devices from unwanted intrusions. However, In the case of you forgetting your Google account, you can always use third-party software to bypass FRP and use your phone again. There are a variety of software you can choose from, so it all really boils down to your preference.
RootJunky is a free software but has a very technical process that is not easy to do. This is why others prefer to use Unlockit Android instead, regardless of the required payment. Unlockit Android is easier and gets the job done more quickly.
If you have any questions or comments about bypassing FRP locks, feel free to comment down below.