If you find that your device is stuck on the FRP (Factory Reset Protection) screen and you don't have the password needed to bypass this screen, then you may be looking for a bypass tool that can help in this regard.
SamFirm FRP tool is just one of the many FRP bypass solutions that you may come across when looking for a solution.
In this article, we will talk about the SamFirm FRP tool as a solution to bypass FRP on Android devices. We will help you determine if this is the best solution for you and how it works.
Let's start from the very beginning.
What Is SamFirm FRP Tool
SamFirm is a utility program that can be used to bypass FRP in MTP Mode on Samsung devices.
It works by allowing you to open the Galaxy Store so that you can download the GS settings, access Smart Switch, Samsung Pass, and open Settings, My Files, and the file commander on the locked device.
The device that you are trying to unlock must be connected to a Wi-Fi network to facilitate this process.
Where to Download SamFirm FRP Tool
Below you will find two different download links for the SamFirm FRP tool. One is a smaller file size than the other, but they both work as expected.
The Latest Version
File Type: SamFirm FRP Tool V3.0 Zip
File Size: 690 MB
OS Compatible: Windows 7, Windows 8, Windows 10 with 32&64bit
Download Links: SamFirm FRP Tool V3.0 Zip , SamFirm FRP Tool V3.0 Zip , and SamFirm FRP Tool V3.0 Zip
Earlier Version
File Type: SamFirm FRP Tool V2.1 Zip
File Size: 430 MB
OS Compatible: Windows 7, Windows 8, Windows 10
Download Links: SamFirm FRP Tool V2.1 Zip , SamFirm FRP Tool V2.1 Zip , and SamFirm FRP Tool V2.1 Zip
How to Use SamFirm FRP Tool
Unlike other similar FRP tools in the market, this one is relatively simple to use. Here's how it works:
Step 1: Download the program using one of the links above and unzip the file.
Step 2: Find and run the SamFirm.exe file and open it when its installation is complete.
Step 3: You will see several options to manage your device in several ways. Click on the "Bypass FRP (MTP Mode)."
Step 4: Then select "Bypass FRP (Open YouTube)" and then just follow the on-screen instructions to bypass FRP on your device.
SamFirm FRP Tool Review
SamFirm is not free to use. You must pay $30 to activate all premium features of SamFirm.
SamFirm works smoothly on Windows XP, Vista, 7, 8, 8.1, and 10. (32-bit and 64-bit). However, it does not support Windows 11 currently.
Besides, the program's interface is difficult to navigate. If you are a new user, you may find this tool complex to use.
Furthermore, there is no official website where you can download SamFirm and get instructions on how to use it. You must use the SamFirm tool without assistance from the company.
Easier to Use Alternative: Unlockit Android
The process to bypass FRP on your Android device using the SamFirm FRP tool can be very lengthy and since there are no detailed instructions, it is very easy to take the wrong step and fail to unlock your device.
If you would like a much simpler, but highly effective solution that applies to all situations, Unlockit Android is a good option.
This tool is so easy to use that you only need a few simple steps to bypass the FRP Lock on your device. Let's look at its main features:
Quickly bypass Google FRP on your Samsung device in just one click.
Bypass FRP without needing an OTG cable or FRP bypass APKs.
Compatible with all Samsung devices running Android 6, 7, 8, 9, 10, 11, and 12.
Remove the FRP lock completely and add a new Google account afterwards.
Here's how to use Unlockit Android to unlock your device:
Step 1: Download and install Unlockit Android on your computer.
Step 2: When the installation is complete, open the program and then click the Start button to proceed.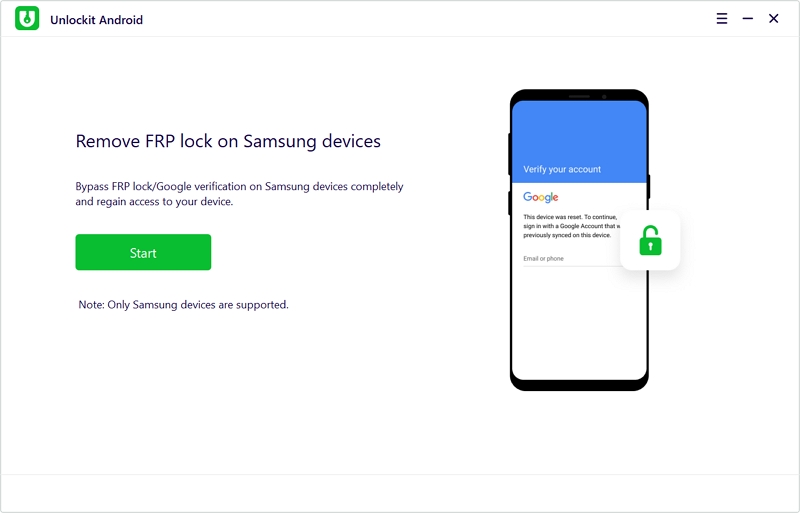 Step 3: Then connect the Android device to the computer.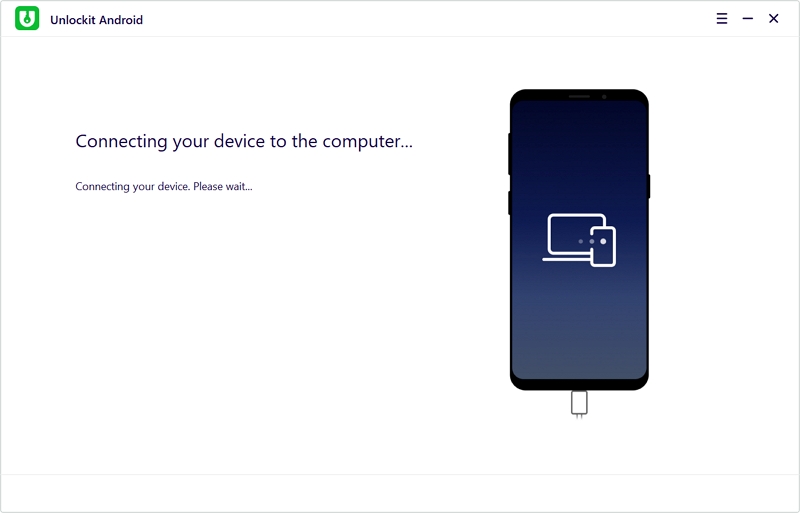 Step 4: In the next screen, select the All Android Versions from the list to apply one-click bypass technique.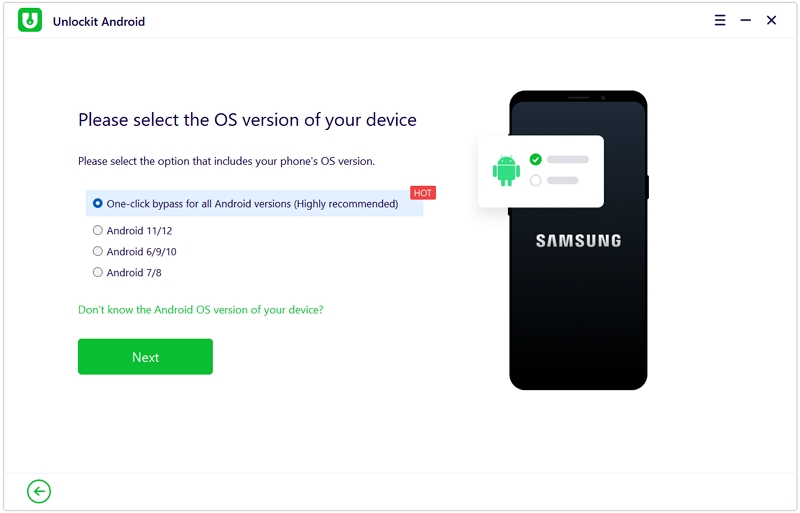 Step 5: Then follow the instructions on the screen to set up your device.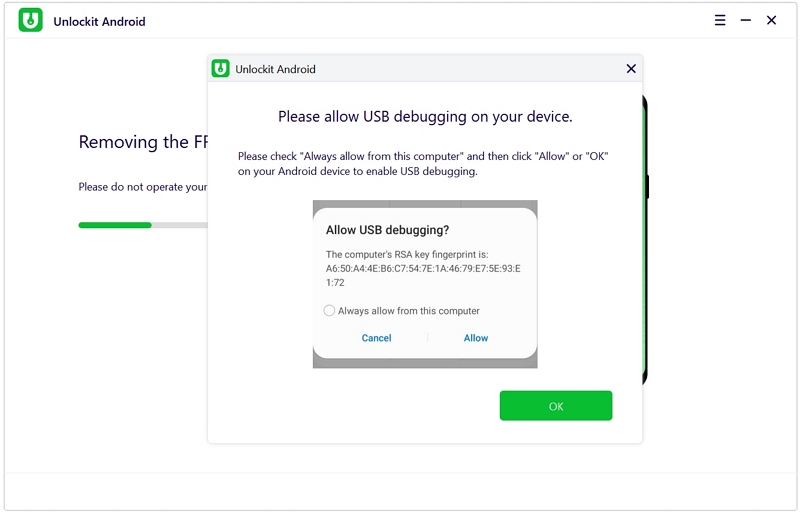 Step 6: When the operation is complete, click on "Done" and you will have successfully bypassed FRP on your device.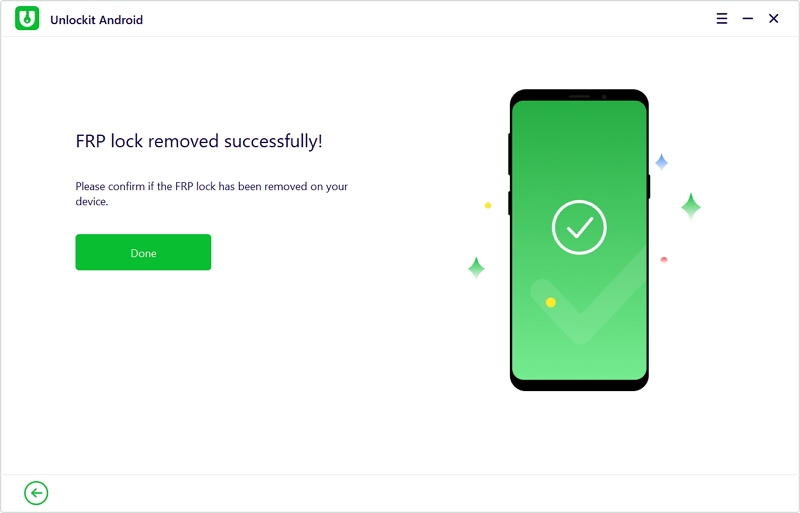 Unlockit Android vs. SamFirm
Bypassing FRP on Android devices is not easy, especially when you don't have a solution that simplifies the process.
While tools like SamFirm FRP Tool may be useful in the long run, they can be so complicated that it takes hours to unlock your device.
As the details above clear show, using Unlockit Android to bypass FRP is much easier and quicker than the time-consuming and complicated method of using SamFirm.
However, Unlockit Android is not free as well. Users can only use the free version to see if the program is compatible with their device.
You must purchase the premium version to access all of Unlockit Android's amazing features. But it is still more affordable than SamFirm.
Having said that, Unlockit Android is still worth the price because, without a doubt, it is one of the best Android unlocker tools on the market.
Unlockit Android can help you bypass FRP lock in a matter of minutes, giving you access to your device. It is safe, fast, and effective at unlocking your Android in a matter of minutes.
Furthermore, the interface is simple and user-friendly, and it supports a wide range of Android devices.