For Android devices, Google created the FRP lock function, which acts as a security barrier for your phone.
This prevents anybody from accessing, deleting, or restoring any data after a factory reset if they don't enter the correct Google account.
If you own a Samsung J7 Prime, then this article is for you. Below are guides that will help you bypass FRP.
Why is the Samsung J7 Prime Google Account Locked?
Google has developed Factory Reset Protection, sometimes called Google Account Lock, to secure your device and information.
This security feature is automatically enabled after a Google account has been registered on your Android device.
If you performed a factory reset on your Samsung J7 Prime, your Google Account will be locked, and you can only access your device again when you log in with the correct Google account credentials.
However, if you've forgotten your account information and you need to bypass the FRP lock, there are ways to do this.
Bypass FRP on Samsung J7 Prime In One Click Using Unlockit Android
You may be wondering if you can quickly remove the FRP lock using an easy-to-use, and safe Samsung FRP bypass tool, the answer is YES!
Rather than using two or three tools together and with complicated steps, Unlockit Android is the only tool you need.
It is a reliable software that you can use to get around Samsung devices' FRP lock in one click. The app is easy to use, even if you're not tech-savvy.
Furthermore, the program works with the most of Samsung devices running Android versions from 6 to 12.
After using Unlockit to unlock the FRP lock for your smartphone, you can create a new Google account and password.
Below are the simple steps to use Unlockit Android:
Step 1. To begin, download Unlockit Android screen unlocker on your Windows computer.
Step 2. Start the program afterward and click the Start button.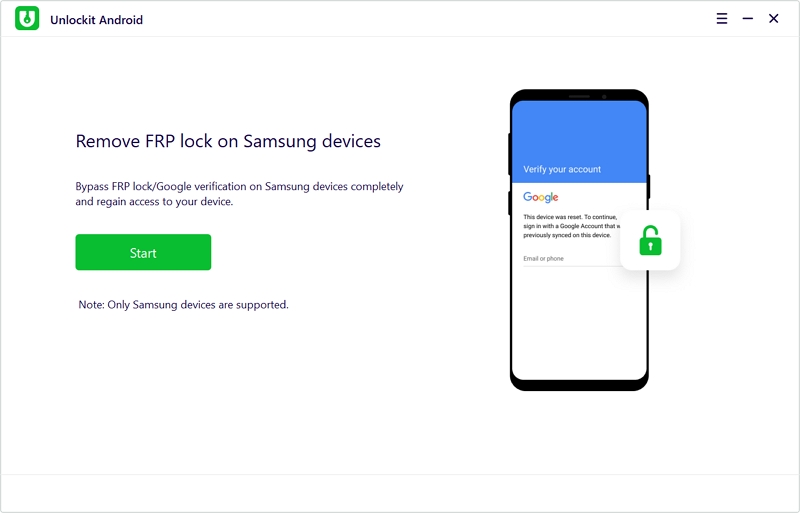 Step 3. Connect your Samsung smartphone to the computer via a genuine USB cord.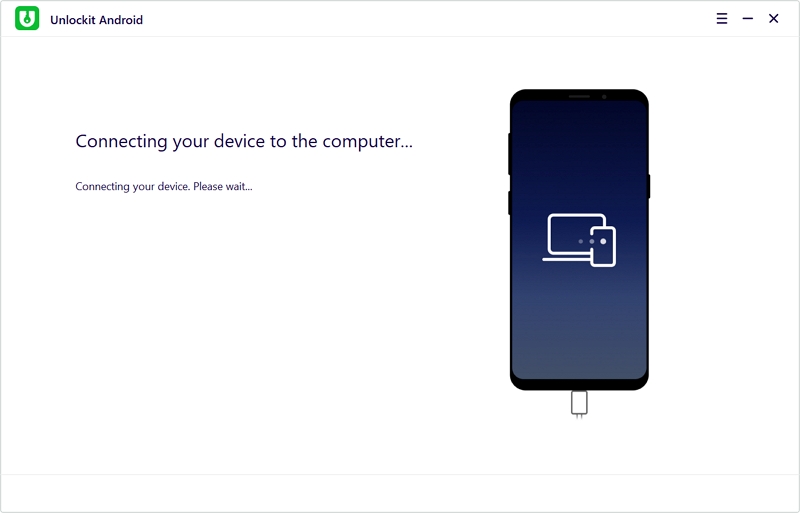 Step 4. Next, choose "All Android Versions" to bypass the FRP lock in just one click.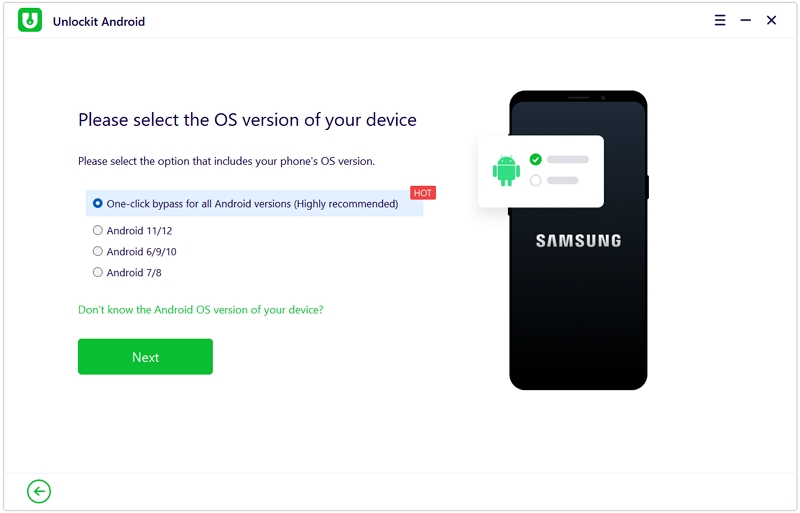 Step 5. Unlockit Android will then start to bypass the FRP lock on your device. Then all you have to do is follow the on-screen guide to set up your device during the process.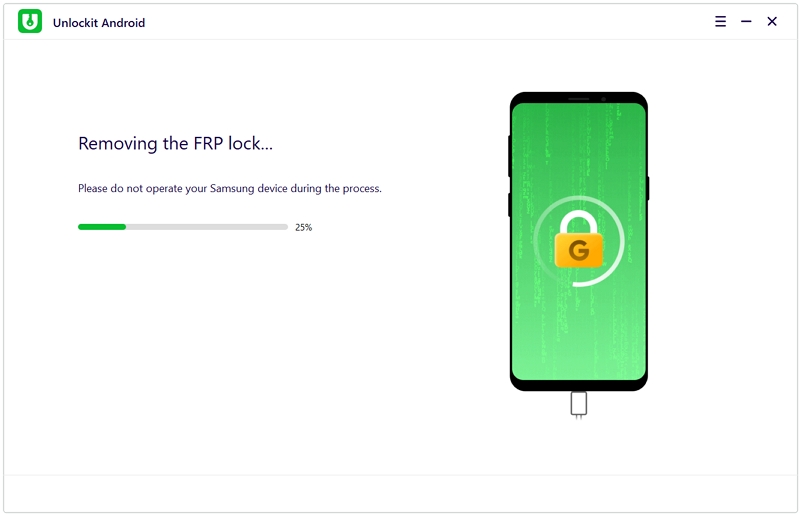 Finally, wait for a few minutes to bypass the FRP lock on your device.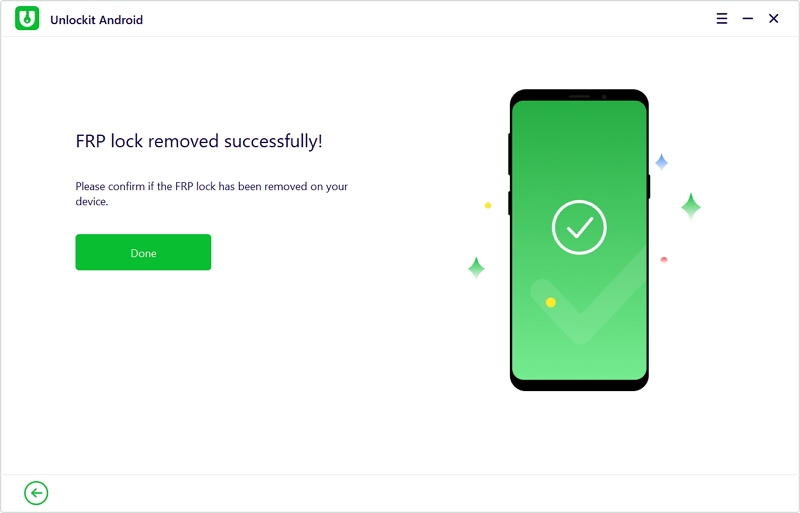 There you have it. FRP has been successfully bypassed on your Samsung J7 Prime. You can now set up your smartphone and start using your phone completely unrestricted.
FRP Bypass Samsung J7 Prime using Talkback
The talkback feature offers verbal feedback when it is difficult to see your screen. Although the name of this feature changes based on the program version, its function remains the same.
The Google FRP may be removed by turning on the Talkback function.
Below is the step-by-step procedure on how you can bypass Google FRP as mentioned using Talkback:
Connect your device to the internet and return to the Welcome page.
Quickly hit the Home Button thrice, and a message indicating that "Talkback has been enabled" will appear.
Next, swipe down to the right to create the letter "L."
Using the same method, draw the letter "L" once more, then tap twice on the Talkback Settings.
In this case, we must deactivate the Talkback feature. To do so, press the Home Button three times.
Then, scroll down and select Terms of Services.
Open your Browser, find and download the required Samsung J7 FRP bypass APK from the list below: Google Account Manager 6, Google Account Manager 5, Account Login
You can see the three downloaded tools by tapping the Bookmarks symbol from the menu at the bottom of the screen. Then, select History > Download History.
Select Google Account Manager 6, and if a pop-up screen with an installation blocked message will occur; choose Settings and activate the Unknown Sources option.
Note: if you encounter an installation issue while installing Google Account Manager 6, please install "Google Account Manager 5" instead.
You can now install the APKs mentioned above.
Install Account login as previously described, and then click Open.
Tap the three vertical dots on the upper-right corner, then select Browser Sign-in.
Finally, since the FRP lock has been removed, you can add a new Google account to your Samsung J7.
Wrapping Up
FRP is an Android feature that secures your phone in various ways. But when you do a factory reset on your device, and forgot your Google account, you need to find ways to access your device again.
There are a few ways to bypass FRP, but our top recommendation is to use Unlockit Android. It works without the need for a talkback or APK downloads. It's safe and very easy to use, making it a convenient option if you need to bypass the FRP.
We hope this article helped you gain access to your device again after being locked because of FRP. If you have comments, feel free to leave them below.