Data protection is one of Google's top priorities. This is why they launched Factory Reset Protection (FRP), a built-in security feature on Android Lollipop 5.1 or higher that prevents an unauthorized person to perform a factory data reset on your device.
FRP is immediately activated upon setting up a Google account on your device. Once activated, FRP will prevent access to the device upon factory data reset.
However, there are ways to bypass FRP if you did a factory reset and forgot your Google account.
This guide will teach you how to bypass FRP on a Samsung M02 with or without a computer. Continue reading to learn more.
Samsung M02 FRP Bypass in Just 1 Click Using Unlockit Android
Most of the bypass methods available on the internet are complex and difficult to follow. You may wonder is it possible to bypass the FRP lock screen without much technique knowledge required?
The answer is YES. Unlockit Android screen unlocker is the only tool you will need. It will bypass FRP in just one click and without further APKs, entering fastboot mode, using talkback or an OTG cable.
After bypassing the FRP lock with Unlockit Android, you can set up a new Google account and password on your device.
It is also compatible with the most of Samsung device models running Android 6-12.
To bypass FRP on a Samsung M02 using Unlockit Android, watch the video or follow these steps below:
Step 1: Download and install Unlockit on your Windows computer. It is compatible with Windows 7, 8, 10, and 11.
Step 2: Open the Unlockit app, then click the Start button on the landing screen.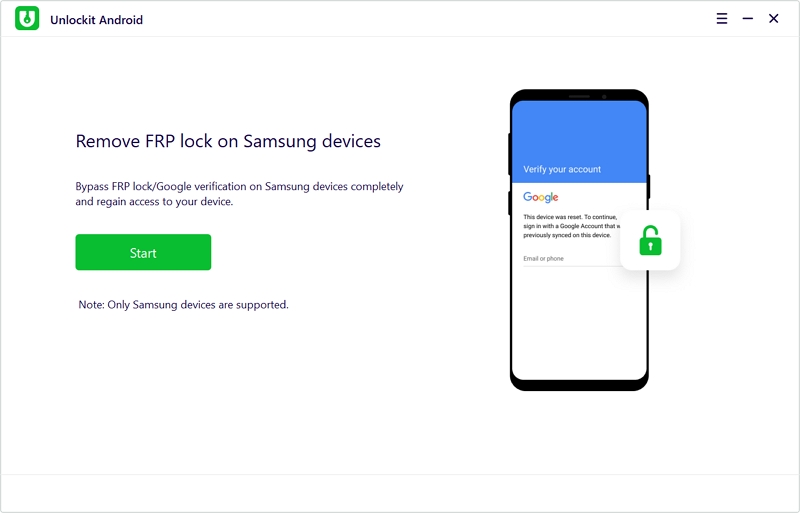 Step 3: Then connect your phone to the computer.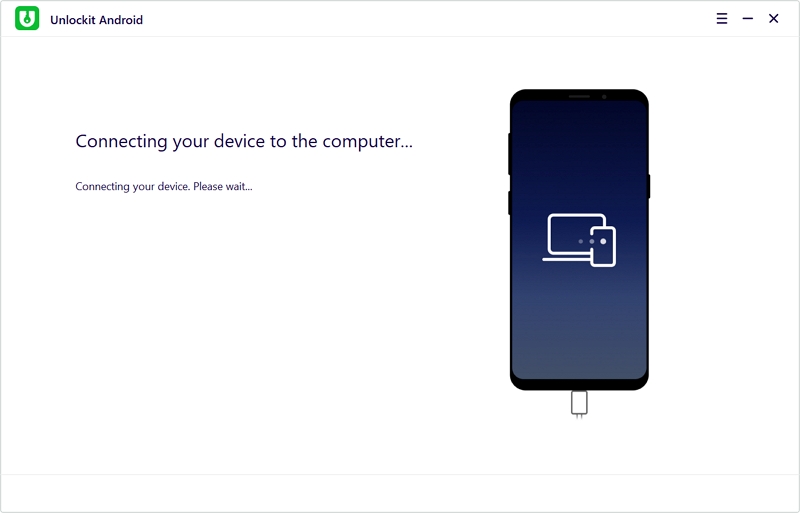 Step 4: Next, select the device OS version of your phone. For Samsung M02, select All Android Versions to remove the FRP lock in 1 click, and press Next on the Unlockit app on your computer.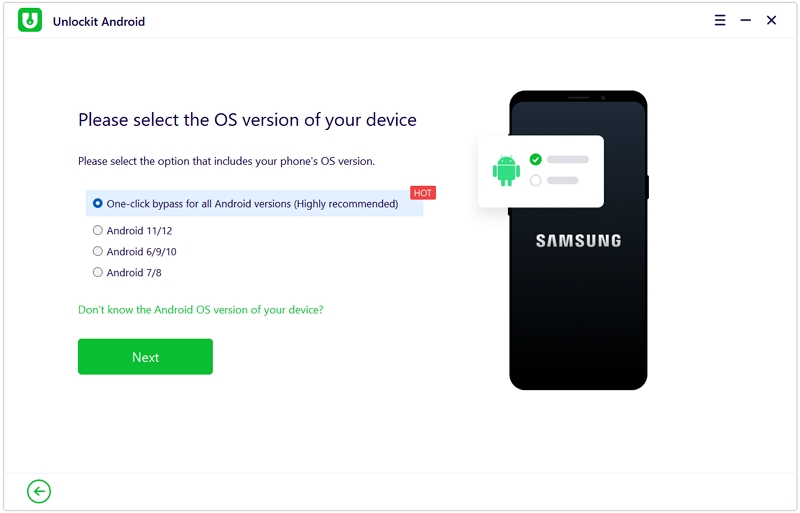 Step 5: Then, follow the on-screen instructions to set up your devie accordingly.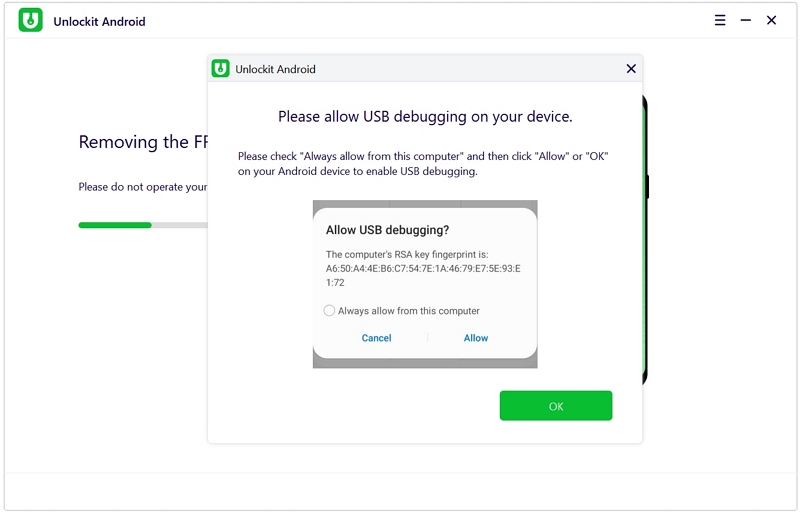 When the process is complete, Unlockit Androis will notify that your device is FRP unlocked.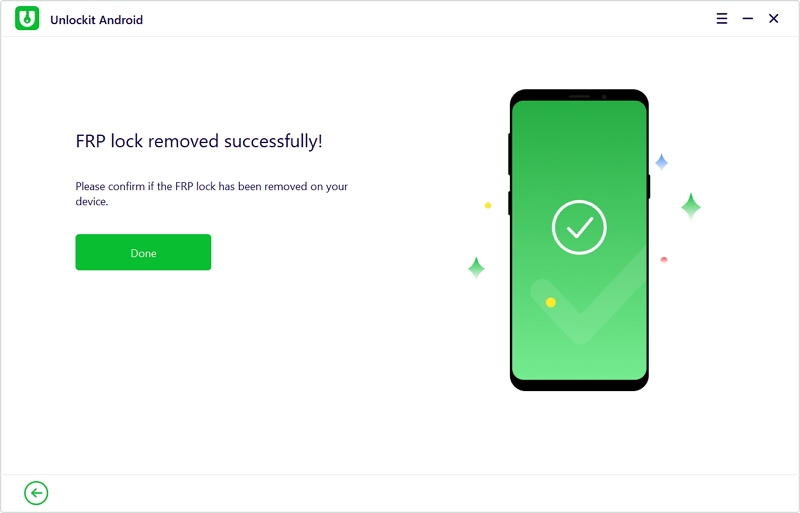 Samsung M02 (Android 11) FRP Bypass Without PC
If you don't have a PC, you can also bypass FRP with just your smartphone. This process is a bit more tedious than the previous method, so make sure to follow the specific steps listed below.
First, turn on your Samsung M02 device and then click on the Start button.
Agree to terms and conditions and connect your phone to a WiFi network.
Next, press the volume up and power button at the same time, then click Use.
Repeat the previous step to enable talkback.
Now, draw a reversed L "⅃", and select Use voice commands.
Then, say "Open Google Assistance" and Disable Talkback by pressing Volume up + Volume down.
Now, select the keyboard icon and type YouTube, and open it.
Select the user icon, then go to Settings > About > Youtube Terms of Service.
After that, it will lead you to the Chrome browser. Now type https://tiny.cc/frptools or https://bit.ly/2NKxXYs .
Go to FRP bypass APK and then tap to open the FRP apps selection.
Now, select the Galaxy Store to open it.
After leading you to the Galaxy store, type on the search bar "OS14 Launcher".
Next, tap on the OS14 Launcher search result and then install it.
Sign in next using your Samsung Account and wait while it installs and launches OS14.
Next, it will require a different Android phone to create a cloud backup, which we will then use to restore our FRP-locked phone.
Go to the Settings and select Accounts & Backup.
Type in your own Google and Samsung accounts.
Open Chrome browser and search https://tiny.cc/frptools or https://bit.ly/2NKxXYs.
Download and install the Notification Bar & Package Disabler Pro.
Go to Settings > Accounts & Backup > Backup and Restore > Backup Data.
Now, unselect all options except Apps and then tap Back up.
After all your data is backed up, tap Done.
Go to Settings > Accessibility > Interaction and dexterity, and then turn on the Assistant menu.
Tap Select Assistant menu items and then proceed to remove all items except menu settings.
Go to Accounts and backup > Restore Data > Select Restore Data, and immediately tap the assistant menu to prevent the automatic updating of the Samsung cloud. During this process, ensure not to update the Samsung cloud.
Press the back key once.
Only restore Apps and then Install.
Now, tap Done and return to the Main menu.
Go to Accessibility > Installed Services > Notification Bar > Turn on > Allow.
Test and drag down the notification bar to see if it's working properly.
Go to Settings > Privacy > Permission Manager > FIles and Media > Select the kebab menu (3 dots) > Show system > Select Package Disabler Pro, and allow management of all files.
Return to the Menu, drag down the notification bar, and disable the WiFi and mobile data.
Open the Package Disabler Pro App, select I agree, and enable admin.
Once on the KLMS agent, enable WiFi or Mobile data from the notification bar and then tap Agree.
After waiting, the Package Disabled Pro app will open after validation of the Knox license has been done.
Click the search icon and type in Setup.
Select the Android setup (com.google.android.setupwizard) and then disable it.
Next, tap the Samsung select wizard (com.google.android.SecSetupWIzard) and then clear data.
Finally, your Samsung M02 phone has bypassed the FRP.
Final Thoughts
The bypass process for FRP is indeed a daunting task. By following this guide, we hope it clarifies how to bypass the FRP on your Samsung M02 device.
As you can see from the number of steps above, it is obvious which of the two methods is less complex. By using Unlockit Android, bypassing FRP has now been made more efficient and requires fewer steps.
Proceed cautiously and carefully through the instructions to avoid becoming lost and stuck if you decide to take the risk of performing an FRP bypass without a PC.