Nowadays, many people are worried about their phones being hacked due to a lack of security and verification in phone settings.
To solve this issue, Google has initiated a way to protect your phone settings by introducing FRP (Factory Reset Protection) in Android phones ranging from version 5.1 and so on. This way, no one can reset your phone without login details.
But, if you forget your login credentials, FRP would impose the biggest challenge to resetting your Samsung phone. Fortunately, you can still bypass it.
So, continue reading this article because we have some amazing hacks to share with you regarding the Samsung M12 FRP bypass guide.
(Easy Steps) Samsung M12 FRP Bypass with Unlockit Android
Once you create your google account and log into your new Samsung phone, FRP lock will be enabled automatically.
But the real question arises after you log in to your phone: "how to carry out a Samsung google account bypass by using a PC if I forgot my login credentials?"
Well, first of all, you need to remove your google account immediately with an effective and safe Samsung FRP bypass tool.
We recommend Unlockit Android tool because it's easy to process without having technical complications to deal with.
So, if you are a non-tech person, this tool will guide you through all the steps to remove the FRP lock in just fifteen minutes.
Let's see all the steps to help you bypass your google account verification. All you need is a PC connected to a fine WIFI and a USB cable to complete the process.
Step 1. Connect your Samsung Phone
First, you must install the Unlockit Android tool on your PC.
Once you have installed this tool, open the tool and click on "Start."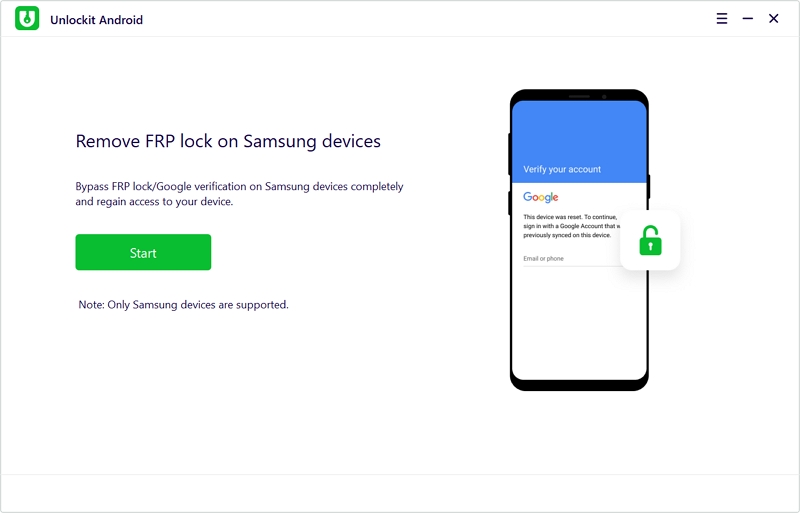 Connect your PC with your Samsung phone by using a USB.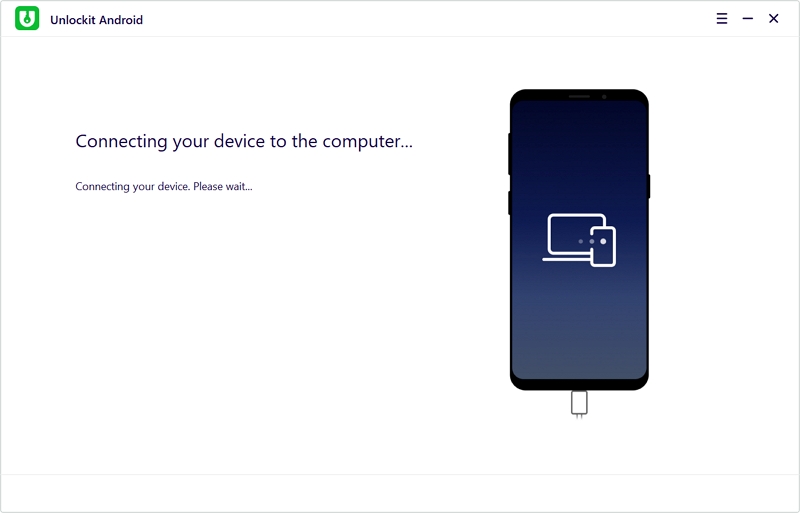 Step 2. Choose Samsung's OS version
Then make sure to select the correct OS version of your android phone from the given list.
Meanwhile, check your connection to the internet; otherwise, your whole process may fail.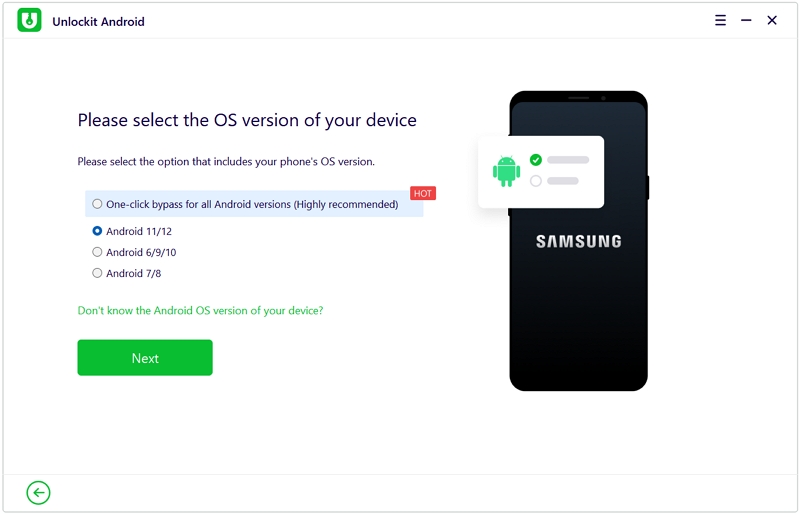 Step 3. Receive Notification on Samsung Phone
The tool will eventually send a notification on your phone when you reach this stage. It will let you know that your phone is bypassing FRP.
Until the process is completed, avoid using your phone for other purposes.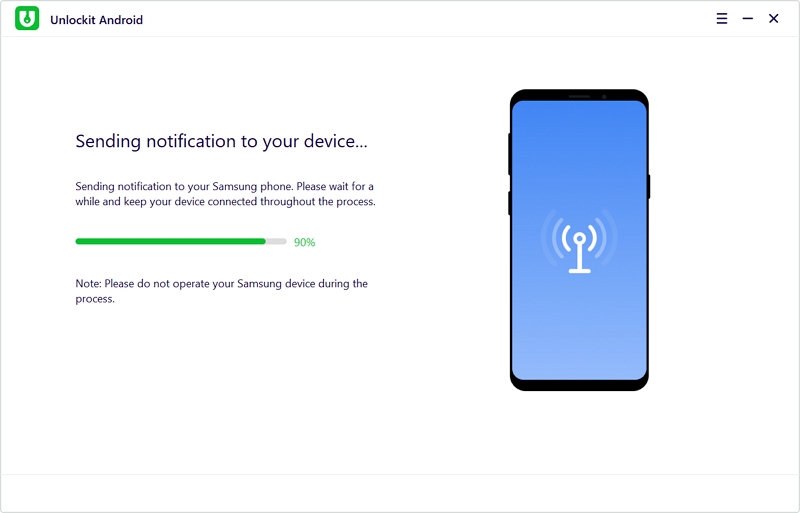 Step 4. Bypass FRP
Now you need to follow the given instructions step by step, which are provided on the Unlockit.
There you go! Your Samsung phone has been bypassed, and now it's time for you to reset your Samsung phone and enjoy exploring it in your own way.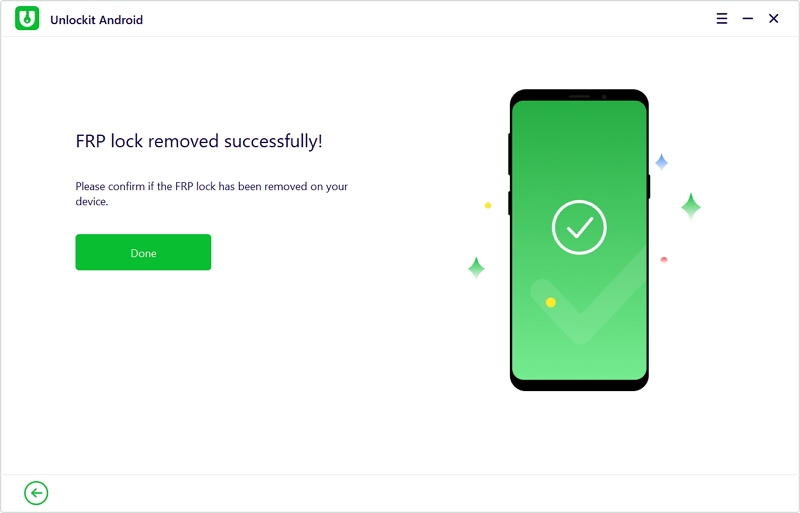 Samsung M12 FRP Bypass Without PC
In case you don't have a PC to bypass your google account verification, no need to worry about it. Because we have jotted down some steps that will help you avoid needing to connect your Samsung phone with a PC.
This might be a little bit technical for you. Just go through each step thoroughly, and your device will be bypassed within a few minutes.
First of all, you need to Switch on your new Samsung Phone.
Tap on the Start button and agree to all the terms and conditions. Then tap next.
Now you have to press the volume and power button at the same time and then Tap Use.
Now you have to tap the volume and power button again immediately to enable Talkback.
Draw a reverse "⅃."
Tap on Voice Command
Now you have to say, "Open Google Assistance."
After that, Disable Talkback. To do that, press Vol Up and Vol Down simultaneously.
Select Keyboard and Type YouTube.
Click on the user icon
Go to Settings, select About, and finally, choose YouTube Terms of Service.
This will eventually lead you to open Chrome Browser
Now in the Search bar, type any URLs that are listed below: https://tiny.cc/frptools or https://bit.ly/2NKxXYs
Now you have to choose FRP bypass APK and Open that section. There, tap on the Open Galaxy app store.
You have to install Alliance Shield Apk.
A sign-in option will appear on your screen. You have to sign in with your Samsung account, and after that, click on cancel.
Confirm the Installation. Then Open the Alliance App Shield Application on your FRP Samsung phone.
When you have successfully installed it, tap on Next and get it.
Tap on Register, fill out a username, password, email and confirmation code, etc. After submitting all these requirements, check the verification code on your email id.
Once your account is made, tap Sign In.
Now you have to name your Device as Android 11 FRP.
Enable the Device Admin. Tap Activate and then next. After that, you have to Enable Knox and then Confirm it. Click on next and finish.
Search for Samsung Setup Wizard. Go to Actions and then Force Stop as well as Wipe App Data. Now you have to Open Google Play Services. Go to actions and follow similar steps.
Then in the Samsung Setup Wizard, select the activities and the first activity.
com.sec.android.app.SecSetupWizard.SecSetupWizardActivity =>
Open the activity.
There you go! Your Google FRP lock has successfully been bypassed.
Which Solution is Better?
Both of the above methods will help you bypass your google verification in a Samsung phone, but if you are tech savvy, then you go with the second option. It will cost you almost one hour, but if you follow the steps, you may find your way to bypass your phone.
And, you won't have to use any Samsung tools, PC, Samsung cloud, or any backup. This means you can easily do it anywhere.
But, if you want to save time and want an efficient system to help you bypass your phone, Unlockit Android would be the most suitable device to carry out the whole process without any complication. So, choose your tool wisely!
Conclusion
An FRP-locked phone will leave you extremely frustrated until you figure out how to deal with it. Unlockit will eventually pave the way for you to bypass your Samsung phone without any hurdles. So, try it yourself and enjoy a fully accessible Samsung phone.
On the other hand, if you don't have a pc to tackle this issue, you must have read our alternative guide to bypass your phone. So, by following our tutorial, let's not waste your time and carry out your Samsung M12 FRP Bypass process within a few minutes.