The security feature known as Factory Reset Protection (FRP) is available on Android devices running Android OS 5.1 (Lollipop) or higher. Your device and information are protected by a built-in security feature offered by the FRP, including data encryptions and screen locks.
The FRP is automatically activated when a Google account is registered on the device. Once activated, the FRP will prohibit you from using your device after a Factory Data Reset.
There are different methods to bypass FRP, and this guide is made specifically for Samsung S20. If you own this device and it got FRP-locked, read on below.
Bypassing Samsung S20 FRP In 1 Click Using Unlockit Android
If you want to skip the Google account verification process as quickly as possible, we recommend using Unlockit Android.
It is a powerful Android lock screen removal tool that can bypass Samsung smartphone FRP lock.
With Unlockit Android, you can bypass the FRP lock for Samsung devices in just 1 click and don't need to go through complicated and technical methods to bypass FRP. Even beginners won't have trouble using this software.
Furthermore, it is compatible with all Android OS including 6, 7, 8, 9, 10, 11 and 12 for Samsung FRP bypass.
To unlock your Samsung S20 using Unlockit Android, follow the steps below:
Step 1. To begin, download Unlockit Android and install it on your Windows computer.
Step 2. After installation, start the program and click Start from home screen to proceed.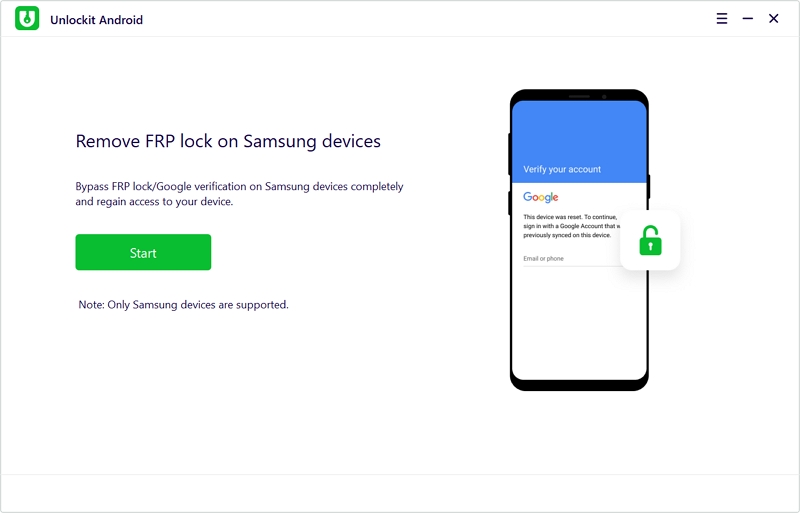 Step 3. Now, connect your phone to your computer. Ensure that it is getting a strong network signal.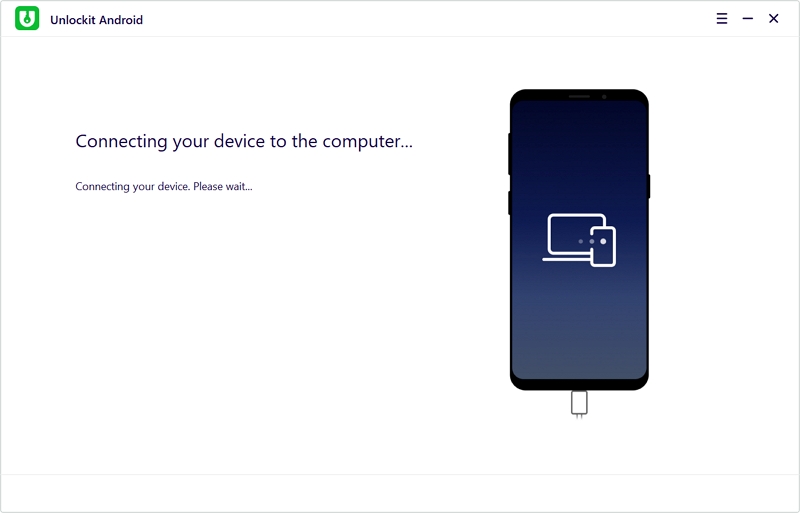 Step 4. Follow the instructions to select the Android OS version of your device. We suggest that you choose "One-Click FRP bypass" solution for all Android versions at first.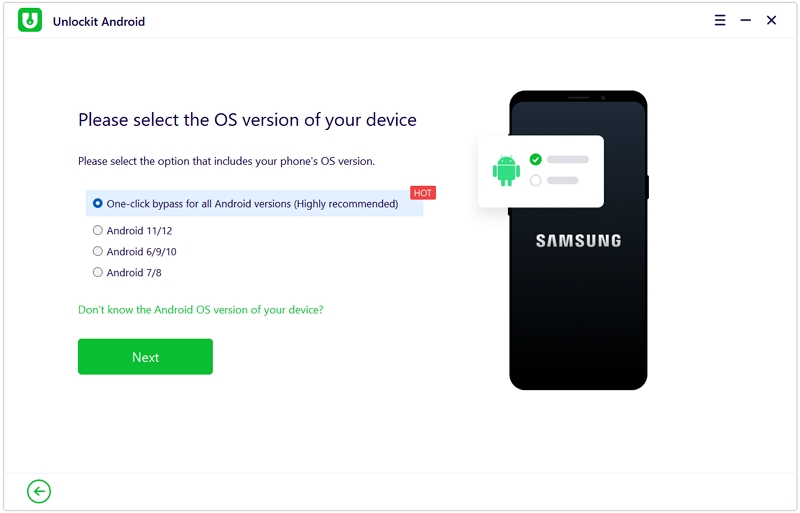 Step 5. Finally, Unlockit Android will start unlocking your Samsung phone. Remember to enable test mode and USB debugging during the removal.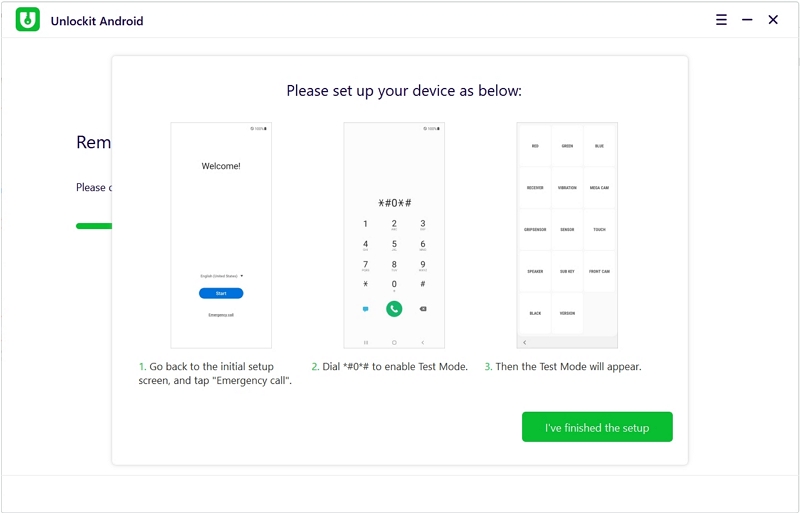 Wait a few minutes for the process to be completed.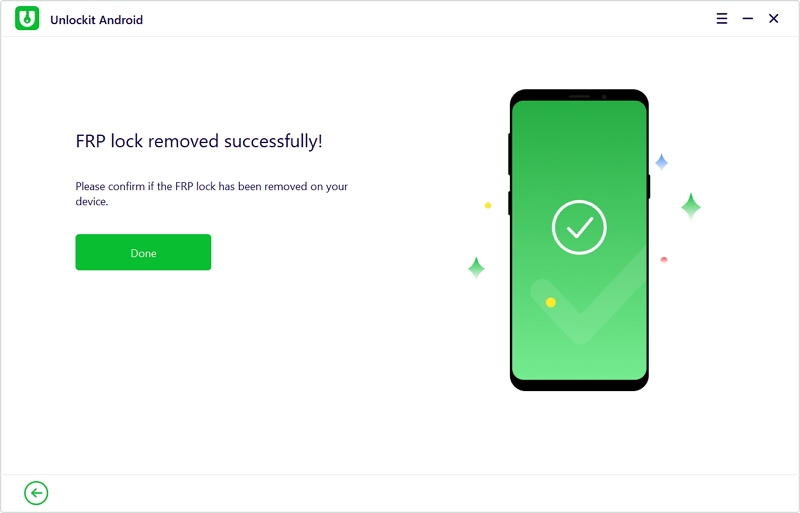 Bypassing Samsung S20 FRP without PC
If you do not have a PC, don't worry because there's also a way to bypass FRP without it. However, the steps are lengthy and complicated.
Follow the step-by-step procedure below to get started:
First, turn on your Samsung S20.
Then, click the Start button.
Accept the Terms & Conditions and then click Next.
Connect your smartphone to a WiFi network.
Press the Volume Up & Power Key at the same time and tap Use when a pop-up screen appears.
Again, swiftly press the Volume Up and Power keys to enable Talkback.
Now draw "⅃" (Reverse L) on your screen.
Double tap the screen to select the Use Voice Command.
Then say, "Open Google Assistance."
If the Bixby display shows, proceed as suggested by Bixby; otherwise, use Google Assistance.
If you will proceed with the Bixby Method, follow the steps below:
First, disable Talkback by pressing Vol Up + Vol Down together.
Tap Sign In on the Welcome Screen. Use a Samsung Account to log in.
Agree to Terms and Conditions.
Click on Start.
Select Keyboard or Mic.
Type or say "Youtube".
Once Youtube is open, tap on the User Icon and go to Settings > History and Privacy > Youtube Terms and Services.
Click Accept and Continue.
If you are using Google Assistance, below are the steps:
First, disable Talkback by pressing Vol Up + Vol Down together.
Select Keyboard and type in Youtube.
Once Youtube is open, tap on the User Icon and go to Settings > History and Privacy > Youtube Terms and Services.
Click Accept and Continue.
Either method will lead to a similar result. Follow the steps below to continue the bypass:
Open your browser and go to this link.
Tap the "≡" icon on the upper-left corner.
Select FRP Unlock APK, then find and select Alliance Shield X.
Once selected, it will redirect you to your Samsung Galaxy App store. Then, click Install.
Open Alliance Shield X and sign in to your own Alliance Shield X Account. If you don't have an account, tap Register to create one.
Enable Device Admin and Click Activate.
Click the Next button on the lower right corner.
Enable Knox, agree to Terms and Conditions, and click Agree.
The app will inform you that the Knox license validation was completed successfully. Then, click Next and Finish.
Now select App Manager.
Find and Select Android Setup.
Go to the Actions tab on the top corner and select Force Stop and Wipe App Data.
Press < on the lower left corner of your screen to go back to the App Manager.
On the search bar, type in Samsung Setup Wizard and select it.
Go to Actions tab again and select Force Stop and Wipe App Data.
Go back to the App Manager.
Now on the search bar, type Google Play Services and select it.
Select Force Stop and Wipe App Data again.
Go back to App Manager for the last time.
Find and select Samsung Setup Wizard again.
Now, go to the Activities tab and select com.sec.android.app.SecSetupWizard.SecSetupWizardActivity.
A Configure option will appear, click Open.
There you have it. After waiting for a few seconds and a few of your personal configurations, your Samsung S20 FRP lock is now removed.
Wrapping Up
FRP is a built-in data security safeguard for all modern Android smartphones that protects against unauthorized access. If you forgot the last active Gmail account used on your phone after a factory reset, you will need to find a way to unlock it.
There are various ways to bypass FRP. However, Unlockit Android is our best selection, so you won't have to go through multiple steps just to bypass FRP. Unlockit Android is a practical solution because it is safe and simple to use.
We really hope that the information we've provided has assisted you in trying to get back into your smartphone after FRP has locked it. Please feel free to comment below if you have any thoughts.