Many of the Android devices after the update of version 5.1 need a Google account to sign in. These security measures are implemented by Google to protect your device in case it is lost or stolen.
But as good as Factory Reset Protection (FRP) is, it can turn into a nuisance for some users. For instance, if you forgot the Google account that was synced to configure your device before, you might see "This device was reset. To continue, sign in with a google account" error.
In this guide, we will show the details about this error and how you can bypass it and get into your device easily.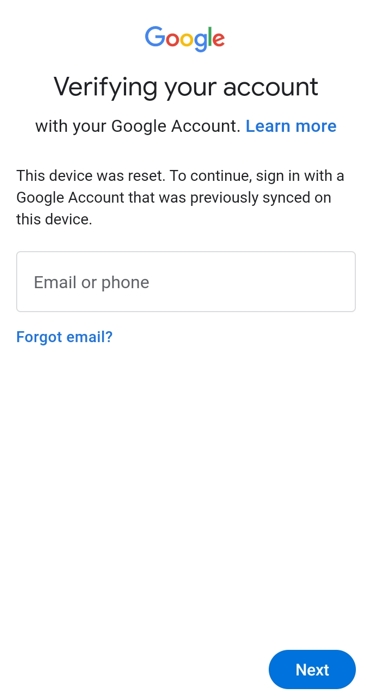 Why are you getting "This device was reset. To continue, sign in with a google account" error?
You own a smartphone that has the Android version 6 or above and you would like to perform a hard reset on your device, also known as a Factory Reset.
Most users will perform this action either to speed up their smartphone if it starts lagging or if they want to sell their phone to someone else.
If you meet the following two requirements, then the Factory Reset Protection lock will be activated automatically:
A Google Account is used to log in to the device
The user has set up a screen lock security
The smartphone will then ask the user to enter the Google credentials that were added in to the device before factory reset.
To avoid the error from appearing after the factory reset, you will need to delete all Google Accounts from your smartphone, then the FRP lock will be turned off automatically.
Now, you can give away the phone to anyone else or perform an easy factory reset on your smartphone. Android will not request you to enter the Google Account credential after hard resetting the device.
Though this Factory Reset Protection feature helps in the prevention of stealing the smartphone and protects user data, it can also be a problem if you reset the device and forgot your Google account details.
In this situation, you can use a third-party FRP bypass tool to bypass it easily as we show in the next part.
Easily get past of "This device was reset" screen in 1 Click
You will be completely locked out of the FRP screen if you do not enter the correct Google account and password. However. you can take help from third-party tool to bypass the Google account lock for your Samsung smartphone.
We have developed a Samsung FRP bypass tool named Unlockit Android software which will bypass the FRP lock for all Samsung devices running Android 6, Android 7, Android 8, Android 9, Android 10, Android 11, and Android 12.
This tool will bypass the This Device Was Reset screen with a single click and help you get full control of your Samsung smartphone in just a few minutes.
It is simple to use even if you are not technically savvy. After bypassing the FRP lock with Unlockit, you can add a new Google account to your device.
Follow the instructions below to bypass the Google Lock with Unlockit Android:
Step 1. Download and install the Unlockit Android program on your computer. Connect your Samsung smartphone to the computer with a USB cable.
Step 2. Click Start button from the main menu.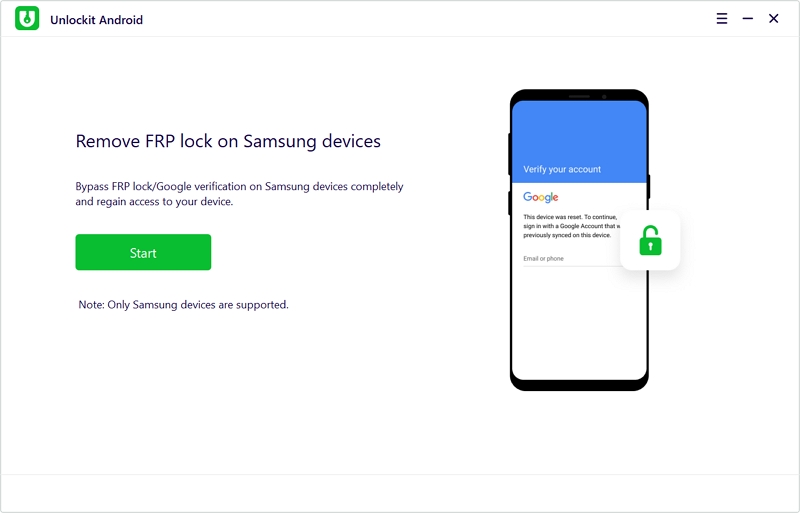 Step 3. Choose One-click bypass option from the list and make sure the smartphone is connected to the WiFi.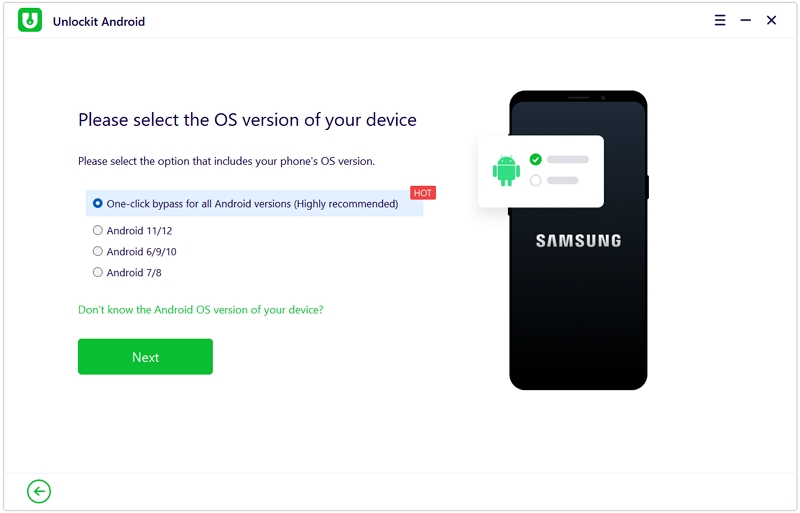 Step 4. Unlockit Android will then automatically unlock your smartphone. Follow the on-screen instructions on Unlockit Android to set up your device during the removal.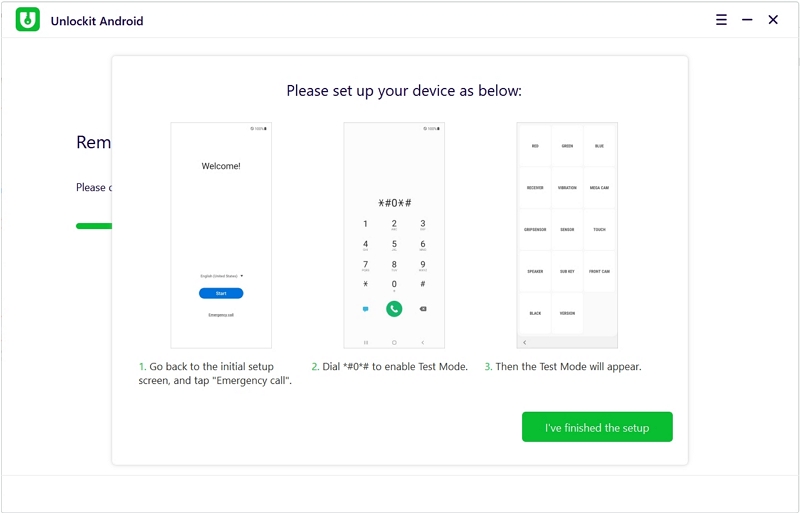 Step 5. Once the process is complete, your device will restart and you will receive a message FRP lock removed successfully!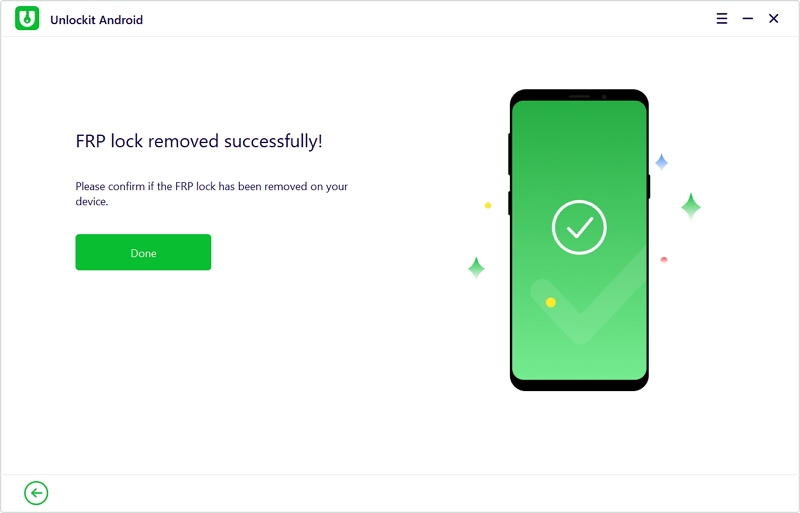 You can now have the option to log in to your Samsung device by using a new Google account.
Get past 'This Device Was Reset' screen with APK
If you encounter the Google account verification error after a factory reset, it is best to call the previous owner and ask them to enter their Google credentials so that you can update the FRP Google account with yours.
But if you cannot contact the seller, you can also try to bypass the lock by following these steps:
Your phone should be fully charged and connected to a power source. As the process will take a lot of battery power.
Turn on the phone and type in ResetFRP in the email address field. Next, long press the text and you will see a small menu.
Tap More > Assist. You'll see the Google App on your screen.
Type Chrome in the search bar. Tap on Chrome app and it will open the Chrome browser.
In the search bar, type Test dpc app and open the first search result. Download the dcp apk file.
Go back to the Google app and type Downloads. Now tap on the Downloads folder.
Install the test dcp app .apk file.
Open the Test dcp app to remove the FRP lock.
Follow the on-screen instructions and tap on the Encryption option.
Your phone will start to restart itself multiple times. Approve any and all permissions requested. Now you'll be redirected to the Home screen and the device will not ask for a Google Account verification.
Open Settings and do a Factory Reset.
Your smartphone will complete the Factory Reset. You can restart the phone and set it up as you would normally. Enter a new Google account and start using your smartphone.
Wrap Up
Hopefully, now you're able to delete any previously synced Google account from your smartphone. We recommend using the Unlockit Android tool to bypass the lock on your Samsung smartphone.
The other methods can be tricky and if they don't perform correctly, you would get stuck in the middle of the process and need to start over again. So it's better to use a proven tool from the get go.