One of the best things about iPads is their versatility. Whether you need them for work or as a drawing medium, the iPad never disappoints. But, how can you make use of all those amazing features if you can't access your device?
Are you also struggling with getting your iPad past the activation lock stage? Well, there's no need to worry because we're here to help you activate your iPad without or with Apple ID and password. Let's get to it!
Why You Need the Apple ID and Password to Activate iPad?
Did you buy an iPad that was pre-owned or got one from a relative and started it up only to find that it didn't immediately take you to set up? I've been there.
If you're seeing the iCloud Activation Lock screen, the situation is that your device's old owner enabled the Activation lock by turning on Find My and forgot to disable it. What will happen now is that you won't be able to get past the screen unless you get the Apple ID credentials from the owner.
You won't be able to change the Apple ID on the device or access its iCloud and features until you have gotten past the Activation Lock. Let's check out how we can get past this dilemma because trust me, running after previous owners to ask for their Apple ID should be your last option. You really don't know what kind of people you might end up dealing with.
But, at the same time, it's important to remember that the Activation Lock was put in place to protect Apple devices from being stolen and used later. So, even if it's a bit inconvenient, it's not all that bad.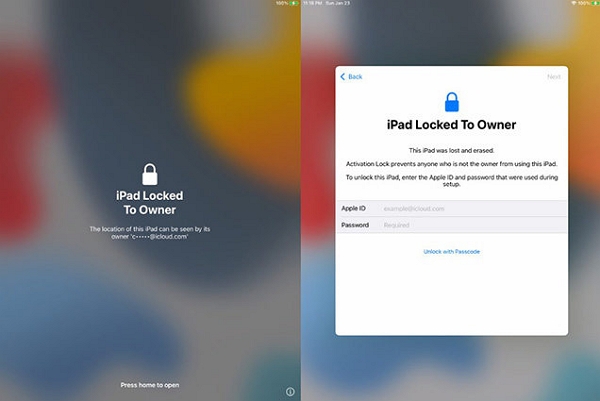 Activate iPad without Apple ID and Password
Using iOS Unlocking Tool
Sometimes the official ways to bypass the iCloud activation lock don't work so you have to resort to less official ones. One option that you have is to use an iOS unlocking tool. One such tool is the Unlockit iCloud Remover. Here are some of its top features:
Bypass the Activation Lock without Apple ID and password
Compatible with iPadOS adnd iOS 12 to 16
Works with iPhone 5S to iPhone X, various iPad models, iPod touch 6 and 7
It is safe, secure, and easily accessible
Ready to use this amazing tool and get into your iPad? Just follow these simple steps:
Step 1: Download and install the Unlockit iCloud Remover tool on your computer and run it.
Step 2: Connect your iPad with a lightning cable and click on 'Start' to begin.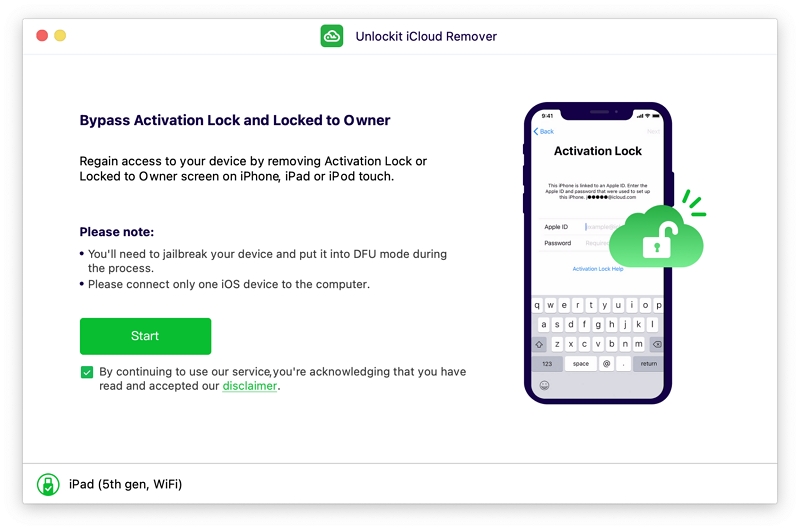 Step 3: If your device is already jailbroken, it will take you to the next step automatically. If not, then it will detect that and download a jailbreak package. Follow the instruction carefully to ensure nothing goes wrong.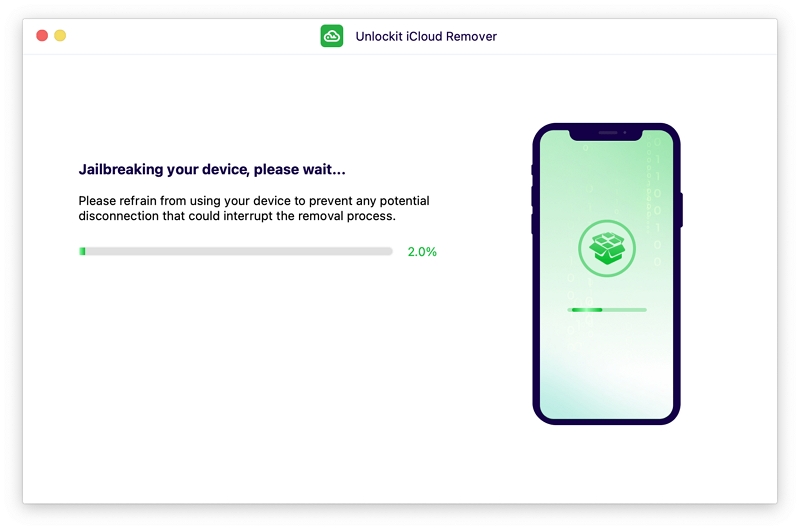 Step 3: Once your device is jailbroken, you'll be asked to confirm the device's details. Confirm and on the next screen click 'Start to Remove' to start the unlocking process.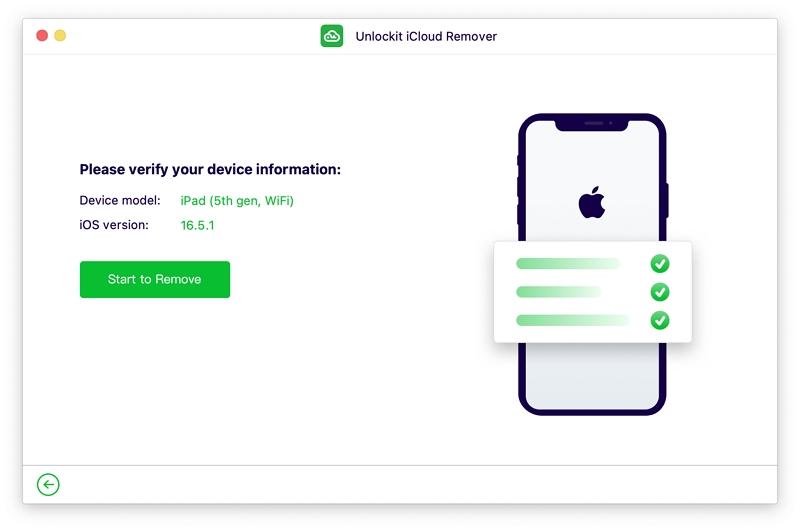 Step 4: Whilst it is unlocking, avoid using the iPad during this time. A notification on the screen will let you know that the process is done.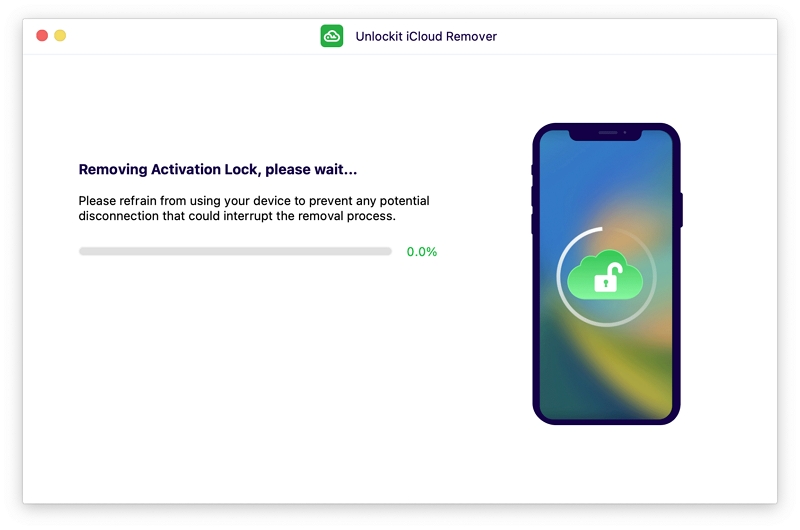 Step 5: Now that the iPad is unlocked, you can easily set up your Apple ID and make the most of your device.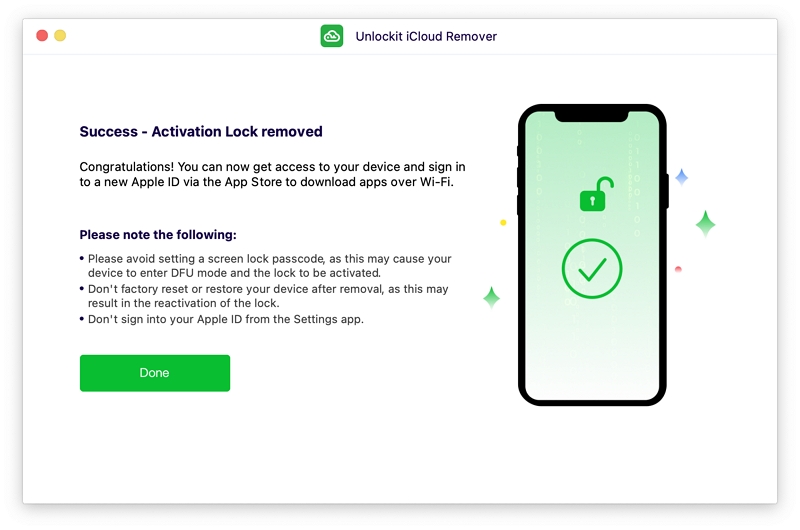 iOS unlocking tools make bypassing the activation lock so much easier. You don't even have to wait a long time since most of these work within a matter of minutes.
Ensure your lightning cable works and the internet connection on your computer is stable. This will be very helpful when downloading the jailbreaking process.
Using iCloud DNS Bypass
The last resort you have is to use a DNS bypass on your iPad to get past the activation screen. A DNS bypass reroutes the activation requests sent to the Apple server to the bypass server.
This eliminates the need for an Apple ID to initiate the process. I've tried this method many times, and even though it's a little technical, it works wonders.
The best thing about the DNS bypass is that it is very reliable and has a good success rate. Plus the method works for most iOS versions. Here's what you need to do:
Step 1: Disconnect your device from the WiFi connection it was on, and make sure you remove the profile.
Step 2: Restart the device to ensure a smoother DNS bypass.
Step 3: When trying to re-enter the Wi-Fi, click on the small 'i' near it. Now select Configure DNS and pick the Manual option.
Step 4: Enter the regional DNS from this for your convenience:
USA: 104.154.51.7
Europe: 104.155.28.90
Asia: 104.155.220.58
South America: 35.199.88.219
Australia and Oceania: 35.189.47.23
Step 5: Now click on the 'Back' option and join the network as normal.
After doing this, your device should try activating the new DNS and you'll automatically bypass the iCloud activation lock. The most important thing in this process is to get the regional DNS correct and to have a stable internet connection.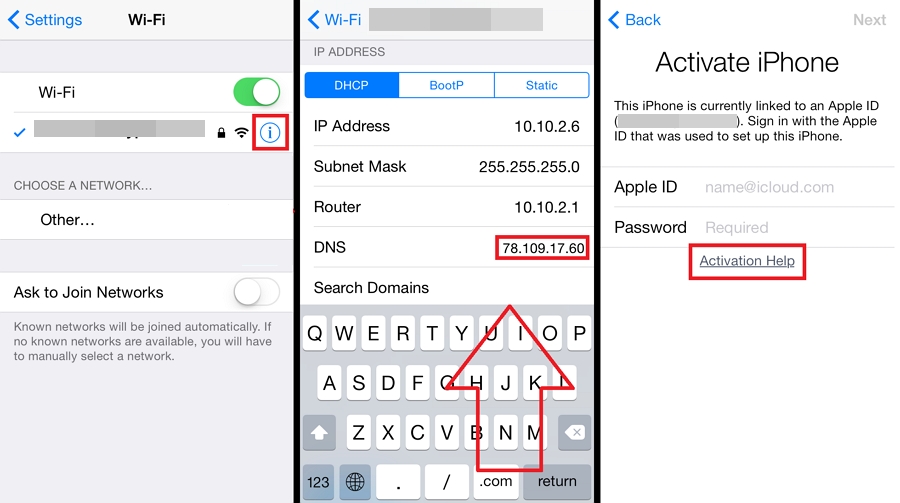 Using Online iCloud Bypass Service
Another popular way is to use an online icloud unlocking service. These services usually require you to provide the model and IMEI number of your device, then make an order and wait 1-3 days for the unlocking results.
Although some online services do work, there is a lot of uncertainty when it comes to them, especially when they require you to submit such sensitive information. A quick Google search into them will tell you how people have been scammed out of their money with no solution in sight.
This is why I've always been apprehensive about using services like DirectUnlocks as, although they do work, the success rate is so low that the risk factor is enhanced multiple times just to save a few bucks. However, if you are certain about using such services, there are a few tips you need to keep in mind:
Tip 1: Be Smart About iCloud Lock Removal
While you might have tons of positive posts about tools that promise to remove iCloud locks, it's important to be cautious. Don't rush into using paid services from websites that might not be trustworthy. Avoid places that offer free solutions– they've been shown not to work well. What's even worse is that you could end up losing your money and your personal data.
Tip 2: No Free Trials, But...
Unfortunately, you can't usually try these services for free before committing. But don't worry; there's a way to avoid taking a blind leap. That is to conduct extensive research into the service and gather reviews from multiple sources. Learn how to differentiate between actual and fake reviews.
Tip 3: Trusted Solution: Unlockit iCloud Remover
For a reliable option, consider using a tool like Unlockit iCloud Remover. They've got a real Research & Development team behind them and a super helpful support crew available 24/7. What's cool is that you can even give it a test run for free – just download the software and see if your device is supported. This way, you can be sure you're making the right choice.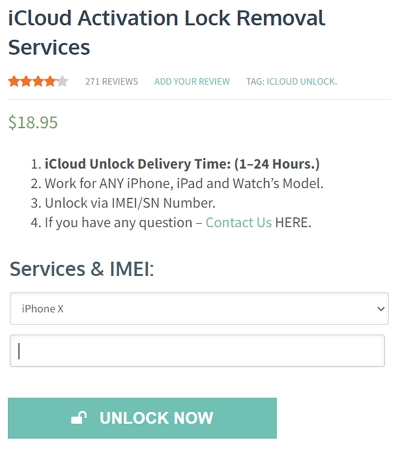 Activate iPad with Apple ID or Password
By Resetting Apple Account
If you've forgotten your Apple ID, it can be more difficult to get past the iCloud Activation. However, one thing that you can try doing is resetting your Apple account. Just make sure to have access to the number you used to create the Apple account. Here's what you need:
Go to https://appleid.apple.com on the browser of your choice.
Click on the Reset Password option.
Enter your Apple ID in the given space and click on Continue.
Now punch in the phone number you used to create the Apple ID.
Apple will call you or send you a text. Follow the instructions to reset your password.
This method is super effective and can help you get past the activation screen in a matter of minutes. However, if you no longer have access to the number then you might have to find another way.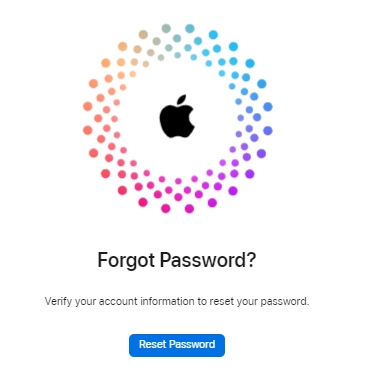 Via iCloud Find My
You can simply use the Find My option on iCloud to access your iPad by getting past the activation screen. This method only works if you have your Apple credentials with you. So let's have a go at it:
Open your browser and make your way to the iCloud website.
Log in using the Apple ID credentials for the account that's on your iPad.
Now that you're in find the option that says Find My. It will be in the top right corner.
Click on All Devices and choose the iPad that you want to unlock.
Once you click on the device, select Erase iPad and confirm your action.
At last, click Remove From Account to finish the operation.
Wasn't that a piece of cake? This method is recommended by Apple itself because it's so authentic and reliable. However, if you don't have your Apple ID or password, there's nothing that can be done. Also, you'd need to ensure a strong internet connection since that's integral to making the method work.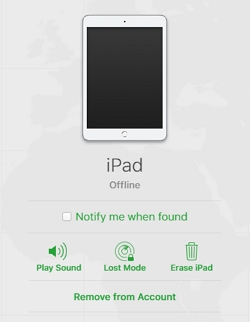 To Conclude
When it comes to activating iPad, there's often a lot of work involved. The worst case scenario is when you don't have the Apple ID credentials.
But, this guide showed ways to bypass it without needing one. You can easily use an iOS unlocking tool or the DNS bypass method. For those of you that want instant results without having to wait, the best option is to pick a tool like Unlockit iCloud Remover.
However, the DNS bypass method works best for anyone who's good at instructions and has an iPad running iOS 10 and below. It all comes down to making the most of what you got. If one method doesn't work, you always have the other. Try them out and let me know!