iPhone passcodes serve as your first and last security line against other people trying to access your phones.
However, this feature is a double-edged sword since you may find yourselves locked out of your phones if you forgot your passcodes.
You might wonder if it is possible to unlock your device without restoring it when you forgot your iPhone passcode.
Let's find the answer here.
Is It Possible to Unlock Forgotten iPhone Passcode Without Restore?
Apple has always been concerned with bolstering its security systems, making its devices virtually impregnable once a passcode is set.
However, you will be locked out if you forget your passcodes and input the wrong codes too often.
But we must point out that if you want to remove forgotten passcode and regain access to your device, the only way out is to reset and restore your device.
there is NO way to unlock your forgotten iPhone passcode without restore.
In this case, what you have to accept is that all the data and contents of your iPhone will also be erased when you restore iPhone.
This is a security setting of the Apple's iPhone system, and there is no other way to bypass it.
However, you can quickly fix this situation if you have managed to back up your data using programs like iTunes or iCloud.
On the other hand, finding the right method to remove the forgotten passcode is your next best course of action.
Unlock Forgotten Passcode without iTunes or iCloud Via Unlockit iPhone
The tips discussed above pertain to things you can do to prevent data loss from happening.
However, if you've already locked yourself out of your iPhone, one of the best programs to save you is Unlockit iPhone.
It is made by experts with ample experience in iPhone unlocking. And from the second you boot up this program, you'll know why it's highly touted.
Features of Unlockit iPhone:
Unlock forgotten iPhone's screen passcode.
Remove Touch ID or Face ID.
Unlock "iPhone is disabled connect to iTunes."
Works with common iPhone devices and iOS versions.
Here is how you can get the most out of the Unlockit iPhone:
Step 1. Download the Unlockit iPhone on your computer.
Step 2. Choose the Unlock Screen Passcode option.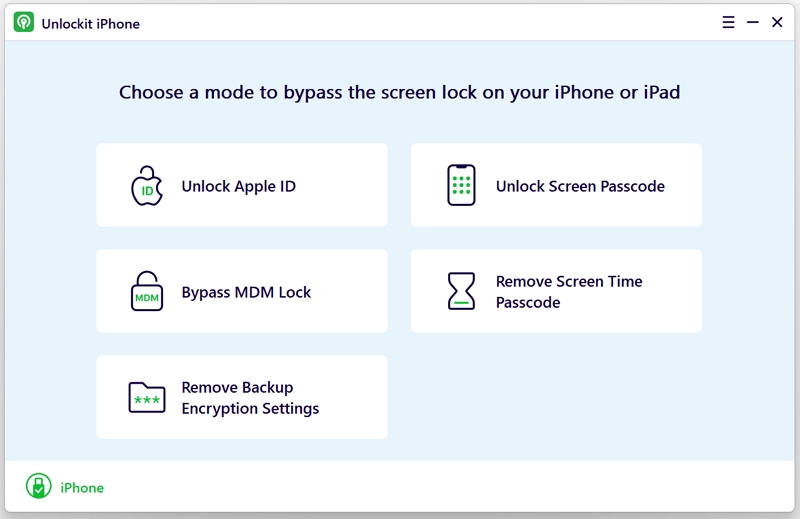 Step 3. Connect your phone to your computer via a USB cable and let Unlockit iPhone put your device in Recovery mode automatically.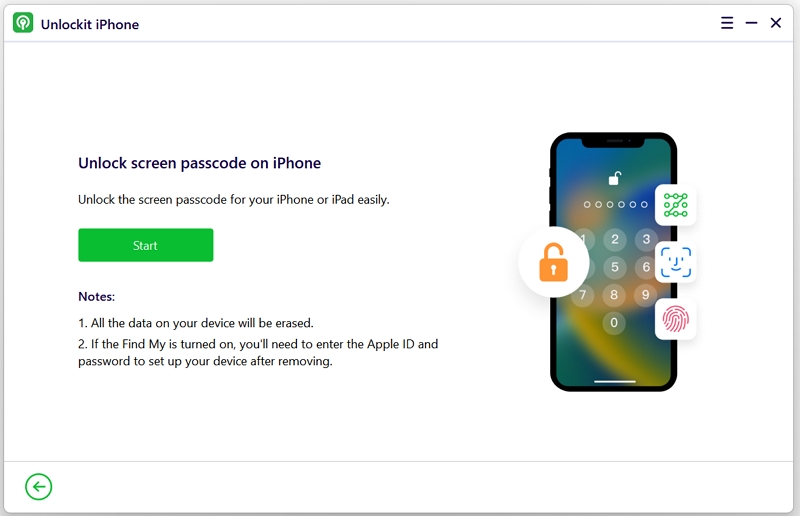 Step 4. You will need to download the firmware. After downloading, click Remove.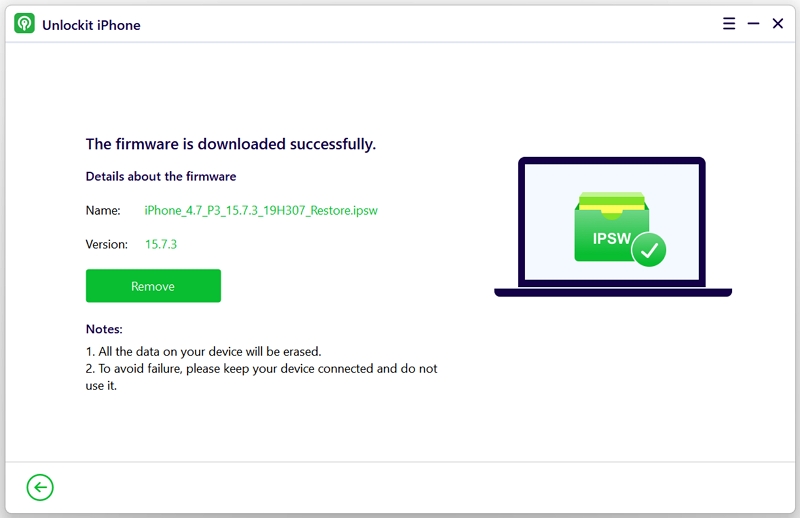 After following these easy steps, you can unlock your phone effectively without using iTunes or iCloud, then choose to restore your iPhone from an old iTunes or iCloud backup as you want.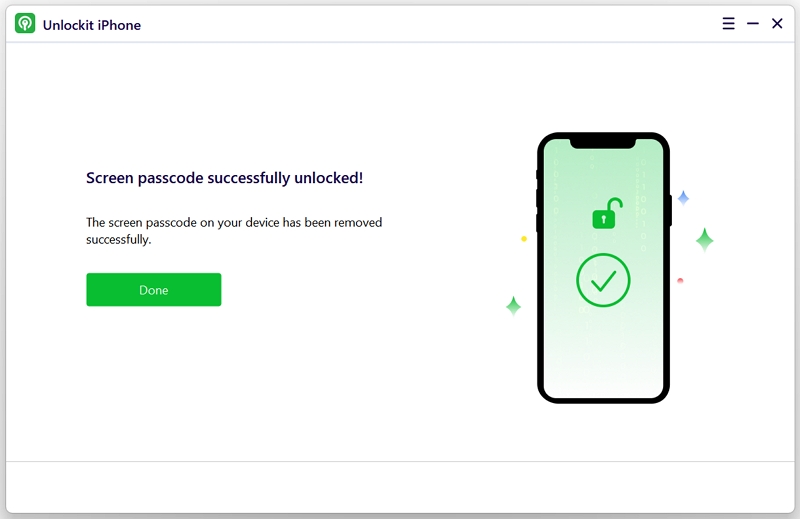 Give the program time to process each request, and you're ready.
Via Security Lockout
Note: Security Lockout is only available when the Find My is turned on and your device is running iOS 15.2 and later.
Another easiest way to unlock your iPhone passcode is through Security Lockout.
This feature was introduced in iOS 15.2, making it easier for people locked out of their phones to reset their devices.
However, one catch of using this feature is that it will delete all the data within your phone, so always keep that in mind if you're considering using it.
Here are the steps to fully utilize the Security Lockout feature:
Ensure that a steady connection with the WiFi network is established.
Upon entering the wrong passcode more than seven times, you will be prompted to a Security Lockout screen. From there, tap Erase iPhone two times to confirm the process.
Input your Apple ID password to ensure you're logged out.
Tap Erase iPhone again to complete the process.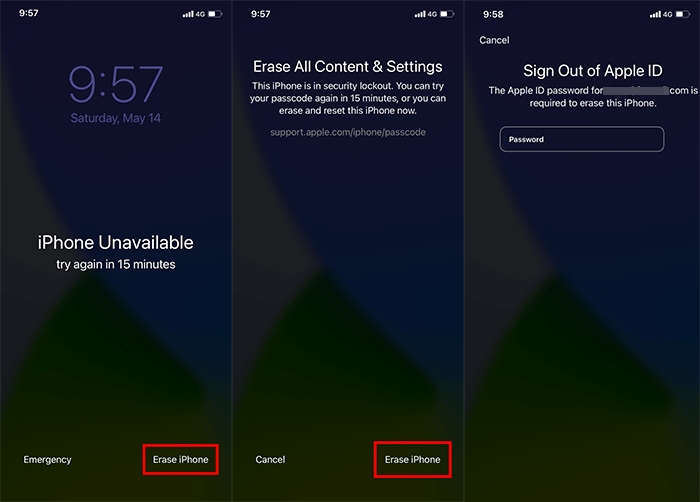 After following these steps, you can set a new passcode for your phone, but the data within is erased.
By Connecting Your iPhone to iTunes or Finder
If you have backed your data up on iTunes, you can restore the iTunes backup after you reset your device.
However, if you haven't backed your data up, using iTunes is still an excellent option to unlock your forgotten passcode, but with the added catch of losing saved data.
This method only works when your device has synced with iTunes and trusted your computer previously.
Here are the steps:
Step 1. Open iTunes on your computer. If you use a Mac computer, open Finder.
Step 2. Connect your phone to your computer via a USB cable.
Step 3. Click the Restore iPhone button.
You will now be given the option to restore your saved data in iTunes or start from scratch, erasing all data within your mobile device.
If you have saved your data within iTunes, select the option to recover these files. If not, start from scratch.
One of the best ways to retrieve your data when locked out of your phone is to make backups of your files regularly. Apple programs make saving backups easier, so this process won't take up much of your time.
If backups aren't available, you can always reset your phone to its original settings. But don't expect your files to be intact when you pick this option.
Use Recovery Mode
Note: Use Recovery mode to unlock your device's passcode, if your iPhone hasn't been synced with iTunes or Finder before.
Putting your iPhone in recovery mode is like placing your Windows operating system (OS) in Safe Mode.
This process allows you to access the backend of your device and possibly perform debugs and other procedures you can't otherwise do in the front end.
However, this process differs in every iPhone version, so knowing how to put your iPhone in recovery mode is vital to getting the most out of this method.
Additionally, this process differs from the previous methods since your phone needs to be in recovery mode.
Here are the steps on how to maximize the iTunes recovery mode:
Step 1. Put your iPhone in Recovery Mode.
Remember that there are various methods to put your iPhone in recovery mode. Some require you to press the volume up and volume down buttons; others need you to press the home and volume down buttons. Consult your manual on how to reach the recovery mode successfully.
Step 2. Connect your mobile device to your computer via a USB cable.
Step 3. Wait for a pop-up message telling you there's a problem with your iPhone that requires it to be updated or restored. Then, click on Restore.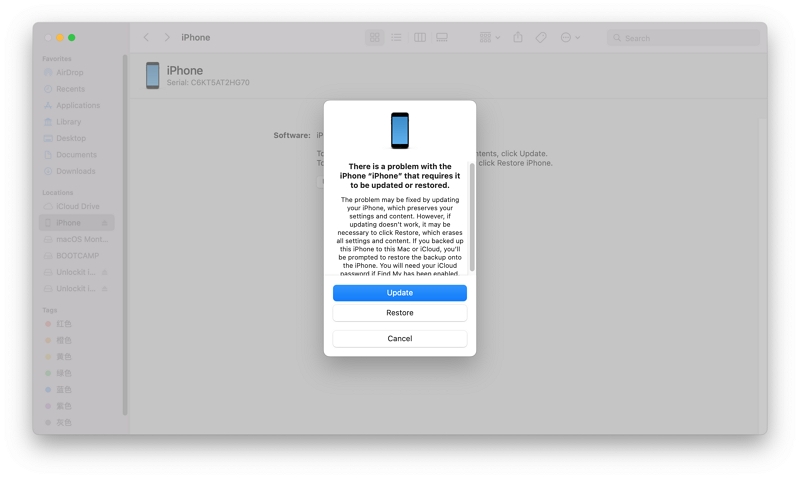 Step 4. Then click on Restore and Update to start the process.
Wait for the process to finish and for your phone to restart.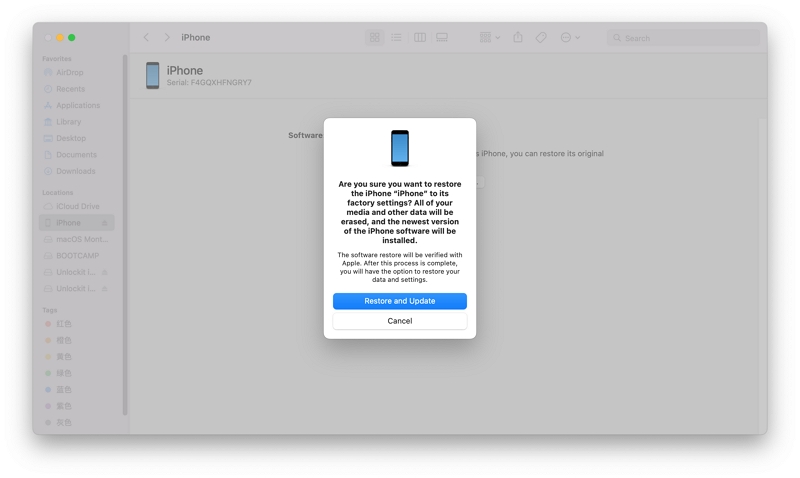 Via iCloud.com
Note: This process also deletes the saved data within your phone. Additionally, this method works only when the Find My it enabled on iPhone.
iCloud is one of the best options for resetting your locked iPhone if it has iOS versions 1.5.2 and below.
Follow these steps to reset your phone using iCloud:
Go to iCloud.com and log in using your credentials.
Click on the menu and choose the Find My option.
Here you will see the list of phones, so click on your iPhone in the list.
Click the Erase iPhone button and log into your Apple ID when prompted.
Click Next and follow the instructions.
Wait for your phone to restart and set up your new passcode when prompted.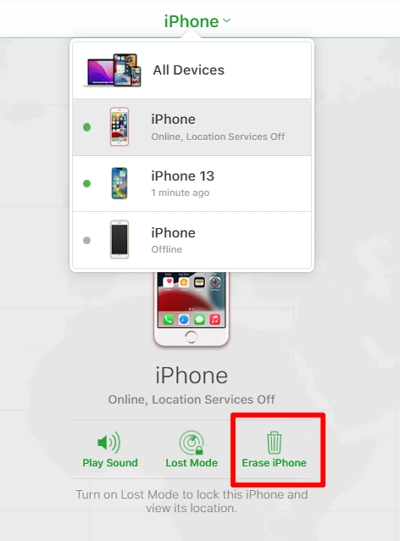 FAQs
Is There Any Way To Regain Access to My Locked iPhone Without Erasing the Contents?
You will be locked out of your iPhone after six attempts without entering the correct passcode.
When you're locked out, the functions you got to enjoy before become inaccessible.
But we have to say that unfortunately there isn't a way to help you unlock your forgotten password without losing data.
The best way to prevent data loss is to occasionally make backups of your essential data to programs such as iTunes or iCloud in preparation for events like this.
They say prevention is better than cure, so one way to prevent data loss is to be prepared by making regular backups.
You can also keep a list of your passcodes and passwords on a different device to avoid being locked out of your iPhone.
If you're worried about the security of this list, you can always resort to hiding these files in folders or even encrypting them so only you have access to it.
Is it possible to unlock the iPhone passcode without using a computer?
YES. In this case, you can use the Security Lockout or iCloud.com method to unock your iPhone's passcode without computer. There is no need for a Windows computer or a Mac.
Summary
Being locked out of your phone has got to be one of the most frustrating experiences, especially if you haven't backed your files up beforehand.
While there are other methods like the ones discussed above, some of them sacrifice your precious data so you can restore the phone to its original state.
Relying on third-party software can also be hit or miss at times; more often, it's a miss. But if you're looking for these types of software, you can rely on the Unlockit iPhone
This software is made by people who worked extensively with Apple products. Therefore, bypassing these locks will be easy if you have this software.
Furthermore, this software streamlined the process of going through the lock system.
It's up to you now what method to use. The bottom line is to always backup your files and keep a copy of your codes.