When the "Find My" feature is enabled, a security feature of Apple called Activation Lock immediately activates.
This anti-theft function can make it difficult for owners and second-hand buyers to access the device if they do not know their Apple ID password.
This feature was developed to protect your iPhone, iPad, or iPod from other individuals trying to remove the Apple ID.
If you've stumbled upon this article, you've probably encountered the same situation. This article will discuss different ways to remove someone else's Apple ID from your iPhone.
So if you want to learn more, continue reading.
Using Unlockit iPhone Apple ID Removal
People who bought second-hand iPhones may be locked out of the Apple ID password requiring screen when logging out of the Apple ID, if they don't have the login credentials of the previous iPhone owner.
With Unlockit iPhone's removing Apple ID feature, you can easily get rid of this problem in less than 10 minutes with little to no technical experience.
This is an Apple ID removal tool to help you remove Apple ID without inputting the password.
Here's how:
Step 1. Download and install Unlockit iPhone on your Windows or Mac computer.
Step 2. Open Unlockit iPhone, and on the welcome page, select Unlock Apple ID.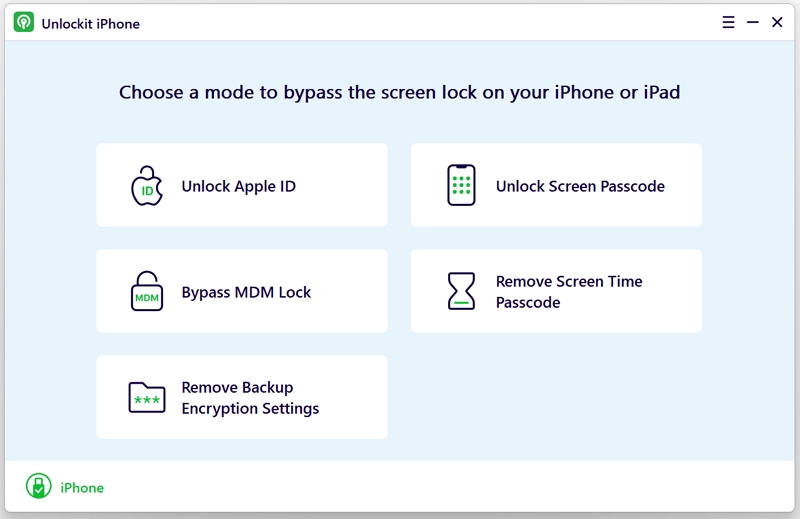 Step 3. Connect your device to your computer using a USB cable.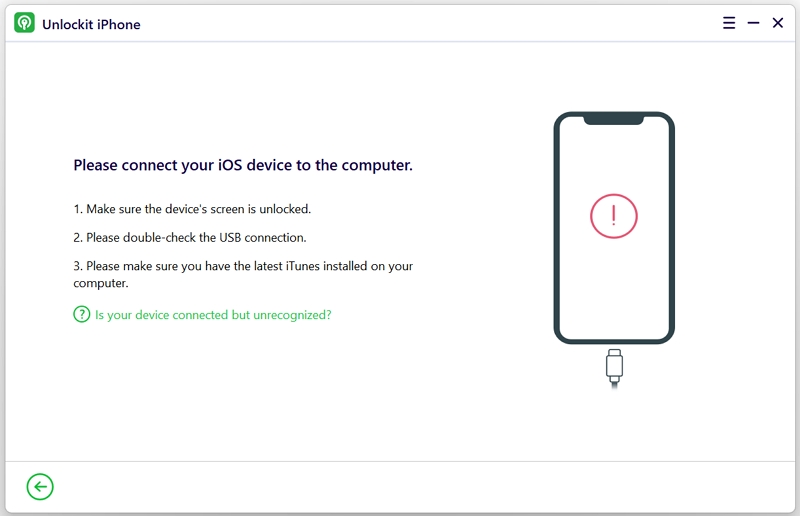 Step 4. On your computer screen, you will be asked to download the latest firmware for Unlockit iPhone, and select Download.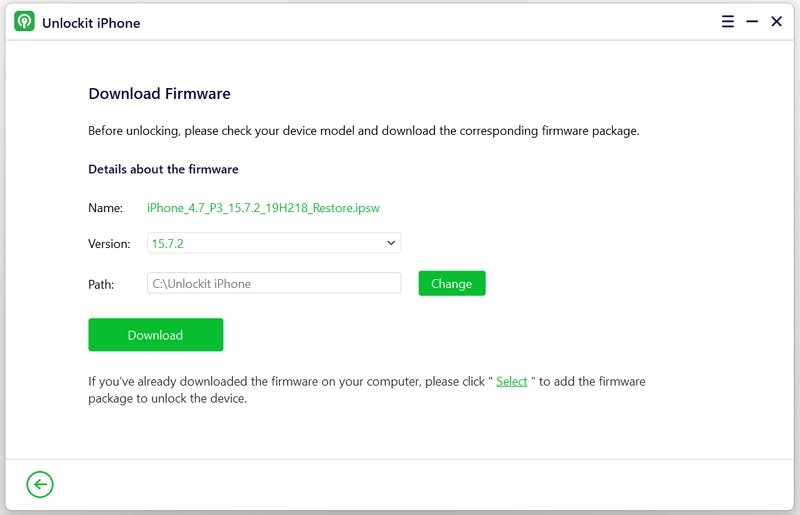 Step 5. Once downloaded, the tool will start unlocking your iOS device.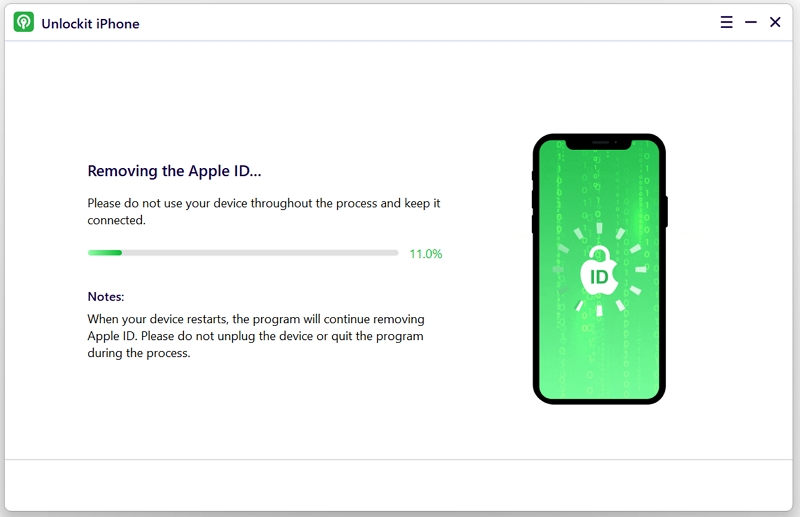 When your device is unlocked, it will restart on its own. Do the initial setup on your device.
Now you have removed the Apple ID previously logged in on your phone.
Contact the Previous Owner
If you're fortunate enough to know the previous owner of your second-hand iPhone, you have two ways to resolve this issue.
First, you could ask the previous owner to log in to their iCloud account and ask to erase your iPhone from the iCloud account. Then, follow the steps below:
Once the iCloud account is logged in, select Find iPhone.
Once the iPhone has been located, click All devices, and select the device name of their old iPhone.
To remove your iPhone from their iCloud, they should choose Erase iPhone.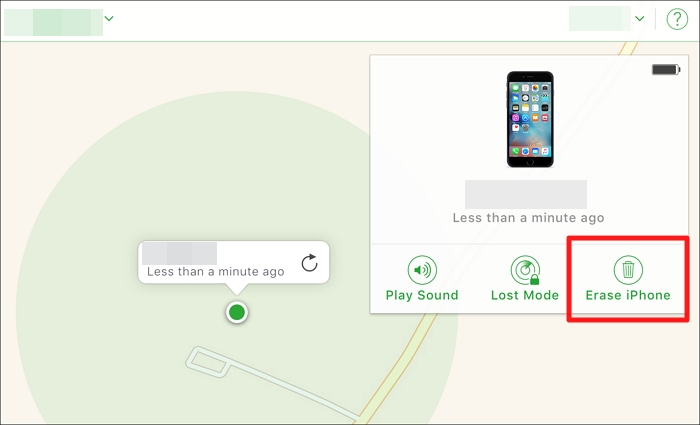 If the first option is too troublesome for the previous owner, and they don't trust you enough, you can use the second method.
All you need to do is ask for their Apple ID password to sign out of the Apple ID yourself. To do this:
Go to Settings and tap the Apple ID at the top of the screen.
Now scroll to the bottom and click Sign-out.
Enter the previous owner's password, which should remove the Apple ID from the iPhone.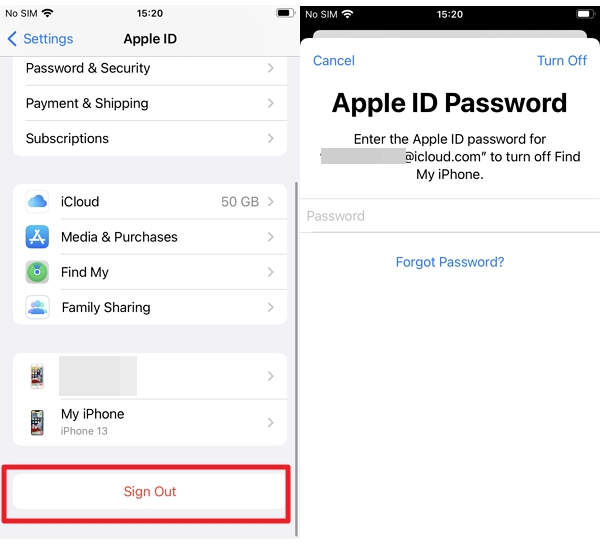 Restore iPhone in Recovery Mode
If unfortunately, you do not know the previous owner of your iPhone, then all you can do is perform a factory reset on your iPhone while it's in recovery mode.
However, this method would only work if the previous owner has disabled the Find My iPhone feature on iPhone.
Here's how you do it for iPhone 7 and later:
Connect your iPhone to your Windows or Mac pc and open iTunes.
Now perform a force restart by holding the Sleep/Wake button and the Volume Down button simultaneously for 10 seconds.
After 10 seconds, release the Sleep/Wake button and hold the Volume Down button for an additional 10 seconds.
If you did it right, your iPhone screen should remain black.
On your computer screen, there should be a prompt saying iTunes has detected an iPhone in recovery mode.
Select OK on this prompt to begin restoring your iPhone.
If you have an iPhone 6S or earlier model, here's how you do it:
First, connect your iPhone to your Windows or Mac pc and open iTunes.
Now, hold both the Sleep/Wake button and Home button simultaneously until you see the recovery screen appear on your iPhone.
On your computer, choose Update or Restore your device to begin resetting your iPhone.
While the process changes depending on the model, it is still all relatively simple. Now your device has performed a factory reset under recovery mode.
Get Rid of Someone Else's Apple ID on the App Store
In some cases, you lend your iOS device to others who download apps to your iPhone via the App Store using their own Apple ID.
Sometimes they forget to sign out their Apple ID on your phone, and you're unable to download new apps since you will be asked for their Apple ID password.
Thankfully, signing them out of the App Store is easy and requires no password to do so. Here's how you do it if you have iOS 14 or higher.
First, go to the App Store and tap the Apple ID on the top-right corner of the screen.
Once redirected to the account screen, scroll down and tap Sign Out. This process will require no entering of a password.
You can finally log in and download apps using your own Apple ID and password.
If your device is using iOS 13 or lower, here's how you do it:
First, go to Settings, scroll down, and tap iTunes & App Store.
Once there, you can click Sign Out.
It is worth noting, however, that this method only logs out the Apple ID from the App store. If the Apple ID is attached to your iPhone then you can use the previously mentioned methods to resolve this.
Wrapping Up
You may have a different reason than others as to why another person's Apple ID is linked to the iPhone currently in your possession.
You may have bought it from a second-hand shop or was a hand-me-down from a friend or relative. Regardless, you can use many options to get rid of the Apple ID currently linked to your device.
Amongst your options, Unlockit iPhone has shown to be one of the most reliable method. Unlockit iPhone is an all-in-one iOS unlocking application.
It is a tested and trusted third-party tools by thousands of users. You can fully maximize the different tools on this software for your iOS unlocking needs.