If the "Find My" feature is activated on your iOS device, it will prompts you to enter the Apple ID password before signing out of the Apple ID.
This feature was designed to protect your iPhone, iPad, or iPod from other people trying to remove the Apple ID.
However, this anti-theft feature can make it hard to access the device even for the second-hand owner if their devices are linked with the previous owner's Apple ID.
But worry not, as we will be discussing in this article how to sign out the Apple ID without the previous owner's help. Continue reading to know more.
Remove Apple ID Directly If Find My iPhone is Off
If "Find My" is turned on, you cannot do a factory reset to remove the Apple ID as this won't simply work and you need to do a different process.
But, if the 'Find My iPhone" feature is disabled, you can remove the Apple ID directly on your device by following the steps below:
First, go to your Settings app.
Tap on your Apple ID profile.
Now scroll down and tap Sign Out.
Finally, tap Confirm to sign out.
Now your iOS device should be fully unlocked.
Remove Apple ID From iTunes
If the previous methods have proven unsuccessful, then iTunes could be your last hope in unlocking your Apple device. Do note that this method will only work if the Find my iPhone feature is disabled.
First, connect your iOS device to your computer and iTunes.
Now hold down the Volume Down and Sleep/Wake buttons simultaneously for 10 seconds to force restart your device.
Let go of the Sleep/Wake button but still continue pressing the Volume Down button for 10 more seconds.
Now you should be seeing a message saying iTunes has detected iPhone in recovery mode.
Press Restore to allow your iPhone to start restoring.
Now your Apple ID has been successfully signed out. However, if the Find My iPhone feature is turned on, a prompt asking for the password will appear. To bypass this prompt, do the next method.
Via Unlockit iPhone Apple ID Remover
When you don't know the password for the signed-in Apple ID and the Find My is turned on the device, then you'll have to rely on third-party applications to bypass it. One application that can help you do this is Unlockit iPhone.
This software has the capability to remove the Apple ID on any iOS device without requiring the Apple ID password. To do so, follow the guide below:
Step 1. First, you need to download and install Unlockit iPhone on your computer.
Step 2. Now launch Unlockit iPhone, and on the landing page, tap on Unlock Apple ID.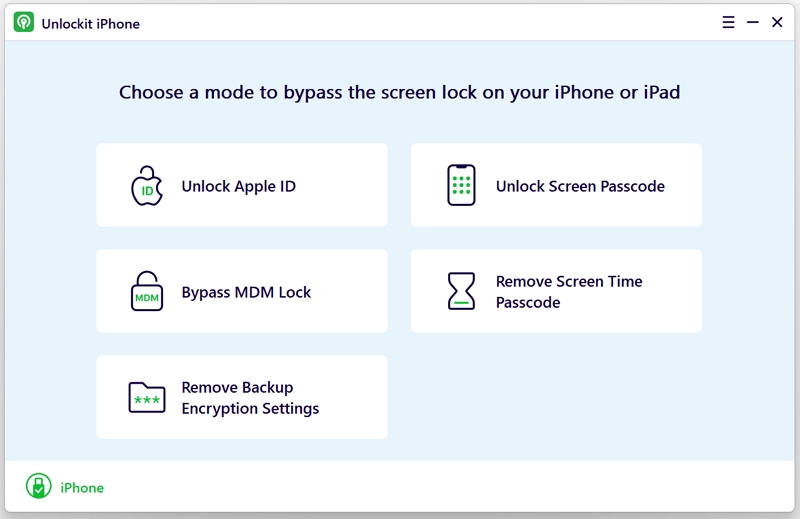 Step 3. Next, connect your iOS device to your computer and make sure the connection is secured and in place.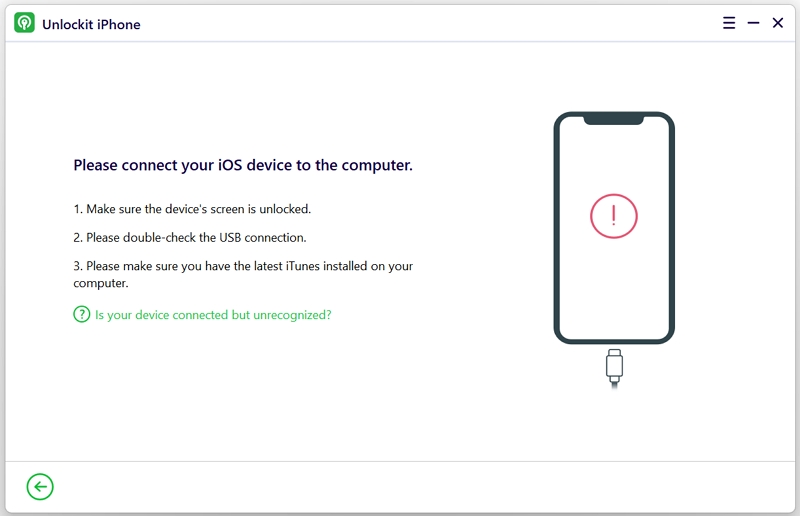 Step 4. Inside the Unlock Apple ID mode, tap Start.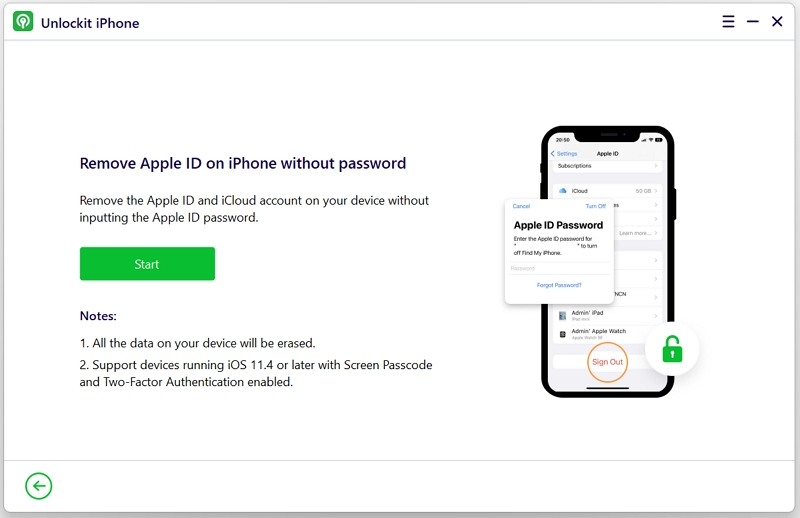 Step 5. Now the program will start removing the Apple ID.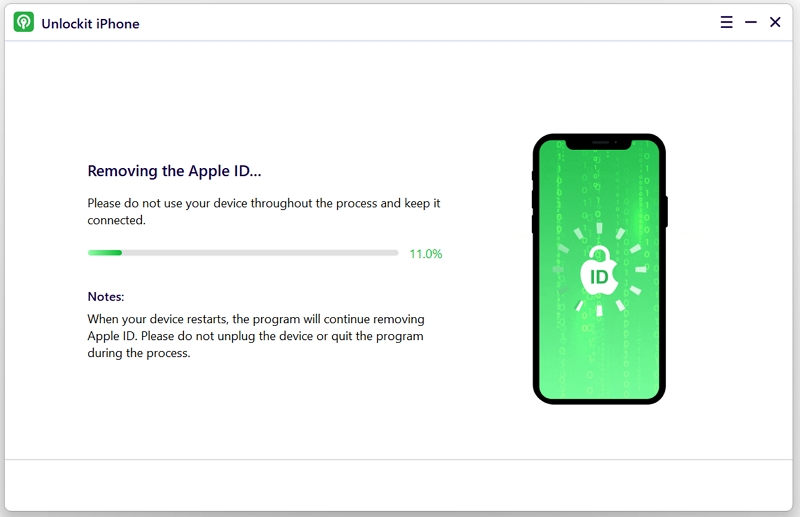 After a few minutes, your device should be fully unlocked.
Avoid Purchasing a 2nd-hand iPhone with Someone's Apple ID Signed In
As we all know, prevention is better than cure, well, in this case, a solution. It is many times better to have an iPhone that is readily usable than to go through some trouble just to be able to use it.
So, here are some tips and tricks you should remember when buying a second-hand iPhone:
Always source your device needs from a reputable source. Don't cheap out on buying second-hand iPhones from sketchy dealers. Save yourself some trouble and headache by ensuring you bought your iOS device from a trustworthy second-hand seller.
Always check if the iPhone works with your carrier. Nowadays, most iPhones are now locked to a specific carrier. That's why before you purchase that iPhone, make sure it is not carrier-locked.
See if the Activation Lock is turned off. Activation lock makes the phone inaccessible without knowing the current password. So to save you some time and trouble, make sure your device doesn't get stuck on the activation lock screen.
Make sure the battery capacity is at least 90%. Anything less than 90% will leave you less usage time between charges. Another reason is that when the battery health declines, your iPhone will significantly slow down due to its attempt to balance performance with longevity.
Check if there is any visible or minimal damage to the device. It's no brainier that you'll want to avoid purchasing an iPhone with visible damage. But be sure to check not only for scratches, but also bends on the phone.
Check for any hardware damage. It would help if you also watched out for damages that are invisible to the naked eye. You should also check if there are any problems with the Touch ID, Face ID, or the 3D Touch sensor. It's also best to check the iPhone's moisture sensor to see if the phone has ever gotten wet.
Conclusion
It is definitely a hard spot to be in when your iPhone is connected to the previous owner's Apple ID that you don't know the password.
Hopefully, reading this guide was able to help you with the several options that we showed you. You can either use the built-in functions in your iPhone to remove the Apple ID.
But if that option's out of the window, you can always use third-party applications such as Unlockit iPhone. This tool has been used and verified by thousands of users as a reliable tool to help you remove the Apple ID on your iPhone without previous owner easily.