You would want to remove your iCloud account from your device. It could be simple to forget your own Apple ID password and get locked out of your device.
This article will discuss several methods you can use to remove your iCloud account without or with a password.
Why Removing iCloud Account?
Signing out your iCloud is the equivalent of turning your PC off and on again when you encounter a problem you don't know how to solve. So why might you want to do this? This encompasses several circumstances, so let's cover a few of them.
When you want to pass your phone to a family member or a friend, you will remove your Apple signed-in on the device. Doing so will ensure your data will remain uncompromised and keep it separate from theirs.
When you make a new Apple ID, you need to sign out of your old one and sign in with your new account before creating a new one.
When the sync on apps like Messages, Photos, Contacts, or Reminders fails across multiple devices from iCloud, signing out of your Apple ID is one of the first remedies in such situations.
When you purchase a second-hand iPhone but with previous owner's iCloud account logged in.
Before removing your iCloud account, backup your data first if you want to keep a copy. This is recommended ecause when you sign out of Apple ID, the listed services below will be inaccessible, making you lose access to all of Apple's services.
Apple Pay, Apple Cash, and Apple Card
Find My
Game Center
Home app to control your HomeKit devices
iCloud Backup
iCloud Drive
iCloud Keychain
iCloud Mail
iCloud Photos
Siri Shortcuts
Voice Memos
Shared Albums
Messages in iCloud
Reminders
Shared Notes
Shared Pages, Numbers, and Keynote documents
Updates to your contacts, calendars, reminders, bookmarks, and Safari tabs
Continuity features like Handoff, Universal Clipboard, and Auto Unlock with your Apple Watch
App data for any third-party apps that you've installed that use iCloud
Does A Factory Reset Remove iCloud Account?
When signing in and out with your Apple ID doesn't work, performing a factory reset might be your next hope. A factory data reset is one of the most common fixes for many iPhone issues.
However, this deletes all your content and settings on your iPhone. So you might wonder, since it deletes everything, it probably removes your Apple ID, right? Well, it depends.
When the Find My iPhone feature is turned on, a factory data reset will not remove your iCloud account from the device.
Activation Lock prompts the user for the Apple ID and password that was used on the phone before the reset. If you cannot provide the Apple ID or password, you will not be able to access the device.
Remove iCloud Account without Password Via Apple ID Unlocker
With the Activation Lock, removing the Apple ID without knowing the password seems impossible. However, there are third-party tools that were built specifically for this problem.
One of them is the Unlockit iPhone. This multi-purpose tool remove Apple ID, MDM lock, screen lock and screen time lock . It can easily remove the Apple ID even without knowing the password. So, here's how you do it:
Step 1. Download Unlockit iPhone and install it on your Windows or Mac PC.
Step 2. Launch the application and click Unlock Apple ID on the home page.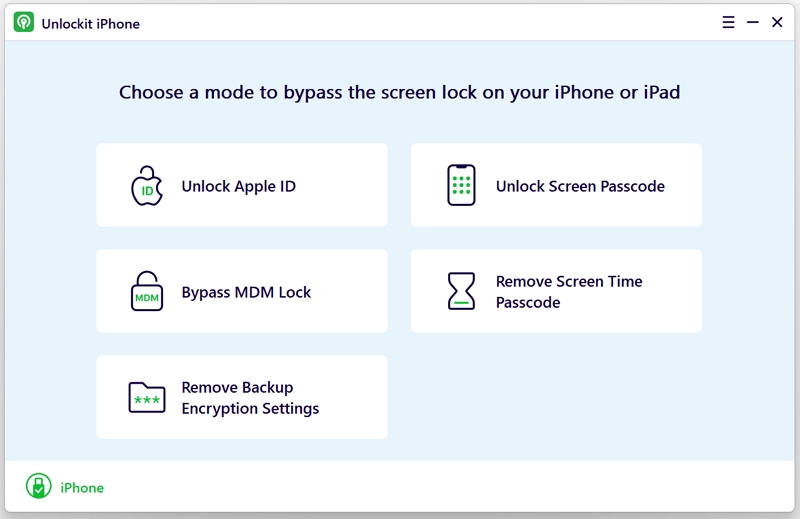 Step 3. Now, connect your iOS device to your PC.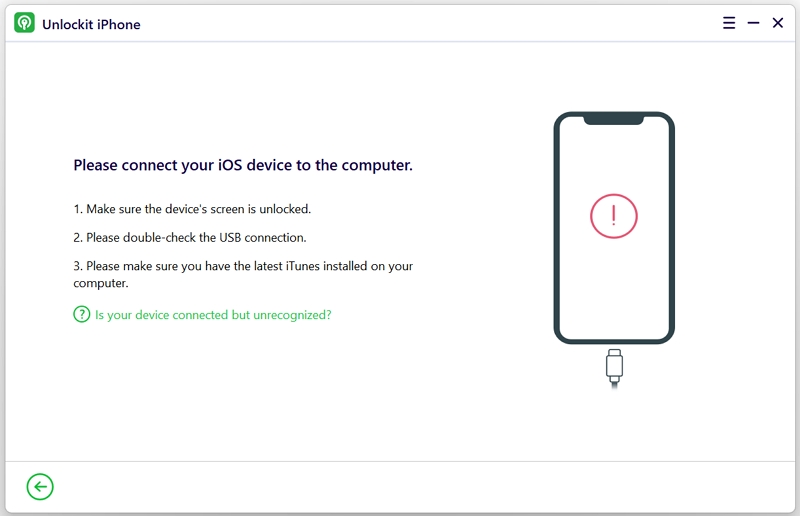 Step 4. Once connected successfully, click on Start to unlock your iOS device.
First, you must set up both the lock screen passcode and enable Two-Factor Authentication.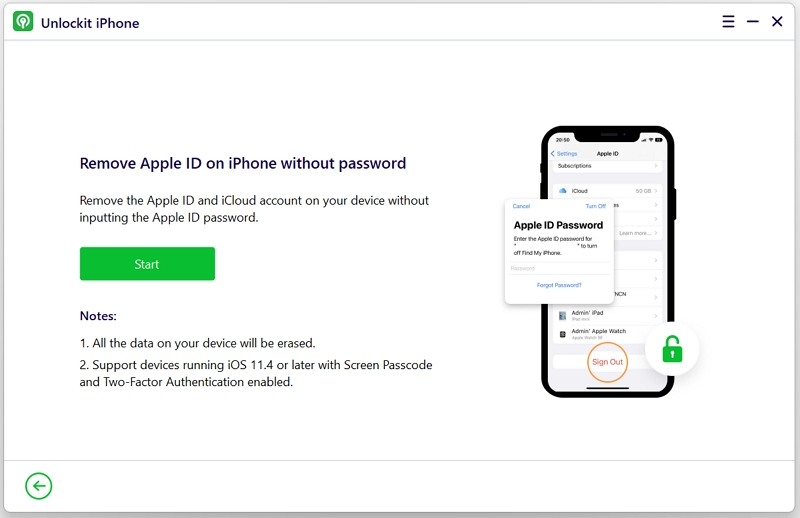 Step 5. Then just follow the on-screen instructions to do this.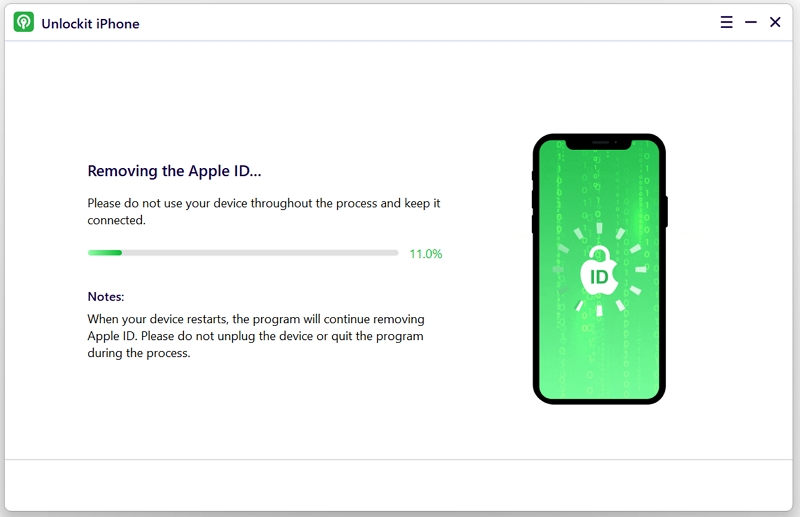 Step 6. After the setup, click the Done button to finish the process.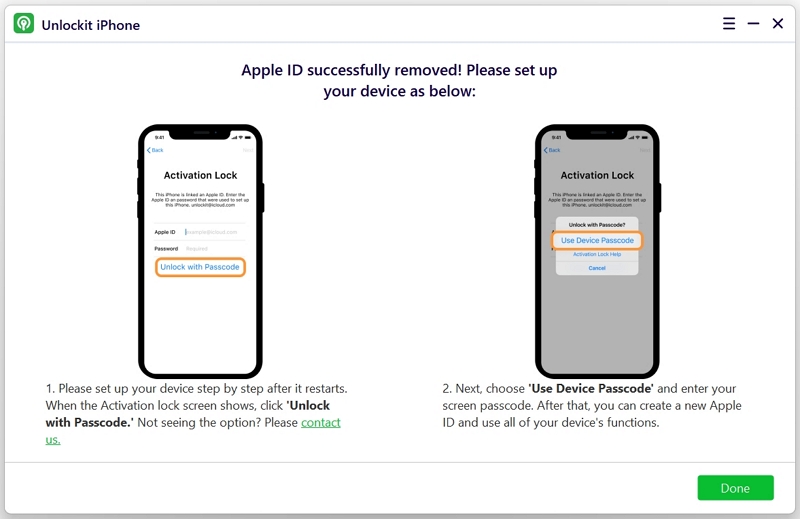 Now your device has been successfully logged out of your iCloud account. You can easily remove it from the device and sign in with a different account.
Remove iCloud Account With Password
When you have the password for your iCloud, it makes logging out a lot easier. Here's how you do it on different devices:
On iPhone, iPad, and iPod touch
Go to Settings and tap on your profile.
Scroll to the bottom and tap Sign Out.
Provide your Apple ID password to disable Find My and tap Turn Off.
Now, you're given the option to keep a copy of data locally on your device of your Calendar, Contacts, Health, etc. Click Sign Out to confirm.
On Apple Watch
When you sign out of your iCloud account on the iPhone that your Apple Watch is paired with, it is also automatically signed out from the watch.
On Mac
Click on the Apple icon in the screen's top left corner and choose System Preferences.
If you have macOS Mojave or later, click Apple ID and then Overview. If you have macOS High Sierra or earlier, click iCloud in System Preferences.
Now, click Sign Out.
Select the desired boxes and click Keep a Copy if you want a locally saved copy of the data on your Mac. To keep your Safari passwords, click on Keep on This Mac.
Now your iCloud account has been successfully logged out from your IOS device.
Wrapping Up
You have learned several methods to remove your iCloud account from your iOS device. Of course, many people would wish it could be just as simple when you know your Apple ID password. But for some of you, it is unfortunate you have to go through way more steps than the former.
It is pretty obvious that using Unlockit iPhone is the most efficient way to remove your iCloud account without a password. Trusted and tested by thousands of users,
Unlockit has proven to be one of the best tools for removing the iCloud account without password. So if you're in it for a worry-free and easy fix, then Unlockit iPhone is your tool.