If you find yourself locked out of your iPhone, the most common form of advice you will find online is to restore the device in iTunes to unlock it.
While iTunes can be an effective solution since it will allow you to delete the old password and therefore access the device, there are several issues with this approach.
The most problematic one is the fact that you will need to put the iPhone in recovery mode, something that when done incorrectly can cause more problems than it helps.
If you are looking for a way to unlock your iPhone without Siri or passcode or iTunes, the following solutions should help you get the job done.
Unlock iPhone Without Siri or Passcode or iTunes Via iPhone Screen Unlocker
The easiest and most effective way to unlock your iPhone without Siri or passcode or iTunes is to use an iPhone unlocking tool like Unlockit iPhone.
This is a solution that will work every time and with all iPhone models running from iOS 9 to iOS 17. It will help you easily remove the 4 digit passcode, 6 digit passcode, Face ID, and Touch ID on your iPhone whether you forgot the passcode or unlike the iTunes solution.
It will even work with a disabled iPhone, giving you access to your disabled device in a matter of minutes.
To use Unlockit iPhone to get access to a locked or disabled iPhone without the passcode, or Siri, or iTunes, follow these simple steps:
Step 1: Download Unlockit iPhone
Start by downloading and installing the program on your computer.
Step 2: Choose Unlock Screen Passcode mode
Open Unlockit iPhone after installation and in the options that you see on the main window, select "Unlock Screen Passcode."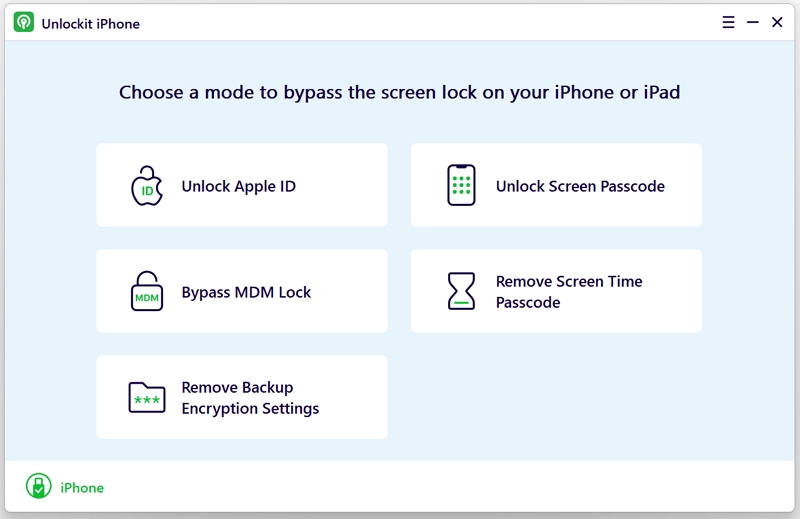 Step 3: Connect your device
Now use your iPhone's lightning cable to connect the device to the computer. Click "Start"and Unlockit iPhone will try to put your device in Recovery Mode automatically.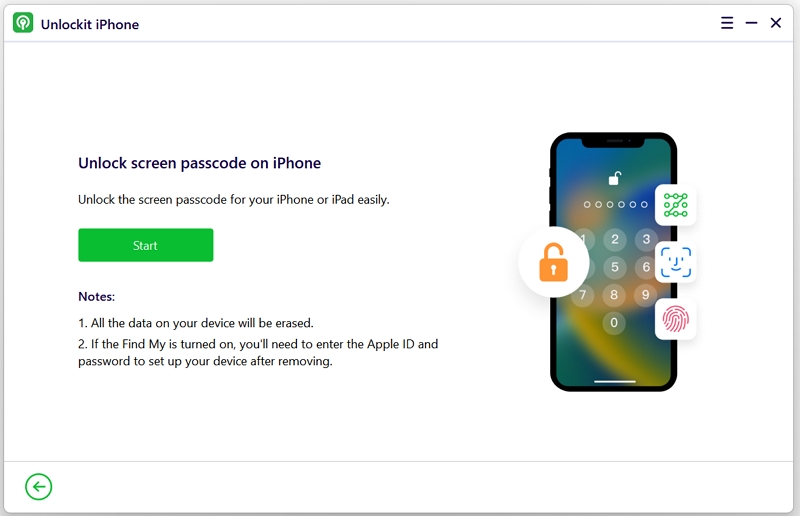 Step 4: Download firmware
On the next screen, yu will also be prompted to install the latest firmware on to the device. Click "Download" to get it.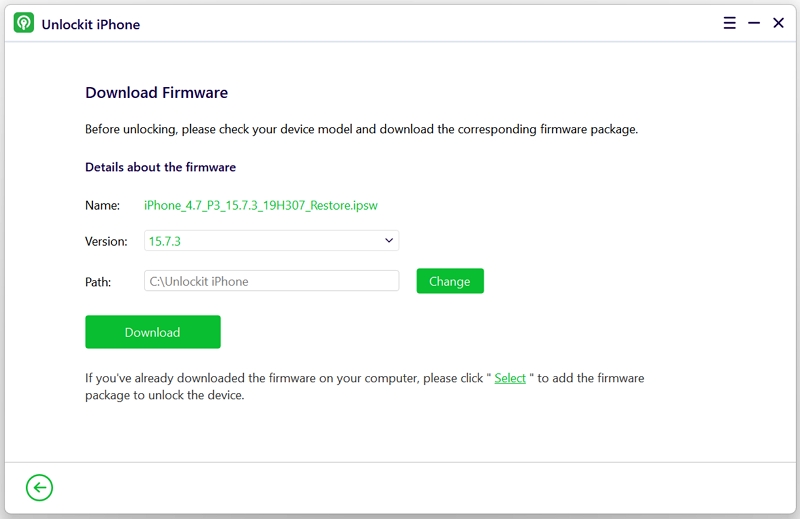 Step 5. Unlock your device
When this is done, click "Remove" to begin unlocking the device.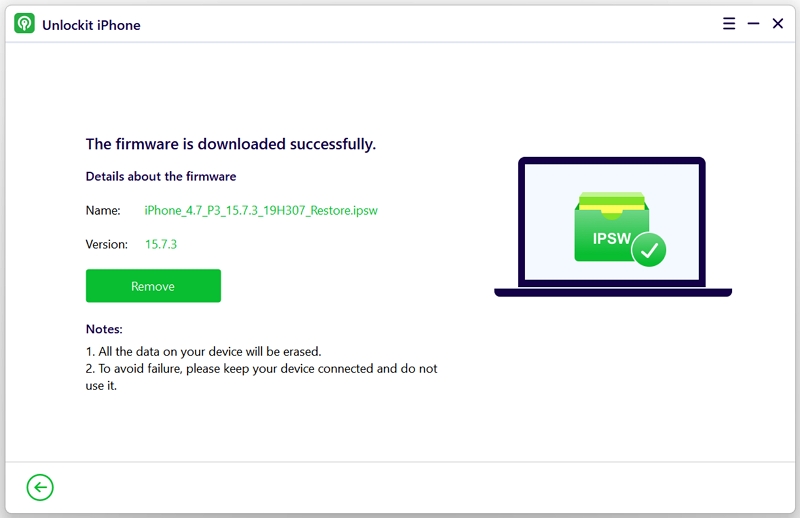 In a few minutes, Unlockit iPhone will remove the passcode from the device. Your unlocked iPhone will restart and you can set it up again.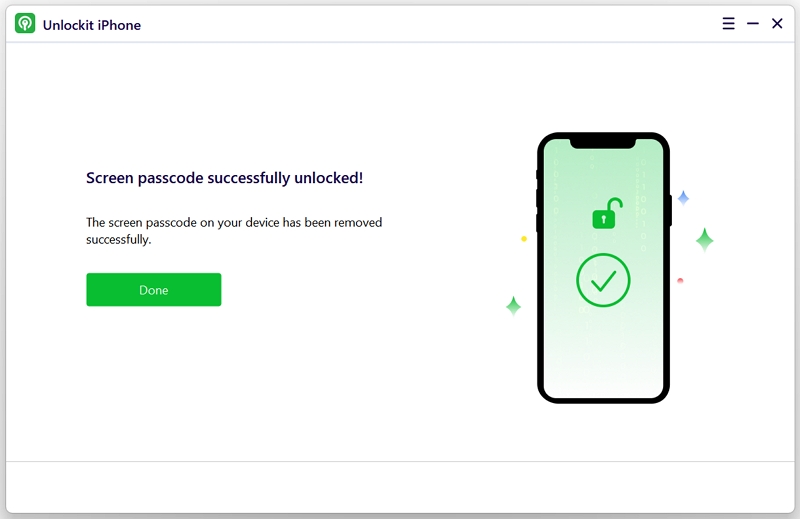 Via iCloud.com
Like iTunes, iCloud can also be an effective way to unlock your device. But this method will only work if you had enabled Find My on the device. If you had, use these steps to unlock your iPhone via iCloud:
Step 1: Open a new browser window on your computer or any other device and go to https://www.icloud.com.
Step 2: Sign in with your Apple ID and password.
Step 3: Select the "Find My " option from the main menu that appears.
Step 4: Then click on "All Devices" to locate the iPhone that you would like to unlock.
Step 5: When you locate the iPhone, select it and then choose "Erase iPhone".
Step 6: Click "Erase" to confirm that you'd like to erase all content and settings on the device and enter your Apple ID and password to confirm.
If this method works for you, it will erase the device including the passcode, allowing you to set it up as new. Any data you may have lost can be restored from a backup.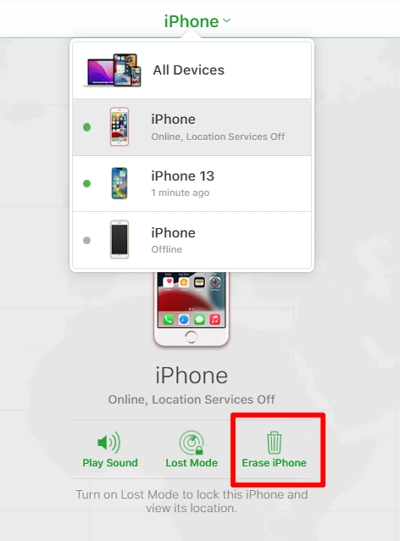 With Find My App
If you don't want to use a computer to unlock the iPhone, you can use the Find my App instead. However, the Find My should be enabled on the locked device and you will need another iOS device with the Find My App installed and the Apple ID and password associated with the device you want to unlock.
Here's how it works:
Step 1: If you haven't already, download the Find My app on the second iOS device. Once it is installed, open it and then sign into the app with the Apple ID and password associated with the locked iPhone.
Step 2: Once in the app, select the locked iPhone from the "Devices" section.
Step 3: Tap "Erase This Device".
Step 4: You can then choose to enter your phone number and messages that will appear on the locked iPhone once it is unlocked. Tap "Erase," enter your Apple ID and password and tap "Erase" again to confirm.
Step 5: The locked iPhone will be erased and you should be able to set it up as new.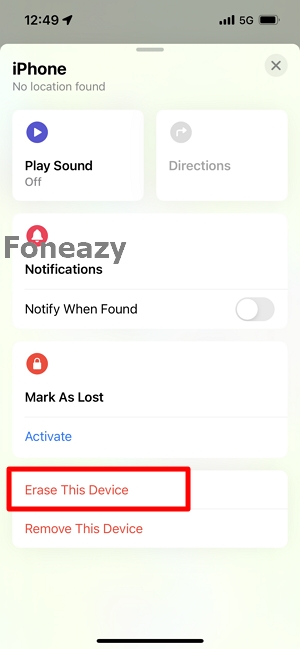 Via Erase iPhone Option in Security Lockout Screen
This method will allow you to unlock your device without iCloud or iTunes. But it will only work on the unavailable or security lockout devices running iOS 15.2 and above. For this method to work, the locked iPhone also needs to be connected to a network and you will need the Apple ID and password associated with it.
These steps will show you how you can use this method:
Step 1: Start by entering the wrong password on the iPhone as many times as it takes to see the "iPhone Unavailable" or the "Security Lockout" message popup.
Step 2: Tap on the "Erase iPhone" option that you see on the screen.
Step 3: A warning message will appear confirming that you are about to erase all data and settings on your device. Tap "Erase iPhone" to confirm.
Step 4: Enter your Apple ID and password to confirm and your device will be erased. It will restart and you can set it up again.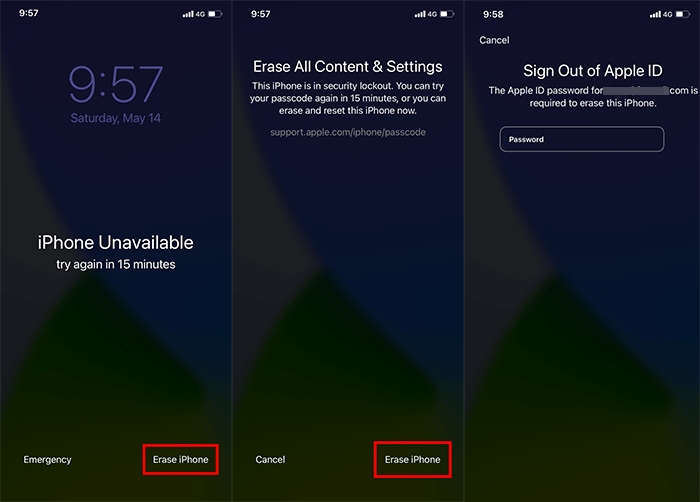 By Contacting Apple Support
If any of the solutions above seem too complicated or if you are unsure that you want to use any of them, you can contact Apple Support for assistance. You can call Apple Support and speak to an Apple Advisor or you can go to the nearest Apple Store where technicians should be able to help you unlock your device.
To Conclude
While all the methods above can be useful in unlocking your device, the easiest has to be Unlockit iPhone. Not only will the program not require you to know how to enter recovery mode, the steps you use to unlock your device are fairly uncomplicated, meaning that anyone can unlock their device even beginners. It is quick and easy and has no complicated steps that you may need to try more than once to get right.
If you find yourself locked out of your iPhone for any reason, simply download Unlockit iPhone, connect the device to your computer, and allow the program to unlock it for you.