An Apple device is a good choice if you want to ensure the safety and security of your accounts and personal information. You have the sole authority to remove and add your Apple ID on multiple devices and sync files across devices.
Very convenient isn't it? The only catch, though, is that what if you forgot your password and must sign out of your Apple ID? You'll only end up in a "password required" loop you can't escape.
If you're one of these people, worry no more because there are easy ways to sign out of Apple ID without a password. Interested? Read on to learn more.
Sign Out of Apple ID Without Password Using Apple ID Remover
Unlockit iPhone is a useful tool for unlocking screen locks, Apple IDs, and iCloud accounts of any iOS device without needing a password. You don't have to be a pro to use Unlockit iPhone Apple ID unlocker.
In fact, you can sign out of Apple ID without requiring password in just a few easy steps. With Unlockit iPhone, you can enjoy the following amazing features:
Delete Apple ID on iPhone, iPad, and iTouch without a password
Bypass MDM login
Change screen time passcode, no password required
Remove iTunes backup encryption
Follow the step-by-step process below to begin signing out your Apple ID with Unlockit iPhone.
Step 1. The first thing to do is to install Unlockit iPhone on your computer.
Step 2. Next, launch the program and click the Unlock Apple ID option.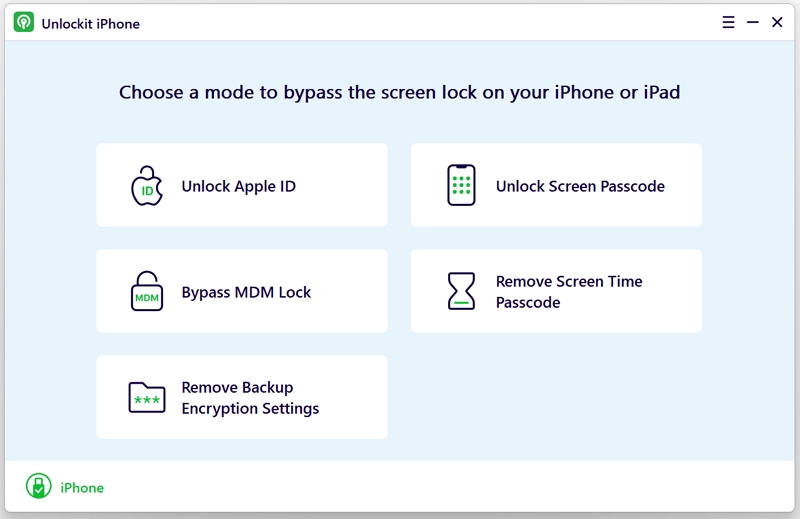 Step 3. Then connect your device and proceed by clicking the Start button.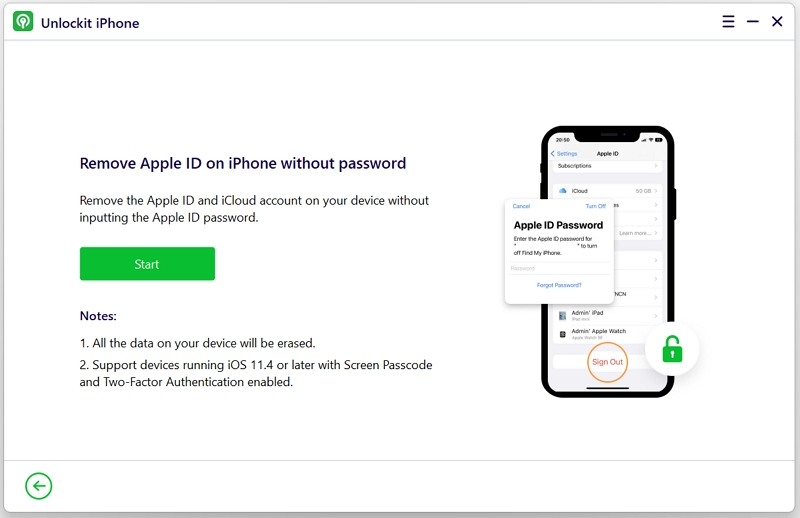 Step 4. There will be a confirmation prompt asking if the device's lock screen password and two-factor authentication are enabled.
If you don't know if two-factor authentication is enabled or not, go to Settings > Apple ID Profile > Password and Security. You will then see if the two-factor authentication is enabled or not.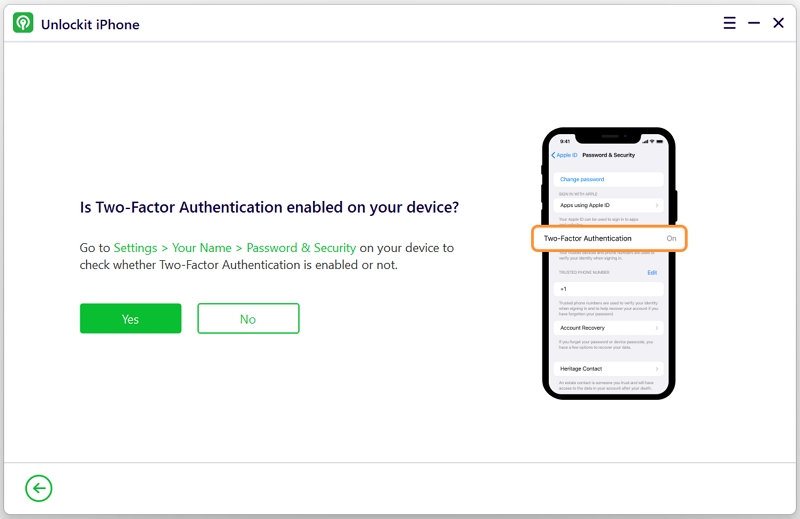 Step 5. Once confirmed, you'll be asked to download firmware. Enter the device model and the program's version, then click Download.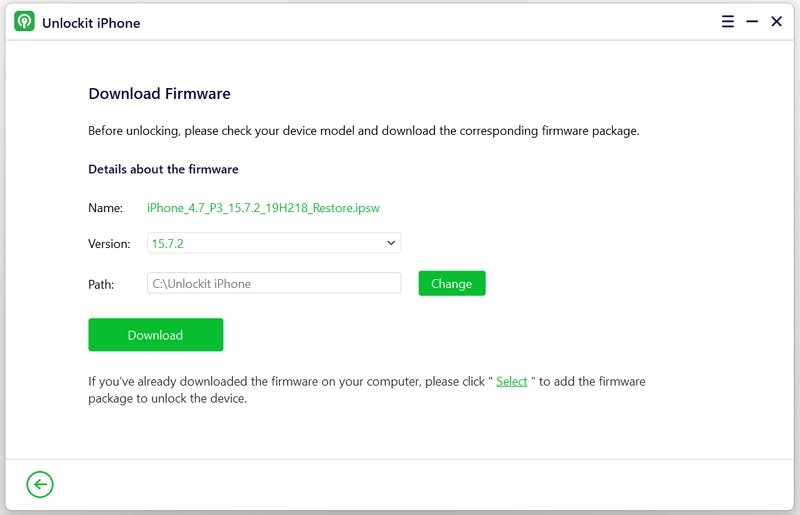 Step 6. After downloading, a prompt will appear where you should click Remove.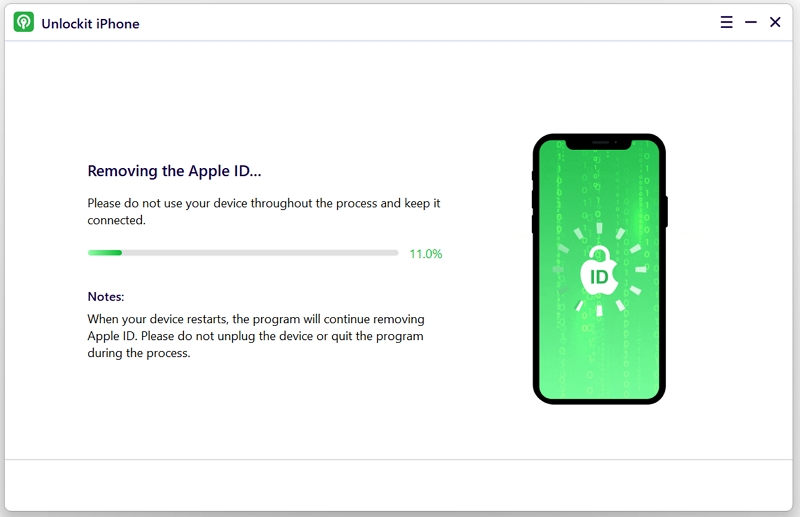 Once signed out of Apple ID, your screen will go to the device activation page. In this part, click the Unlock With Passcode button.
Finally, select the Use Device Passcode to be able to use your device like new.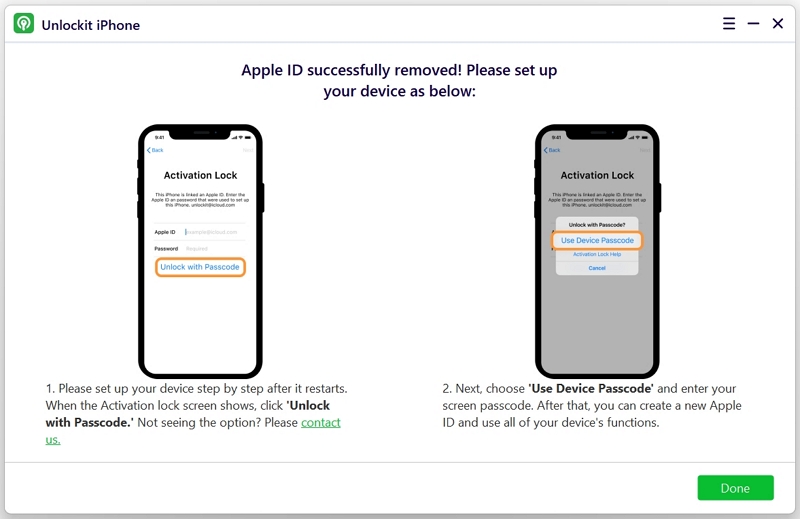 Using Password Resetting
Another way to sign out is by resetting your Apple ID password. This method is easier and more convenient since you don't necessarily have to install unlocking software, so long as you still remember the email and phone number you used to create your account.
Follow the step-by-step process below to sign out of Apple ID using this method.
On a computer, open your browser and go to this link: https://appleid.apple.com/.
Once the page has loaded, click the Sign in button on the screen's upper right side.
Tap Forgot Apple ID and Password button.
Next, enter your Apple ID and the captcha code then click Continue.
Enter the phone number or email that you used with your Apple ID.
If you have multiple devices using a single Apple ID, you can access your account on another device, but if not, click, I don't have access to any of my Apple Devices.
You will then be shown three options:
Reset your password while signing in to a new device
Use someone else's iOS device
Use device available in an Apple store
Click the option that's convenient for you and continue.
Once the password is reset, go to settings, click your Apple ID profile, click Sign out, enter your new password, then you are done.
Sign Out of Someone's Apple ID Without Password by Erasing iPhone
You can't sign in with a new Apple ID on your device if it's still linked to the previous owner's iCloud account.
To help you with that, we'll introduce an effective method to remove someone's iCloud on your iPhone. All you have to do is ask for help from the previous owner by telling him/her to follow the below steps.
On a browser, instruct the previous owner to visit iCloud.com and sign in with the Apple ID currently signed in on your iPhone.
Once signed in, use the Find My iPhone tool, enter the password, and wait for the page to load.
Once you're on the Find My iPhone page, click the All Devices option in the upper part of the screen. Tap the name of your iPhone.
Next is to click the Erase iPhone option located in the panel options found on the upper-right corner of the screen. Once clicked, your iPhone will be forced to restart to remove all data and account details of iCloud.
After erasing iPhone from the Find My iPhone page, next is to click Remove from Account option located just below your iPhone details. This is a crucial step to make sure that your iPhone is no longer linked to the previous owner's account.
Now you can sign in or create your new Apple ID on your iPhone.
Note: If you can't get in touch with the previous owner, we suggest that you use Unlockit iPhone to sign out of the Apple ID yourself, which we have recommended in first part.
Wrap Up
Being stuck on someone's Apple ID account or being unable to sign out because you forgot your password could get frustrating. Fortunately, there are various methods you can use to "unstuck" yourself from this situation.
Using Unlockit iPhone is the best option if you can't contact the previous owner of your iPhone or don't remember your recovery email and phone number.
On the other hand, if you still remember the email and phone number you used with Apple ID, you don't have to install Unlockit iPhone.
Instead, you just need to reset your password. Erasing your iPhone from the previous owner's iCloud is also convenient as long as you can contact the previous user of your iPhone.