If you use an iPhone with a configuration profile installed on it, you might find you are unable to remove the profile from your iPhone.
Why? It's because a configuration profile imposes restrictions on your device's functions.
Fortunately, these configuration profiles are not a factory default setting. You can easily remove the configuration profile from iPhone to eliminate the restrictions that come with it.
Even so, it's essential to know a bit about the technical aspects of a configuration profile so you're not going into this task blindfolded.
We're here to help you remove the configuration profile on your iPhone easily. If you're ready, let's get started.
What is a Configuration Profile
Configuration profiles are device management tools used by corporate offices and schools. If you belong to such an organization, they might ask you to install a configuration profile sent to you via email or download it from a webpage.
Once you have the file, you need to grant the app permission before you install it. The app is connected to a central server, where they send commands to configure your iPhone's settings.
The MDM or the Mobile Device Management function makes all these tasks possible. This feature allows a central server to manage multiple devices remotely.
It utilizes XML files to accomplish tasks such as altering your WiFi settings, app installation, website restrictions, and passcode management.
These can get frustrating and bothersome because it interferes with your regular smartphone usage.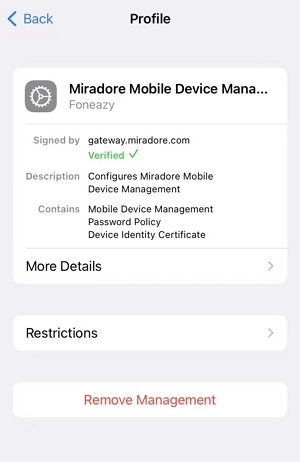 Remove Configuration Profile on iPhone from Settings
Thankfully, you can delete these profiles by following the step below:
Go to your phone's Settings > General.
Click VPN & Device Management.
Find the Configuration profile you want to delete and tap on it to view its information.
Click Remove Management.
Note: Removing a profile from Device Management Settings will also remove all the data, apps, and files linked to it.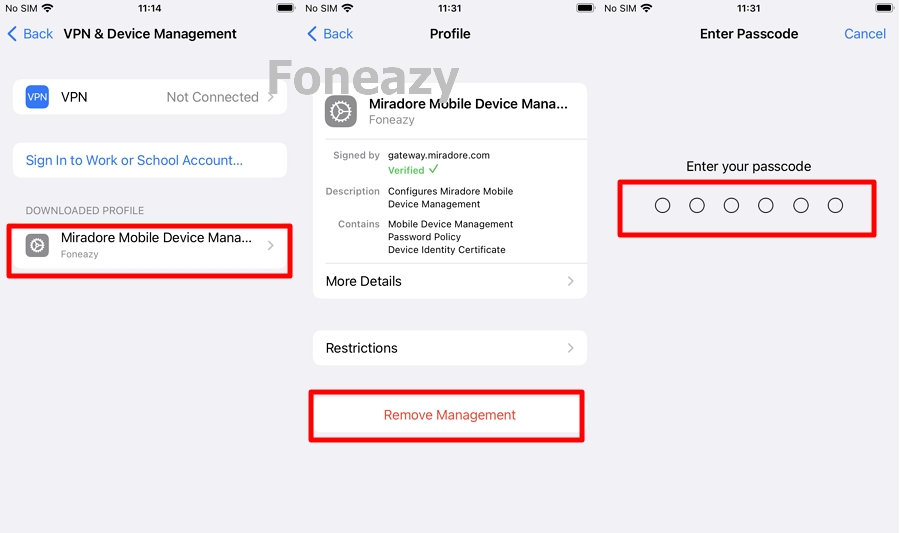 Cannot Remove a Configuration Profile from iPhone?
Once your device is enrolled in any MDM program such as AppTec360 or SOTI MobiContol, the IT team will not let you remove the profile from your device directly by unchecking the "Allow MDM Profile Removal" option.
In this situation, Mobile Device Management takes full control of the device. It can only be unenrolled by the company or with the corporate username and password.
The only way to remove the supervision is to go straight to your office's IT department and have them delete the DEP profile from your iPhone or iPad.
Or you can choose a reliable iPhone unlocking tool to help you remove the MDM profiles from your device.
How to Remove MDM Profile without Password
If you still cannot remove the configuration profile from your iPhone with your passcode, and your office's IT department cannot help, don't worry.
Unlockit iPhone has got you covered. This unlocking tool helps you efficiently bypass the MDM lock screen that is set and supervised by other organizations.
You don't need any technical knowledge to use this. With just a few clicks, you can bypass the MDM lock. What's more, is that it is compatible with all iPhone models.
Using Unlockit, you can bypass the general MDM profiles by following these steps.
Step 1. Download and install the software on your computer.
Step 2. Launch the software once the installation is complete and click on Bypass MDM Lock.
Step 3. Next, connect your iPhone to your computer via a USB cable.
Step 4. If you are locked out of your MDM screen, click on Start to initiate the process.
If you are not locked out of your MDM screen, you will need to reset your device first to get to the MDM lock screen on your iPhone, otherwise, the bypass process will fail.
Step 5. The bypass process takes some time to complete. Once done, the screen will say, "Successfully Bypassed." Click on Done and close the software.
After that, restart your iPhone and check if the MDM profile was successfully bypassed.
Get Help from the IT Department
Another reliable method for removing the MDM profile from iPhone is to contact the IT department of the company that enrolled the device in the MDM program.
You can try to ask them to remove MDM from your mobile device. However, if this is not possible for whatever reason, you can use the method described above.
To do that, follow the steps.
Sign in to the Endpoint Manager admin center.
Head over to Devices > All Devices > Choose the device > Retire.
Look up your device's serial number.
Choose Unassigned in the "Assigned to" menu.
Click on Reassign.
After this, you can directly remove the MDM profile on your iPhone.
Conclusion
MDM profiles are great account management tools for offices and schools. But with so many restrictions, your iPhone's flexibility gets limited. You may have to stick with it if its policies still bind you.
But if you're cleared of all obligations, you can already ask for help from your IT department to remove the configuration profile. You can also delete them from your device manually if you wish.
We hope the tricks we laid out in this article helped you remove the configuration profile and get past the MDM lock screen successfully.