What devices are compatible with Unlockit iPhone Screen Unlocker?
iPhone Series: iPhone 13 Pro Max, iPhone 13 Pro, iPhone 13, iPhone 13 mini, iPhone 12 Pro Max, iPhone 12 Pro, iPhone 12, iPhone 12 mini, iPhone 11 Pro Max, iPhone 11 Pro, iPhone 11, iPhone XR, iPhone XS (Max), iPhone XS, iPhone X, iPhone 8 Plus, iPhone 8, iPhone 7 Red, iPhone 7 Plus, iPhone 7, iPhone SE, iPhone 6s Plus, iPhone 6s, iPhone 6 Plus, iPhone 6.
iPad Series: iPad 9, iPad mini 6, iPad 8, iPad Air 4, iPad Pro (4th Generation), iPad Air 3, iPad 7, iPad mini 5, iPad Pro (3rd Generation), iPad 6, iPad Pro (2nd Generation), iPad 5, iPad Pro, iPad mini 4, iPad mini 3, iPad Air 2, iPad Air, iPad mini 2, iPad 4, iPad mini, iPad 3, iPad 2, iPad
iPod touch Series: iPod touch 7, iPod touch 6, iPod touch 5, iPod touch 4, iPod touch 3, iPod touch 2
What OS systems does Unlockit iPhone Screen Unlocker support?
Windows: Windows 11, 10, 8, 7 for both 32bit and 64bit
Will Unlockit iPhone Screen Unlocker erase data on my devices?
No, The 3 modes "Bypass MDM Lock", "Remove Screen Time Passcode", and "Remove Backup Encryption Settings" won't erase any of the data on your devices.
What should I do if my device is not able to connect to Unlockit iPhone Screen Unlocker?
If Unlockit iPhone Screen Unlocker is unable to detect your iOS device, you can try the following troubleshooting steps to resolve the problem:
1. Please install the most recent version of Unlockit iPhone Screen Unlocker.
2. Check to see if your USB cable is loose. Please reconnect it if it is. If your USB cable is broken, please try a new one.
3. Reinstall iTunes if necessary.
4. If the issue persists, please contact our Support Team for further assistance.
What if I upgrade my iOS, my iPhone get stuck at MDM lock again, but the program fails to bypass MDM?
Generally this is a FMI issue, the iPhone must have "Find my Phone" turned on. Please try the following troubleshooting steps to resolve the problem:
1. Factory reset your iPhone/iPad or restore your iPhone using "Remove Screen Passcode" feature.
Note: Do not login in with your iCloud account after reset, when you get the activation lock/Locked to Owner screen, choose Unlock with Passcode. And do not transfer apps & data in the setup process.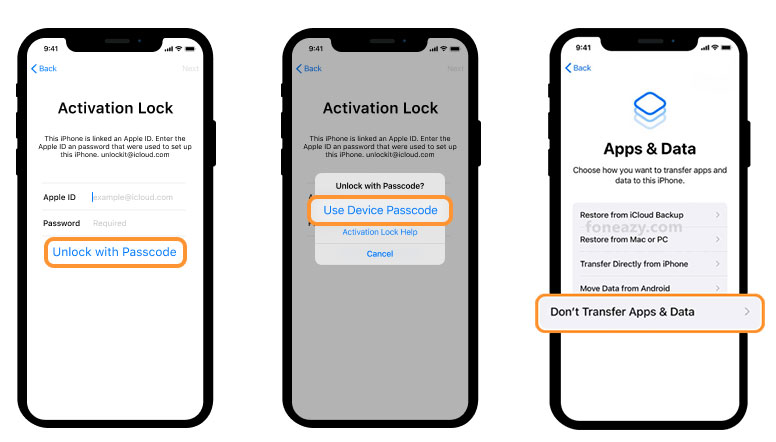 2. Try"Bypass MDM" again. It should be fine.

Note: Please turn off auto iOS update in Setting.