This article will take you through the working tools and methods to help your change the GPS location on your iPhone.
Without further ado, let's get started.
Can I Change the GPS Location on iPhone?
The answer is Yes!
A key problem faced by iPhone users is the inability to spoof their device's location as Apple strictly prohibits app developers from creating iOS applications that can perform this task.
But there are tools and techniques available that make it simple for you to change your iPhone's location.
Whether you wan to play a location-based game like Pokemon Go or keep your location private when using Life360, Find My, the following methods can help you change your iPhone's GPS location effectively.
Moreover, we will also list some outdated and difficult methods that you should avoid using.
Via Effective iPhone GPS Changer Tools
An easy way to change your virtual location is to use various third-party software that are designed to do so.
Making use of these software will spare you the effort of going through a long process just to change your location.
Here are some recommended applications that you can use to change your location. The best part is you don't need to jailbreak your device to use them!
Best Pick: MockGo iOS GPS Changer (iOS 17 Supported)
The Apple system's complexity and security make it very difficult to fake GPS location on either an iPad or iPhone device. However, there are still straightforward and easy options that you can use to change your location on the iPhone.
The most efficient method we recommend is MockGo which lets you fake your iPhone's location without jailbreak. It supports almost all devices and systems, including the latest iOS 17.
Features:
Change the GPS location to anywhere without jailbreak.
Fake GPS walking with customized speed and route.
Compatible with all iOS devices and versions, including the latest iPhone 15 and iOS 17.
Easy and safe to use.
Note: MockGo for Mac is now compatible with iOS 17, and the Windows version will be soon. Please stay tuned for updates!
Steps:
Here are the steps on how to use MockGo to change your location:
Step 1. First, download the app onto your computer. Once installed, launch MockGo.
Step 2. Next, connect your iOS device to your PC using a USB cable. Click on Start once your device is detected to start the process.
Step 3. Open the Teleport feature by choosing the first option located at the top-right corner.
Step 4. After that, search for the location of your choice on the search bar.
Step 5. Next, adjust the pin on the screen and click on the Move Here button.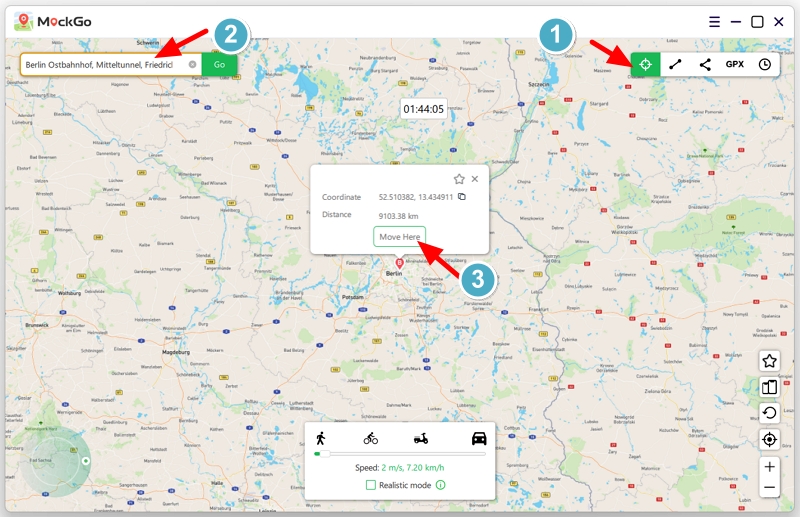 Lastly, the location on your device will be changed immediately.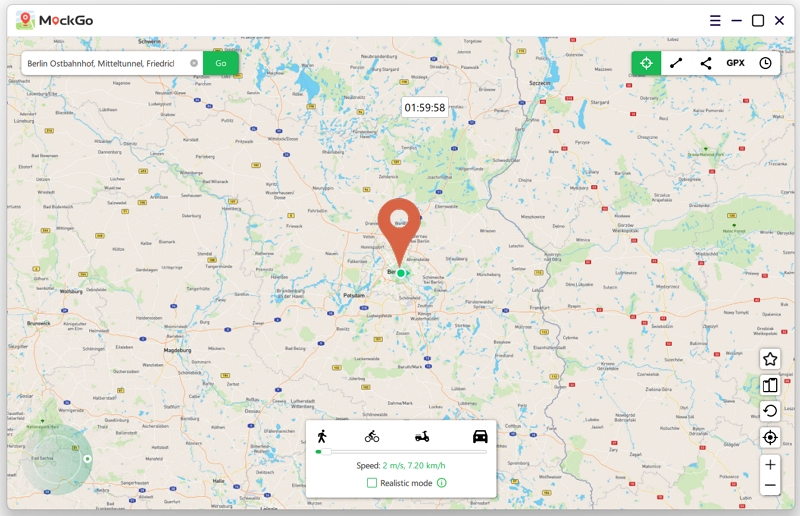 You can now open the Map or Weather app on your iPhone to check the new location of your device.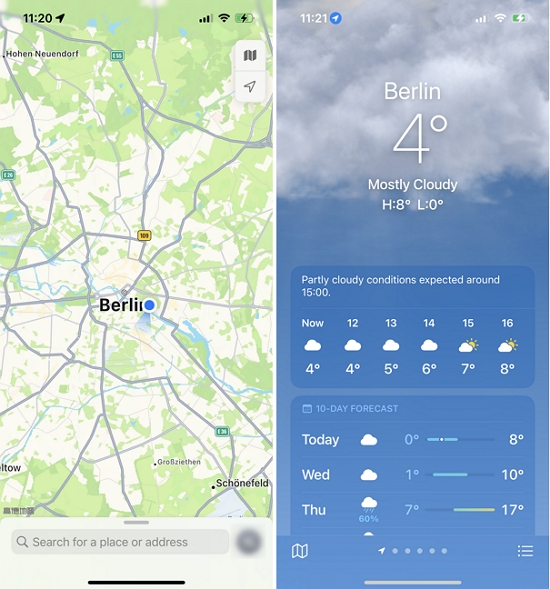 Compared to other location changing apps, MockGo offers many advantages such as:
It comes with safe and easy controls.
Doesn't jailbreak your device.
Supports most location-based apps and games such as Pokemon Go, Facebook, Whatsapp, and more.
Compatible with the latest iOS versions.
2. Using iTools from ThinkSky
You can also use iTools from ThinkSky to change your location. However, the downside of this app is that it only works up to iOS 12 and is only free for a limited time.
If you'd like to give this app a try, here are the steps on how to use iTools:
First, go to their website and download the app to your PC.
Install the application and launch.
Once the interface has loaded, select Free Trial to continue.
Next, connect your device to your PC.
After that, navigate to Toolbox > Virtual Location.
Now, select the Developer Mode section.
Here, you should search for your desired location in the search bar found at the top left corner of your screen.
After that, select Go to find it on the map.
Finally, click on Move Here to change your virtual location.
There are times when the app asks you if you want to stop the simulation. You can either select Yes if you want to revert back to your real location or No if you want to stay in the fake location.
You can also just click on Stop Simulation in the top right corner of the screen to revert back to your real location.
3. Using 3uTools
If you prefer not to spend money on any of the previous apps mentioned, you can try 3uTools. It is a free app that can change your virtual location easily.
However, it doesn't have additional features such as movement simulation or joystick when faking GPS.
Here are the steps on how to use 3uTools:
First, go to the 3uTools website and download the app onto your PC.
Install the app and launch it.
Once launched, select Toolbox and then click on VirtualLocation.
Now, you can either input a desired location on the search bar or simply select one from the map shown in the interface.
Once a location has been chosen, select Modify virtual location, then click on OK to confirm.
To revert back to your real location, simply restart your device. It's that easy.
Via Hardware Tool
The GFaker product, developed by a company of the same name, offers a unique solution for iOS users looking to change their device's location.
This compact hardware device functions by connecting to an iPhone or iPad, emulating an external GPS device through the use of Apple-approved chipsets, and adhering to the Apple External Accessory Framework standard.
Once connected, users can utilize the provided app to set their desired location, without requiring a jailbreak.
The GFaker device then broadcasts this new location to all running apps on the iOS device, making it appear as if the user is located wherever they have programmed it to be.
The process is simple and efficient, almost resembling an Android device experience.
The GFaker product line consists of two models, the GFaker Phantom, and the GFaker Pro. The Phantom, priced at $289, is compatible with all iPhones and iOS versions ranging from iOS 9 to iOS 15.
However, it lacks altitude data reporting, which could potentially raise concerns with certain apps that require accurate GPS coordinates.
This limitation is not a significant concern for most applications. On the other hand, the GFaker Pro, which is an older model priced at $279, is compatible with iOS 9 through 12, but requires additional steps for iOS 13 and 14 and may require additional steps for future versions.
Although these products come with a cost that has increased considerably since 2020, they offer a reliable and straightforward GPS solution for users seeking an alternative location on their iOS devices.
Other Ways To Change iPhone Location (Complex or Outdated)
1. Via Xcode
Note: Xcode is somehow in-depth. Use this method if you have some background knowledge of iOS app development.
Xcode is another top third-party tool that you can use to change your iPhone's GPS. It is also referred to as a location simulator.
Apple created the feature in 2013. Compared to other spoofing options we have highlighted,
Here is how to jailbreak your device using Xcode:
Step 1. Download Xcode on your Mac computer and then install it.
Step 2. Launch the application and then choose the 'Create a new Xcode project > Single view app' option.
Step 3. Connect an iOS device to a computer using an original USB cable.
Step 4. After inputting the 'Product name', select 'Next". Choose the place you want to create the project.
Step 5. Log into your Apple ID account by following the path below:
'XCode > Preferences > Accounts > + > Apple ID > log in to your account'
Step 6. To begin the building, proceed to choose 'team' and then select '>'.
Step 7. After finishing the build process, click the maps icon.
Step 8. At this point, you can choose the location that you wish to fake. The location on your iPhone will change.
Note:
The procedure is tech-savvy.
It comes with some preset locations to which your device's GPS could teleport.
You can use a GPX file to fake locations that aren't on the list.
2. iSpoofer
Note: iSpoofer is already shut down.
There was a time when iSpoofer was the most reputable application for changing iPhone locations, with the majority of users using it to play Pokemon Go.
Unfortunately, iSpoofer isn't functional anymore, and you can't find it on the website.
Here are the reasons iSpoofer was shut down:
Pokemon terms prohibit the use of iSpoofer to play Pokemon Go.
Niantic, which developed the software, found many users using it to play Pokemon Go and decided to terminate their accounts.
Niantic suspended iSpoofer since its usage was no longer essential.
If you already have an iSpoofer app, Pokemon Go won't allow it.
3. By Editing Apple Maps Plist File
Note: The process is pretty long and a bit complicated to do, especially for those not used to gadgets and coding. So if you want to try out this method, be sure to follow the steps closely.
If you prefer to fake your virtual location manually without jailbreaking it, you can also do so through iBackupBot, a software that allows you to configure the backup files on your phone. This allows you to change your location once you back up your files through iTunes.
Here are the steps on how to use it:
First, connect your iPhone to your PC.
After that, head to the iBackupBot website and download the app to your PC.
Now, launch iTunes and click on the iPhone icon.
Next, select Back Up Now. Ensure that the Encrypt iPhone box remains unchecked.
After the backup process is done, close iTunes and launch iBackupBot.
Here, go to User App Files > com.Apple.Maps > Library > Preferences and look for the Apple Maps plist file. If you can't find it there, try System Files > HomeDomain > Library > Preferences.
Once you find it, open the Apple Maps plist file and search for the <dict> tag.
Insert the following code under the tag:
<key>_internal_PlaceCardLocationSimulation</key>
<true/>
Next, close iBackupBot and head to your iPhone device.
Go to Settings > Your Apple ID > iCloud > Find My Phone. Toggle the Find My Phone to off.
Now, launch iTunes again and back up your device again.
After that, launch Apple Maps and navigate to the desired location.
Finally, click on Simulate Location found at the bottom of the window to change your location.
4. By Jailbreaking Your iPhone
Note: It will be difficult to find a jailbreak tool that works well with iOS 12 and later. Furthermore, jailbreaking is a risky process, and even then, there is no guarantee that it will work as expected.
Jailbreaking your device is another way to change your location on your phone. You should note that devices with iOS 12 and above are harder to jailbreak due to Apple's measures to prevent intrusions.
We won't be going over the actual jailbreaking process, but once you successfully jailbreak your device, you can consider using either LocationHandle or akLocationX. These are Cydia apps that will allow you to easily change your virtual location.
FAQs
1. Why Do You Need to Fake GPS Location?
By faking your GPS location, you can access games and shows restricted to certain areas without having to wait for them to become available in your country or region.
Some of the main benefits of a Fake GPS location include the following;
Using a fake GPS location provides anonymity by hiding your actual location and identity.
Users can access games and shows that are restricted to certain regions.
It can also be used for playing location-based games like Pokémon Go.
Fake GPS is beneficial in several dating apps as it can help users get better matches.
By changing your location, you can gain early access to updates and other features on your devices.
2. Can VPN Spoof GPS?
Although many VPNs claim to spoof your location, they usually only change your IP address, which means they can't effectively spoof your location in apps like Pokémon GO or target a specific audience on TikTok.
Changing your GPS location is not the same as hiding your IP address, so it's essential to use a trustworthy GPS spoofer if you want to change your physical location accurately.
3. How to Turn Off Location on iPhone Completely
Sometimes, you may not necessarily require to alter your iPhone's location to a specific place. Instead,
you might only need to conceal your location from certain apps that may be tracking you.
Fortunately, we've got you covered with an easy guide to modifying your privacy settings and blocking apps from accessing your location:
Step 1: Launch the Settings app on your iPhone.
Step 2: Select "Privacy."
Step 3: Navigate to "Location Services," where you'll find a list of apps that have requested your location.
Step 4: Choose the apps you want to prevent from seeing your location information.
Step 5: Select "Never." Abd your location will be concealed from the apps you have chosen.
Wrapping Up
It is clear that using third-party software is the easiest method to change one's virtual location on iPhone devices.
Among all of the software mentioned, MockGo is the most reliable and easiest to use. It even comes with walking, cycling, and driving simulations to make the change more realistic.
If you have any comments or queries about how to change your location on iPhone, feel free to comment down below.