Teleporting in Pokémon GO is some of the most fun a player can have without having to move an inch from their room. Bored of the Pokemon in your region? Teleport. Heard of some awesome campaigns in another area? Teleport. Want to get water-type Pokemon in a mostly sunny location? Teleport.
Here's what this guide will teach you:
What does it mean to teleport in Pokémon GO?
The right location spoofing app to teleport in Pokémon GO
Methods that won't work and should be avoided
Tips to teleport in Pokémon GO safely
If you're ready to teleport in Pokémon GO without getting banned and see new locations in the game and catch new Pokemon, let's get to it!
What is Pokémon GO Teleport
Since Pokémon GO is a GPS-based AR game, it relies on your location to work. To teleport in Pokémon GO means to feed the game a location different from the one you're actually in.
The most common method for teleporting your device's GPS is to use a Pokémon GO location spoofing tool. With this kind of location spoofing apps, you can jump from location to location in search of high-yield catches and new Pokemon.
If someone shared a location where there are chances of a Charizard appearing, you know you'd want to be there too. That's why teleporting in the game is so handy.
Without a location spoofer, you have limited movement in the game that corresponds to your physical movements while playing it. For example, imagine there is an Evee 2 miles from here, but you just got back from school and are dead tired.
Below, we have listed all the safe tools you can use to teleport in Pokémon GO without putting your account at risk.
Best Choice: Teleport in Pokémon GO for iOS via MockGo
One of the best apps for iPhone device to teleport in Pokémon GO is MockGo iOS location changer. This tool is specifically designed to help you teleport your iPhone's GPS anywhere in the world and fake your GPS movement along roads and key areas.
It won't get detected because it doesn't apply the modified Pokémon GO technique and has a very easy-to-use interface. Its features set it apart from all other tools in the same category. Let's take a look at them:
Works with all Apple devices running from iOS 9 to iOS 17
Easily and safely teleport to wherever you want with cooldown timer
Creates routes for GPS movement within the game
Has a joystick for auto and manual movement
Favorite the places you visit the most
Works with almost any GPS-based app, such as Pokémon GO, Mobile Legends, and Ingress Prime
This is how you can teleport your GPS location using MockGo:
Step 1. Download MockGo
Download and install MockGo on your computer.
Step 2. Connect your iPhone
Click 'Start' when the application is downloaded and follow the instructions mentioned on the page to establish a connection between the computer and device.
Step 3. Choose a location
Now you'll be presented with a map-like interface and located in the Teleport mode by default. Select a location on the map or enter your desired location in the search bar to start a search. When you choose a location, it will appear on the top left, with all information of the destination.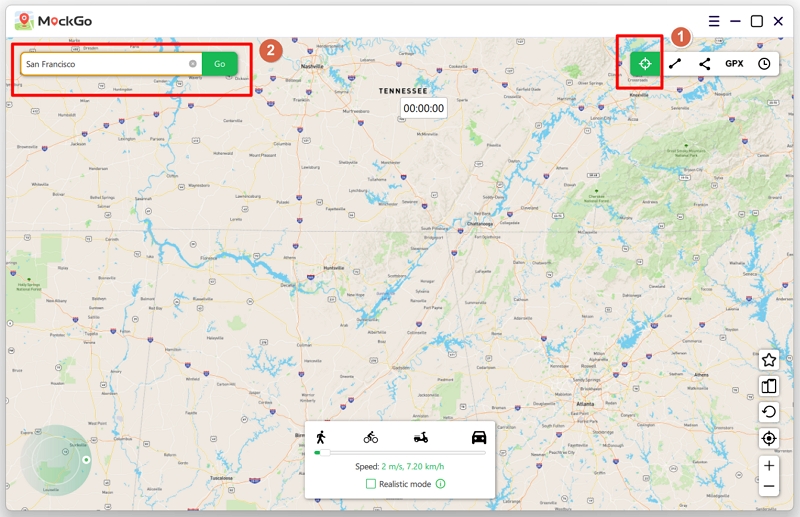 Step 4. iPhone's location is changed
In the new pop up window, click on 'Move Here' and the GPS on your iPhone will locate to that selected place without a delay.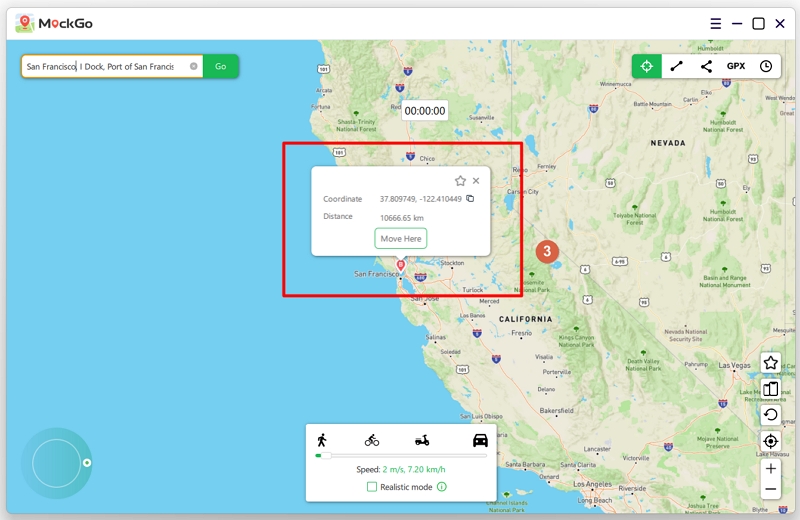 Step 5. Wait for the Cooldown timer before next action
Next, open map, weather, or Pokémon GO app and you will find yourself in a new location with lots of exciting Pokemon to catch. Before next move, it's safe to wait for the cooldown timer to finish.
Using iTools
Another great method of teleporting in Pokémon GO without jailbreaking your device is iTools. ThinkSky's iTools is a desktop application that is compatible with devices having iOS 12 or above. You can download iTools on both Windows and Mac computers. Here is how you can teleport using iTools:
Step 1. Download and install iTools on your computer and sync your device with the computer.
Step 2. There is a 'Toolbox' tab on the screen, click on 'Virtual Location'.
Step 3. In the location box, enter the location you want to teleport to, and hit enter.
Step 4. Click 'Move Here' to take your device to that location, and you are done.
Step 5. Remove the connection of your device from the computer and open Pokémon GO to enjoy playing in a new location!
Since iTools only works with iOS 12 or above, you can choose MockGo if your iPhone is running on older version.
Using GFaker
Another tool to potentially look into is GFaker. One of the main reasons you have to work so hard to find a spoofing tool is that Apple makes it very hard to change locations.
However, Apple has certain hardware cleared to be trusted as authentic inputs for GPS location. GFaker Pro maxed on this opportunity and created a hardware solution to fake your location on an iPhone. It connects to your iPhone or iPad via the lightning cable port, and the iOS picks it up as an external GPS device.
You can easily use this new location to teleport in Pokemon GO, but it won't offer much assistance with movement and walking.
How-To Guide
Here's how to use it:
Go to the GFaker website and choose the version you wish to get. Order it.
Once you have it, connect it to your device and download the GFaker app from its website.
Run the app and enter the location you want to visit, then click OK.
Price Breakdown
Depending on the features and strength of location spoofing, GFaker has three different price options to choose from:
GFaker: $198.00
GFaker pro: $329.00
GFaker phantom: $329.00
Teleport in Pokémon GO on Android using Fake GPS App
Teleporting in Pokémon GO is relatively easier on an Android device. The first thing Android users need to do is to go to PlayStore and find a fake GPS app.
You can use any of these fake GPS apps and change your phone's settings to make the new location work. Here are the steps in succession:
Step 1. On your Android phone go to Settings > About Phone > About Device > Software info. Find the build number and tap on it for 7 times to get Developer Options.
Step 2. Go back to Settings and find unlocked Developer Options. This is where you can allow your phone to mock a fake location.
Step 3. Next, install any location spoofing app on your phone from the Google Play Store. Most of these apps are for free. Fake GPS location is a good option.
Step 4. Shut down the Pokémon GO app on your device and go to Settings > Developer Options. you will see a list of applications that mock location, select the app you downloaded from the Play Store.
Step 5. You are almost done! Launch the location spoofing app and search for any location you like. The spoofing will begin in a bit and then you can launch Pokémon GO on your phone.
Use PGsharp to Teleport in Pokemon GO for Android
PGsharp is another one of the best location spoofing tools that Android users can get their hands on. Not only is it super easy to use, but it's also ideal for preventing detection by Niantic. You can easily switch places, wait for cooldowns, and move as freely as you want in the game. Here's how to use it:
Go to the official website of Pokemon GO and make a Pokemon Trainer Club account.
Now go to the PGSharp website and get its app. You can choose between the free trial version and the paid version.
Install the app and log into the account to activate the app. It won't work with Log in with Google credentials. So make sure to enter them manually.
Now that you're logged in, you can choose a location on the map and go there.
Avoid Not Working Pokemon Go Teleporting Ways
One thing to look out for is that you don't download a tool or app that doesn't work to teleport safely in the game. This can lead to an instant ban and might even cost you your account. If you use an app like this, you won't be able to catch any unique and legendary Pokemon.
You might have difficulty finding which apps work or not on your own since most guides on the internet are outdated; the apps they advocate for haven't been updated in a while. Similarly, Niantic constantly upgrades the security of Pokemon GO, making it better at detecting spoofing apps and banning accounts as needed.
The following methods are the ones we believe that should be avoided:
PokeGo++
PokeGo++ is an app made for a jailbroken device for Pokémon GO spoofing. Any 3rd-party installer (TuTu) can give you access to download this app on your iPhone.
PokeGo++ offers a lot of features and hacks for users, along with the basic features. if walking faster and hatching more eggs are some perks to note, you can also manually teleport in this app!
On the other hand, Niantic is always on the lookout for people using a spoofing app on jailbreak devices, so this is always a risk.
VPN
You can't use VPN to teleport in Pokemon GO because a VPN only hides your online identity but doesn't impact your GPS location in the slightest.
A location spoofer works by tricking the app into believing your GPS location has changed, whereas a VPN might simply show you've logged in from a different place. The two aren't the same.
Since a VPN is only for internet traffic encryption and can't impact your real-time location sharing in any way, it won't help you spoof in the Pokemon GO app.
Tips to Teleport in Pokémon GO Safely
1. Respect Cooldown Time
To avoid getting flagged while playing Pokémon GO, you should follow the cooldown rule. This rule refers to the time you need to wait before using the game after teleporting your location. The further you move from your real location, the longer you need to wait. The recommended cooldown time are as follows:
1-5 KMs: 1-2 mins
6-10 KMs: 3-8 mins
11-100 KMs: 10-30 mins
100-250 KMs: 30-45 mins
250-500 KMs: 45-65 mins
500-900 KMs: 65-90 mins
900-13000 KMs: 90-120 mins
Remember that falsifying your location can result in penalties, so it's best to use the cooldown rule to avoid getting flagged.
2. Turn On Airplane Mode Before Teleporting
Toggling the Airplane Mode of your phone can often confuse Pokémon GO and allow you to teleport without trouble.
To apply this trick, it is important that you shut down Pokémon GO completely and make sure it's not even running in the background.
Now follow these steps:
Head over to "Settings" in your phone and enable the Airplane mode.
Wait for a few moments and turn off the Airplane mode.
Launch your location-spoofing app and change your location.
Launch Pokémon GO and play the game with the spoofed location.
3. Log Out of Pokémon GO Before Teleporting
To safely and effectively teleport in Pokémon Go on iOS, it's important to sign out of your account first. To do this, open the Pokémon Go app and click on the Pokeball at the center of the home screen. Then scroll down to find the Sign Out link and click it. This will ensure that you can use the teleport hack without risking a soft ban.
4. No Hack is 100% safe
While the guidelines above can help minimize the risks of facing a suspension or ban of your Pokémon GO account, none of these methods are foolproof. There will always be a certain degree of risk associated with Pokémon GO teleporting hacks.
But if you're carefully following the above-mentioned guidelines, there's a fairly good chance you can successfully spoof locations without receiving any warnings or bans against your Pokémon GO account.
FAQs
1. Where to Teleport to the Pokemon?
If you are using the location spoofing to improve your chance of catching better Pokemons, you should know where to teleport your character.
First, you have to be careful and not teleport yourself too frequently. Secondly, to know where to teleport yourself for a successful Pokemon hunt, you can rely on the real-time PokeMap list.
These maps show the nests, gym, raid, and pokestops, so you can have much more success and fun while catching the Pokemons.
This list also includes maps for the biggest cities around the world for your references:
https://pghrmaps.com/livemap.html — Worldwide
https://nycpokemap.com — New York City only in USA
https://pokemapthe.world — Philadelphia and New Jersey in USA
https://www.tricitiespokemap.com/map/ — Three areas East of Vancouver in Canada
https://vanpokemap.com — Vancouver city only in Canada
https://sydneypogomap.com — Sydney, Australia
https://valleymap.xyz — Melbourne, Australia
https://shadowmon.net/ — Adelaide, Australi
2. What is cooldown time?
Cooldown time means playing Pokémon GO when you are away from the location. Niantic will see that the location has been changed and you were not spoofing the location.
In order to stay on the safe side and avoid soft ban when changing your location or taking action after teleportation, here's a quick way to learn how to go undetected.
You need to pay attention to the time between actions depending on how far away the action takes place from each other.
Here is a chart for cooldown times on the website, listing how long you need to wait before playing again.
1 km - 1 minute
5 km - 2 minutes
10 km - 6 minutes
25 km - 11 minutes
30 km - 14 minutes
65 km - 22 minutes
81 km - 25 minutes
100 km - 35 minutes
250 km - 45 minutes
500 km - 1 hour
750 km - 1 hour and 20 minutes
1000 km - 1 hour and 30 minutes
> 1500 km - 2 hours
Therefore, if you are switching your location to any big city you find on the real-time Pokémon GO maps, you should wait at least an hour to two hours before taking action to go undetected.
Wrap Up
Finding the right tool to change your location for Pokemon GO can be tough, and sometimes you just don't know what to choose. That's why I'm here to recommend the MockGo app since it can spoof your location, allow realistic movement, and be mindful of roads and physical features on a map. What more could you ask for?