If you're on Tinder, you probably know that its free version allows you to only swipe right in your city and nowhere else. That's a bummer because your perfect match might be in another city or country.
And Tinder would encourage you to sign up for Tinder Passport to access profiles further away, which comes at a cost. Presumably, you don't want to subscribe to see matches far from you instead of ones nearby.
Well, today is your lucky day because we're going to share 4 methods on how to trick Tinder location with or without signing up for a paid subscription.
Why Trick Tinder GPS Location?
Below are some of the reasons why some people opt to change their location on Tinder:
To maximize the benefits of the "Newbie Boost". The newbie boost temporarily raises your ELO score to assist you in getting more matches.
To get right into the dating scene of a nation you're travelling to. By learning to change your location on Tinder, you can set up dates and meetups well before your visit.
To search for matches past your constrained dating pool. Potential partners are presented to you via Tinder in your immediate area. Therefore, you can access various dating opportunities by learning how to modify Tinder's location.
To safeguard your privacy when dating on Tinder.The statistics show that finding love online is riskier than pursuing an offline romance. Given the constant threat to personal safety and privacy, it makes sense that many users would want to learn how to modify their Tinder locations.

Change Tinder Location by Paying for Tinder Passport
With premium memberships to Tinder like Tinder Plus, Tinder Gold, and Tinder Platinum, users can access sophisticated features like the Tinder Passport.
When this feature is enabled, you are free to be wherever you like, and others who match you won't know how close you are.
Now, depending on your needs and financial situation, you can upgrade your free account to any of them.
| | | | |
| --- | --- | --- | --- |
| | Tinder Plus | Tinder Gold | Tinder Platinum |
| 1-Month Price | $13.49 /month | $22.49 /month | $26.99 /month |
| 6-Month Plan | $6.75 /month | $11.25 /month | $13.50 /month |
| 12-Month Plan | $4.50 /month | $7.50 /month | $9.00 /month |
Here's a quick guide to changing your Tinder location with Passport:
Open the Tinder app. Go to Profile, then Settings.
Next, look for Location and select it.
Lastly, add a new location to update..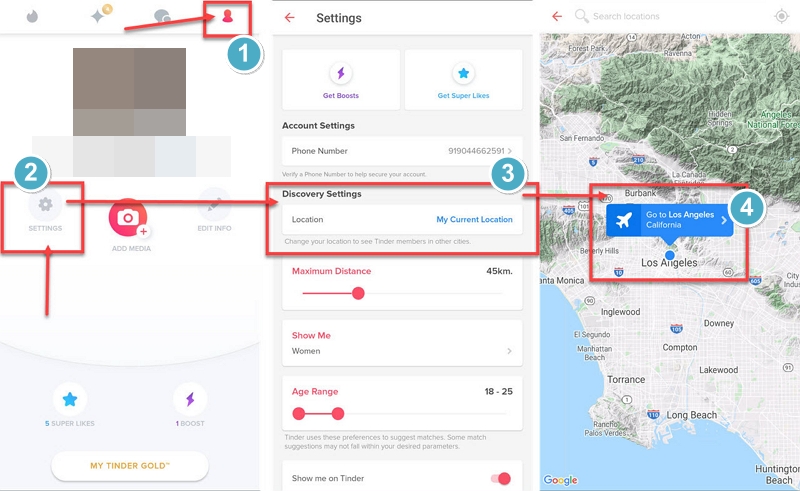 As per a smart consumer's practice, here are a few advantages and disadvantages to upgrading your free account.
Pros

Your profile receives an instant new user boost when you update your Tinder location with Tinder Passport, which will increase initial profile views.
You also get unlimited swiping and likes, and you get to send five super likes daily.
Tinder Plus allows you to rewind your last swipe.
No more ads.
Cons

Those who closely examine your profile will notice that you are at a different place than you claim to be in. This can discourage potential suitors from contacting you.
Tinder Passport can only be accessed by paying a premium charge. It costs a minimum of $4.5 each month and over $54 annually, which is far too much when compared to third-party apps like MockGo.
You need to manually enter your location into Tinder whenever you want to alter your location.
It is limited to one city at a time, but you can sign in to four locations on your account.
Last little detail about Passport is that it will inform users about your real distance from them.
This is why we suggest that you add a little note on your bio as to why you are matching to someone 4500 miles away.
Trick Tinder Location Using iOS GPS Changer (iOS 17 Supported)
Another easy method of changing the location on Tinder is changing your device's GPS location.
With a handy tool like MockGo iOS location changer, changing your GPS location on iPhone happens in a matter of minutes.
It's features include:
Change GPS
Fake GPS walking
Change the location for 5 devices at the same time
Compatibility with AR games or apps
Compatibility with the latest devices and iOS versions like iOS 17 and iPhone 15
Now follow these steps to teleport the GPS of your device to any location using MockGo:
1. Download MockGo
Download MockGo on your Mac or Windows PC. Double-click its setup file and follow the installation instructions to set it up. Launch the software after setup.
2. Connect your device
Connect your iPhone to your computer, then click "Start" in MockGo's main window.
3. Change the GPS location
Click the icon for 'Teleport Mode' in the upper-right corner of the screen.
Now enter the location you'd like and click 'Go.'
Then click 'Move Here' to teleport.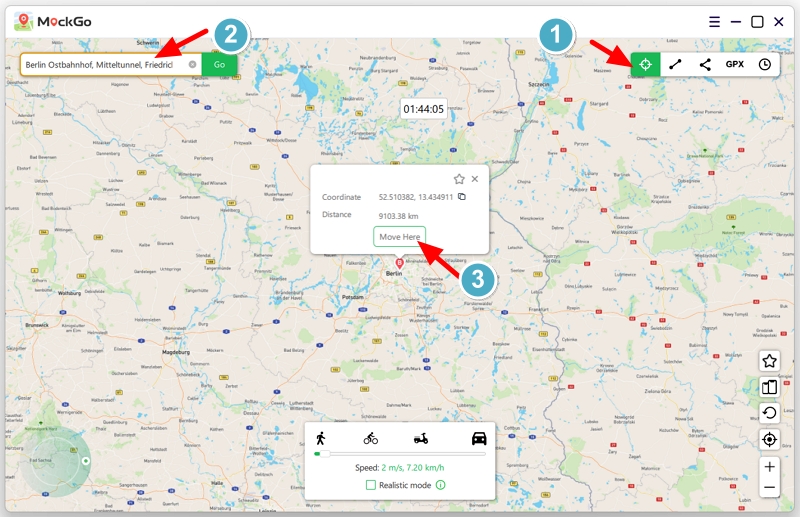 4. The location is changed
Now you have faked the Tinder GPS location on your iDevice.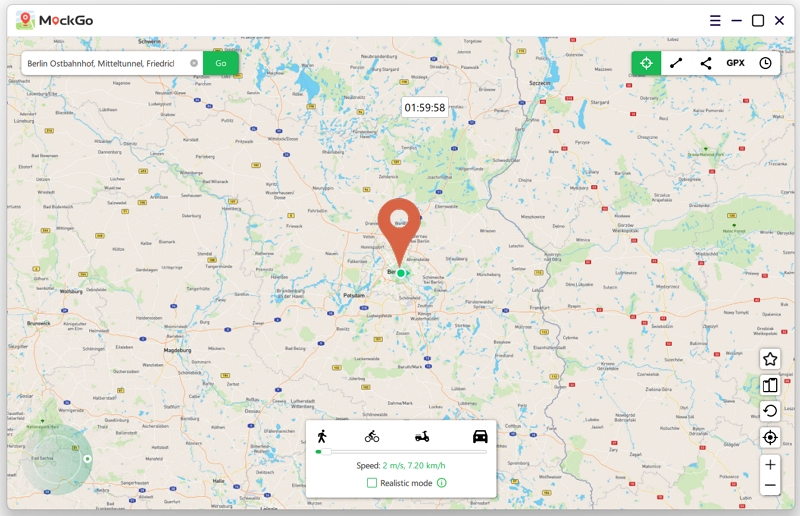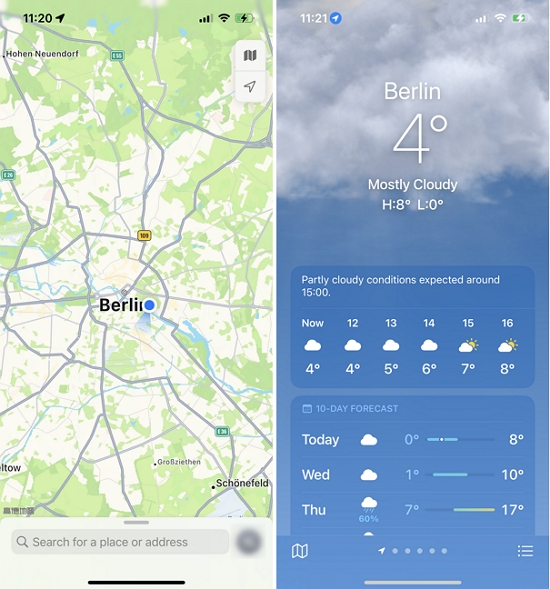 Pros

Change the location in just one click.
Choose any location you want in the world.
It is more affordable with the lifetime plan $59.95, compared to Tinder premium pricing plans.
Compatible with other location based dating apps as well.
Cons

It is not a free way to change the Tinder location.
Trick Tinder Location by Jailbreaking Your iPhone
There's another way to change your iPhone's GPS location, and it involves using a tool called Cydia. However, there's a catch – you'll need to jailbreak your iPhone, which may void your warranty. This method works best with older iPhones running iOS 9 and iOS 10.
Here's how to use Cydia:
Step 1: Before you can use Cydia, you need to jailbreak your iPhone. Keep in mind that the process might differ depending on your iPhone's iOS version and the jailbreak tool available.
Step 2: Once your iPhone is jailbroken, open Cydia and let it update its packages.
Step 3: In Cydia, use the search feature to find tweaks such as LocationHandle that can help you spoof your location. Select the one you prefer and tap "Install" to download and install it on your device.
Step 4: Set up the location spoofing tweak as per the provided instructions, and turn on location spoofing by toggling a switch.
Now, you have a way to change your iPhone's location using Cydia.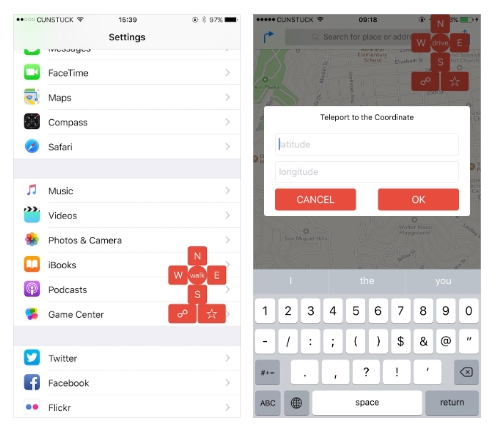 Pros

It is free to use.
Cons

Jailbreaking your iPhone will void the warranty of your device.
It is only compatible with limited iOS versions.
Trick Tinder Location Using Android GPS Faking App
Tinder does offer an official way to change locations, but some users might not have that extra cash to avail it.
If you are an Android user, you have a way to spoof your Tinder GPS location. Using the Fake GPS app is the way to go.
To change your Tinder location on Android, follow these steps:
1. Download and install the Fake GPS app from Google Play.
2. Launch the 'Settings' menu on your Android phone.
3. Go to 'Developer Options' and switch it on. If you see an 'Allow mock locations' toggle, switch it on as well.
4. Now tap on 'Select mock location app.'
5. Choose the fake GPS app.
6. Again, open Settings and select 'Location.' Tap on 'Location Mode' and set it to 'Device only (GPS only).'
7. Launch the Tinder app and go to 'Settings' and 'Discovery.' Modify the 'Search Distance' to something else to make Tinder regather your location.
Note that Tinder is working to put an end to such tricks with every new upgrade to its app, so if you fail to change Tinder location in the initial attempt, try another method or use another fake GPS app to see if you find success.
Pros

Change the location easily.
More affordable compared to premium plan of Tinder.
Compatible with other location-based apps.
Cons

You shouldn't change the location frequently to avoid getting detection.
FAQs
1. How to hide your Tinder location?
Tinder doesn't reveal your exact location to other users, but it does show them approximately how far you are from them in miles or kilometers. While this feature is generally harmless, it can raise safety concerns in specific situations.
For instance, if you're dealing with a stalker, these vague location approximations might inadvertently disclose details about your daily routine. Even innocently mentioning that you're at a coffee shop could give away your exact location in less densely populated areas.
Tinder allows you to conceal your location, but this option is only available for paid users. It's essential to note that this won't hide your location from Tinder itself. The app requires access to your phone's location, and you can't use it unless you grant this permission.
To hide your Location:
Tap your profile photo in the top left.
Select "Edit Profile."
Choose "Don't Show My Distance."
Toggle the switch to turn it on.
2. How does Tinder track your location?
Tinder uses the GPS service on your phone to determine your location. Once you choose a search radius—which can range from 1 to 100 miles—the software then looks for prospective matches for you within that area.
However, if the ideal match happens to be 101 miles away, you're pretty much out of luck unless you can convince Tinder that you're genuinely somewhere else than where your phone says you are.
Fortunately, there are tools built into the Tinder app that you can use if you ever need to change your location.
3. What are the best locations of Tinder?
These are the top locations for most place Tinder Passport users choose as of Dec 2022:
New York, New York
London, United Kingdom
Tokyo, Japan
Paris, France
Delhi, India
Los Angeles, California
São Paulo, Brazil
Bangkok, Thailand
Stockholm, Sweden
Mexico City, Mexico
4. Are there any alternative dating apps to Tinder??
If you wish to part from Tinder, there are many other dating sites that you may want to check out like:
Badoo
Bumble
Hinge
OkCupid
Lamour
Tantan
Soul
Happn
Grindr
Plenty of Fish
Wrap Up
In the early days, the only way to change your location officially on Tinder is by using your money. Fortunately, tools like MockGo have come along to help you find matches in other localities easily.
So if you want a convenient way to build connections with people outside your region, consider using the steps above to trick Tinder location on your iOS and Android handset.
There are many people who would be satisfied with this guide (don't lie!). After all, love knows no boundaries.