The MDM profile on an iPhone that used to belong to a company you worked for or bought it from can still block you from customizing your iPhone months later. And without any proper contact with the administrator, removing MDM can be tough.
Here's what this guide offers:
An introduction to MDM profile on iPhone
How to remove MDM profile on iPhone for free from settings
How to deal with "no option to remove MDM profile"
Comparison of the different ways to remove the MDM profile
So, if you're ready to regain control of your device, let's get right to it!
What is MDM Profile on iPhone
MDM is a remote administration feature for Apple devices that lets the organization who owns the iPhones manage them remotely. It's like how some offices give phones to their employees but want to make sure it's used for work purposes only.
To remotely manage the device, they configure an MDM profile onto the phone that puts various customization, download, and usage restrictions on it. If you want full access and control over your iPhone, you'd have to remove the MDM profile.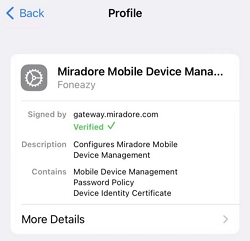 Why You Want to Remove MDM Profile on iPhone?
The mobile device management (MDM) system is a security feature that institutions such as companies and schools implement on mobile devices.
However, the MDM system can also be restrictive if the users has left the company or graduated from school.
This MDM profile can be a deal breaker for some people, who purchased a second-hand corporate device with a MDM lock as well.
There is always that feeling of someone watching your every move when there's an MDM system on your device.
People who have their own phones are free to do whatever they want with them, but when there's an MDM system, your hands are almost tied.
If you find yourself in any of the situations listed above, you may want to disable this feature to regain control of your device.
(Free) Remove iPhone MDM Profile from Settings
The first method to try is to remove the MDM profile directly from settings, but this only works when the administrator of your company or organization gave you the corresponding passcode.
Here's how you can do it:
Step 1. Open the Settings tab and lookup General. Inside it, tap on VPN & Device Management to see the profile.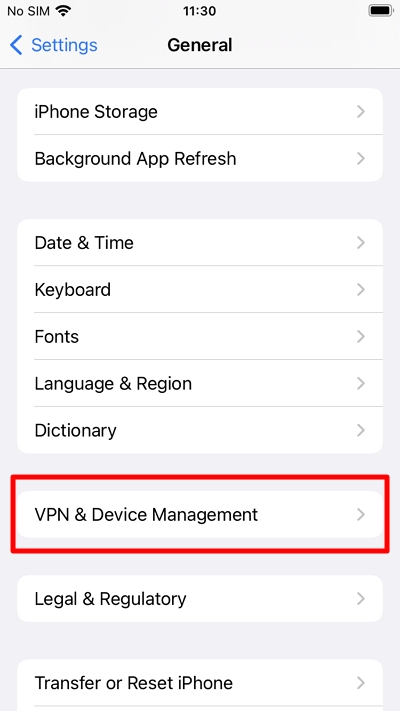 Step 2. Tap on the MDM configuration profile you want to remove.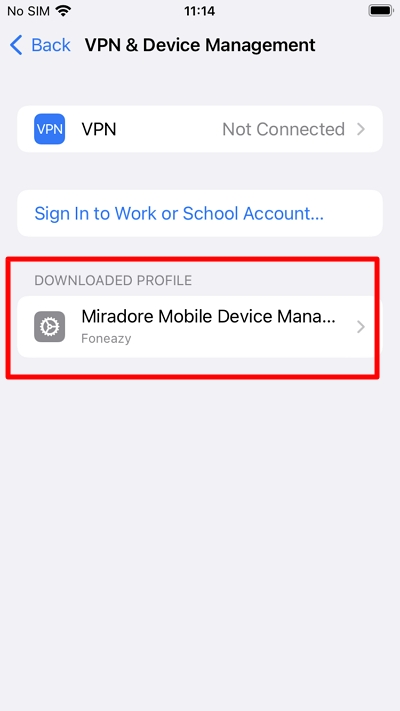 Step 3. Then tap on the Remove Management button.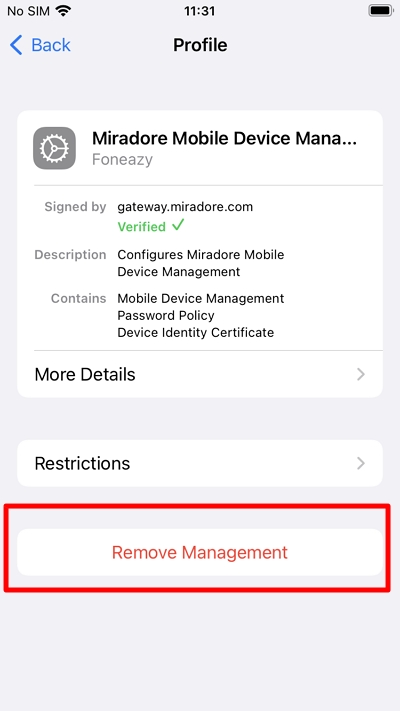 Step 4. It will ask you to enter the password, simply enter the password, and the MDM profile will be removed.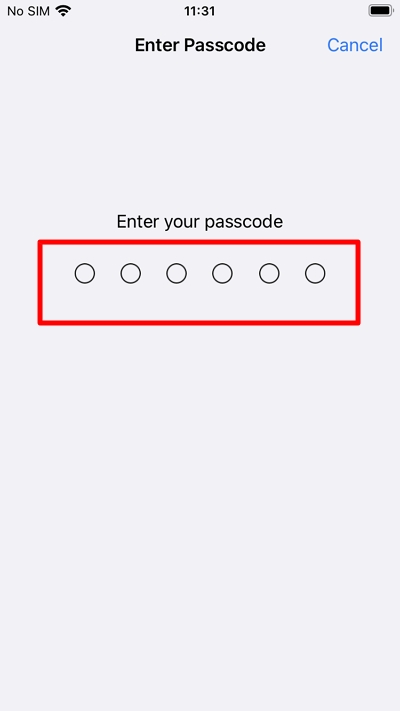 (Fastest Way) No Option to Remove MDM Profile? Try Unlockit
If you can't get the code from your IT administrator, you won't be able to bypass the MDM profile directly on your phone. Or if the MDM profile is set as "Non-Removable" from the MDM control panel by the administrator, you will find that there is no option to remove MDM profile.
In these situations, you can use Unlockit iPhone, a professional unlocking tool specially designed for non-technical users to easily bypass MDM profiles on iPhone and iPad without password within 30 minutes.
With Unlockit iPhone, you won't need any permission from administrators at all to disable the MDM remote control on your device. After bypassing, you will regain control of your device and use its functions and features.
What's more, it is compatible with latest iPhone 15 and all other previous iPhone models running from iOS 9 through 16.
Key Features of Unlockit:
Remove the MDM profile
Support all iPhone and and iPad models from iPhone 5 to 14.
High success rate
Easy to use
To bypass the MDM profile from your iPhone using the Unlockit tool, follow the instructions below:
Step 1. Download Unlockit iPhone
Download and install Unlockit onto your computer.
Step 2. Choose bypass MDM lock mode
Select the Bypass MDM Lock option from the interface.
Step 3. Connect your device
Use the USB cable to connect the device to your PC.
Step 4. Bypass MDM Profile
Follow the on-screen instruction and begin the process to bypass the MDM profile.
Wait a few minutes for the bypass process to be completed. Now you can start using your iOS device without any restrictions.
(Difficult to Use) Other Methods to Remove MDM Profile
1. Remove MDM Profile from Admin Dashboard
If you have administrator access, removing device management iPhone is simple. You can ask the administrator to log in to the MDM admin console to help you remove the mdm profile.
The removal steps of different MDM providers may vary, below we use miradore as a example:
Step 1. Enter the control panel.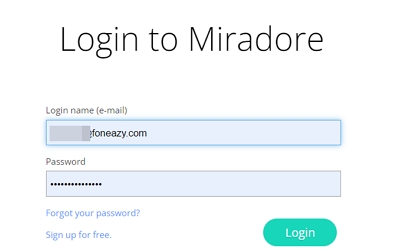 Step 2. Click "Devices" from menu to access device management.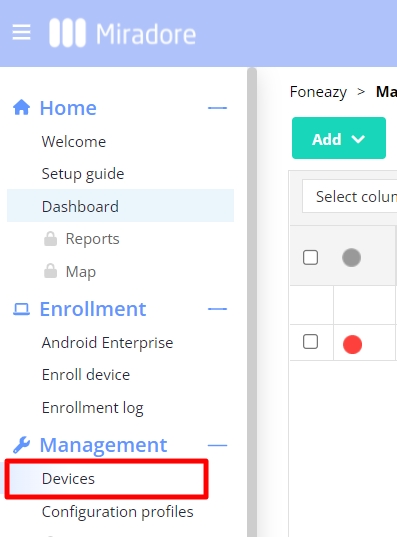 Step 3. Choose the device(s) to be unsupervised and then lifecycle > Unenroll device.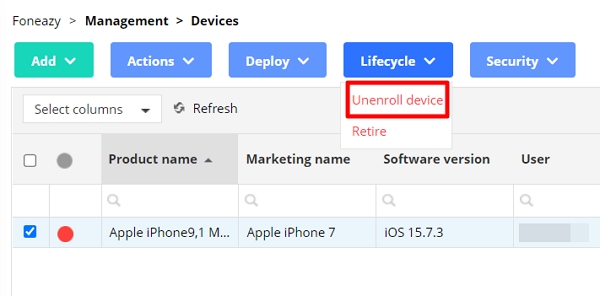 Once you have completed these steps, the Miradore's enrollment profile should be being removed on your device, and you should have full control over it.
Pros
Free to use
Remove MDM profile permanently
Cons
Works only when you can get in touch with the administrator
2. Remove MDM Profile from ABM-DEP Enrolled iPhones
ABM (Apple Business Manager) and DEP (Device Enrollment Program) are programs offered by Apple that enable organizations to deploy and manage Apple devices at scale easily.
If your device is enrolled and supervised by Apple Business Manager, the removal steps will be a little different, Here is a step-by-step guide:
On the MDM control panel, go to the Enrolment > Apple DEP page.
Choose the device(s) you want to remove and then click Actions > Delete enrolment profile.
Next, restore your device(s) to factory settings.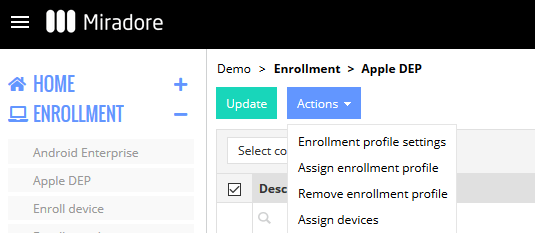 Pros
Free method
Remove MDM profile permanently
Cons
Only works if you can contact the administrator.
Removing MDM from an ABM-DEP enrolled device may have unintended consequences, such as the loss of access to certain apps or services that were provided by the MDM profile.
As such, it's important to carefully consider the implications of removing MDM before proceeding.
3. Via Jailbreaking
Jailbreaking is when you remove software restrictions from your iPhone and install third-party apps that Apple wouldn't allow.
It lets you bypass the restrictions on the phone and make changes that you can't usually make. Here's how to use jailbreaking to bypass the MDM on your iPhone:
Download Filza and jailbreak your phone according to the instructions on the screen.
Now run the app and navigate to /var/containers/Shared/systemgroup.com.apple.configurationprofiles/Library/ConfigurationProfiles/.
You'll find all the MDM files on your phone in the directory mentioned above. Delete the files once you find them.
Now restart your phone and see if the Remote Management has been removed
Pros
Gets rid of the MDM lock from your iPhone
Lets you download apps and tweaks that you can't get from Apple Store
Cons
Consumes a lot of battery because of tweaking
Has an added risk of malware and viruses
Accidentally deleting critical files might compromise your entire phone
Although jailbreaking may seem like an easy option, its a lot more technical in application. Plus, it can potentially leave your phone vulnerable to cyber threats.
How to Choose the Best Method: A Comparison
That's all for the many different ways to bypass the MDM profile on your iPhone. Here's a comparison of each:
Remove MDM Profile From Settings
The method is to remove the MDM profile by going to settings and entering the passcode that the administrator gave you. If you don't have this code, you won't be able to bypass the MDM profile on your phone.
Remove MDM Profile With Unlockit
The most straightforward way is to use a professional bypass tool like Unlockit. Not only is it easy to use, but it gets past the MDM profile without having to alter your phone's software. Plus, it's compatible with the latest iPhone and iOS.
Remove MDM Profile From Admin Dashboard
If you have access to the administrator and they're willing to help, you can simply ask them to remove the MDM lock from their dashboard. It can be done both remotely and in person; the only thing you need is for the admin to agree.
Remove MDM Profile From ABM-DEP Enrolled iPhones
If the device was managed via Apple Business Manager (ABM) or Device Enrollment Program (DEP), then you simply need the administrator credentials to log in and remove the device from these platforms. However, getting access to them is very difficult.
Jailbreak Your Device
The last way of bypassing the MDM profile is to jailbreak your device. However, this method comes with quite a few consequences that may end up making it more of a downgrade than anything worth it. For example, a jailbroken device gets voided of all warranties, which may result in an exponential loss of value.
FAQs
If you have any questions on the removal of the MDM profile, check out the answers to the FAQs below:
1. What can MDM profile track?
The configuration profiles on iPhone or iPad contain settings to manage, track, and configue WiFi, passcodes, email IDs and accounts, and many more features including but not limited to the following:
MDM enables administrators to remotely set up password restrictions, WiFi, VPN connections, email configurations, and other device settings. Administrators can now ensure that devices are set up uniformly and securely throughout the company.
Administrators may remotely manage and install software on devices through MDM. This includes both in-house and third-party apps, enabling administrators to guarantee that only approved apps are set up on devices.
Administrators can impose security policies on devices. This includes options like remote wipe capability, app usage limitations, and passcode constraints.
MDM enables managers to keep an eye on and track devices. This covers tracking the whereabouts of the device, usage data, and other device details.
So the admin has the full authority to manage the device. This can cause difficulties and problems for the some users who want to protect their privacy when using devices.
2. How to verify if my device has a MDM profle?
Go to Settings > General > About on your device. If you see the statement "This iPad/iPhone is supervised and controlled by (business name)," the device is supervised by a MDM profile.
3. Will I lose my data if I bypass MDM?
The MDM profile is limited to monitoring the security of your device, so if you were to remove or bypass this system, your data would not be affected.
Additionally, using a third-party program such as Unlockit iPhone also minimizes the risk of losing data.
We have become so used to dealing with data loss regarding security bypasses, but we shouldn't worry about MDM profiles.
The best thing about removing the MDM profile is that the focus is isolated on the profile itself and not the surrounding factors like your data.
If the risk of losing your data stops you from getting rid of your MDM profile, then rest assured that your data will stay intact after the procedure.
Conclusion
Of all the remaining methods, using a professional bypass tool like Unlockit is the best option since it's safe and saves time. The other methods require help from the administrator in some capacity, and that's fairly hard to get in most cases.