One of the biggest threats that stopped quite a few people from getting their hands on a second-hand iPhone is the dreaded iCloud Activation lock that can potentially make a device useless for a second owner if you cannot get ahold of the first owner.
This happens quite often if you buy the device off of a second-hand vendor. Now, many of us believe that if we are stuck with a phone that has an iCloud activation lock, we have a brick of a device.
But, believe it or not, you can easily get rid of iCloud Activation Lock without password and gain access to the device. Want to know how? Let's get into it!
What is Activation Lock?
When you enable Find my iPhone from your Apple ID settings, Apple will register your device on its activation servers and associate the device ID to your Apple ID.
After that, the Activation Lock is automatically turned on to prevent people from resetting or activating your device without providing this Apple ID and its password.
The Activation Lock is triggered when you reset your iPhone or update the iOS the first time. Apple will ask you to sign in with your Apple ID to activate the device after it restarts.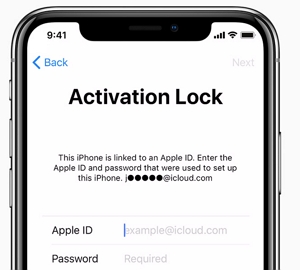 Bypass Activation Lock without Password in 30 Minutes via Unlockit
Now if you are looking for a tool that will help you bypass iCloud Activation Lock without passwod, let me suggest Unlockit iCloud remover software. This tool is extremely straightforward to get rid of Activation Lock in just 30 minutes, as all you need to do is get your hands on the tool and run it.
Let us look at some of the key features of the tool in more detail:
Key Features
Unlock iCloud for Various iPhones and iPads: Effortlessly remove the iCloud lock from a range of iPhones and iPads, including models like iPhone 5s, 6, 6s, 7, 7 Plus, 8, 8 Plus, and iPhone X.
Wide Compatibility Across iOS Versions: Works seamlessly with iOS versions ranging from iOS 12 to iOS 16, ensuring compatibility with a wide range of devices.
Regain Access and Enjoy Features: After unlocking the iCloud lock, you can log into the iTunes store using a new Apple ID. You'll be able to access and enjoy almost all the functions, except for making calls, using iCloud services, and cellular features.
Use the following simple steps to use Unlockit iCloud remover to bypass the Activation Lock of your device:
Step 1: Install Unlockit iCloud remover on your computer and then open it after installation.
Step 2: Connect the iOS device to the computer and click the Start button from the program's main window.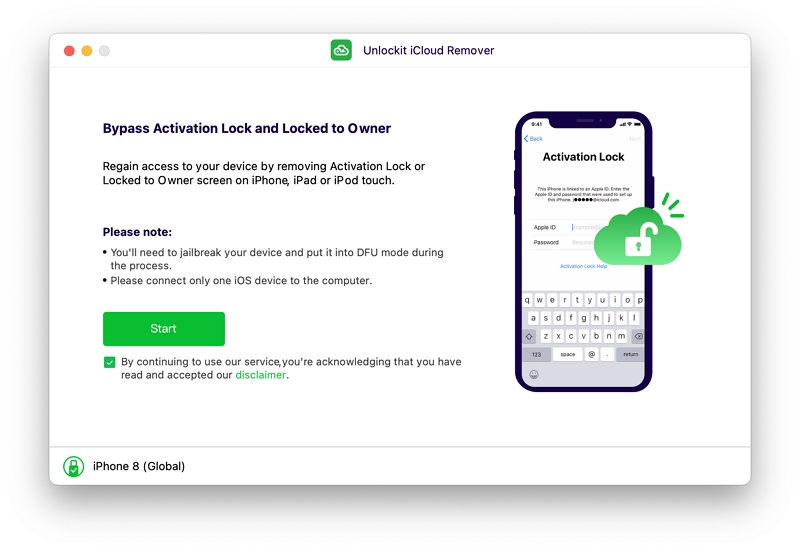 Step 3: Follow the instructions on the screen to unlock the device.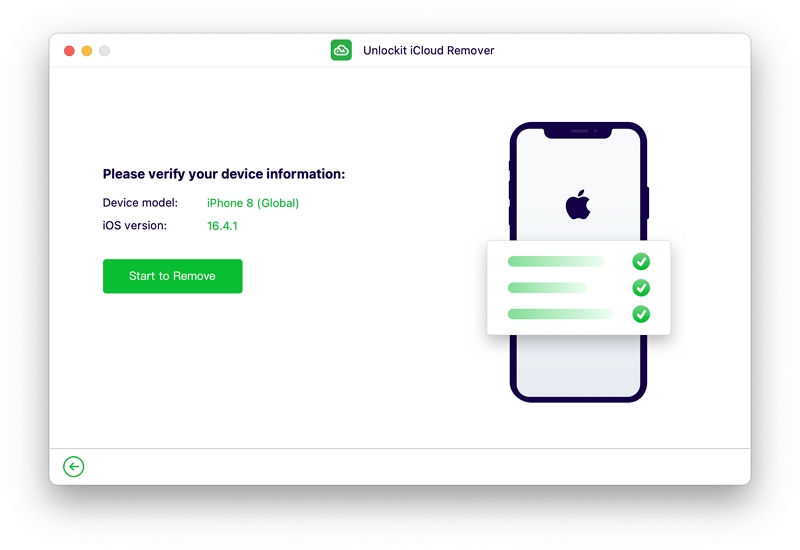 Step 4: The entire process typically takes 30 minutes. Once the removal is finished, Unlockit will notify you with the below screen.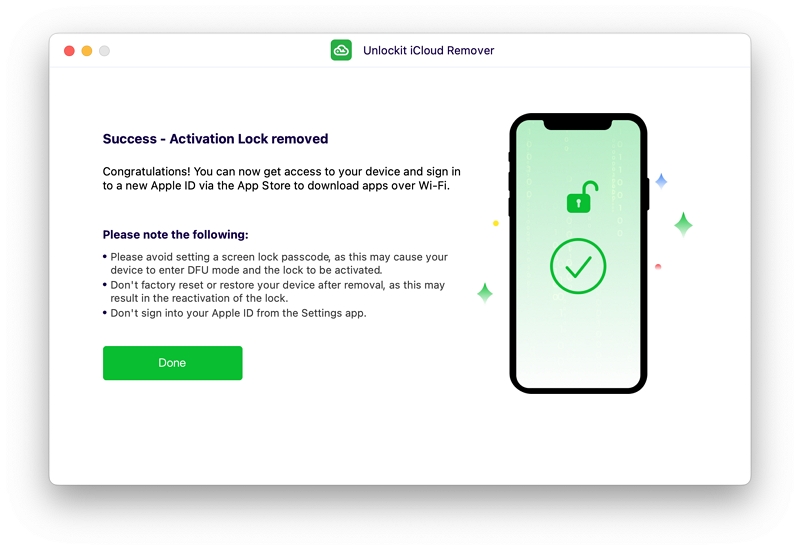 Pros
It supports all iOS device models from iPhone 5 to iPhone X.
It also supports most versions of iOS from iOS 12.0 and above, including the iOS 16.
It is very easy to use: you don't need any technical skills to use it.
You can unlock the device even if you don't know the Apple ID.
Cons
It's not free to use.
It is only available for MacOS computer.
Via Online Apple Activation Lock Removal Service
You can also seek help from online services to bypass the Activation lock on your device, These platforms are easy to use without the need for software installation, but you'll have to pay a significant amount to get the job done.
What's more, because these sites do not provide trial-before-purchase services, and many users report that such services are scams, you must pay close attention to the scammer website.
The average price of these services is $20 to $50, requiring you to enter the iPhone IMEI number and carrier name.
Check out the steps below:
Visit one of the Activation Lock Removal Service, for example, Directunlocks.
Enter your iPhone's IMEI Number.
Select the device model
Tap Remove Activation lock and pay for the service.
Note: If you do not know your device's IMEI number, dial *#06# or open the Settings menu before tapping About.

Pros
24/7 customer service.
Works for most iPhones.
Cons
Expensive.
Time-consuming, sometimes you will have to wait for 72 hours.
Some sites are insecure and unreliable.
iCloud DNS Bypass
If you want to take matters into your own hands, apply the iCloud DNS bypass solution to alter the DNS (Domain Name System) Activation Path and the server to access the iPhone again.
It is a bit complicated but takes much less time than the above mentioned technique.
The steps are as follows:
On your iPhone, select your Country and Language.
Go to the Settings menu and access the WiFi page.
Tap the "i" icon, and select the Forget This Network option.
Return to the WiFi Settings page, and tap "i" again.
Now, enter the following DNS IP Addresses based on your region:
For the United States, use: 104.154.51.7
In Europe, opt for: 104.155.28.90
For Asia, select: 104.155.220.58
When in Australia and Oceania, choose: 35.189.47.23
For South America, apply: 35.199.88.219
And for all other continents, utilize: 78.100.17.60
Connect to the network by entering the password.
Finally, tap Next Page and select Back to enter the iCloud bypass screen.
Set up your iPhone!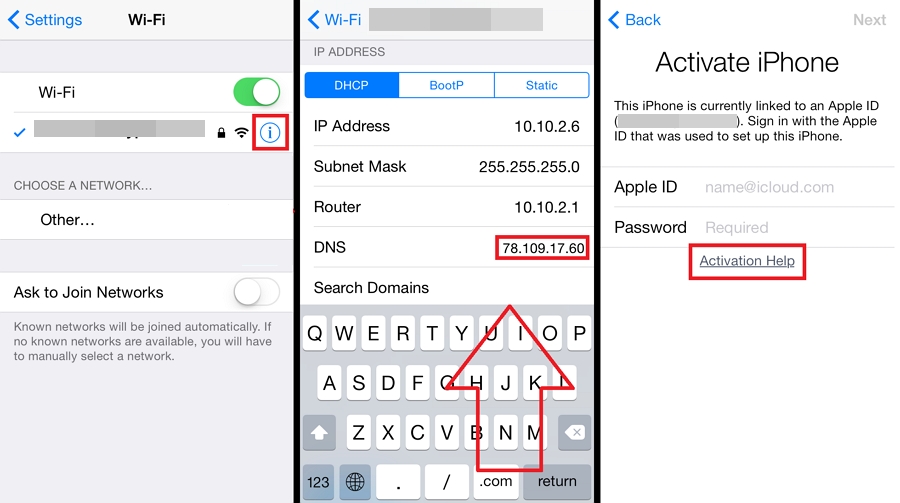 Pros
Safe method.
Manually operated.
Cons
Compatible with iOS 10 and earlier.
Only work for limited regions.
Technical and complex.
The Activation Lock issue may reappear.
Bypass Activation Lock Via Previous Owner
If you are able to get in contact with the previous owner, then simply ask for their iCloud credentials to remotely reset the iPhone.
If the Previous Owner Is Nearby
Now, if you have the original owner nearby, you can let them remove the activation lock directly. Here's how!
Getting Started: Turn on your device, and when it comes to the Activation Lock screen, let the previous owner enter the Apple ID username and password.
Preparing the iPad: Once you've entered the Apple ID details, your iPhone will keep getting ready to use.
Sign out of iCloud: When you see the home screen, it's time to sign out of iCloud. Depending on your iPhone's version:
For iOS 10.2 and earlier: Tap on "Settings," then go to "iCloud," and finally, choose "Sign Out."
For iOS 10.3 and later: Tap on "Settings," then select your name (yep, that's you!), and finally, pick "Sign Out."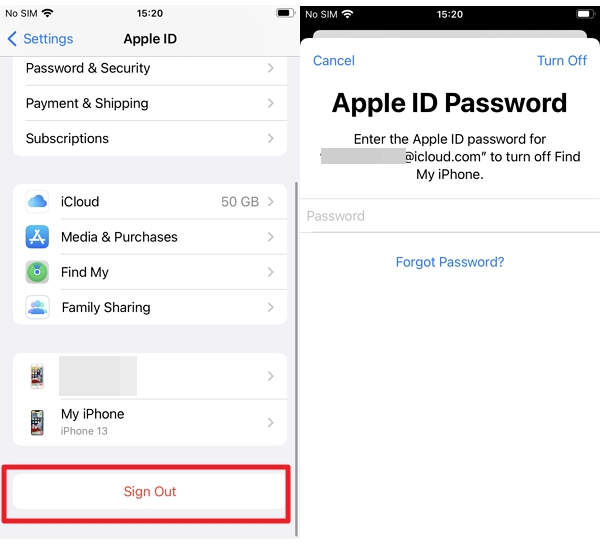 Here's the part where you need to put in the original owner's Apple ID username and password again. It's like a security handshake.
Erase data : Ready to make the iPhone truly yours? Go ahead and erase any remaining data and settings. Find "Settings," then head to "General," tap "Reset," and finally, choose "Erase All Content and Settings."
Ready to Roll: Watch the iPhone restart – and guess what? This time that pesky Activation Lock screen won't show up. You're all set to set up your iPad fresh like you just got it from the store.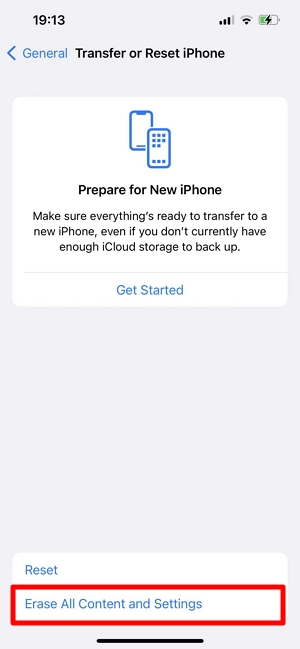 If the Previous Owner Isn't Nearby
You can also ask them to access the Find My iPhone tool on the iCloud website to remove their account remotely, if their are not nearby.
The solution is simple to apply and doesn't require any technical skill from you to achieve the required outcome.
Follow the step-by-step guide to quickly remove the activation lock on your newly purchased iPhone:
Sign in using the previous owner's iCloud details.
Click Find My iPhone, and tap All Devices.
Select your iPhone from the list.
On the pop-up box, click Erase Device and share the iCloud password again.
Finally, click Remove from Account to end the process.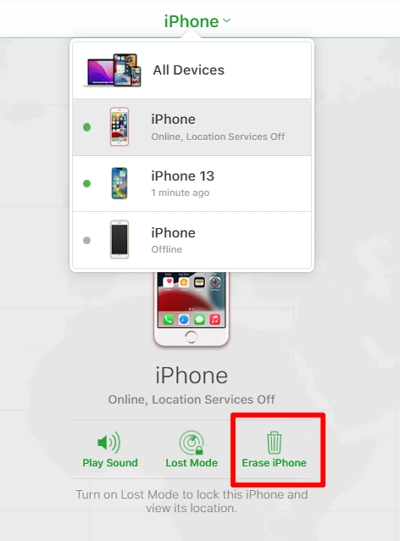 Pros
Fast and easy.
Free.
Cons
It only works when you can reach the previous owner.
The owner may refuse to share their iCloud credentials or perform the steps themselves.
Ask Apple for Activation Lock Removal
If you want to avoid the complexities of removing the Activation Lock yourself, and do not trust the professional tools to do the job, then the only way out is to ask Apple directly for help.
Once you prove that you are the rightful owner of the iPhone by providing the procurement documentation at the nearest Apple Store, the issue will be resolved.
Or, simply visit the Apple Support Center website to remove the lock. Check out the steps to learn how:
Visit Apple Support.
Select the Start a Support Request option.
Agree to the terms and conditions, and share your email address with the iPhone's IMEI, serial number, and MEID.
An email will be sent to you confirming that the Activation Lock has been removed.

Pros
Free to use.
Works for all iPhones and iPads.
Cons
It won't work for users who purchased a used device, because Apple support won't cover the iPhones or iPads bought from second-hand vendors.

Time-consuming.
FAQs About Activation Lock
Do you still have any confusion related to removing the iPhone Activation Lock?
Well, this FAQ section is just for you. Read on for valuable tips and handy information.
Q1: Can I bypass the activation lock on my Apple devices?
Yes!
Simply apply the solutions mentioned in this article to quickly remove the Activation Lock. However, we recommend contacting the previous owner of your device and asking them to remove their iCloud account.
If it isn't possible, use Unlockit iCloud bypasser or online lock removal services to resolve the issue. You can also ask Apple Support or apply the DNS bypass to unlock the iOS device.
Q2: Can I bypass the Activation Lock by jailbreaking my iPhone?
No, you cannot bypass the Activation Lock by merely jailbreaking the device. This procedure is primarily designed to lift the restrictions placed by Apple to prevent third-party.
The only way out is to get in touch with the previous owner or apply the solutions listed in this post to remove the Activation Lock.
Q3: Is there a free way to remove iPhone Activation Lock?
No, your iPhone is connected to something called an Apple ID through Apple's system. Usually, you can only disconnect it by typing in the right Apple ID and password to remove Activation lock for free. Except that, there isn't any special software which let you get rid of Activation Lock freely, even if you don't know the password.
Final Thoughts
So there you have it, a quick and handy guide on how to get rid of the pesky activation lock. While there are quite a few options available to you on which you can depend, the best course of action would be to trust a third-party tool like Unlockit to take care of your bypassing needs. These tools are the quickest and most secure way of getting rid of iCloud Activation Locks and ensure you can get the most value out of your device!