Apple has a strong security system that helps keep malicious people away from your data. However, the same security protocols can fire back when you forget your Apple ID password and can't log out the Apple ID on your iPad.
The same stands true for iOS devices bought off eBay that come locked with an Apple ID. No need to fret, though, as, in this guide, there is all you need to know about multiple methods to remove the Apple ID from iPad without password.
Let's begin!
Why Removing Apple ID from iPad?
Apple ID is a core element of your Apple ecosystem. Without your Apple ID, you can't download apps from the App Store, you can't back up your data, and you get restricted from a whole range of features.
However, in this case, you need to remove an Apple ID on your iPad. Here are some scenarios where this might apply:
You found a great deal on an iPad device that came locked with an Apple ID.
You have purchased a second-hand iPad with someone else's Apple ID logged in.
You want to sell your iPad and remove your Apple ID before it ends up in the hands of others.
You have completely lost all memory of your Apple ID credentials and cannot log back into your iCloud account.
What Happens When You Remove Apple ID on Your iPad?
The moment you sign out of your Apple ID, you lose all access to iCloud and its related services. Also, you can no longer make purchases on the App Store and will lose the ability to back up your device on the cloud.
As for data synced with iCloud, your device will allow you to keep a copy of the data on your device. If you decline, all your synced data will be removed from your device. It will still, however, remain on the cloud.
Moreover, if you desire to access, you can do it using another device by signing in through your iCloud credentials.
Also note that apart from Apple services, other apps might also use iCloud services to store backups.
Along with this, you will also lose features such as Handoff, Universal Clipboard, and Auto Unlock with your Apple Watch.
Remove Apple ID from iPad Without Password Using Unlockit iPhone
Since Apple has strict security protocols to prevent unnecessary intrusions, removing the Apple ID from your iPad without a password would be difficult.
However, some genuine third-party Apple ID remover applications, like Unlockit iPhone, can help you sign our the Apple ID on your iPad without inputing the password.
Unlockit iPhone is an all-in-one iOS dedicated platform to unlock any passcode or bypass activation code without any technicality.
It can resolve any issue within seconds, from unlockint Apple ID, removing Screen Time passcode, or unlocking MDM lock.
The best thing about Unlockit iPhone is that you aren't even required to have any previous knowledge before using its features.
Features
No need for any technical knowledge or coding skills
Delete Apple ID from any iPhone or iPad without a password
Download any application or play any game from App Store
No restriction on usage when it comes to iCloud features
Steps
Follow the steps below to remove previously logged-in Apple ID from your iPad using Unlockit iPhone:
Step 1: Download and install "Unlockit iPhone" on your computer.
Step 2: Once the app is launched, select the "Unlock Apple ID" option.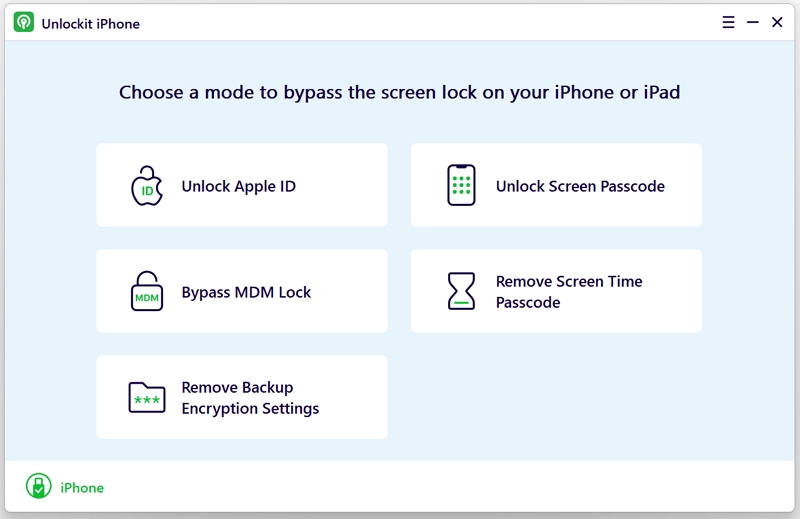 Step 3: Connect the iPad using a USB cable with your computer and tap "Accept" when it prompts you to Trust your device.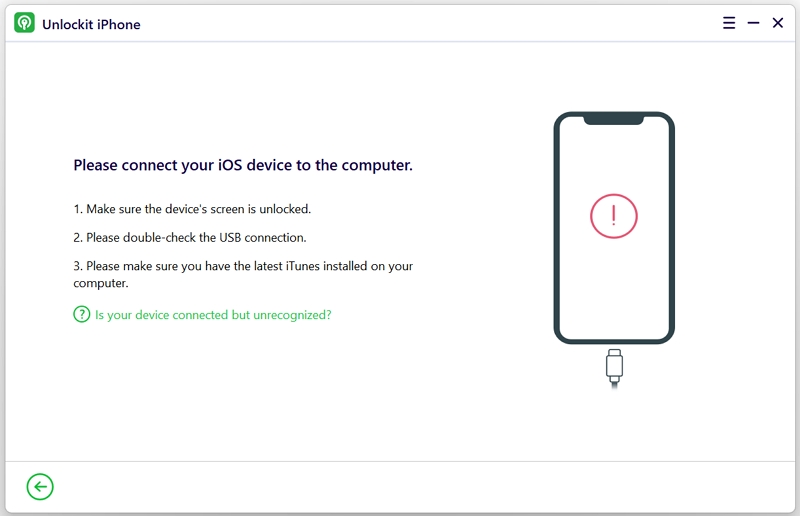 Step 4: On the new window, click "Download," and it'll start downloading the necessary files to your iPad for removal.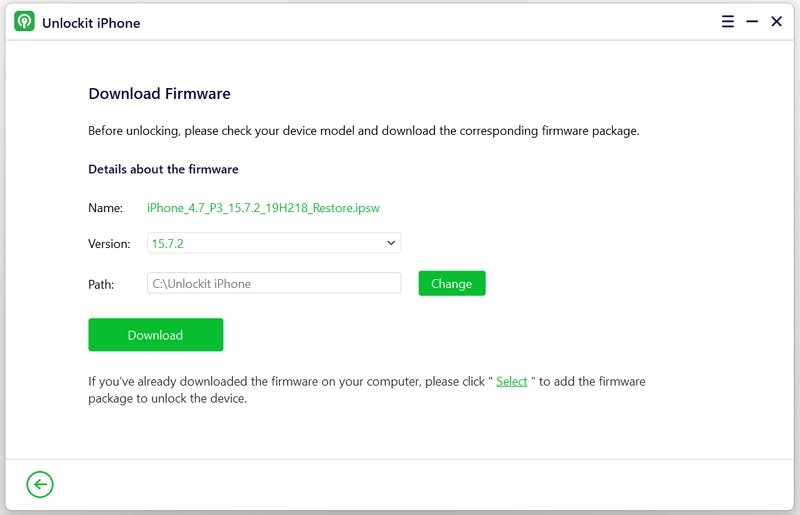 Step 5: After the process is completed, your Apple ID will be removed, avoid disconnecting your USB during the process.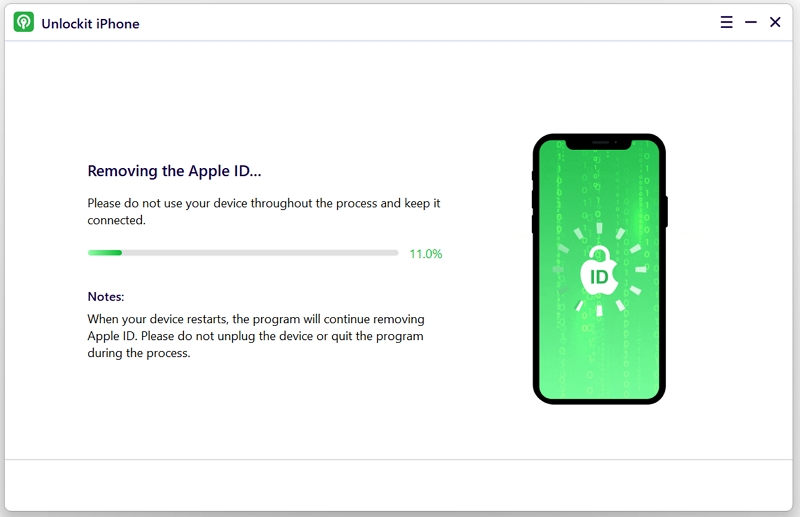 Step 6: Wait for your device to "restart" to set up your device.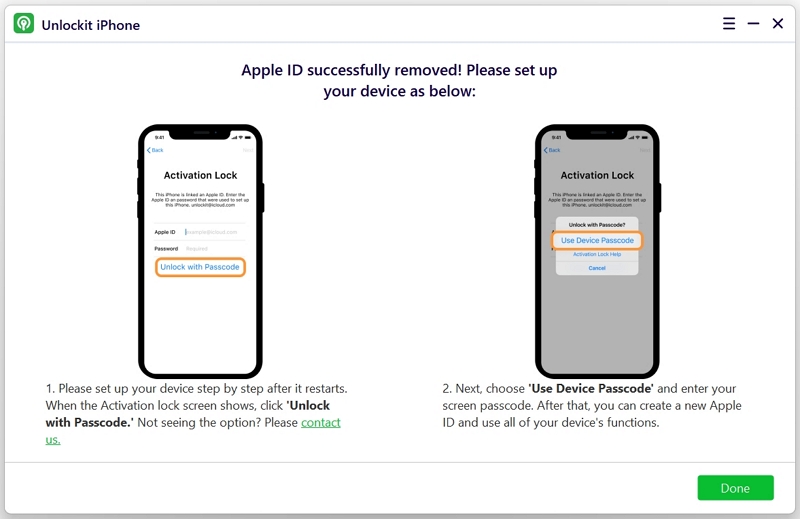 Via the Previous Owner's Help
Sometimes when you buy a second-hand device, you ask for a one-day trial warranty from the owner.
If you have that warranty and you can meet them easily, you should consult with them to re-enter their password and sign out of their Apple ID properly to set up.
If you cannot meet them, ask them to delete your iPad from their iCloud device list so that their Apple ID can be removed from your iPad automatically.
Steps
Following are the steps to remove Apple ID from another device:
Go to the "iCloud official website" and sign in with your Apple ID.
On the first screen, click on the "Find My" tab.
In the "Devices" section, choose the "All Devices" option.
Select your iPad.
Click "Remove from Account" and confirm to deactivate Apple ID from iPad.
Contact Apple Support
If you want to try the official method of removing any Apple ID from the iPad, then, fortunately, Apple has suggested a request method. You must enter all the information correctly to remove the Apple ID immediately.
Before sending out the request to Apple Activation support, you must consider the following aspects:
Proof of Ownership required
It is necessary for you to be the owner of the iPad. You should either have an ownership document or product serial number/MEID/IMEI. You also have to make sure that the device isn't in lost mode.
Erase Data Permanently
You must know that after Apple removes an iCloud account from any iPad, the data and files that aren't backed up will be permanently deleted.
Managed Device Can't be Unlocked
If a business or institution assigns the device to you, then Apple can not unlock it. You have to consult your IT department to resolve the issue
Steps
Following are the steps for Apple Activation support:
Go to the "Activation Support" page.
Enter your email address.
Type the "Product Serial Number/MEID/IMEI."
Clear the "Captcha" and continue to submit your request.
Warning: Don't Factory Reset Your Device if You Don't Know the Password
When your iPad is stuck on the Apple ID password required page, then to get out of the stage, you would follow every other measure to get your device working.
However, during the process, it isn't recommended to factory reset your device when you don't know the Apple ID password. It would make it more difficult for you to set up your device and redirect it to the Acitvation Lock.
In the Acitvation Lock screen, you'll have to the previously logged-in iCloud account and password, which obviously you wouldn't know, which would end up making it more difficult for you to delete the Apple ID from your device and get access into your device.
Wrap Up
There are many options to remove the logged-in Apple ID previously from your iPad without a password.
You can always try out the Apple Activation support request, but it will take months. If you want to go for a safe and quick method, then try using Unlockit iPhone.
With this third-party application, you can instantly execute any issue related to your iOS device with a single click. It is extremely user-friendly and doesn't need any technical skills to learn.