FRP or Factory Reset Protection is a security feature available for Android devices Lollipop 5.1 and higher.
It is built-in on Android devices and is automatically enabled upon setting up a Google account on your device.
Once set up, FRP prevents device usage after a factory data reset. The phone could only be used by logging in with the associated Google account.
The main purpose of FRP is to prevent unauthorized access to your device if it gets stolen or lost.
Once they perform a factory reset, FRP will block them from accessing your device as it would require them to log in using your Google account.
This guide will aid you in how to bypass the FRP on a Samsung A10 device with or without a computer. Read to learn more.
Samsung A10 FRP Bypass In One Click Using Unlockit Android
Unlockit Android is an Android screen unlocker software that disables Google FRP lock on Samsung devices in just one click.
Compared to most of the online methods, it is simpler and safer to use. The FRP bypass process has been simplified than ever in the latest version of Unlockit Android.
Throughout the process, you will not be asked to install any additional frp bypass APKs, nor will you be asked to use TalkBack or an OTG cable.
After the FRP lock is removed, you can regain access to your device and create a new Google account.
Furthermore, the program is compatible with the most of Samsung devices running Android versions 6 to 12.
However, this is only currently available for Windows users and cannot be used on Mac.
To bypass FRP on a Samsung A10 using Unlockit Android, follow these steps below:
Step 1. Download and install Unlockit Android screen unlocker.
Step 2. Upon opening the Unlockit app, click Start option.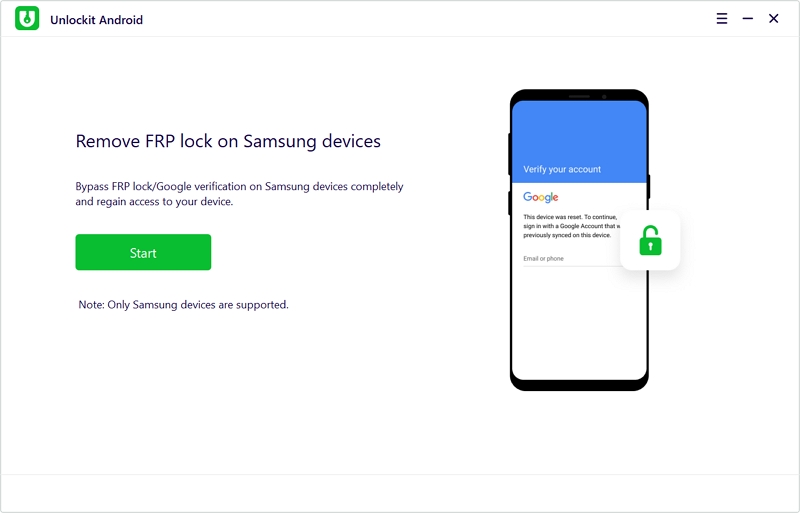 Step 3. Connect your phone to the computer via USB.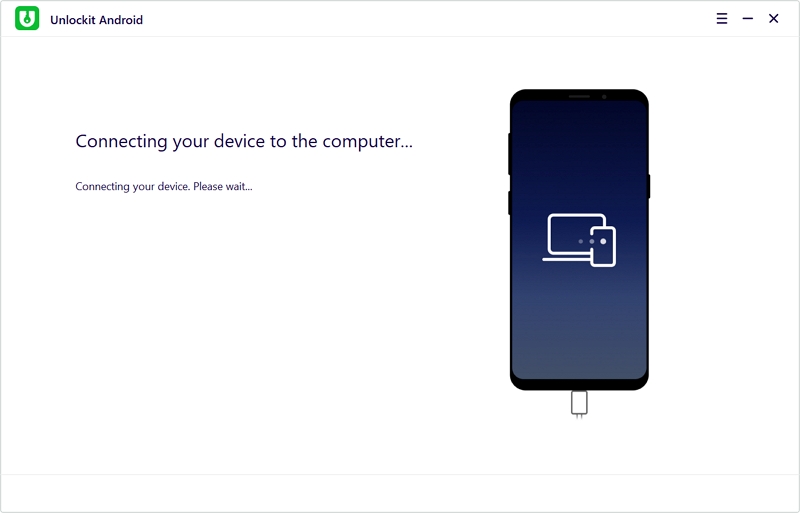 Step 4. Then, select the Android OS version of your Samsung A10. Select All Android Versions to remove the FRP in one click. Then, press Next to proceed.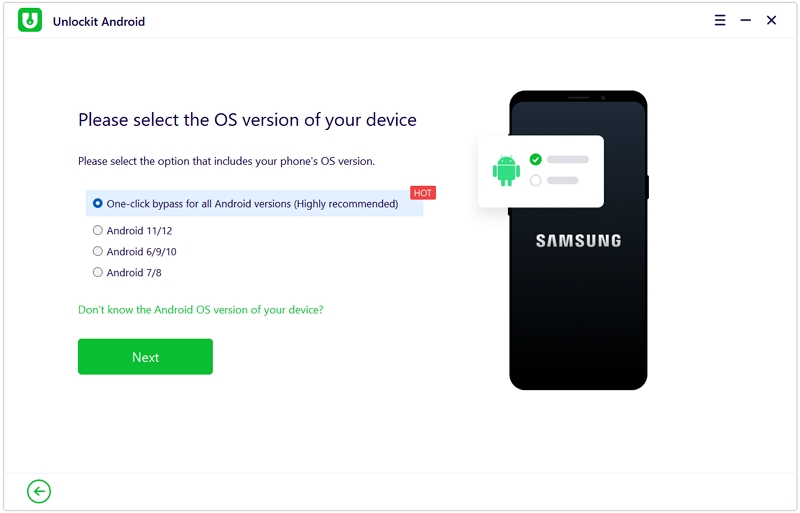 Step 5. Now you just need to follow the on-screen guidelines to set up your device accordingly.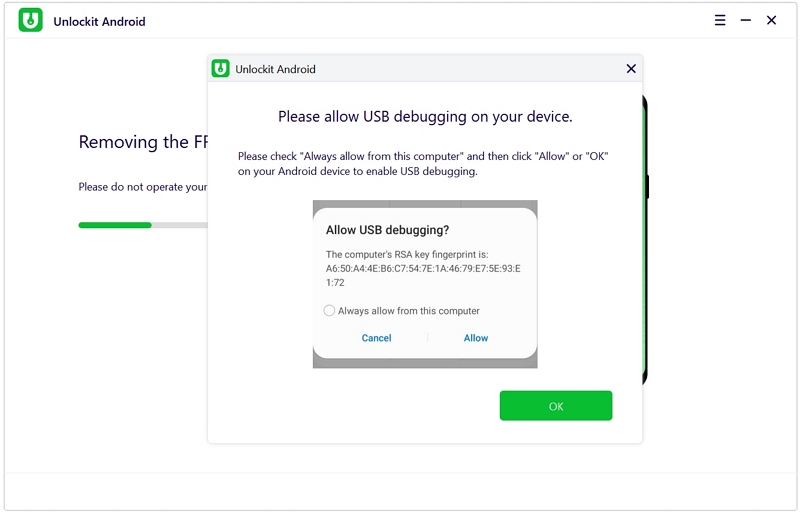 Step 6. Once done with the steps, your device will reboot. Now your Samsung A10 will be FRP unlocked.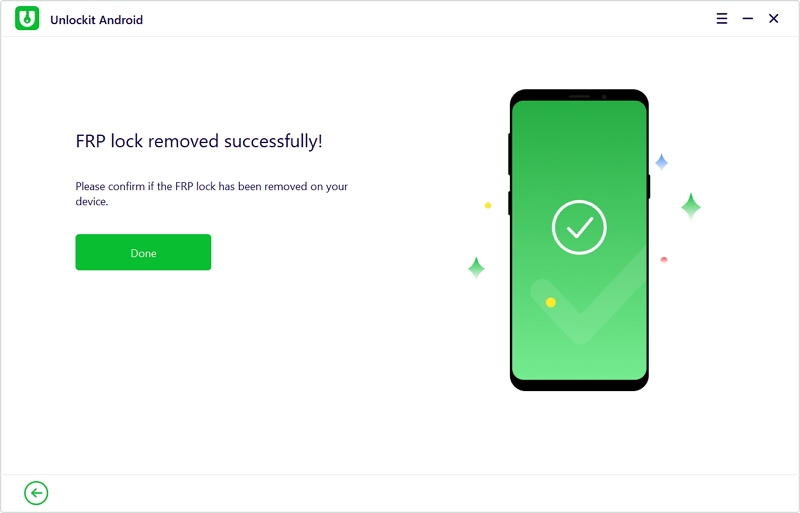 Samsung A10 FRP Bypass Without PC (Complex)
Bypassing the FRP is also possible without the use of a PC. However, this process requires you to follow certain steps, so make sure to do exactly the steps listed below and leave no room for error.
Turn on your Samsung A10 device, then click Start.
Agree to the Terms and Conditions and connect to WiFi.
Press the volume up and power button simultaneously and click Use.
Again, press the volume up and power button at the same time to enable talkback.
Draw "L".
Double tap and select Talkback Settings.
Press volume up and the power button to turn off the talkback.
Select Braille Keyboard > How to use braille keyboard > Gboard.
Once redirected to the Google Play Store, click the kebab menu (3 dots), then select Play Protect and click Learn More.
Long press any text, select all, copy, and then close the window.
After returning to the main welcome screen, tap Start.
Then, go to the WiFi screen. Select Add network > Advanced > Proxy > Manual.
You will now need a PIN/PUK-enabled sim card.
Paste the copied text on the Proxy field and insert the sim card at the same time.
While on the screen lock, eject the sim card.
Swipe left on the timeline bar and then tap on the lock icon.
Swipe left on the notification bar and then tap on the settings, then the bell icon, and the Android Setup several times.
Next, go to Media > Grant Permission.
Go to Galaxy Store > Agree. Search for Samsung Internet and sign in with a Samsung Account, then install Samsung Internet.
Open Samsung Internet and search for https://tiny.cc/frptools or https://bit.ly/2NKxXYs.
Go to FRP bypass APK > FRP Apps Section > Open Settings App > Open.
Now it's time to create a cloud backup. We will need another Samsung Android phone to create a cloud backup and restore it to our FRP-locked phone.
Go to Settings > Accounts and backup, and then enter your own Google and Samsung account.
Go to Play Store, then download and install Alliance Shield X App.
Go to Settings > Accounts and backup > Backup and restore > Back up data.
Unselect all except Apps, and then click Back up.
Next, go to Settings > Accounts and backup > Backup and restore > Restore data.
Update Samsung cloud, then restore data again.
Select Apps, then click Restore.
Open the Alliance SHield X App.
Tap Next three times, and click Got it.
Register and input your username, password, email, and confirmation code. Then click Submit and check your email for the verification link.
Name your Android device: Android 11 FRP, and then click Next.
Enable Device Admin and click Activate, then tap Next.
Enable Knox, then tap Confirm. Once you receive the notification "Knox license validation completed successfully", click Next, then tap Finish.
Admin and Knox should be marked green if the previous steps have been done correctly. Only then would you be able to bypass FRP lock on a Samsung A10.
Then, go to App Manager and search Service Mode. Then, select Activities
Search and open "com.sec.android.app.modemui.activities.usbsettings" and select MTP + ADB. Connect your phone using a USB cable, then download and install Samsung ADB on your PC.
Open Samsung ADB and go to ADB Section. Then, click Remove account Google.
Once done, it will automatically reboot your Samsung A10 device.
Final Thoughts
Bypassing the FRP for Samsung A10 is quite taxing. Hopefully, this guide has clarified how to bypass the FRP on your Samsung A10 device.
Even with the corresponding cost for Unlockit, it's no question that it is easier and more convenient than following the non-PC bypass route.
By using Unlockit Android, you also pose less risk of doing irreparable mistakes and damage to your device.
However, if you still choose the non-pc bypass route, proceed cautiously and carefully through the instructions to avoid becoming lost and stuck if you decide to take the risk of performing an FRP bypass without a PC.