Since Android 4.0, Google has added a feature called Factory Reset Protection, more commonly known as FRP. It was designed to protect your phone's data from intruders if your phone is ever lost or stolen.
It's considered the last line of security in case primary authentication methods such as the Face ID, fingerprint, PIN, password, and pattern locks are all breached.
In this guide, we'll show you how you can bypass FRP on Samsung A21s devices (SM-A217F and A217M models).
So, if you own a Samsung A21 that's FRP-locked, read on to learn more.
What Is Samsung Galaxy A21s
The Samsung A21s models were released in June 2020 and run the Android 10 operating system. Display-wise, the Samsung A21s has a 6.5-inch, HD+ display with a 720p resolution.
It uses an AMOLED display technology that's a standard on most flagship Samsung models. Its selfie camera is found on the top edge and comprises Samsung's Infinity-O Display.
The Samsung A21s comes with a new, built-in Exynos 850 octa-core chipset and is available on 3 to 6 GB RAM options.
For storage, you can choose between 64 GB and 128 GB of internal memory, which is expandable up to 512 GB via its microSD card slot. It has a powerful 5000 mAh battery that can be charged using a 15-watt USB-C charger.
For its rear camera, Samsung A21s features a quad-camera that has a 48MP main camera, 8MP ultrawide sensor, and two 2MP macro and depth sensors that are suited for high-quality photos. It has an LED flash and can record videos at 1080p resolution at 30 frames per second.
The phone supports dual nano-SIM cards for mobile connectivity. Its Android 10 OS is based on Samsung's One UI 2.0 and supports new features such as dark mode, better one-hand usage, and Android 10 gestures.
Bypass Samsung A21s FRP Using Unlockit Android (1-Click Method)
When setting up your device, you'll need to register your phone using an active Google account.
With it, FRP is automatically enabled and this will be the last line of security in case your phone is factory reset by an unauthorized user.
However, in case you need to perform a factory reset on a phone like when you are given a pre-used Samsung A21s, you will need to bypass this security feature yourself.
Unlockit Android is a credible app to use to bypass FRP on your device in just 1 click. It supports most of Samsung devices that run Android from 6 to 12 OS.
Unlike the complex and difficult methods available online, Unlockit Android simplifies the FRP bypass process, allowing you to bypass the lock in 5 minutes.
After using Unlockit to remove the FRP lock, you can add a new Google account and password on your device.
Here's how you can use Unlockit Android to unlock your FRP-locked Samsung A21s:
Step 1. Download Unlockit Android on your computer and install it.
Step 2. Next, launch Unlockit and click the Start button.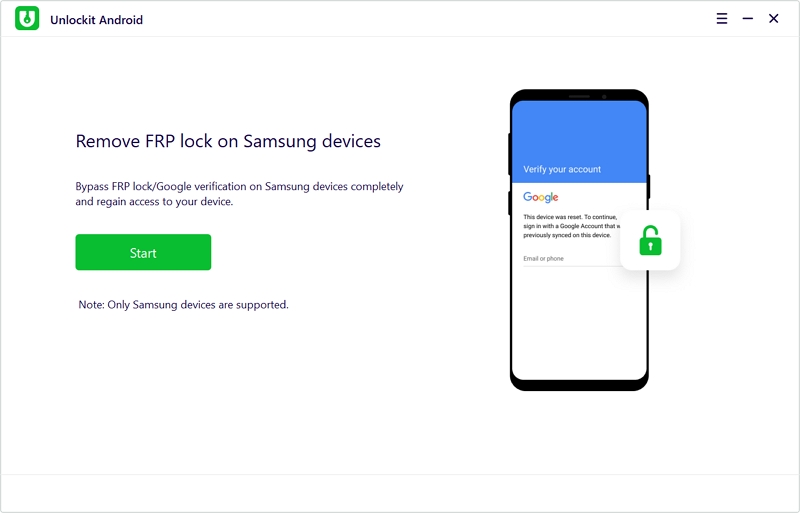 Step 3. Connect your Samsung A21s to your computer via USB cable.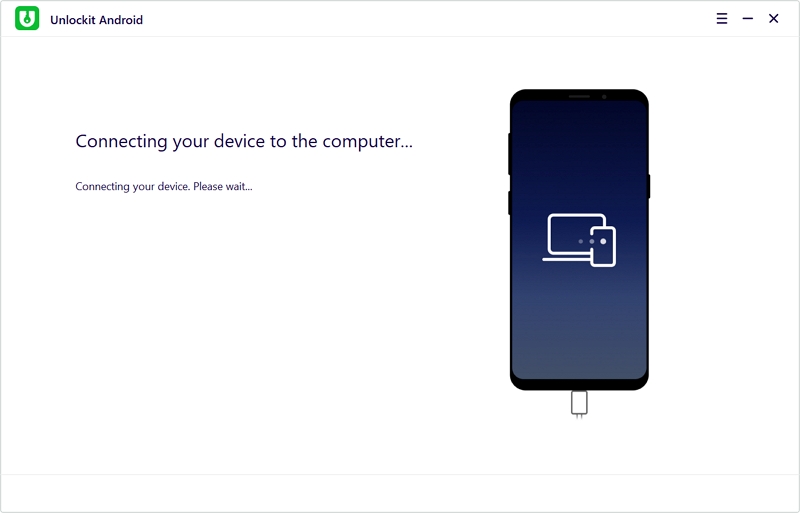 Step 4. Then, select All Android Versions, and click Start.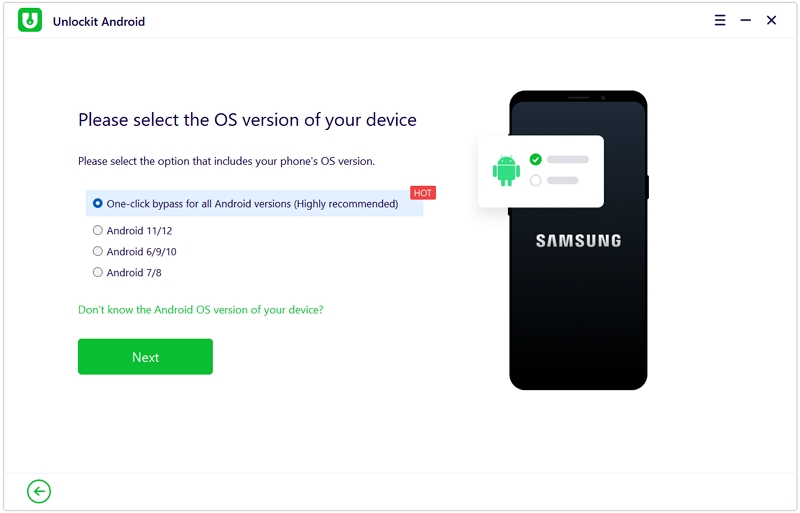 Step 5. The app will then start bypassing the FRP lock. You'll be asked for enabling the test mode and allowing USB debugging during the process.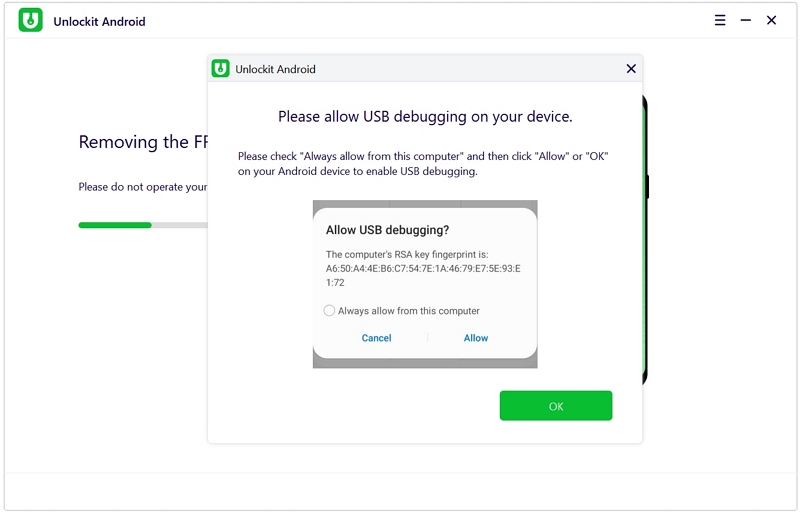 Once you finish the setup, your device will boot up itself and the FRP lock on your device will be removed instantly. You can now fully set up your Samsung A21s without FRP.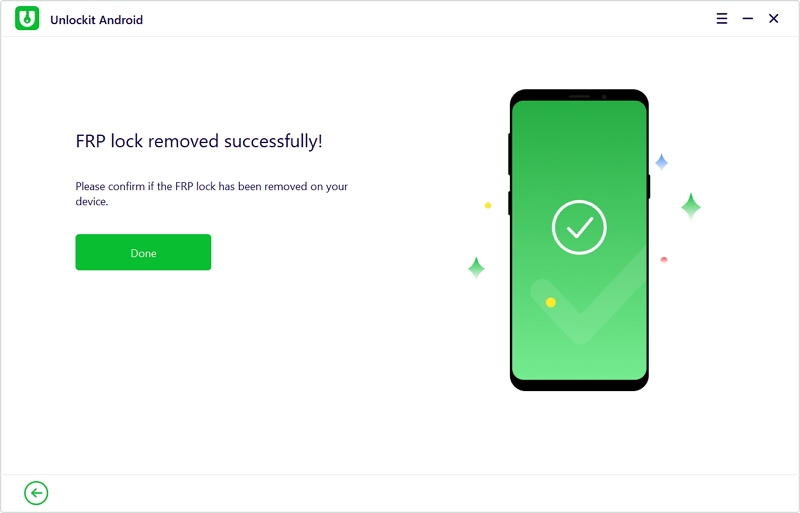 Samsung A21s FRP Bypass Without PC
Bypassing FRP on your Samsung A21s without a PC can be challenging, but it is doable.
Before doing the steps below, make sure your device is charged to a power source and is connected to a stable Wi-Fi.
To bypass FRP on your Samsung A21s, do these steps:
Boot up your Samsung A21s device.
On the setup screen, tap the Start button, and select Agree on all terms and conditions.
Connect your device to a wireless network and press the Volume Up and Power button simultaneously.
Tap Use to open the TalkBack feature.
Draw a reverse "L" (⅃) on the screen and tap Use voice commands.
Say "open google assistant" and disable TalkBack by pressing both Volume Up + Volume Down buttons.
Select the keyboard logo and type in "youtube". Click the YouTube app to open it.
Go to your profile by clicking the user icon and navigate to Settings > About > YouTube Terms and Service. This will open the Chrome browser.
On Chrome, tap Accept & Continue and enter this link to the browser's search bar.
Go to FRP Bypass APK and select Open FRP APPS.
Next, tap Open Galaxy Store App. It will lead you to the Alliance Shield APK download page in the Samsung Galaxy Store. Tap Install.
Launch Alliance Shield and set it up without Samsung Cloud.
Name your device and grant all device permissions, including Samsung Knox.
Tap the App Manager and search for "android setup". Tap the first search result to open it.
Select Actions and choose Force Stop and Wipe App Data.
Next, search "Samsung setup wizard" and tap it to open.
Go to Actions and select both the Force Stop and Wipe App Data buttons.
Then, search for the service "google play services" and go to the Actions tab. Tap both Force Stop and Wipe App Data.
Search "Samsung setup wizard" once again and go to the Activities tab.
Select the first activity. It should have the name "com.sec.android.app.SecSetupWizard.SecSetupWizardActivity". Then, click Open.
You can now set up your Samsung A21s without FRP.
Final Thoughts
Google's FRP lock is a valuable feature that effectively locks your phone once an unauthorized user attempts to do a factory reset to wipe all data.
However, you'll sometimes need to bypass FRP by yourself. It can be quite tricky, especially when doing it directly on your phone.
We hope this guide can help you bypass FRP on your Samsung A21s with or without a PC.
If you can't afford to be stressed when unlocking FRP on your phone, we highly recommend using a third-party app like Unlockit for Android.