Since Android released Factory Reset Protection (FRP) feature, several users have been looking for ways to bypass it.
In this article, we will talk about how to bypass FRP on your Samsung device running on Android 11.
How Does FRP Work?
FRP locks your device after performing a factory reset. To gain access to your device, you need to input the correct Google account that was registered to your Android device.
This prevents unauthorized users from accessing your device and protects you from the possible data breach.
After successfully logging in with your Google account, all settings are reset to their defaults, including data, downloaded applications, and files. However, are times that the device owner forgets their password.
So, if you own a Samsung device with an Android 11 OS and it got FRP-locked, read below on the different ways how to bypass FRP.
Bypassing Samsung Android 11 FRP In 1 Click via Unlockit Android
If you have a PC and don't have the time to bypass FRP through a lengthy and time-consuming method. We present to you one of the best-suggested FRP bypass tools available today.
Unlockit Android is a powerful Android screen remover that allows you to bypass the FRP for Samsung smartphones in just one click.
Furthermore, the program works great with most of Samsung devices running Android 6 to 12 and is safe and secure to use.
After using Unlockit to unlock the FRP lock, you can add a new Google account on your device.
To unlock your Samsung Android 11 using Unlockit Android, follow the steps below:
Step 1. To begin, download Unlockit Android and install it on your computer. After installation, connect your phone to your PC using a USB cable.
Step 2. Open the program,click on Start to proceed to the next step.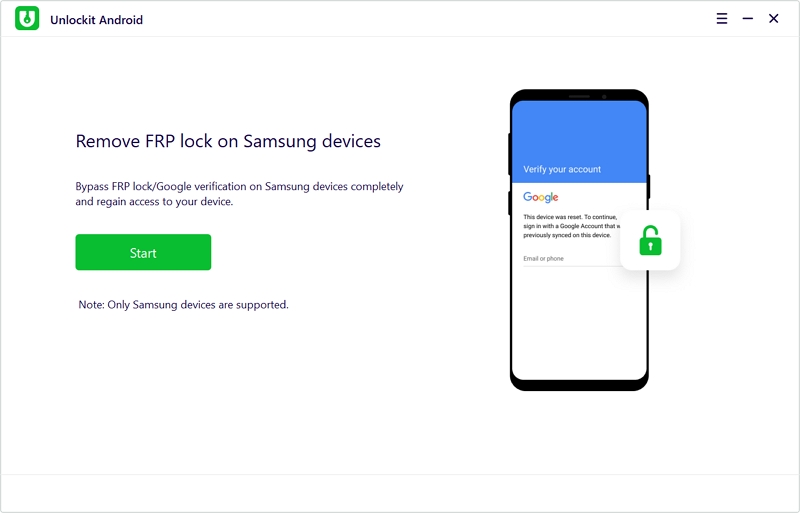 Step 3. Select the OS version of your Samsung device. In this case, we suggest that you select One-click bypass mode which will work for All Android versions, then click on the Next button to continue.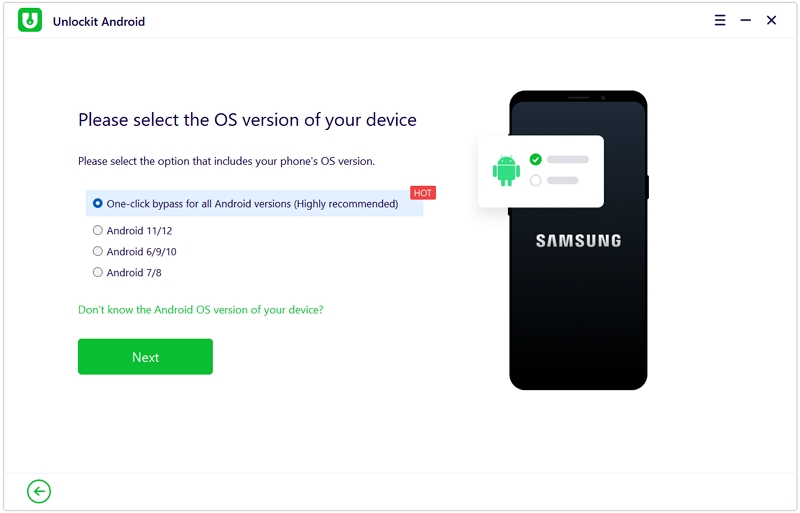 Step 4. Unlockit Android will start unlocking your device. Follow the on-screen notifications to enable test mode and USB debugging during the removal.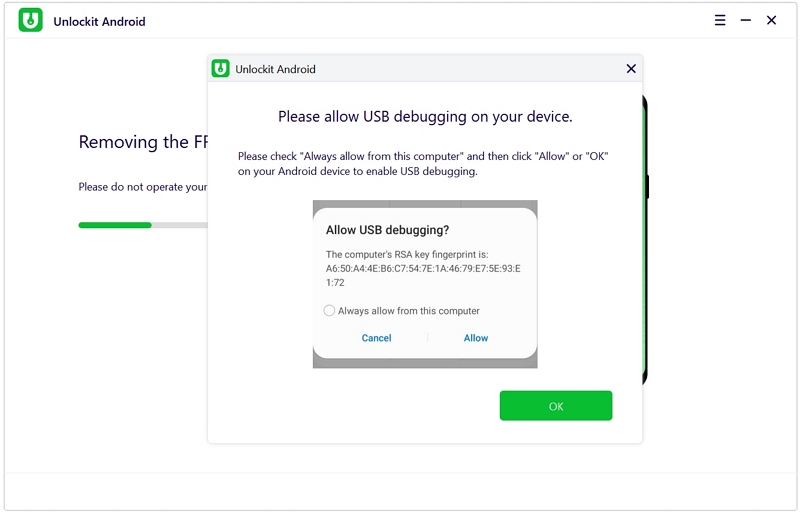 Step 5. After the setup, wait a few seconds for the process to finish, and your device will reboot itself automatically.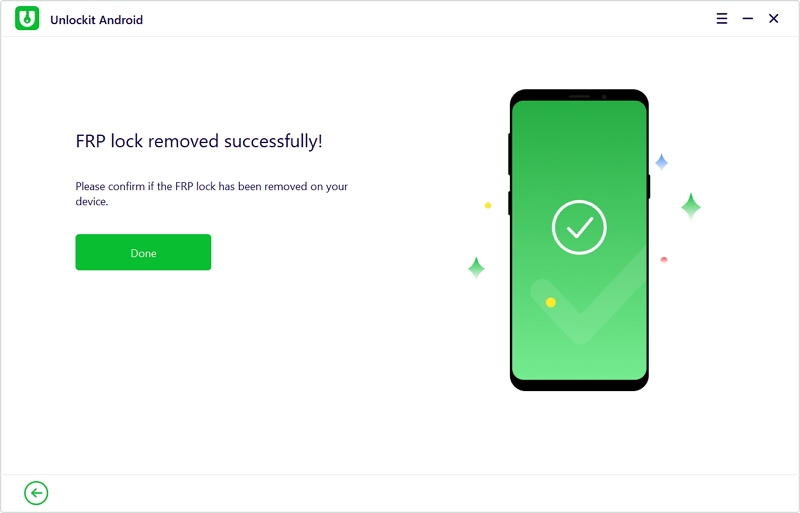 There you have it. With just a few simple steps, the FRP lock on your Samsung Android 11 has been successfully bypassed.
After the reboot, you can customize your settings to your personal preference, and then you may begin using your phone without any restriction.
Bypassing Samsung Android 11 FRP Without a PC
If you don't have a PC but still want to bypass your phone, there is also a method for you. This is commonly known as the Talkback Method. Before we begin, make sure you meet the following requirements first:
A battery level of at least 50%-60%
A 2nd FRP-unlocked Samsung Phone
A SIM card with a mobile data package
A Samsung Account
Then, carefully follow and perform the following steps below:
First, log into your Samsung Account on the second phone (FRP-unlocked phone).
Then, download and install Notification Bar.apk and Package Disabler Pro.apk.
After installation, go to Settings > Accounts and Backup > Back up Data (Samsung Cloud).
Deselect all switches except Apps and click on Backup Now.
Now, on the first phone (FRP-locked), login to the same Samsung Account. Put in the SIM card that has a mobile data package. Connecting to WiFi is not necessary.
Press and hold for 3 seconds the Volume up and Volume down keys to enable Talkback.
Press and hold for 3 seconds again the Volume up and Volume down keys to confirm that you want to enable Talkback.
Draw the Reverse L "⅃" on your screen and select While using the app.
Double-tap the screen and select Use Voice Commands.
Clearly say "Open Google Assistant".
Note: If this process does not work the first time, you can repeat it.
Now that Google Assistant is open, you may now disable Talkback.
Press and hold for 3 seconds the Volume up and Volume down keys to disable Talkback.
If you prefer to talk, say audibly, "Hey Google, Open Settings." If not, just click on the Google icon on the bottom left of the screen.
Now click on the mic icon and say audibly, "Hey Google, Open Chrome."
Click on Accept and Continue.
Select No Thanks.
Once Google Chrome opens, type and search "bit.ly/frpunlocktools" or click on the link to open directly.
On the website, find and select Open Settings App. This will redirect you to your Samsung settings.
Click on the Samsung account tab and log in to your Samsung Account. If a pop-up offers a faster way to sign in, just ignore it and select Cancel.
Go back to settings, find and select Accessibility > Interaction and Dexterity > Universal Switch > keep clicking on Next until the Done button appears.
Now, click on Universal switch shortcuts > Turn on > Allow > Enable Accessibility Button.
Go back to settings, find and select Accounts and Backup. At the same time, tap on the Accessibility icon, then select Restore data > Select all > Restore.
Install Backup and click Done.
Go back to settings and go to Samsung Account > Samsung Apps and Services > Galaxy Store > Now and Update the Samsung Galaxy.
After downloading and installing, go to Samsung Galaxy Store > Agree > Continue > Skip.
On the search bar, type "S7, S8, S9 Launcher for galaxy".
Then, click Install > Open.
When you open the app, you will see your recently installed app from the second phone, the Notification Bar and Package Disabler Pro.
Note: You can see it on this phone because you made a backup on the second phone using the same Samsung account on both phones.
Now go to Settings > Privacy > Permission Manager > Files and Media.
Click the three dots in the upper right corner and tap Show system.
Find Package Disabler Pro then click Allow management of all files > Allow.
Go back to the home screen and open the app Notification Bar.
Select Accessibility > Installed Service > Notification Bar > Turn On.
Go back to the home screen and open your Notifications. Click Allow the Notification Bar.
Disconnect all internet connection sources by turning off the WiFi or mobile data.
Note: If the mobile data still shows that it is connected to the internet even after disabling it, remove the SIM card instead for insurability.
Find and Open the app Package Disabler Pro. Select I agree, then click Enable Admin > Activate.
Now connect your phone to the internet via WiFi or mobile data. Re-insert the SIM card if you have removed it).
Now check I have read the agreement, and click Confirm.
After pressing Confirm, it might fail and will ask you to Retry. Just click on Retry if it happens.
When everything is successful, a message will appear saying, "Knox license validation completed successfully."
After this, a "Please wait" message will appear.
Once done, tap on the search icon and type in Setup.
From the search result, select Android Setup and then Disable it. Click on the back icon after.
Select Samsung Setup Wizard and then Clear Data.
After you clear the data, you will see "Time" in your notification bar. It means that the FRP has been successfully bypassed.
How to Disable FRP Feature on Samsung Android 11
Some users might consider turning off the FRP on their Samsung Android 11 smartphones, or they might not want to set the FRP at all. However, FRP lock is automatically activated if you have logged into a Google account on your phone.
Therefore, if you want to disable the FRP in your Samsung Android 11, you must delete the Google account information on your phone when it is unlocked.
Follow the simple steps below to disable FRP on your Samsung Android 11.
Go to Settings > Accounts and Backup > Manage Accounts
Tap on your Google Account
Select Remove Account
After removing your account, the FRP on your Samsung with an Android 11 is now disabled.
Unlockit Android vs No PC Talkback Method
As you can see, using Unlockit Android to bypass FRP is much simpler and faster than Talkback's complex and very long process. There is a chance to fail the bypass using the Talkback Method if you incorrectly follow the steps provided.
The only advantage of the Talkback Method over Unlockit Android to bypass FRP is that it does not require a PC and a software subscription. However, it requires another Samsung phone, a SIM card with a mobile data package, and a lot of your patience and time for the method to work successfully.
On the other hand, Unlockit Android is a paid service. Users can only check the software's compatibility with their devices using the free version. You must subscribe to their plans and upgrade to the premium version.
Monthly, annual, and lifetime plans for Unlockit Android for Android on Windows are $29.95, $39.95, and $49.95, respectively. The Mac version is not far cheaper.
The big plus of using Unlockit Android is its ability to resolve various Android lock problems, including FRP. You may successfully, quickly, and safely unlock your Android device in minutes.
The user interface is very straightforward and works with Android 11. Overall, Unlockit Android is still our top recommendation for bypassing FRP on your Samsung Android 11.
Wrapping Up
There are several ways to remove the FRP lock, but using Unlockit Android is our go-to product for this. If you need to remove your phone's FRP lock, using Unlockit Android is a practical solution because it is fast, secure, and simple to use.
We hope that the information given here has assisted you in successfully unlocking your smartphone once FRP has locked it. Please feel free to leave any comments below if you have any thoughts.