FRP (Factory Reset Protection) is one of the most common problems that Samsung devices users have to deal with.
While it is meant to connect your Google account to your device as a way to protect the data and the device in case the device is stolen, if you don't know the password for the Google account connected to the device, you may be unable to access the device.
This can happen when you purchase a second-hand Samsung device that is still connected to the previous owner's account or you simply forget the password.
In the first situation, your only option is to try to find a way to bypass FRP and Samsung FRP Helper v0.2 is one solution that may be able to help.
Here, we will take a closer look at this FRP bypass solution, share with you a viable download link that you can use to install it on your computer, and show you how it works.
But we will also share with you a more useful solution that is simpler and safer.
What Is Samsung FRP Helper v0.2
Samsung FRP Helper v0.2 is a free tool developed by the CrackingGSM team. It's designed to help you bypass Factory Reset Protection (FRP) on most Samsung Galaxy devices. You can use it in two ways: through the Call or ADB mode.
To use this tool, you'll need to install it on your computer. The program's latest version also includes features to fix bugs on your Samsung device.
The process is straightforward: connect your Samsung device to your computer, choose either the Call or ADB method, and with a single click, you can bypass the FRP screen on your device. This tool is handy for unlocking Samsung devices and getting past FRP security.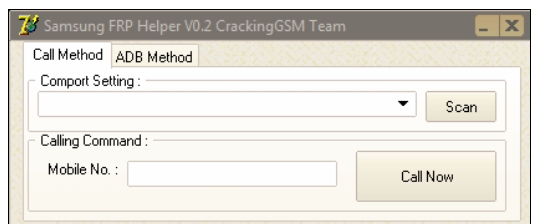 Download Samsung FRP Helper v0.2
The following is a link that you can use to download the latest version of the Samsung FRP Helper v0.2:
Name: FRP Helper.zip
Size: 2 MB
Last Update: July 2020
Download Link 1: https://www.gsmware.com/2021/03/samsung-frp-helper.html?m=0
Download Link 2: https://droidfilehost.com/download/download-samsung-frp-helper-v0-2-frp-tool/
Samsung FRP Helper v0.2 Review
Based on our testing, we do not think it is the best FRP unlocker tool for the following reasons:
Since there is no official website, it is difficult for users to find a safe and secure download link. The links we've provided above could expire at any time.
The product update is not timely and will not be able to support the newest Android or Samsung models in the near future.
Android versions lower than Nougat 7.1.1 are incompatible with Samsung FRP Helper v0.2.
The app only functions properly on Samsung Galaxy devices and does not work on all Samsung devices.
Before using Samsung FRP Helper v0.2, ADB in the device must be enabled.
The operation steps are complicated and not suitable for users who are not very technically savvy.
If you wish to find an alternative, please jump to the last section, where we specifically introduce a simpler, more useful, and more efficient product for you.
How to Use Samsung FRP Helper v0.2
Use the download link above or you found to download the Samsung FRP Helper onto your computer. Extract the file and then click on the .exe file to begin the installation.
Once the program is installed, follow these steps to use it to bypass FRP on your device:
Using the FRP Call Method:
Step 1: Insert the SIM card into your Samsung device and then use a USB cable to connect the device to the computer.
Step 2: Open Samsung FRP Helper and click on the "Scan" button. This will allow the program to detect the connected Samsung device.
Step 3: Enter any emergency number and click "Call." Samsung FRP Helper will remove FRP from the device in a few minutes.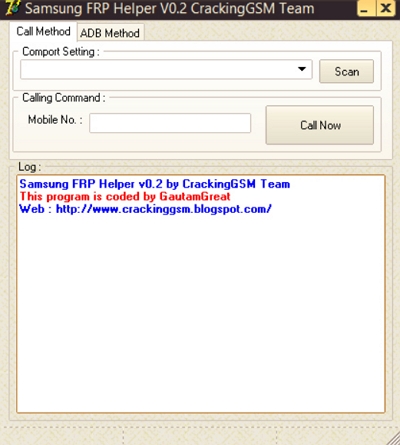 Using ADB FRP Method:
Step 1: On the Samsung device, go to Settings > Developer Options to turn on ADB (You can use combination files or ADB enable files to enable ADB on your device if it is already locked and you don't have access to it.)
Step 2: Use a USB cable to connect the Samsung device to the computer. You should also make sure that you have installed ADB & Fastboot drivers on your computer.
Step 3: Run the program on your computer and click on "Read Info." The program will display all the information about the connected device. If the program is unable to detect the connected device, you may need to reinstall the Samsung USB driver.
Step 4: Ensure the information on the screen is correct and then click "Remove FRP" and that's it, the device will be unlocked.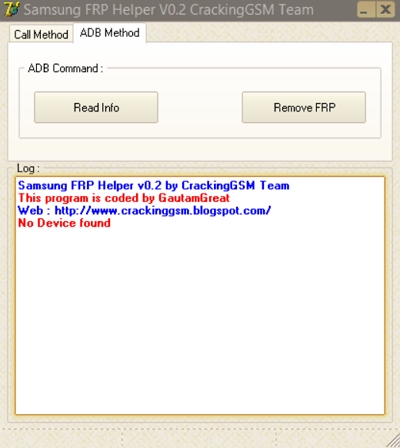 Easier to Use Alternative: Unlockit Android
Many individuals have encountered issues with other FRP removal tools, such as the Samsung FRP Helper, which often fails to detect their devices, even when Samsung drivers are properly installed on their computers. This frustrating problem can leave users stranded, unable to regain control of their Samsung devices.
However, there's a simpler, more reliable alternative in the form of Unlockit Android. This solution stands out as an all-in-one FRP tool that excels in removing Google locks on virtually all Samsung models and Android versions.
What sets Unlockit Android apart is not only its effectiveness but also its ease of use. With a few straightforward steps, you can bypass the FRP lock and regain control of your device, allowing you to add a new Google account effortlessly.
Its latest version offers a one-click solution for bypassing FRP, making it more accessible than ever. In this introduction, we will delve deeper into the features and benefits of Unlockit Android, ensuring that you have all the information you need to make an informed decision regarding unlocking your Samsung device.
You can use Unlockit Android to remove the FRP lock from your device in the following simple steps:
Step 1: Download and install Unlockit for Android on your computer.
Step 2: Open it after installation and click "Start"from in the main window to continue.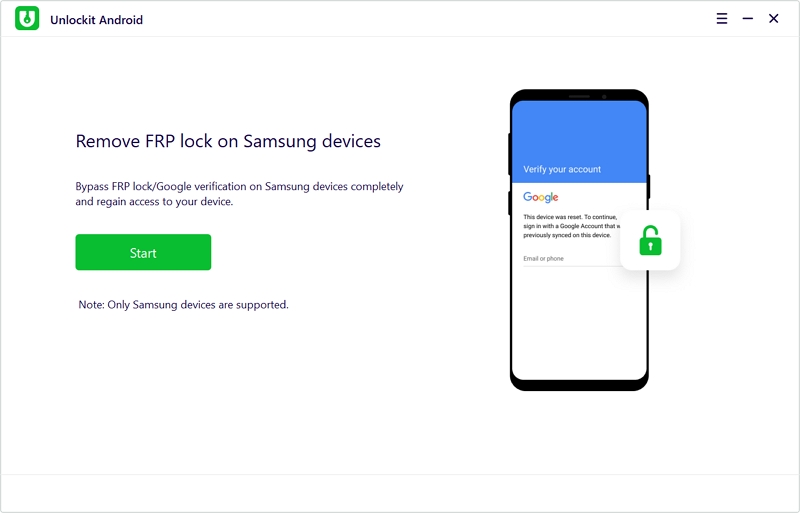 Step 3: Use a USB cable to connect the Samsung device to the computer.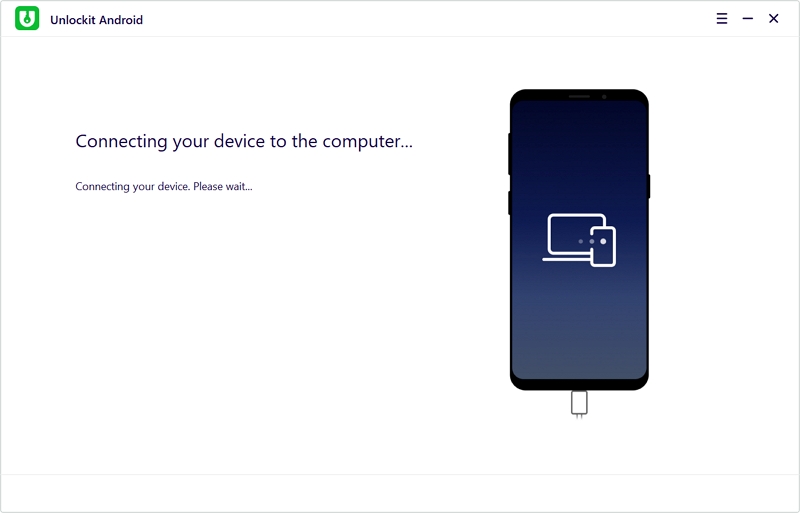 Step 4: The program will detect the connected device and request that you select the version of Android running on the device.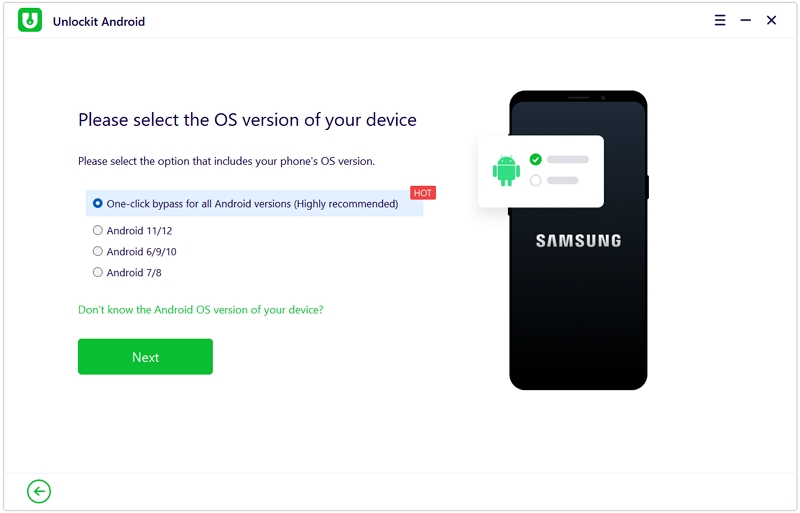 Step 5: Now follow the instructions that you see on the screen to begin removing FRP Lock.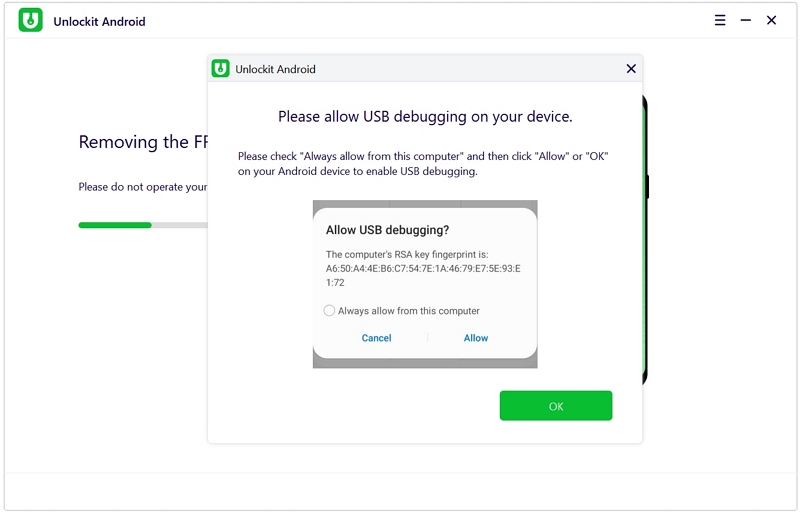 Then just keep the device connected to the computer until the program notifies you that the process is complete.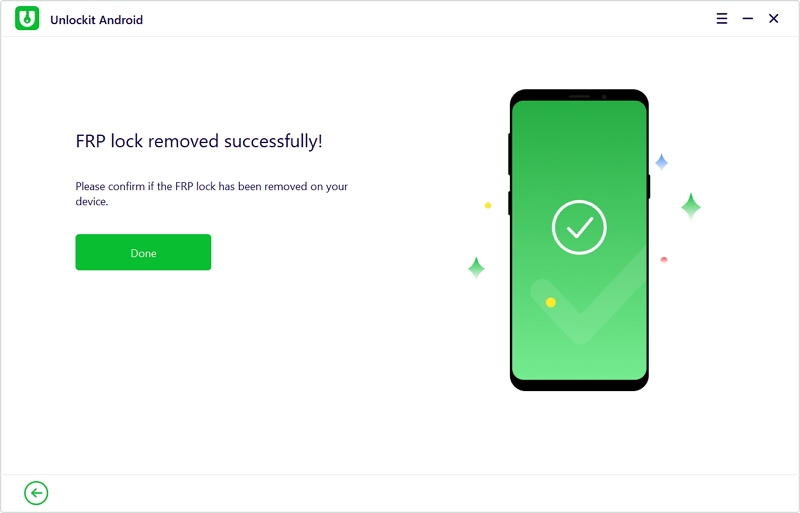 To Conclude
When looking for a way to bypass FRP Lock on your Samsung device, you are bound to come across a lot of solutions like Samsung FRP Helper that may complicate the process more than help.
But there are more reliable, easier to use, and safer solutions like Unlockit for Android that will actually help you gain access to your device.