When you forget your password on your own Samsung device, a factory data reset may be your way to access your device again.
However, in some cases, doing so still locks you out because your device has detected an abnormal factory reset. If you have ever encountered the "This device is locked because of an abnormal factory reset" issue, continue reading to learn how to fix it.
What is "This Device is Locked Because of an Abnormal Factory Reset"?
Many Samsung users may get stuck on the Samsung account lock after performing a factory reset. After resetting the device, it requests the Samsung account ID and password to get into the device and states the "This device is locked because of an abnormal factory reset" on the page. This error is prevalent in Samsung phone models like S5, S6, and Note 3.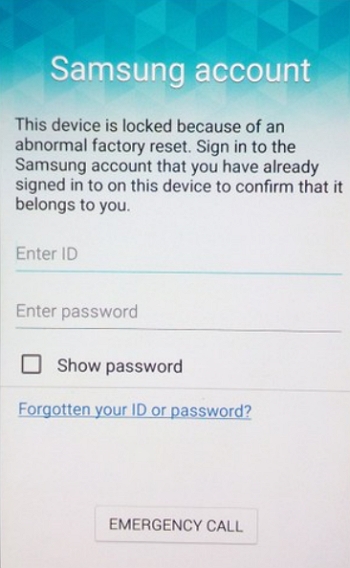 Enter Samsung ID and Password to Unlock Screen
When the message "This device is locked because of an abnormal factory reset" appears after a factory data reset, all you need to do is provide the requested credentials to verify your identity and unlock your device.
However, if you forget or simply do not know your own ID or password, just tap "Forgotten your ID" or the password link option.
You will then be redirected to "Find your ID" or "Get a New Password" using your phone number or email address. Once done with the recovery, you can continue inputting the required credentials on the landing page.
Samsung Abnormal Factory Reset Bypass with Unlockit Android
If the first trick doesn't resolve your problem and your SAMSUNG account lock is based of a Google account, then try using Unlockit Android.
It is a software that unlock the FRP lock on the Samsung devices. allowing you to bypass the lock due to abnormal reset. It is also compatible with all Samsung devices running all versions of Android OS.
The most recent version of Unlockit Android allows you to remove the FRP lock in just 5 minutes and 1 click. You wouldn't be need to use TalkBack or ADB commands, or to install additional frp bypass APKs during the process.
When the FRP lock is removed, you can get back into your device and create a new Google account.
Here, we will be showing you the steps to bypass this Abornal Factory Reset lock:
Step 1. Download and install Unlockit Android on your Windows or Mac PC. Then, open the newly installed application.
Step 2. Now connect your locked Samsung device to your PC. Once connected, click the Start button on the screen.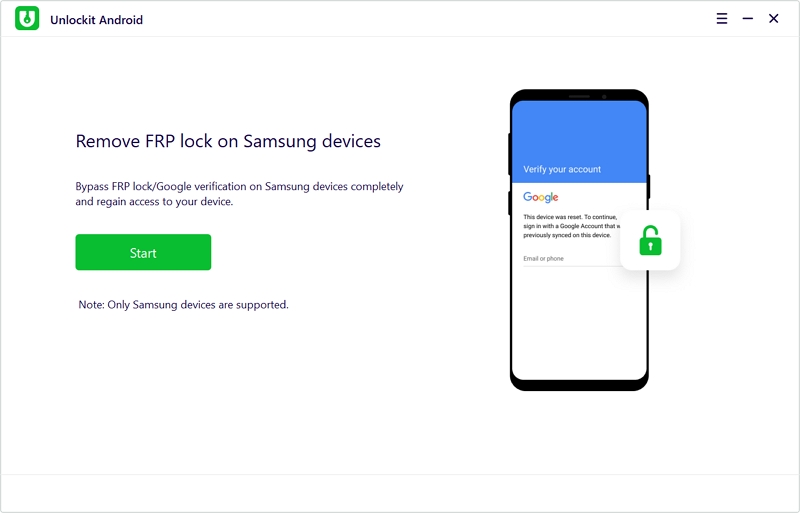 Step 3. On the next screen, choose All Android Versions which allows you to bypass the FRP in just 1 click. Then, click Next.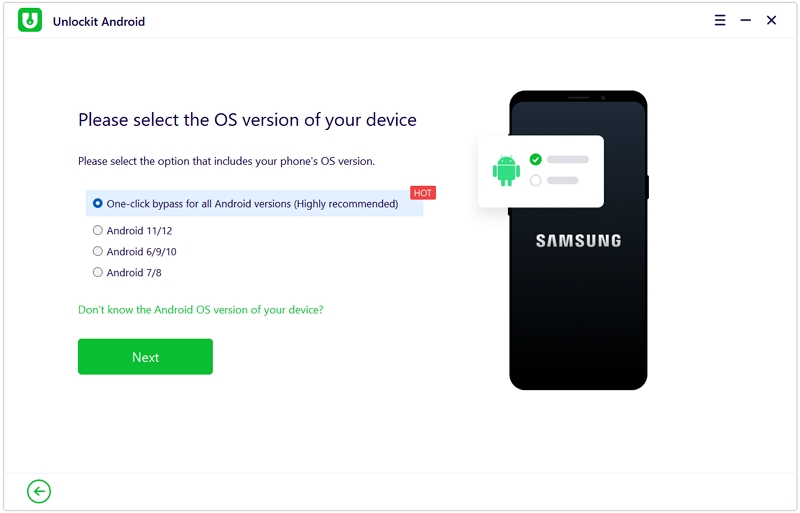 Step 4. Unlockit Android will now guide you through a step-by-step process to allow USB debugging on your device. Do not disconnect your Samsung device during this process.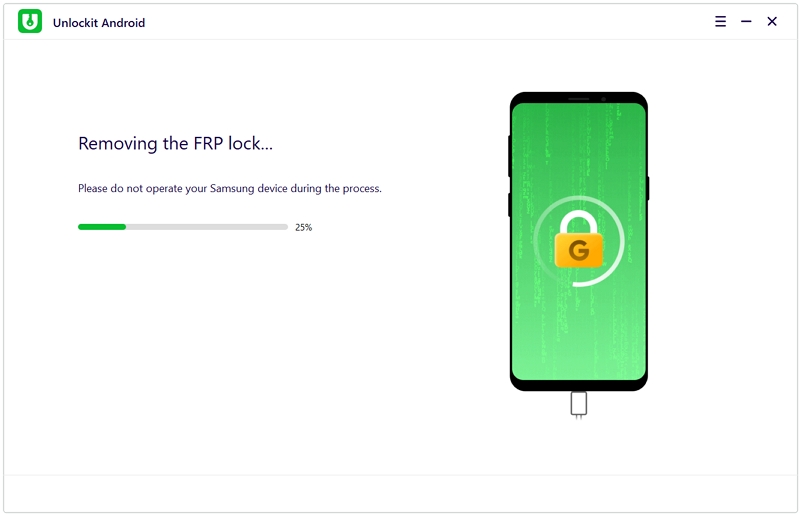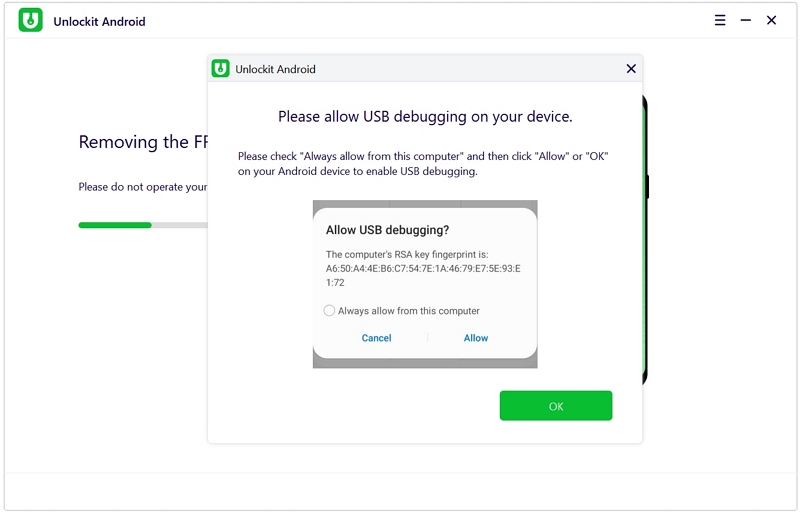 Step 5. After that, the lock will be successfully bypassed by Unlockit Android and you can now access your Samsung device.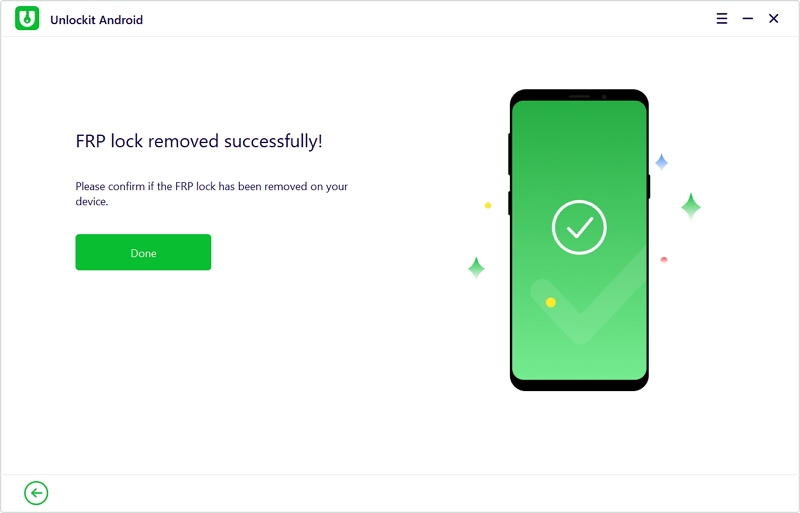 Using Emergency Call to Bypass Samsung Account Lock
This is another option you can do to bypass Samsung activation lock. Be warned though, as the steps are tricky, so follow them carefully.
See the steps below for your reference:
First, on the landing page, click Emergency Call.
Then, dial an emergency call to any number such as 911.
Once in the call, tap on the three dots that is usually located on the upper right side of your screen, and then tap Contacts.
Now, tap on the Emergency Call small field and then disconnect the call.
Slide the Home button and click OK.
Navigate to your keypad and tap Micro and go to the Google App. Then, follow the screen prompts and click OK.
Turn on your WiFi if you haven't already, and then open your Settings app.
On Settings, go to Backup and Reset.
And then tap on Factory Data Reset > Reset Device > Delete All.
After the reset, sign in with your Samsung account and then navigate to the Settings app again.
On Settings, go to Find My Mobile, and there you can disable the Reactivation Lock slider.
These steps should guide you no matter what Samsung device you are using.
Get Help From Samsung Support
If the above methods do not work for you, you can contact Samsung Support. Users can take their locked device to a nearby Samsung store and explain their situation to the employee there.
Once they have identified the problem, they can assist in avoiding the abnormal factory reset lock from happening again in the future.
Users also have the option to access Samsung's online support page if there isn't a nearby store. Choose the precise service you require from the page, then email the necessary information.
To Conclude
Samsung is one of the top brands people choose from when buying phones. So it is no surprise that Samsung phones come with intricate security features such as the reactivation lock that protects the user's data inside the phone.
Even if this is an important and effective security feature, they sometimes become a problem rather than a solution. In this article, we have gone through several options to solve this abnormal factory reset lock based on your preference.