Android devices have been introduced with an amazing security feature known as Factory Reset Protection/FRP. The moment you register your android phone on your google account, it will automatically enable FRP.
The whole purpose of this feature is to protect your confidential data from falling into the wrong hands. But, FRP locks could be troublesome when you forget your google account password or your pin to unlock your device.
At times like these, you can use various desktop unlocking tools to run the FRP bypass on your computer.
So, let's look at all the best options and get to know how it works!
Bypass FRP with Computer In 1 Click via Unlockit Android
Compared to the No-PC FRP bypassing methods, bypassing FRP with computer is much more straightforward, which will not ask you to use TalkBack, OTG, FRP bypass APKs during the process.
Although there are numerous desktop unlocking tools available, Unlockit Android is one of the best options because it provides the best user experience, broad device compatibility, and privacy protection on your device.
It's easy to use, takes only a few minutes and with only 1 click to remove the FRP lock on Samsung devices. Moreover, it performs exceptionally well on all Samsung devices running from Android 6 to 12.
After using Unlockit to remove the FRP lock, you can add a new Google account to your device. So, let's go through some steps on how to bypass FRP with a computer using Unlockit Android!
Step 1: Download the FRP Bypass Tool on Windows
First, you need to download Unlockit Android on your computer and install it.
After installation, launch the tool on your computer, showing you a user-friendly interface.
Click on Start and then continue.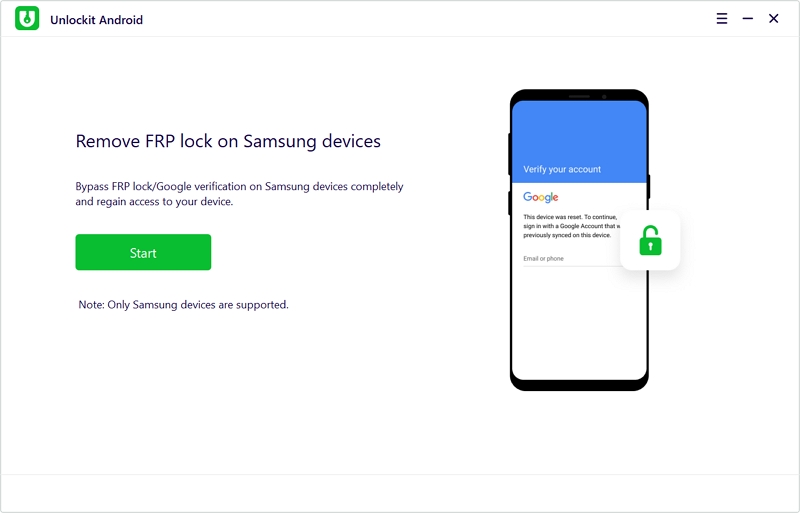 Step 2: Choose the One-Click Bypass Mode
Then, you have to connect your android phone to your computer. You can use a lighting USB cable for this task.
Choose the first option that appears on the next screen. This option allows you to remove the FRP lock in one click.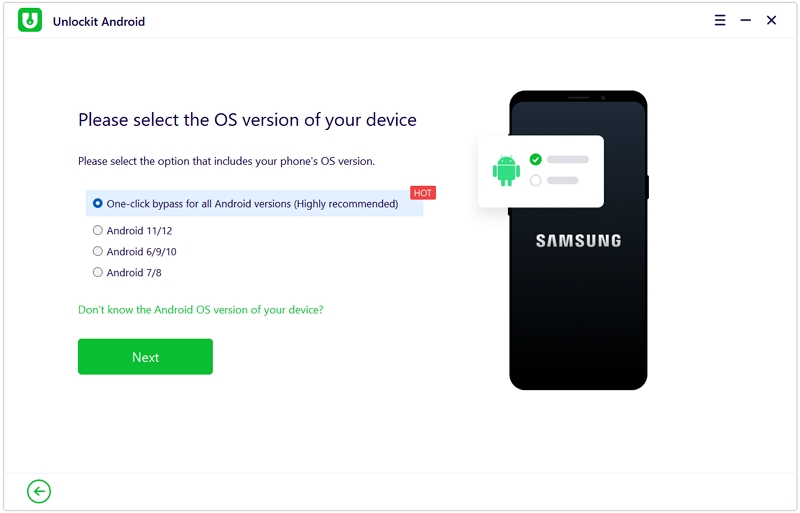 Step 3: Unlock Google FRP Lock
Follow the guides to enter secret mode and enable USB debugging. You don't need any FRP bypass APK, so stop worrying about it. Wait for the process to be completed.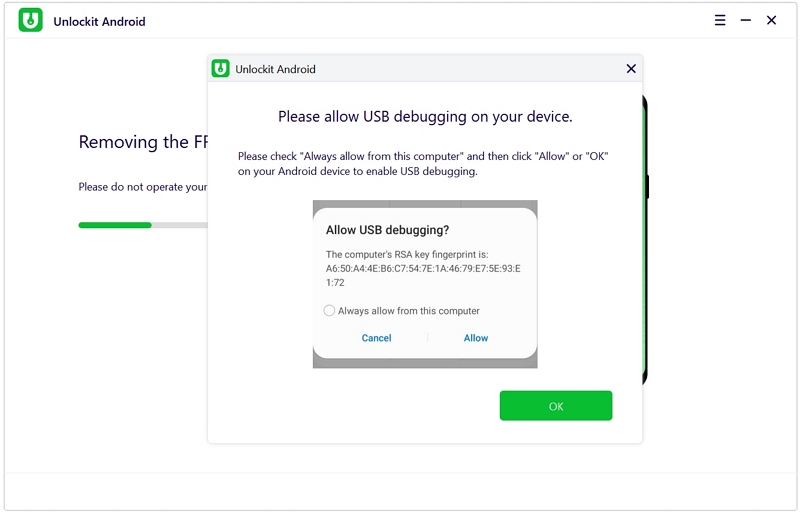 Once you are done with the unlocking process, you will be able to create a new google account on your Android Phone.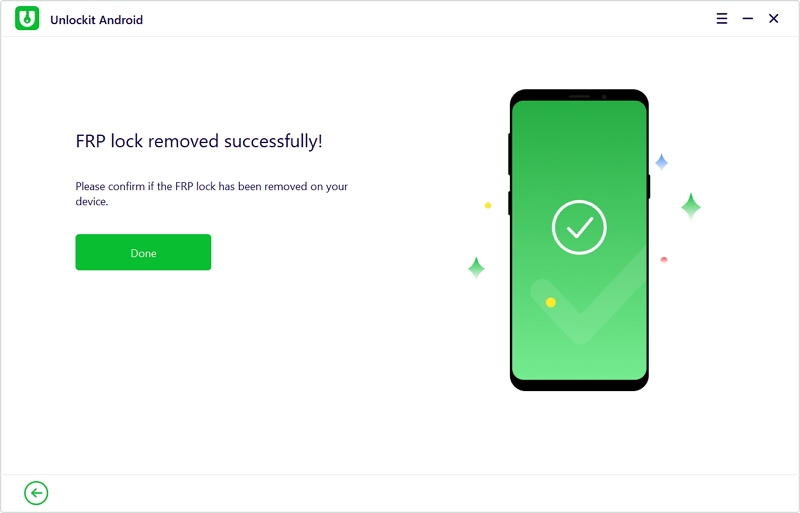 Bypass FRP with Computer by Using Odin
Odin is another platform that offers its service in bypassing FRP locks for Android. It may take a bit longer but believe me, if you are up for a successful FRP bypass, you can count on it.
You must follow the steps carefully because it requires some additional tools to be downloaded first. So, ensure you have everything you need before bypassing FRP through Odin. Let's look at all the steps to carry on with this tool.
Step 1: Download Samsung Firmware
First, you need to download the latest Samsung firmware for your Android device.
Step 2: Create Samsung Combination File
Once the file is downloaded, extract it. You can use "Zip Archiver or Winrar" for this task.
When you open the extracted file, you will see five firmware binaries. These will include "AP, BL, CSC, CP, and Home_CSC."
Ensure that you have the ".md5 version" of the files. If there is only a .tar version, you need to go to Windows Explorer and see if there is an option called "File name extensions."
Right-click on the Firmware file. It must be starting from "AP." so, rename it and both the extensions, ".rar and .md5."
Now choose the BL file and change its extension as well. Name is ".rar." After that, extract both "AP and BL files."
Open up the AP folder. Copy both "systems.img.lz4 and boot.img.lz4" files and paste these into another folder.
You can do the same for the BL folder and copy and paste the file "sboot.img.lz4" to another folder.
Open all these three files and select them together. And start compressing to another folder as "New folder.rar" by going into the windows context menu.
You have to change the extension of this new folder to .tar and rename the folder.
At this stage, your Samsung combination file has been created to bypass FRP.
Step 3: Reset Android Device and Enable USB Debugging
Before installing the combination file, go for a data factory reset.
Go to the "Android Recovery" menu. Tap the option, "Factory Data or Wipe Data."
Note: You can also use the Volume keys and Power buttons for selection.
After that, you have to perform a factory reset and click on the" Reboot system now" option.
Once your Android Device boots up, it will show you a factory binary screen like before.
Go to the top left corner and click on the mosaic icon.
An app drawer screen will appear. Go to settings, select developer options, and finally start debugging USB.
Now turn off the Android device.
Step 4: Bypass FRP lock with Odin
Firstly, start downloading the patched version of Odin. Then extract the file on your PC.
You can refer to the following according to the Android Devices you use. Odin3 3.14.1 3B PatcheD (for Samsung devices released after 2018) and Odin3 3.13.3 3B PatcheD (for older Samsung Devices)
Then download the latest Samsung USB driver on your computer, and install it.
Open up the Odin folder and launch it as administrator.
Boot your Android device in "Download Mode."
Now, connect your Android Device to your PC by using a USB cable.
Once Odin detects your phone, it will highlight the "ID: COM."
Go to options and ensure that only "F.Reset Time and Auto-Reboot" are enabled.
Tap the "AP" button, and start adding your Samsung combination file. Now tap the "Start" button for installation.
Once the combination firmware installation is completed, you will get a pass message, and your Android device will reboot.
There you go; you have successfully bypassed the FRP using Odin too.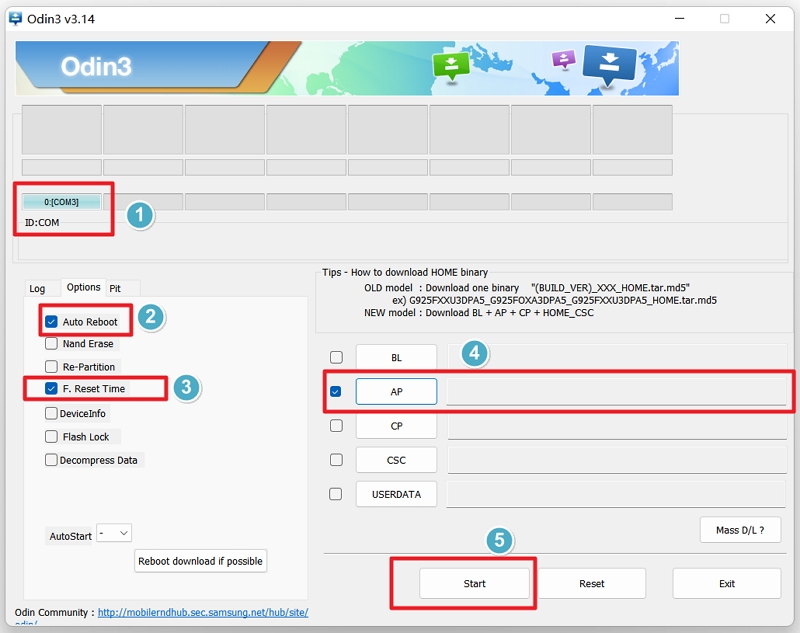 Bypass FRP with Computer by Using FRP Hijacker Tool
FRP hijacker is a comprehensive tool used for Windows OS platforms. It also helps bypass FRP locks on Various Samsung Android phones.
In case you forget your google id or password, FRP hijacker can help you in this regard. You just need to follow some steps and have your phone unlocked within a few minutes.
Firstly, Download FRP hijacker on your computer.
Then you have to extract this FRP removal tool. You can either use the "7zip program or Winrar" for this task.
Once it's done, start installing the Net framework.
When the installation is completed, run "FRP Hijack.exe". You will find it in the folder that you extracted earlier.
After that, you will see a new setup on your screen. Tap "Next."
It will ask you for a password to complete the installation process.
You need to type, Password- www.gsmhagard.com in the password section, then select"Next."
Once you are done with the installation, tap on the finish and launch the program. At this stage, your Hijacker tool is almost ready to bypass FRP.
Access the tool on your PC and turn off your Android Device.
Now you need to press and hold the "Volume Down and Power" button together.
Note: While holding these buttons, start connecting your phone to a USB cable. If your Android phone has a Home button or a Bixby, press it with the Power and Volume-Down buttons.
When you see a warning screen on your Android device, release the buttons.
Then press the "Volume Up" button and go into the "Download Mode."
Once your Android device is under that mode, connect it to the computer.
Open the "Hijacker" tool, tap "Scan," and it will immediately detect your Android device.
Then you have to choose the mode: "Remove FRP," or you can click "Soft Brick Fixer."
Choose your device, and choose the "Hijack" option.
Wait for it to process, and there you go. You have your device unlocked!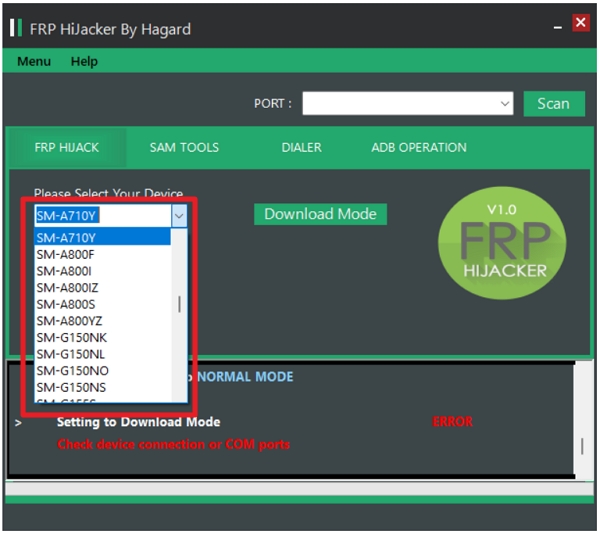 Conclusion
Since Androids are now coming up with efficient security features like FRP, you also need to use advanced FRP removal tools to eliminate this trouble in case you forget your pin code.
Hijacker and Odin can help you up to a great extent, but both have a longer process and take a lot of time to bypass.
However, Unlockit Android is much easier, faster, and more authentic than all FRP removal tools you can use to unlock your phones. So, choose your tool wisely.