Among all the operating systems, Android is among the most popular open-source mobile OS, associated with many different smartphone manufacturers.
It is developed by Google and is experiencing a rapid increase in its user base with every passing day.
With such a massive increase in users, issues like FRP lock or locked Google accounts are emerging at a fast pace.
To resolve such complications, most users connect their Android smartphones to other devices like PCs, which is done with a built-in medium called ADB.
In this guide, we'll be discovering some more details about the destails and alternatives for ADB FRP bypass.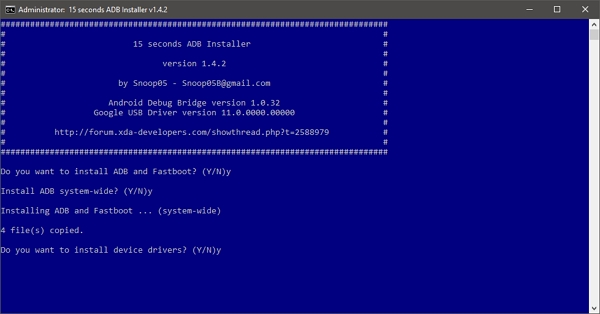 What is ADB?
Whether you want to make app installation easier or declutter some processes, ADB is the tool that can help.
Just as the name says, ADB or Android Debug Bridge is a powerful debugger for your Android devices that works using command lines.
Moreover, you can send a detailed list of commands to operate or control different types of device actions. ADB consists of three unique parts, with each having its distinct functions.
Client Interface
The first and foremost part of ADB is the client interface designed for users to debug. Through this interface, different action commands are sent to your device.
Daemon (ADBD)
The second part is Android Debug Bridge Daemon, which is responsible for executing the commands sent through the client interface. It works in the background of your device that supports ADB.
Server
The final part is the server found on your PC or other devices that links your smartphone with it by establishing a connection.
With the increase in threats associated with smartphones, a data protection channel called FRP was added to Android OS 5.1 and later for security against any unauthorized person.
However, FRP has caused some issues in functionality, and most users implement different methods to bypass FRP using ADB.
Which Android Versions Does ADB support?
ADB commands are supported on the following Android OS versions:
Android 5 (Lollipop)
Android 6 (Marshmallow)
Android 7 (Nougat)
Android 8 (Oreo)
Android 9 (Pie)
Android 10 (Q)
How does ADB Bypass FRP?
Although Google Factory Reset Protection lock is responsible for adding a protective layer to your Android device, it can cause resistance when executing some operations.
To remove this FRP lock, ADB command-line tool is used to send several commands as per your OS version.
The ADB easily bypasses FRP by using its client-server working method. After the client sends a command to remove the FRP lock, the daemon runs the given command on the device, and lastly, the server creates a communication channel between the daemon and the client to execute the removal.
If you want to remove the FRP lock, you can execute it using ABD software.
This software is available easily on the web, and by following the steps below, you can bypass FRP effectively.
Step 1: Extract the ADB SDK platform kit into a single folder after downloading the installer setup on your PC
Step 2: Start by running the setup and hit "Y" for installing both ADB and fastboot driver
Step 3: Connect your Android device to your computer with the help of a USB cable. Tap to enable the USB debugging mode on your smartphone.
Step 4: Open the ADB folder, and a command window will appear, where you can type the following command to bypass FRP:
Samsung Phones:
Type the following command and hit enter after each line:
adb shell am start -n com.google.android.gsf.login/
adb shell am start -n com.google.android.gsf.login.LoginActivity
adb shell content insert --uri content://settings/secure --bind name:s:user_setup_complete
--bind value:s:1
Other Android Phones
adb shell content insert --uri content://settings/secure --bind name:s:user_setup_complete
--bind value:s:1
Step 5: Once you type the last line and hit enter, the FRP lock will be automatically removed from your Android device.
Limitations of ADB FRP bypass
To remove or bypass FRP using ADB commands can, although it may deliver the results you want, it has different limitations that don't make it a priority among most users.
Some of the shortcomings are mentioned as follows:
Most people don't prefer using the ADB method because even after executing the process properly, there's no surety that your device will be unlocked and you'll give a positive outcome.
If you're using ADB commands to bypass FRP, then it'll be necessary for you to have thorough knowledge about the usage of this tool.
Since it's a command-line tool, you must know about basic commands and have a deeper learning edge which isn't ideal for a high majority.
When connected to the PC, your device may also face driver issues. In most cases, the PC couldn't detect Android devices due to missing drivers.
Since ADB works solely on commands and we don't have enough practice to execute commands, there is a strong chance that the lines entered aren't correct.
Even if there's a missing colon, the command won't be executed properly, and the tool may damage your phone.
The process isn't appropriate for ordinary users and is dedicated to tech-savvy people, making it extra complex.
What's more, the ADB FRP bypass method doesn't work for the latest Android 11 and Android 12.
Bypass FRP in Just One Click: Unlockit Android
Since you know after bypassing FRP using ADB complications, it is best to look for alternatives that can do similar tasks without many technicalities.
Although there are many ADB bypass alternative tools, our focus was on feasibility and simplicity, which we found in Unlockit Android.
It is a desktop FRP bypass tool known for its brief process and professional execution. It can remove the FRP lock quite easily with just one click.
Furthermore, one of the most promising aspects of this tool is that you don't need any prior knowledge to execute the task without any extra effort.
All your data will remain secure throughout the process, even after unlocking your phone. Moreover, it is ideal for any Samsung smartphone running on Android 6 to Android 12.
Follow the procedure mentioned below to remove the FRP lock using Unlockit Android:
Step 1: Download Unlockit Android from the following button and install it on your PC.
Step 2: Click "Start" on the interface to start the FRP bypass process.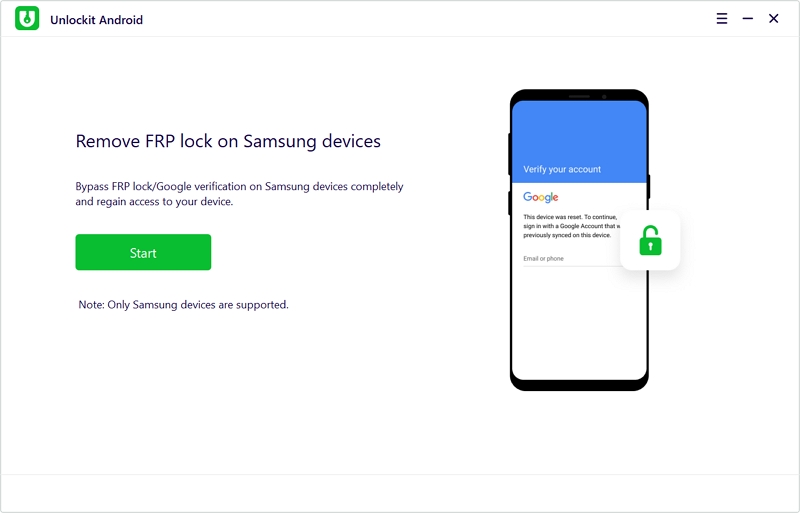 Step 3: Connect your Android device to your computer using the USB cable.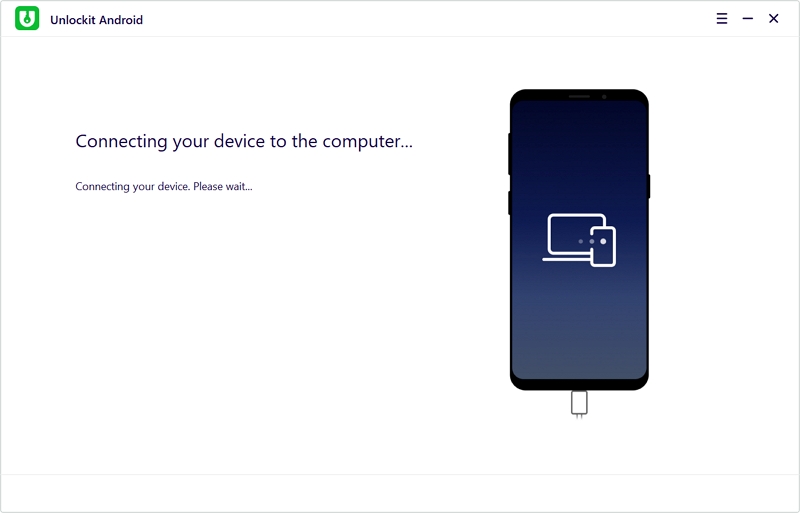 Step 4: Choose the first One-click bypass option for all OS versions.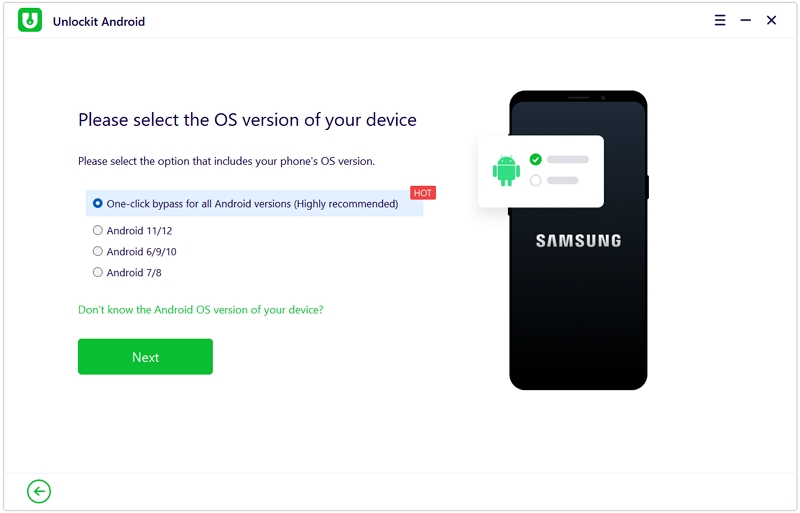 Step 5: Unlockit Android tool will redirect you to enter your test mode to bypass Google account verification. Don't touch your smartphone during this phase of the process.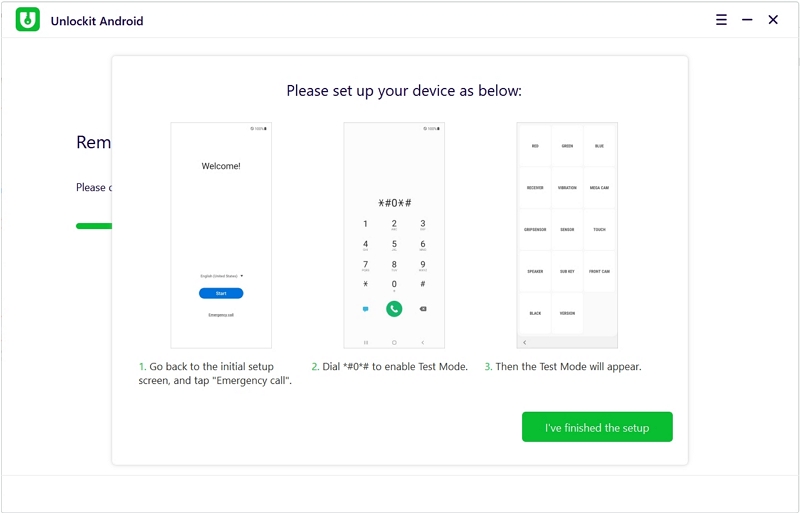 Step 6: After verification, your device will reboot automatically, and the FRP lock will be removed.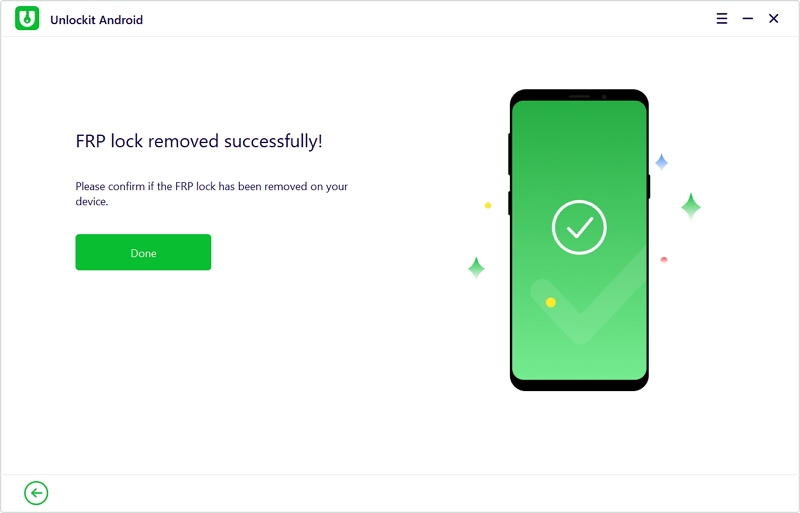 Wrap Up
ADB is a useful tool to get the Google FRP lock removed from your Android device. However, it can be a little complex to understand and follow due to its command-line nature.
For a non-technical person, it is wise to go for simpler options like Unlockit Android, which works as efficiently as ADB to remove FRP, specifically designed for Samsung devices.
Overall, it is a trusted software that eases your Samsung FRP struggles at budget-friendly pricing.