If you have a thing for tampering with your Android phone's system, especially with the phone's firmware and all of a sudden get a message saying "Custom Binary Blocked by FRP lock," then the protection feature of your Android smartphone has been activated.
Read on to learn more about the error message and some useful methods for getting around it.
What is "Custom Binary Blocked by FRP Lock" Error?
Custom binary blocked by FRP lock is an error activated when an unauthorized ROM or firmware was detected on the device.
This also commonly occurs when you attempt a factory reset without first removing your Google account.
The device will then refuse to start up because it has identified those unusual activities, thus stopping any unauthorized software changes or factory resets.
So, if your Android phone displayed the error "Custom Binary Blocked by FRP lock," below are the different ways on how you can fix this.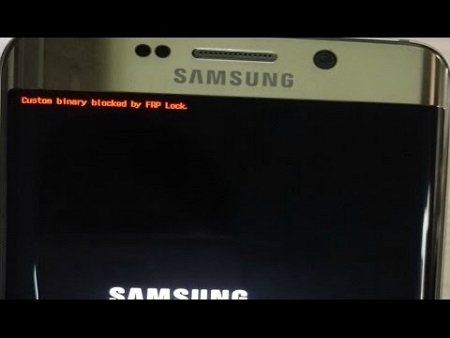 Bypass the Error Using Unlockit Android
If you don't have time to follow the below-mentioned methods, we have a fast and simple solution for you.
Unlockit Android is a powerful Samsung FRP bypass tool that also makes it possible to remove the FRP lock and fix the error "Custom Binary Blocked by FRP lock". You may quickly and effectively fix this issue in approximately 5 minutes.
Unlockit Android has a very user-friendly interface and is 100 percent safe. It supports all Samsung devices and all versions of Android OS from Android 6 to 12.
To unlock your Android smartphone using Unlockit Android, follow the steps below:
Step 1. To begin, download and install Unlockit Android on your PC. After installation, use a USB cord to link your phone to your computer.
Step 2. Open the Unlockit Android. Click on Start to proceed to the next step.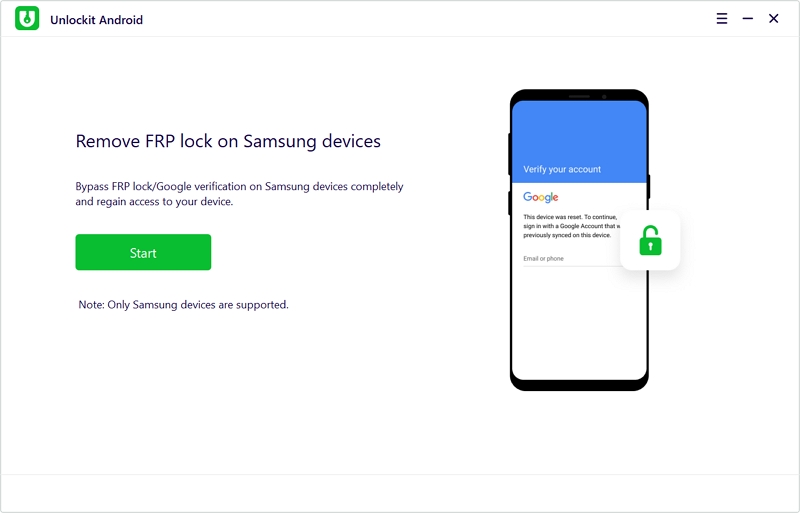 Step 3. Select the OS version of your Android device if you know it precisely. If not, you can select One-Click Bypass for All Android versions for a general approach. Then click on the Next button to continue.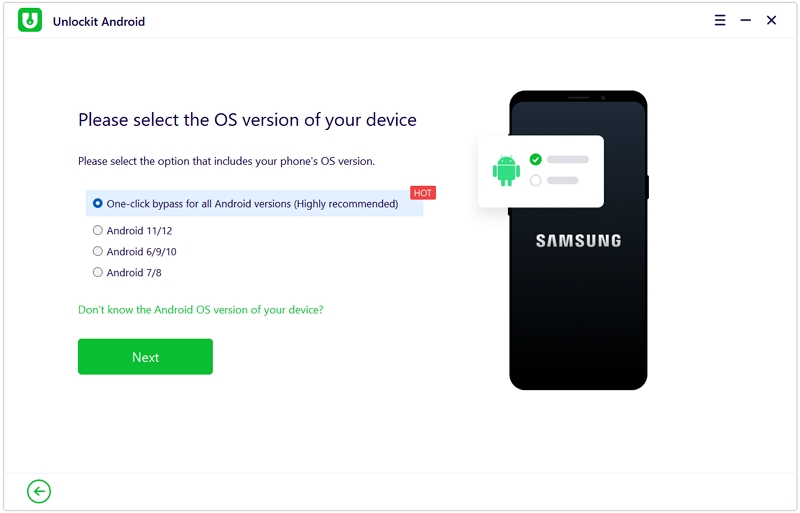 Step 4. Then you will need to enter test mode on your device. Just follow the on-screen instruction to set it up.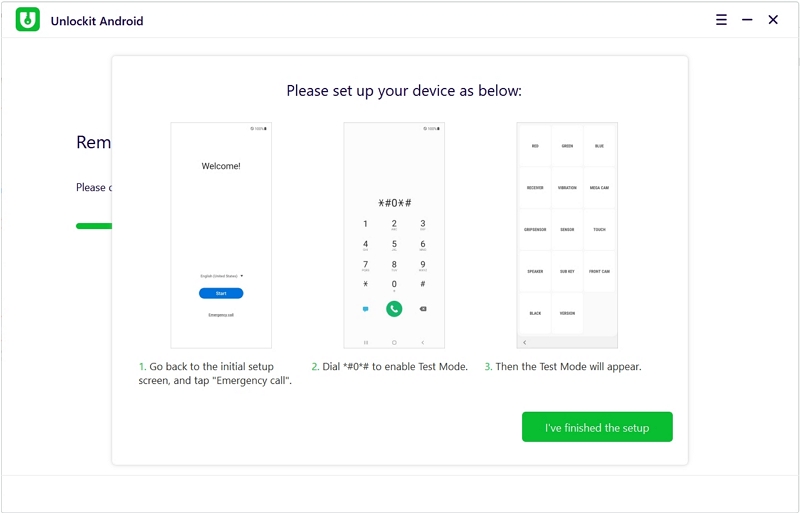 Step 5. Wait a short while until a USB debugging prompt appears. On your phone, check the option Always allow from this computer.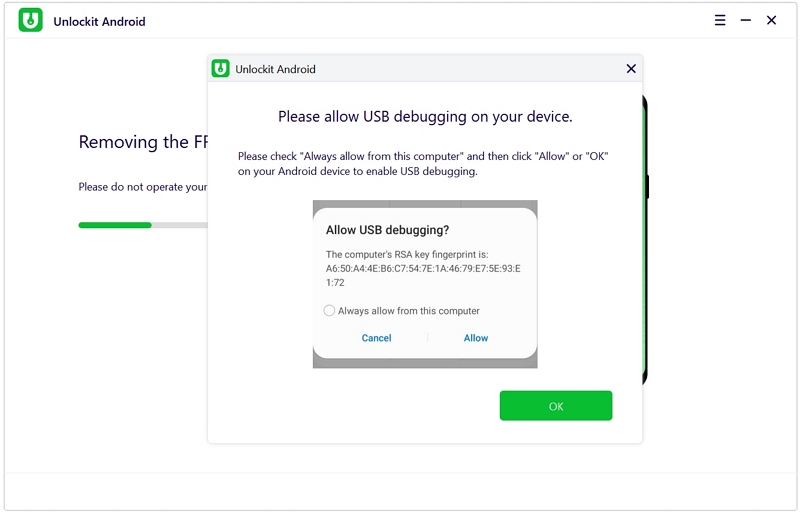 Once everything is settled on your phone, go back to your computer and wait for the unlocking.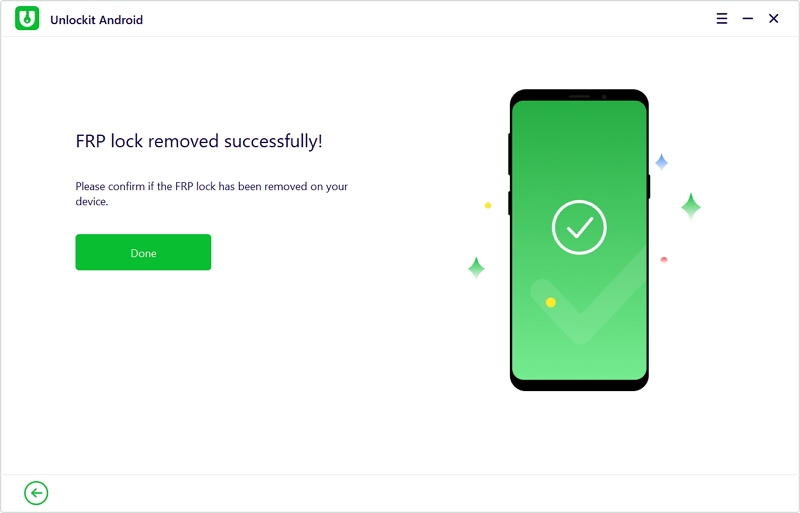 After the unlocking, your device will restart on its own. Unlockit Android will inform you that you have bypassed the FRP lock.
After that, the device has bypassed the Custom Binary Blocked by FRP lock and you can customize your settings to your personal preference, and then you may begin using your phone without the error.
Using Recovery Mode
Before you start, be aware that this procedure will completely erase everything on your device and only works for old Android systems. If you're ready, follow the steps below.
Firstly, turn off your mobile phone.
When the phone is entirely powered down, hold down the Power + Volume + Home buttons.
Release the buttons when the screen lights up.
Wait for a few moments and after it will display the Android Recovery list. You can navigate the list using the volume buttons and accept with the power button.
Find and highlight the Wipe data/factory reset and press the power button.
A confirmation will appear asking you if you want to "Wipe all user data?" highlight Factory data reset, and press the power button.
Your phone will now begin to factory reset.
When the process is complete, highlight and select the Reboot system now.
After reboot, your phone's error "Custom Binary Blocked by FRP lock" is now fixed.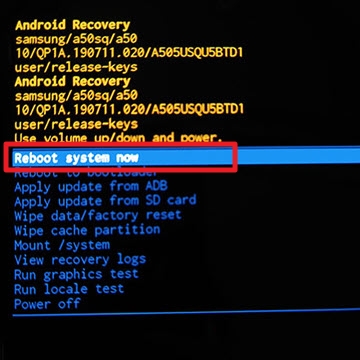 Using Talkback
Google Talkback is an Android accessibility tool that allows blind and visually impaired individuals to interact with their devices.
When Talkback is enabled, you can take advantage of this because you can install a patch for your phone that will remove the FRP lock. Follow the steps listed below:
To begin, ensure that your phone is not connected to your mobile data or WiFi network.
Repeatedly press the Home button on your phone three times to turn on the Talkback setup.
When the menu appears, select Settings and repeatedly press the Home button three times to end TalkBack.
This alone can sometimes fix the problem. If the issue is still present on your phone, continue as follows:
Turn on the Talkback settings again by pressing the Home button on your phone three times.
Go to Settings > Talkback Help.
Then, open any of the videos you see in this section and select the To share option.
Press More to reveal some YouTube update settings.
Next, press To jump.
The video will begin in full-screen mode. You must now drag it down in order to minimize it.
On the top right corner, open Youtube settings > Privacy Policy > Open with Internet > Cancel.
When the Android browser opens, search for QuickShortcutMaker apk and Google Manager apk. Alternatively, you can press the link to go directly to their website.
Download and Install Google Manager first.
Then you can now download and install the QuickShortcutMaker.
Open QuickShortcutMaker and search Google Account.
Select Google Account Manager.
Find and select either login or gsf.login.AccountSecurityActivity.
Press to try.
It will prompt you for a new password, but you can just ignore it and go to Login to browser located at the top right corner.
Now, log in to your Google account.
Finally, just follow the simple steps shown on the screen.
And there you have it, after a few configurations, the Custom Binary Blocked by FRP lock error on your phone should now be removed.
To Conclude
You can remove the Custom Binary Blocked by FRP lock in a number of ways. Some are easier and faster than others. If you know a decent amount of knowledge about technology and are not anxious about damaging the operating system of your smartphone, then I would recommend following either the Recovery Mode Method or the Talkback Method.
Just follow the steps provided above and you will bypass the error successfully. If you're however not confident about doing the Recovery Mode or Talkback method, then using Unlockit Android is undoubtedly the best option for you.
This software is safe and easy to use, so even a new user won't have any issues navigating the software and bypassing the error. Follow the fast and simple steps above for a successful outcome.
We hope that the information provided here has helped you succeed in unlocking your smartphone when the Custom Binary Blocked by FRP lock has locked it. If you have any comments, feel free to leave them here.