Factory Reset Protection or FRP, is a feature added to Android phones since the release of the Android OS Version 5.1, also known as "Lollipop".
It is a feature that adds a barrier of protection to your phone when a factory reset is performed on your device.
It requires a Google password to set up and is activated when a factory reset is performed anywhere other than the Settings tab.
As we are all human, we tend to forget things. So if we forget the password to our Google account, then we can't get past the FRP.
When that happens, don't panic, because this article will show you some ways to bypass FRP without using Talkback.
Bypassing FRP without Talkback using Unlockit Android
There are a number of methods that claims to bypass FRP lock without password and Talkback. However most of them are unsafe and difficult to use.
If you are are a novice user, you may get lost when following the steps. Hence, we recommend you to try Unlockit Android instead.
With this all-in-one tool, FRP lock can be removed easily without technical expertise needed. In only three easy steps and less time, you can bypass the FRP screen on your device with Unlockit.
What's more, this tool is compatible with the most of Samsung devices running Android 6-12.
You can add a new Google account and password to your device after using Unlockit to remove the FRP lock.

Here's how you can easily download and use Unlockit Android to bypass your FRP:
Step 1. Download Unlockit Android from the following button. Once installed, connect your device to your desktop and launch the app.
Step 2. On the homepage of the app, click Start to proceed.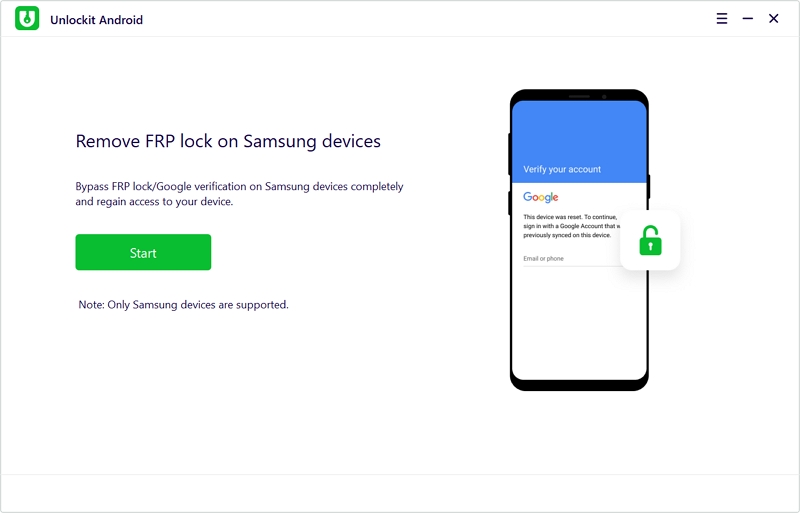 Step 3. From the next screen, you will need to select the appropriate OS of your device. If you are unsure of your device's OS, choose "All Android Versions" option or check the specifications of your device.
Note: Make sure your device is on the Google Lock page, or the page where it asks for your Google Password.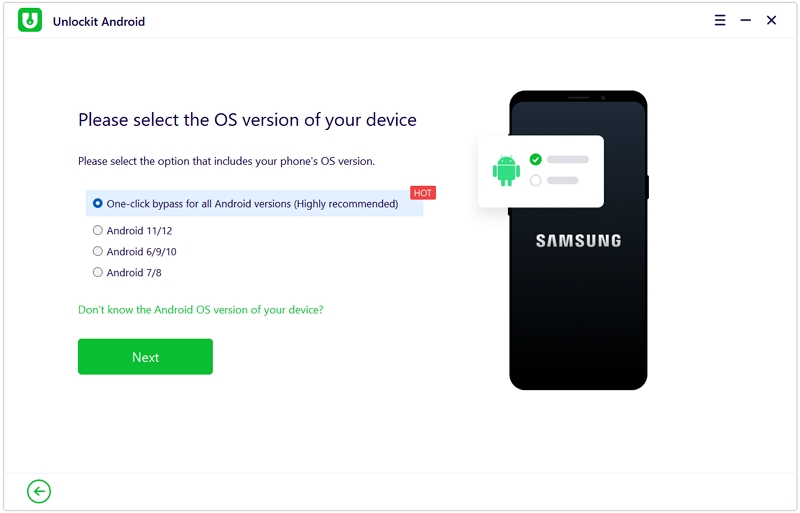 Step 4. Assuming you have selected "All Android Versions" option, Unlockit Android will start to remove the FRP lock.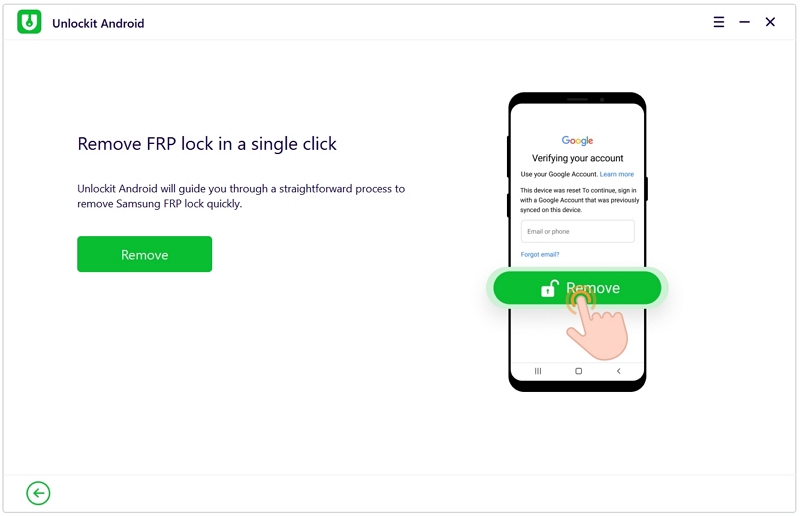 Step 5. Set up your device according to the on-screen guidelines.
Step 6. After the app is done with its work, you can now set up your phone without any FRP lock.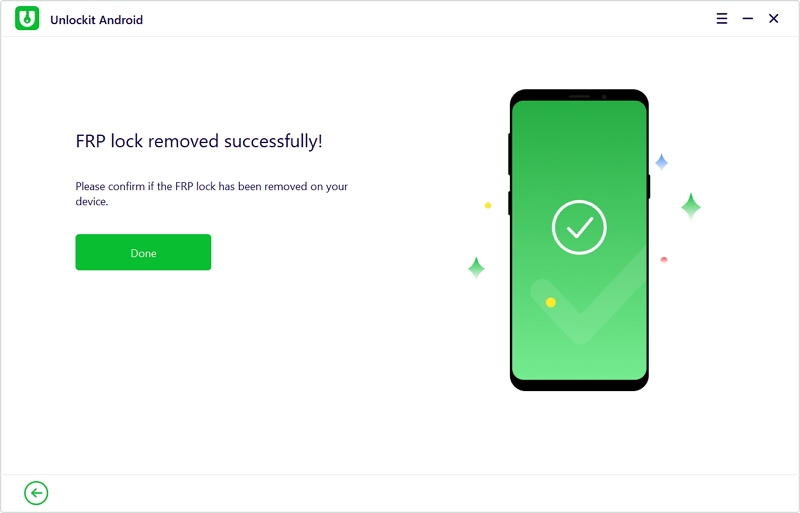 Bypassing FRP Using Talkback
If you don't have a PC, you can try using your phone's Talkback feature to bypass FRP. This method takes a little longer than the first one, requires some patience, and is quite challenging.
Follow these instructions to bypass FRP using talkback:
Switch on your phone and click the Start button.
Click Agree on the terms and conditions, then click Next.
Connect your device to a WiFi Network.
Simultaneously press your device's Volume Up and Power buttons. You will be greeted with a pop-up that asks you to use those buttons for Talkback. Select Use.
Press Volume Up and Power buttons again to enable Talkback.
After enabling Talkback, draw a reverse L"⅃" shape on the screen.
A different pop-up should appear. Now press Use Voice Command.
In a clear and understandable voice, say, "Open Google Assistant."
Once Google Assistant has been summoned, press the Volume Up and Power buttons to disable Talkback.
On the Google Assistant screen, select the Keyboard icon.
On the keyboard, type "YouTube," then tap the YouTube icon.
On YouTube, tap the User icon, then go to Settings > About > YouTube Terms Of Service. This should open Google Chrome.
Now that you've opened Chrome, you can type "https://tiny.cc/frptools".
Go to FRP Bypass APK > Tap To Open Device Apps and look for your device's "App Store" equivalent. For Samsungs, it will be Galaxy Store.
It should lead you to the store page of Alliance Shield, which you should install.
Once installed, open the app and skip the introductory explanations until you are greeted with a login screen. Tap Register and make an account.
Name your device "Android (OS version) FRP" (example: if your phone is using Android 11, name your device "Android 11 FRP".)
Enable Device Admin and select Activate, then tap Next.
Enable Samsung Knox, tap Confirm > Next > Finish.
On the menu, select App Manager.
Search for Android Setup, go to Actions, then select Force Stop and Wipe App Data.
Repeat the same actions for the apps Setup Wizard and Google Play Services.
Go to your Setup Wizard and press Activities.
Select the first activity, which should be com.sec.android.app.SecSetupWizard.SecSetupWizardActivity. Select it and then click Open.
As you can see, this method has a lot of processes. But, it can be done using your phone only. However, if theTalkback feature isn't working, there's also a workaround for this. Check out the section below:
How to Fix Talkback not Working
If your Talkback function isn't working, here's a way you can bypass FRP without it.
After connecting to a WiFi network, press two fingers on the screen and hold until it shows the Talkback Tutorial tab.
Draw an "L" shape to open the Global Context Menu, then double tap Talkback Settings.
Double press either the Volume Up or Volume Down buttons to disable Talkback.
Scroll down and select Help & Feedback, then click Use Morse Code.
There should be a YouTube video. Click on it to open the YouTube App.
On the YouTube app, go to User > Terms & Privacy Policy. This opens Google Chrome.
Using Google Chrome, go to https://bit.ly/freefrp.
On that website, click Google Account Manager 8 and download it. After downloading, install the app.
After installing Google Account Manager 8, return to Chrome and download "Gmail Sign In | Bypass FRP." Install that as well.
After installing, open the app and select "Browser Sign-In" from the three dots at the top right.
Log in using your Google Account.
After successfully logging in, reboot your phone.
When the phone starts up again, just set up the phone as usual.
Once the set-up is complete, go to Settings > About Phone > Reset > Factory Data Reset. After that reset, there should be no FRP, and you can set up your phone again.
Wrap Up
FRP is a feature in Android phones that adds a layer of security when your phone undergoes a factory reset.
It requires a password to get past, and without that password, you can't go on to set up your phone. But if you forget your password, there are different solutions to bypass FRP.
One method is using the Talkback feature. However, that method takes patience and could turn off those people looking for a quick and easy solution.
If you are one of those people, we recommend using Unlockit Android, a desktop app that can bypass FRP with just a few clicks. All it takes is just to plug your device into your desktop, click a few buttons, and your phone is good as new.