If you are unfamiliar with FRP lock, it's time you knew about this advanced security feature that works on Android phones. It allows Android users to secure their confidential data.
Especially if your phone is stolen or hacked, it helps save the valuable information in your device and protect it from unauthorized use.
This FRP can also help you unlock the phone in case you forget your google account password after purchasing a new phone or after a factory reset.
At times it could be a troublesome process for you. So, in order to execute this, you need to follow several steps.
But, to carry out this task, you will need a distinct tool. This tutorial will give you all the guidelines on how to run FRP Bypass with a Sim card and other alternative means.
Can You FRP Bypass With SD Card Only?
The answer is no! You can't bypass the FRP with SD card only. Additional FRP bypass APK is also required to work together and get the job done. If you are stuck with an SD card and unacquainted with any other alternative to bypass your phone, you will be in great trouble.
Some alternative methods might be helpful in successful FRP bypassing. The SD card method could be your trouble fixer at the time of need, but there are several other methods to get this job done. Keep reading if you want to know more!
How to FRP Bypass with SD Card and FRP Bypass APK
Fastunlocker is a highly recommended tool for running FRP bypass. By taking advantage of this tool, you can easily use the google account on your Android phone.
Follow the mentioned steps, and you can run the FRP bypass within no time. Besides a sim card, you need a micro SD card, a card reader, and a cable connected to your personal computer.
First of all, go to the app store and start downloading the FastUnlocker FRP bypass APK.
After that, copy the tool to your SD card using your computer. If you don't have a personal PC, you can also use another phone.
Insert the SD card in your locked phone and switch it on.
Go to file manager, and install the FRP bypass Apk you had copied.
The setting option will eventually pop on your screen when the installation is completed.
Now, it's time to reset your phone by going into settings.
There you go, a quick and easy way to run FRP bypass APK.
Review of the SD Card Method
However, the SD card method may seem an easy way out, but that's not the only way to tackle this situation.
So, let's see what features are accountable for its limitations and what makes it a handy option to run an FRP Bypass on an Android device.
Pros
It's free to use, and you don't need to worry about spending your valuable money to get your phone unlocked. You can download it easily from the app store and run it.
This method is quite easy and best for those devices that operate on Android 5 because of its quick installation.
Cons
If you are an Android user having a version 5.1 or above, this tool might be your remedy. But, if you have another version, this tool will lack the compatibility to run FRP bypass.
It involves several steps to go through, and one might find it difficult to understand. On top of that, it does not offer official support to look for help.
This method may not work for all the devices to run FRP bypass.
Bypass FRP in One Click Using Unlockit Android
If you want a simpler and more effective way to bypass FRP lock for your Samsung device, you should consider using third-party Samsung FRP tools. Unlike the previous way, the Samsung FRP bypass tool does not require the installation of several apps or the use of a SD card.
Unlockit Android is one of such tool, allowing you to bypass Samsung FRP in just 10 minutes. Whether you've forgotten your Google account password or bought a secondhand Samsung phone with the previous owner's Google account, it can help you effortlessly remove the frp.
Moreover, Unlockit works with all models of Samsung devices and is compatible with Android 6, Android 7, Android 8, Android 9, Android 10, Android 11, and Android 12.
Also, it has a user-friendly and navigable interface for users to comprehend and follow all the steps. You can download the tool for free on any standard Windows computer.
Go through the following steps to bypass FRP using Unlockit.
Step 1: Run Unlockit
First, you need to download Unlockit Android on your PC. Once it's downloaded, start the installation and after it gets opened, click the Start button.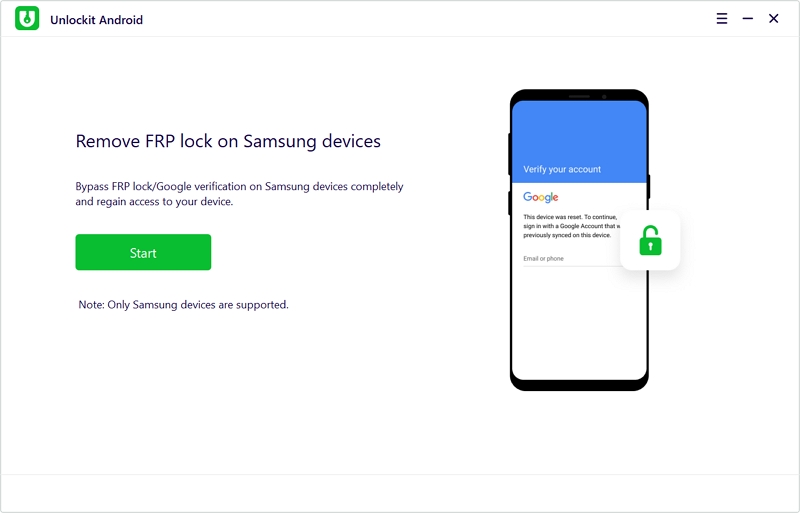 Step 2. Select One-Click FRP Bypass Option
For this step, you have to connect your phone to your PC. You can use a lightning or standard USB cable to do it. Once connected, choose the first option that works for all Android phone versions.
Finally, click Next!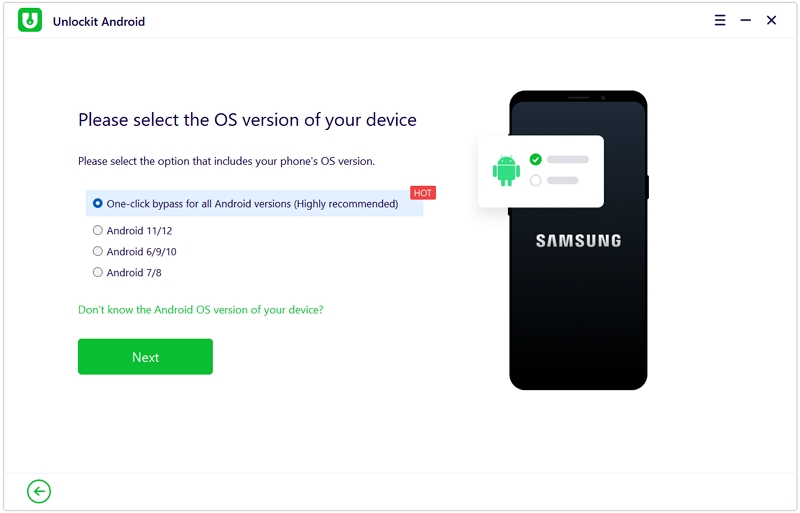 Step 3. Start Removing Google FRP Lock on Your Phone
The next step is following all the guidelines this FRP unlock software provides. You need to Allow the USB debugging option on your locked device.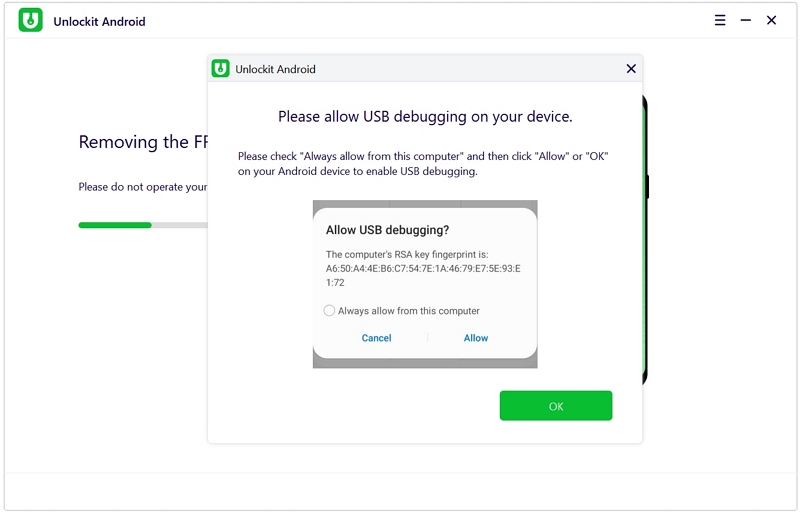 And there you go; Unlockit will do the rest of the work to run your FRP bypass successfully. Once this unlocking procedure is completed, you can easily access your phone and set it according to your requirements.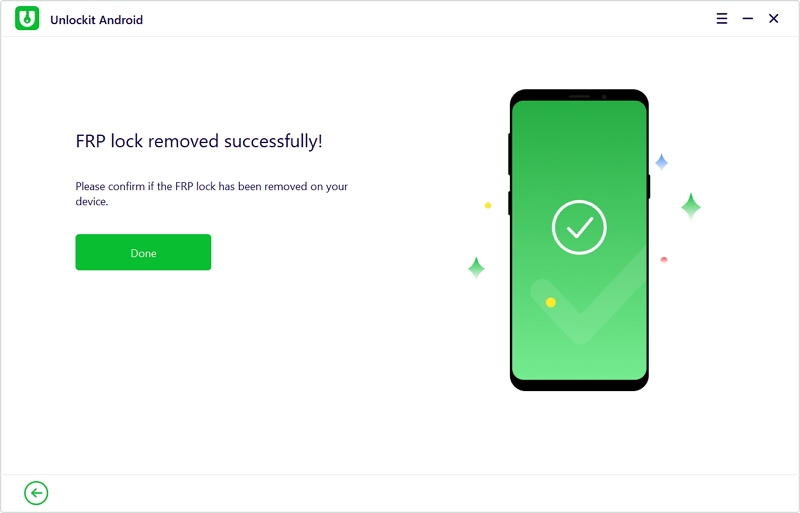 Wrapping Up
In this blog, we have mentioned all the steps by which you can efficiently run your FRP bypass. The SD card method might take a little longer and not work on all devices, but Unlockit will surely help you with its advanced features.
So, better go with Unlockit Android since it will help you in running successful FRP bypassing and is compatible with several types of Android versions.
So, let's give it a try.