For Android devices running Lollipop 5.1 and up, there is a security feature known as Factory Reset Protection or FRP. It is already built into Android devices and is turned on by default once you set up a Google account on your device.
Once configured, FRP stops a device from being used after a factory data reset. Only providing the details of the Google account linked to the phone would make it accessible after the factory data reset.
FRP's primary goal is to stop unauthorized access to your device if it is lost or stolen. But if you just simply forgot the password to your own Google account, there are ways to bypass FRP.
This guide will show you the top FRP lock removal tools in 2023. Read on to know more.
Unlockit Android FRP Removal Tool
It's upsetting to find that your Samsung device is FRP lockedd after factory reset. If you forget to deactivate your Google account from your device before doing a factory reset, FRP will be triggered. To regain access to the device, you must enter your Gmail ID and password.
Fortunately, if you have a Samsung FRP bypass tool such as Unlockit Android, you may bypass FRP on Samsung smartphones quickly and easily without having to go through a complex process.
Unlockit Android's inclusion in this article is no surprise, given how reliable it has been for Samsung FRP Bypass over the years of technical research.
This tool's FRP lock removal feature has a high success rate and quickly gives you complete control of your device. It can delete the Google account without requiring your password.
What's more, it is compatible with all Samsung devices running Android 6-12. After you've unlocked your device, you are free to add a new Google account on it.
Here are the detailed instructions for using this Unlockit Android to get past the FRP lock:
Step 1. Download Unlockit Android
Download and install Unlockit Android on your computer.
Launch the app and Connect your Android device to your computer, then click Start.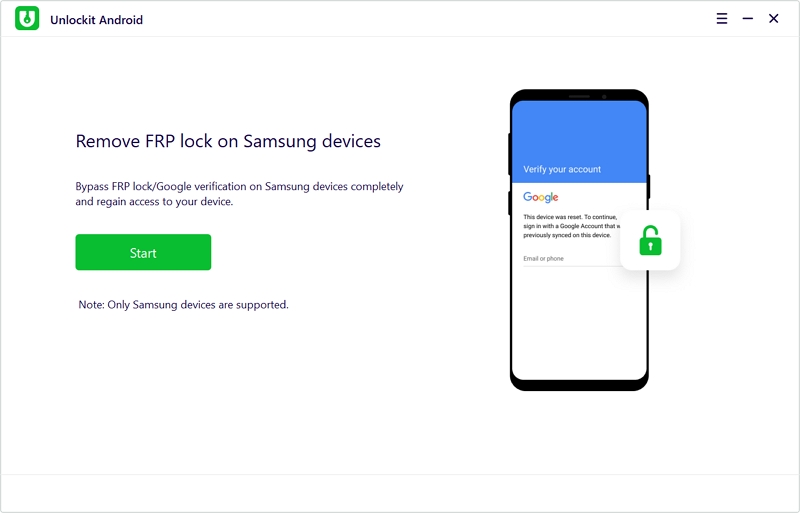 Step 2. Choose the One-Click Bypass Mode
On the next screen, you will be asked to select the Android OS version of your device. Select All Android Versons.
This option allows you to bypass the FRP in just one click and is compatible with all popular Samsung models.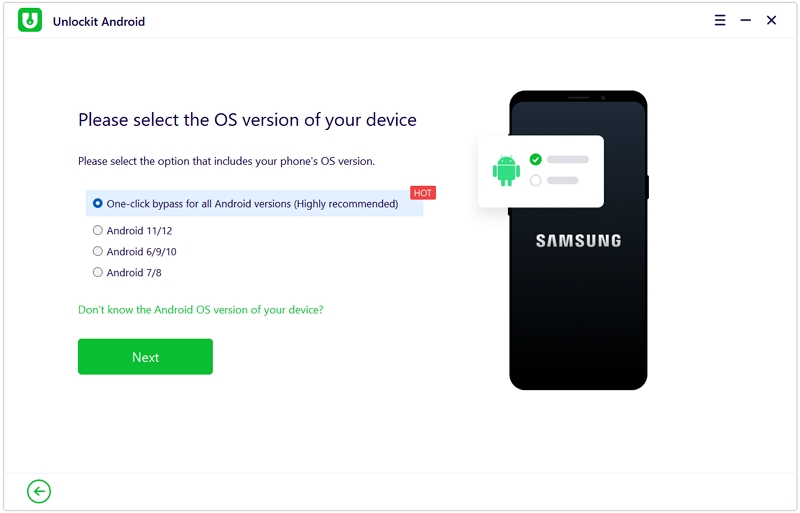 Step 3. Unlock the FRP
After that, Unlockit Android will start to remove the FRP immediately. You will need to enter test mode and allow USB debugging on your device. Don't worry as it is easy to operate.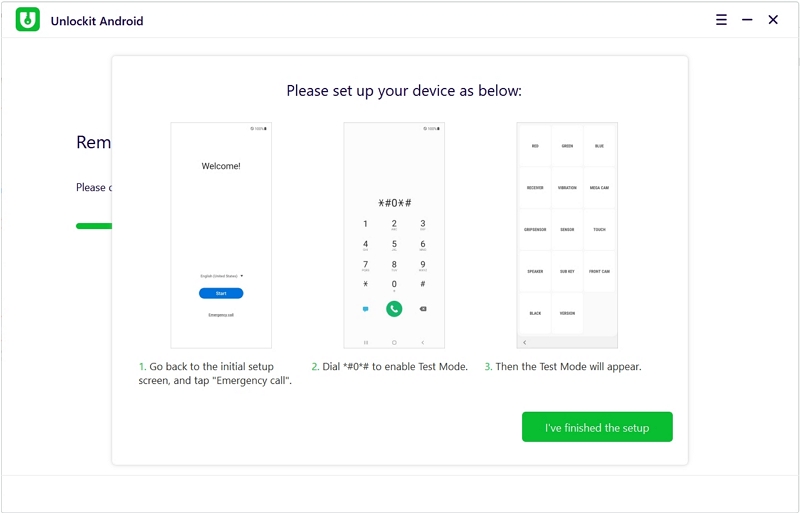 After you have finished the setup, Unlockit Android will continue removing the FRP lock. Once the process is finished, your device will restart and you can now regain access to your device!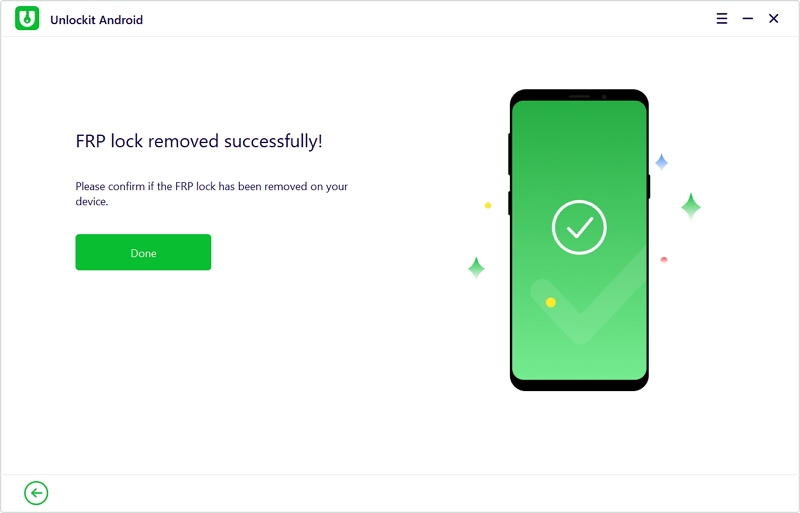 Unlockit Android is available for download and Windows. Visit their official page to know more about the product.
DroidKit
DroidKit is another app that can easily bypass the FRP lock on your Android device for only $39.99. It is compatible with both Windows and Mac OS.
No matter what Android model you have, Droidkit can remove your device's FRP lock. This is made possible by the distinct unlocking procedures they use for each various models, ensuring that they do not employ the "one size fits all" solution.
After the lock is removed, you can use your phone normally again, and the best part is that the whole process is protected by SSL-256 encryption so you can be confident that this tool takes your privacy very seriously.
Plus, DroidKit can also restore lost data without a backup and it can save data from an Android device that has crashed.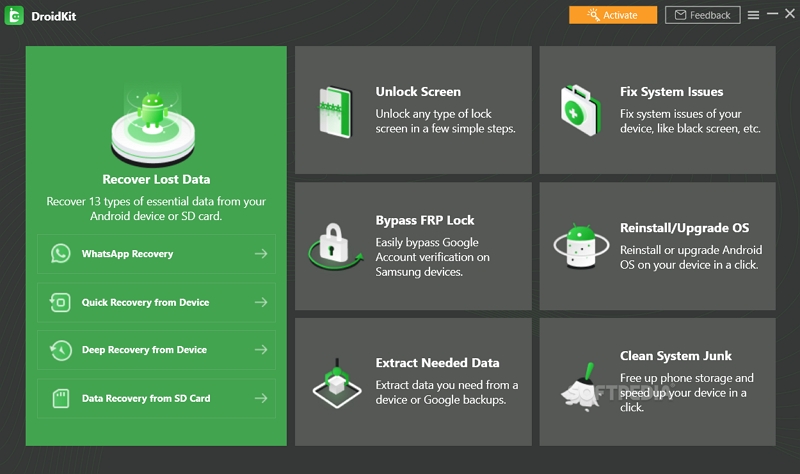 Tenorshare 4uKey for Android
4uKey for Android from Tenorshare simplifies the FRP lock removal. All you need to do is use a computer and a connecting cable then follow a few easy steps. You can avail 4uKey for a year for only $39.95. With a 99.3% success rate, it's really worth the price.
Aside from bypassing FRP on Android, UnlockGo can also remove screen locks such as PIN, pattern, fingerprints, or face recognition. It is compatible with more than 2000 Android devices from over 15 different manufacturers.
4uKey functions flawlessly on various Windows versions as well as Mac. Before paying and starting the unlocking process, you can avail the free trial version to make sure your device is compatible.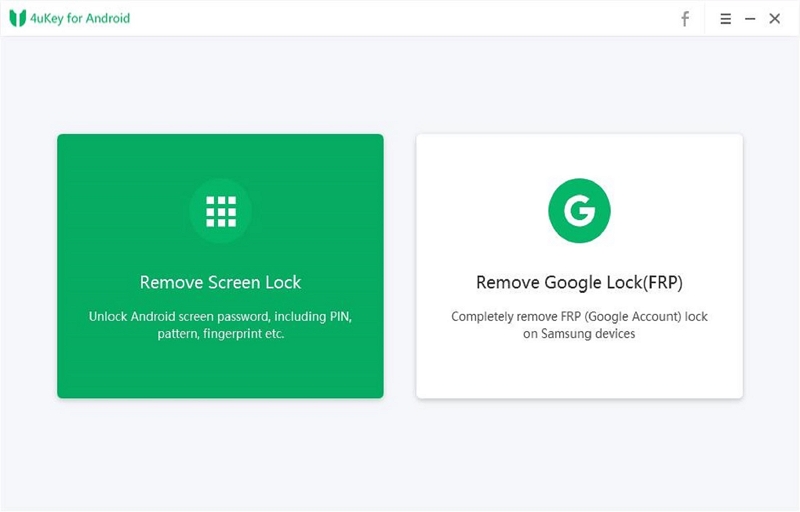 Samsung FRP Hijacker
Samsung FRP Hijacker is one of the best applications available to remove the FRP lock easily and it is available for free download. This tool is more commonly known as Samsung FRP Unlock Tool, but its real name is "FRP Hijacker".
FRP Hijacker also has other functions such as Soft brick fixer, which fixes soft brick problems without flashing any firmware flash files and ADB Operation. Samsung FRP Hijacker is compatible with Windows 10, 8.1, 8, 7, and XP.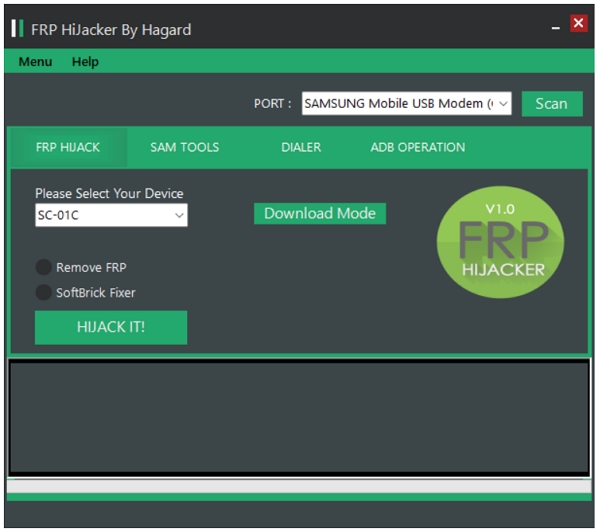 Android Fastboot Reset Tool MTK
Android Fastboot Reset Tool is another well-known and free software that you can use to bypass FRP. Aside from removing the FRP lock, it also has additional benefits such as sim unlocking, IMEI unlocking, pattern lock removal, and others.
Android Fastboot Reset Tool MTK is compatible with Windows OS versions such as 10, 8.1, 8, 7, and XP.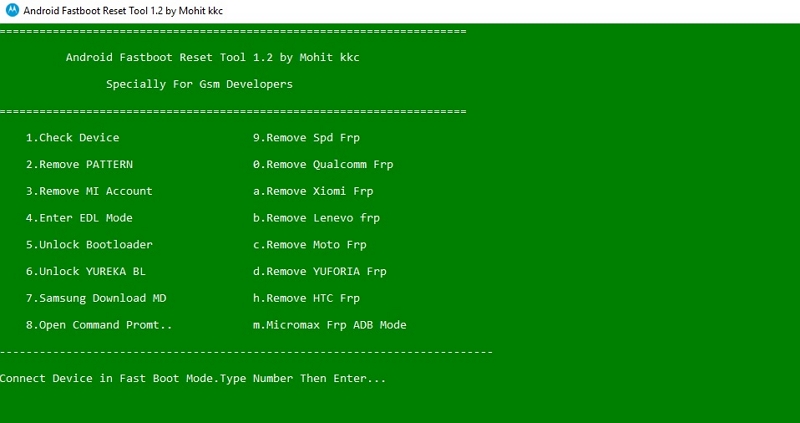 Easy Samsung FRP Tool
This is another free tool that is available to the public for FRP lock removal. By using Easy Samsung FRP Tool, you can easily bypass the FRP on your Samsung device with your computer.
This tool was built simply with the sole function of removing or bypassing the FRP on your Samsung device using your Windows PC. Easy Samsung FRP Tool is also compatible with Windows 10, 8.1, 8, 7, and XP.
D & G Password Unlocker
D & G Password Unlocker works on devices like Samsung, Xiaomi, HTC, Motorola, and other Android phones. Beginners will find this easy to use because of the straightforward interface and easy to follow steps.
To use it, all you have to do is download and install it on your PC, then link your Android device to the computer. After that, remove the FRP lock by adhering to the on-screen instructions.
GSM Flasher Tool
The GSM Flasher Tool is an excellent tool for removing the FRP lock. You can quickly bypass FRP with its assistance.
Simply download and install this FRP unlock tool on your computer, connect the target device to the PC, and then follow the on-screen instructions to complete the process of unlocking the FRP lock.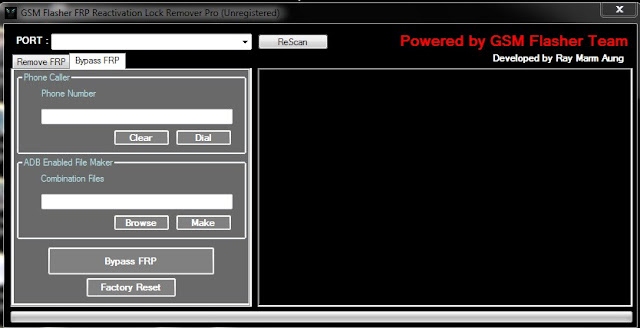 Final Thoughts
Bypassing the FRP has become more and more difficult due to the ever-increasing security on Android devices.
With several options available online, you can save time using Unlockit Android on your Windows PC. This tool makes bypassing the FRP lock easier and more convenient than ever with its simple steps.
We hope that this guide has clarified the options you have to bypass the FRP lock on your Android device.