All modern Android handsets come with Factory Reset Protection or FRP, an integrated data security feature that guards devices against unwanted access. Although it is a useful function, there are some downsides to it.
Users run the risk of getting locked out of their own devices if they are unable to log in with the correct Google credentials after doing a factory reset. Because once the phone reboots, it will ask for the Google credentials last registered on the device.
If this sounds like a familiar problem to you, and you're on the internet exactly to bypass an FRP lock, you're in luck. This article will give you a complete guide to bypassing this troublesome screen lock using Emergency Dialer.
Interested? Keep reading.
Emergency Dialer Android Bypass FRP Using Unlockit Android
In essence, FRP safeguards the privacy and personal information of Android users during theft. With each new Android version and phone, the unlocking procedure for FRP security is different. Therefore, to prevent FRP protection lock, always have your Gmail account information in mind.
However, if the account information is lost and your smartphone is frozen at the FRP lock verification screen, then these straightforward step-by-step instructions for Unlockit Android will assist you in removing the Google Account Lock from your Samsung.
With the new one-click bypass feature introduced by Unlockit Android 3.0.0, you can quickly get past the Google verification screen from Samsung devices running all Android device versions.
After downloading the software onto your computer, proceed with the installation, then do the following:
Step 1. Connect your device to Unlockit Android
Launch the program after installation and click Start. Connect your phone to your PC via a USB cable.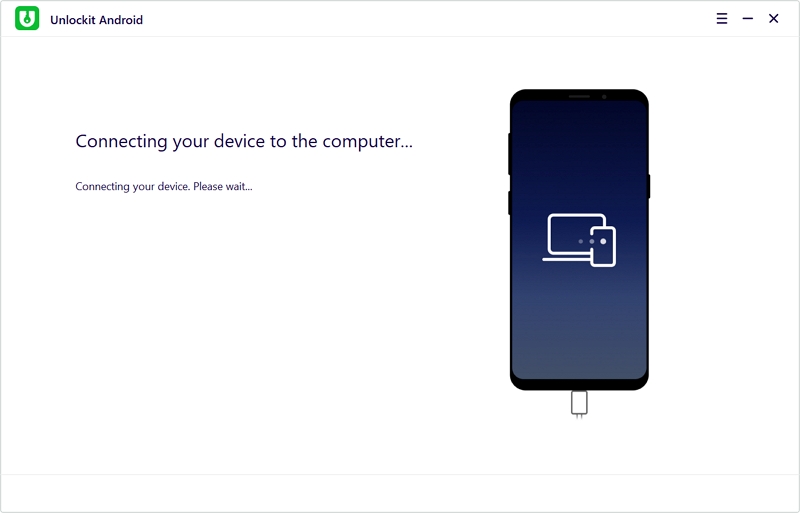 Step 2. Choose One-click bypass mode
After that, choose the option One-click bypass mode for All Android versions and click Next to continue.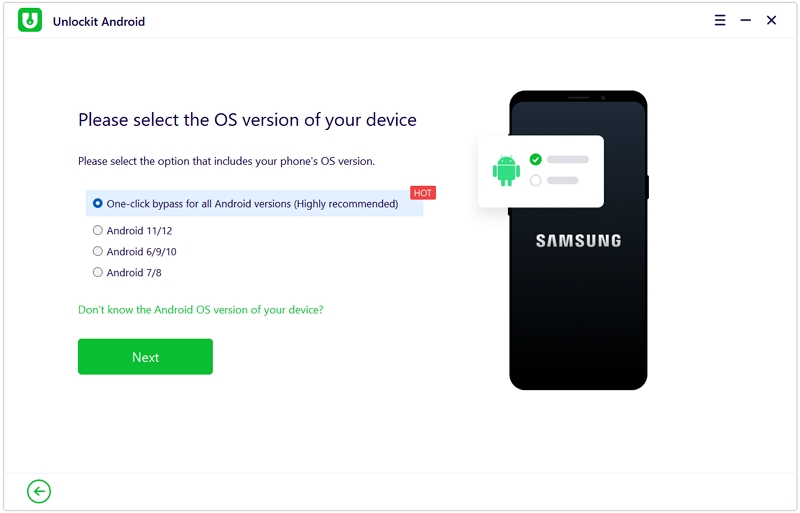 Step 3. Remove the FRP lock
The bypassing process will begin shortly after. So, when instructions appear on-screen, make sure to follow them closely to set up your device.
First back to the first page of your device and click Emergency call. Dial *#0*# to enable test mode. Select I've finished the setup to confirm your operation.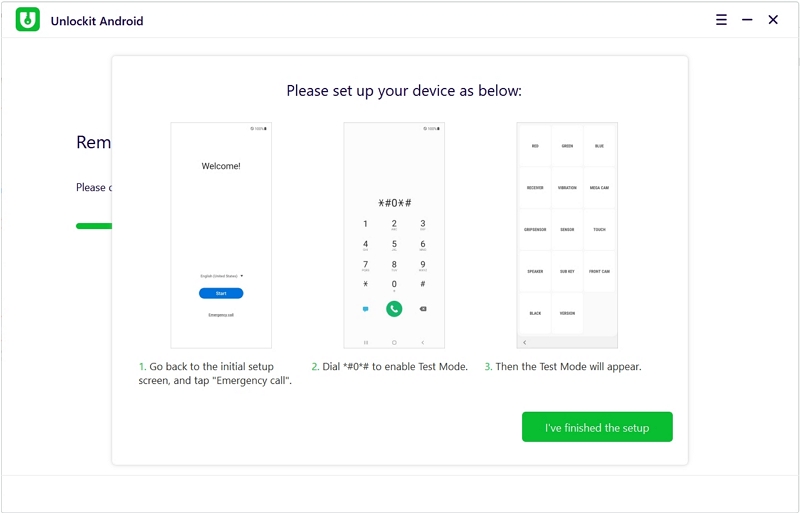 Next, you will need to allow USB debugging on your phone. Once that's activated, wait for Unlockit Android to do its job disabling FRP.
Step 4. FRP lock is removed
After seconds , your device will restart automatically and you can set it up like it's brand new.
Note: It is normal for the screen of your device to flash after restart. Just wait for a bit and it should stop. However, if the flashing persists, please restart your device manually.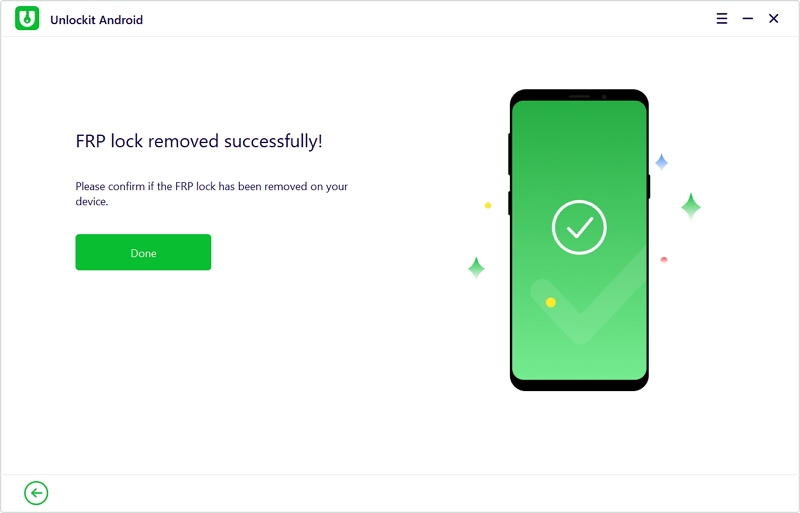 If you failed to bypass the FRP lock using this method, then make sure to:
Trace back and make sure that all steps are performed correctly.
Try to unplug the device from the USB port and then plug in the device again.
Select and try other versions of the solution on the Select OS page.
Emergency Dialer Android Bypass FRP Using Samsung FRP APK
The process of bypassing the FRP lock has become quite difficult over the years, so you may choose to use any appropriate FRP bypass tool based on your phone to unlock FRP.
In this next section, we share one of the more recent FRP Bypass processes to remove FRP lock from your smartphone.
This is a method that also utilizes the emergency dialer to bypass the FRP lock. If you're interested, then follow the steps below:
First of all, download & extract the Samsung FRP Tool V1.6 to your computer: Samsung FRP Bypass Tool V1.6.
Open the unzipped folder and launch the SamsungFRPTool_v1.6.exe as administrator.
On the FRP Tool, select Disable Driver Signature enforcement then restart your PC.
Afterward, connect your Samsung phone to the PC in Normal MTP Mode
Then, open Device Manager on your PC and check on Samsung Mobile USB Modem and click on Portable Device that will appear. If it's not showing, install the Samsung USB driver from the FRP folder.
Now reopen the Samsung FRP tool and select Bypass FRP (MTP).
Then, check your phone. A direct FRP popup window will appear.
Click on View to open the browser, which will lead you to the Samsung Internet or Chrome Browser.
On the Search bar, type the URL: https://tiny.cc/frptools.
Then go to FRP Bypass Apk and open the device Apps section.
Next, open Samsung Dialer and dial *#0*#.
After that, the Test Mode will appear.
Connect your device to the PC and go back to the FRP Tool and click on Direct FRP Unlock – Android 9/10/11/12.
Check your phone after and select Allow, then wait for it to remove FRP lock. Your phone will reboot.
Once rebooted, tap on the blank screen once or click Samsung Setup Wizard.
And that should be it for this method. You will have successfully bypassed the FRP lock from Samsung Tab after rebooting.
Compare and Contrast
With the two options laid out in front of you, the choice is easy to make. The first one, Unlockit Android is much safer and easier to use.
Not only is it efficient and reliably trusted by users all over the web, but you would only need to download Unlockit Android itself compared to the Samsung FRP Tool which requires you to download a few more APKs to run and support it.
With Unlockit Android, you won't need to learn any technical skills or follow a long, convoluted process. You save time and energy by letting the program do the work for you.
Wrap Up
The Google FRP lock is unquestionably a great feature that improves the security of your device. It protects all of your personal information and files in scenarios like having your phone stolen or someone attempting a hard reset without your permission.
However, it also makes it challenging for you if you mistakenly reset your device and forgot your login information since you could lose access to your own device.
Fortunately, Unlockit Android enables you to easily go around the FRP lock so that you can use your device again without losing any data.
If you have any questions or comments about bypassing FRP on Android devices, leave us a comment down below.