Many users get stuck on a page that asks for verification during a device reset. This security feature was implemented to prevent unfortunate situations like theft or robbery.
If you are also experiencing being stuck on the verification page, regardless of the reason, you've come to the right place. Following this are three ways to bypass that verify pin page after a factory reset.
Let's get to it.
What is Verify Pin After Factory Reset?
The text that appears after a factory reset asking you to verify yourself as the device's owner is a function of the Factory Reset Protection (FRP) security feature.
FRP is a built-in security feature on Android OS versions Lollipop (5.1) and higher. This will be automatically enabled once you set up a Google account on a new phone.
Factory Reset Protection (FRP) makes a lost-and-found device unusable. But even the owners can catch problems if they forget their original login details. There is, of course, a way to bypass this lock.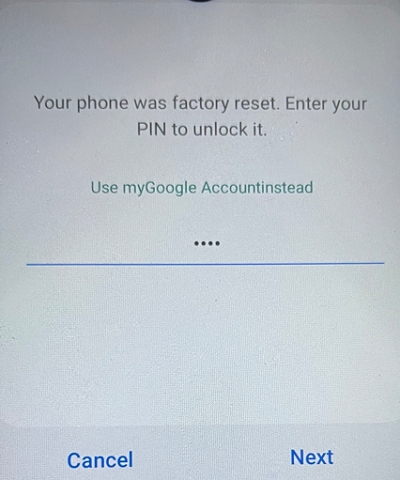 Bypass Verify Pin After Factory Reset in 1 Click Using Unlockit
There is no doubt that FRP adds an extra layer of protection after a factory reset, but not everyone can recall the pin they once made.
As a result, Foneazy introduced a software named Unlockit Android to bypass this security mechanism in only three minutes!
It is trustworthy and doesn't require you to learn any technical knowledge with its user-friendly interface.
Whether you've forgotten the Pin code, and your Google account password or purchased a used Samsung phone with the prior owner's Google account enabled, the Samsung FRP can be removed in just in click.
After bypassing the FRP with Unlockit, you can set up a new Google account on your device and regain access to it.
Furthermore, Unlockit Android is compatible with all Samsung devices running Android 6-12.
Just download and install Unlockit Android on your computer, and follow the rest of the steps below:
Step 1. Connect your Samsung device to your PC with a USB cable and Click Start on the Unlockit interface from your PC. Make sure your device is also connected to the WiFi.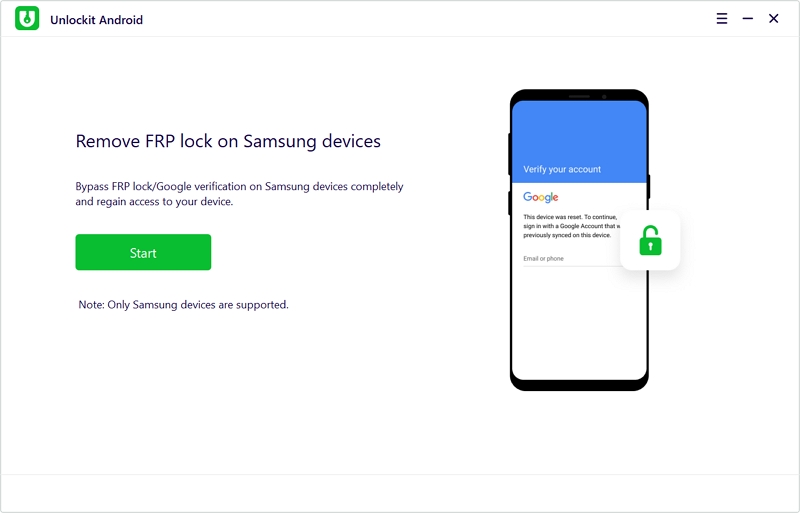 Step 2. Next, select the one-click option All Android versions. Then click Next.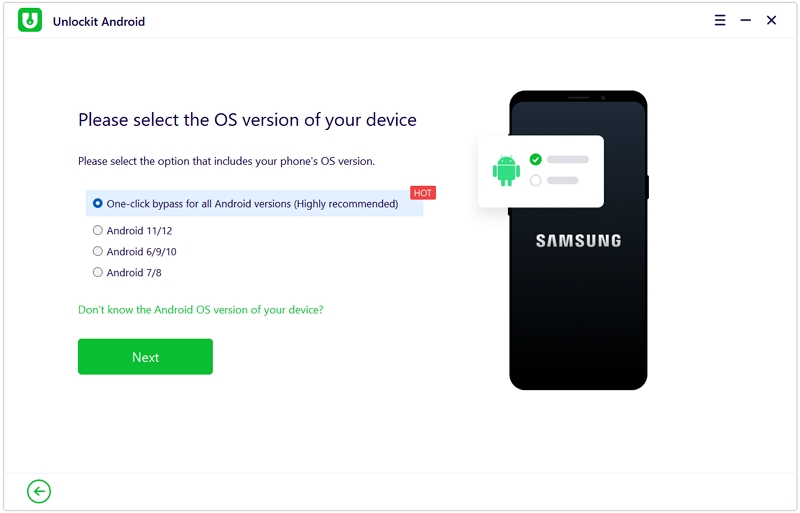 Step 3. After a few seconds, a pop-up will appear with the instructions. Use this to enter the test mode on your device.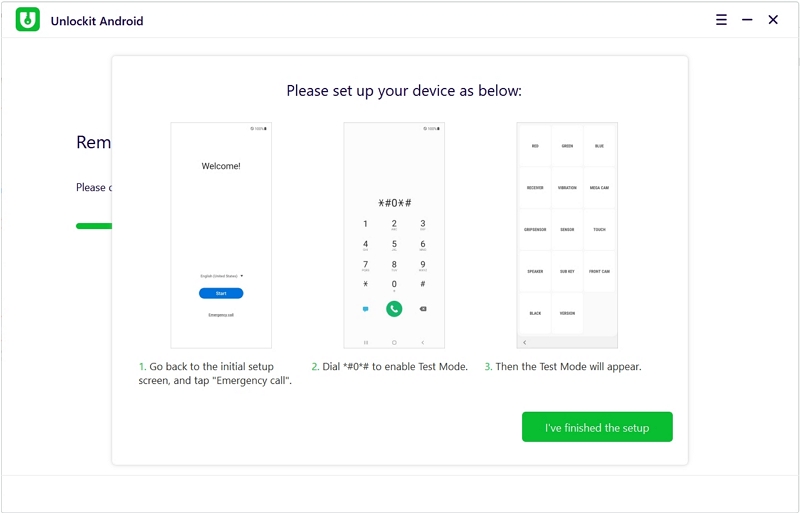 Step 4. Unlockit will then help you enable the USB Debugging option on your device.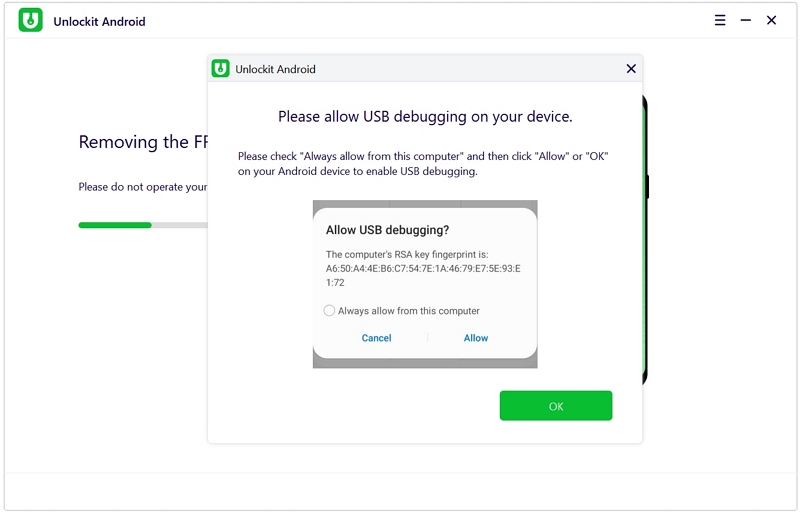 After you have granted authorization, the Google account verification should pass through immediately, and your device will reboot. Once it does, you will find no more hindrances to setting up your phone again.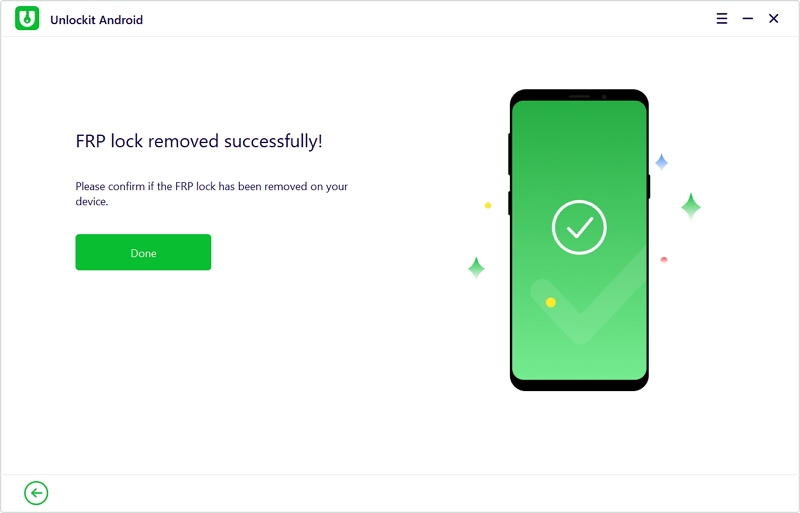 Get Help from the Previous Owner
If you are a user who bought a secondhand phone from someone else, the easiest and safest option is to contact the previous owner for help regarding getting locked out of your new phone.
This way, they can provide you with the Google account credentials to bypass the Google verification and unlock the device.
If it's a merchant, they can use a third-party unlocking service from their carrier. Once it is unlocked, you can now set the phone up with the credentials you want.
How to Disable Verifying Pin After Factory Reset
As previously mentioned, FRP is automatically enabled once you sign in to your phone using your Google account. You need to remove your Google account from your Android device to disable this.
Deactivating FRP is the easiest solution by far that is available to bypass Google verification. This is a must-do if you have plans to resell or give away your phone in the future.
If you're buying a second-hand device, you first should check if the seller has removed their account. This will save you time and effort.
To disable FRP, follow this simple guide below:
Go to Settings and select Cloud and Accounts (or Accounts for other mobile brands)
Tap on Accounts.
Find your Google Account and select Remove Account.
Tap I Agree to proceed.
FRP should be disabled after you have agreed. Note that this removes the Factory Reset Security and does not unlock it.
Wrapping Up
Doing a factory reset on your Android device will lead you to go through a Google account verification. This may be a hassle for some, but the good thing is there are ways to bypass this verification.
If you have any other questions or queries about Factory Reset Protection (FRP), feel free to share your thoughts below.