In this digital day and age, our mobile phones hold a breadth of information about our private lives. Of the mobile phones, Samsung is one of the leading brands, with billions of units sold worldwide every year.
It is a company that is especially known for its stable software and durability. But nowadays, almost everything can be found online. No matter how stable and durable a phone is, it is normal to want to protect our privacy from outsiders.
How Does the FRP Work
The Factory Reset Protection (FRP) or Google Account Verification works as a lock feature that protects your phone's data from getting access without your explicit permission.
It does this by asking you to sign in to your Google account before you can factory reset your phone.
This lock protection method was created for unfortunate events involving losing your device or having it stolen so that none of your information can be used against you.
That said, it is not without its faults and there will be times when you will need to bypass it on your Samsung device for whatever reason.
This can be done by employing a certain number of methods, which we will discuss in this article.
Bypass FRP Lock on Samsung with Unlockit Android in 1 Click
To bypass FRP lock on Samsung devices, people used to utilize multiple tools, enter Fastboot mode on the device, or use talkback. What if there is a single tool for Samsung FRP bypass?
Here comes Unlockit Android as the first method. FRP bypass has been made more easier using this tool. It is an all-in-one program that can remove FRP locks for all common Samsung models in just 1 click.
After removing the FRP lock with Unlockit Android, you can add a new Google account and password on your device. Furthermore, it is compatible with most of Android devices running Android 6-12.
Unlockit Android will walk you through each step to remove the FRP lock quickly, even if you are not technically savvy.
To use Unlockit for Android, just do the following steps or watch the video instead:
Step 1. Connect your device to Unlockit Android
Download and install Unlockit for Android on your computer.
Next, open it from your computer and click on Start. Then, connect your Samsung phone to your computer via a USB cable.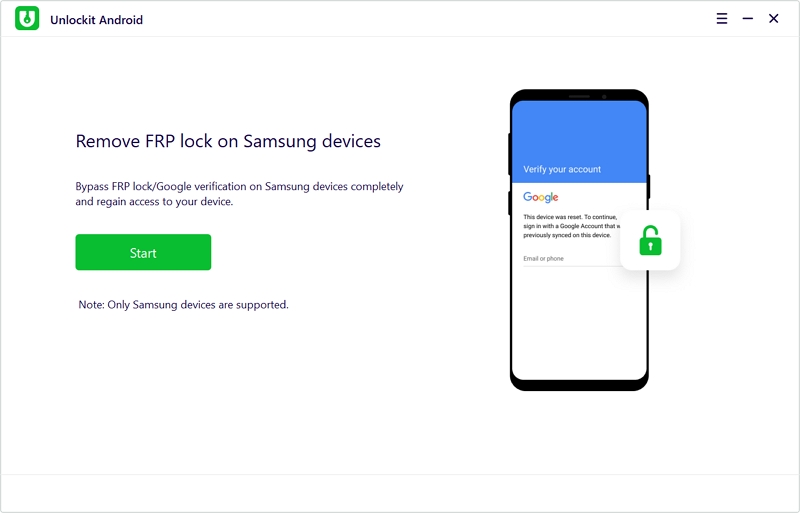 Step 2: Choose the One-Click FRP bypass technique
Then, select the All Android Versions from the list and click Next.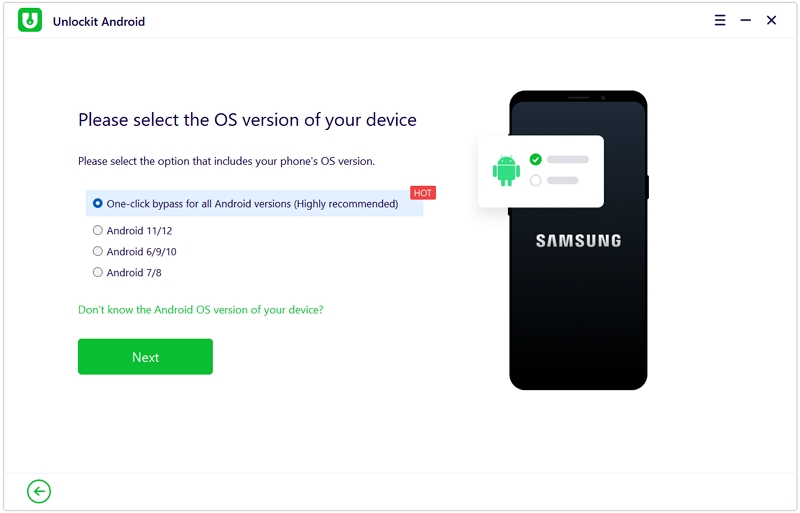 Step 3: Starting the FRP bypass
Following that, the software will start the removal. To set up the device, follow the necessary steps as shown in the interface.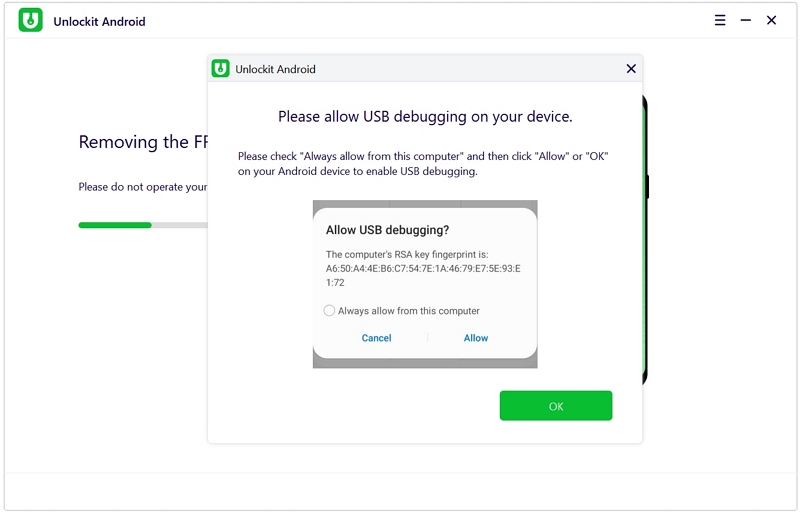 Once you've followed everything through, you will see "FRP lock is removed successfully!"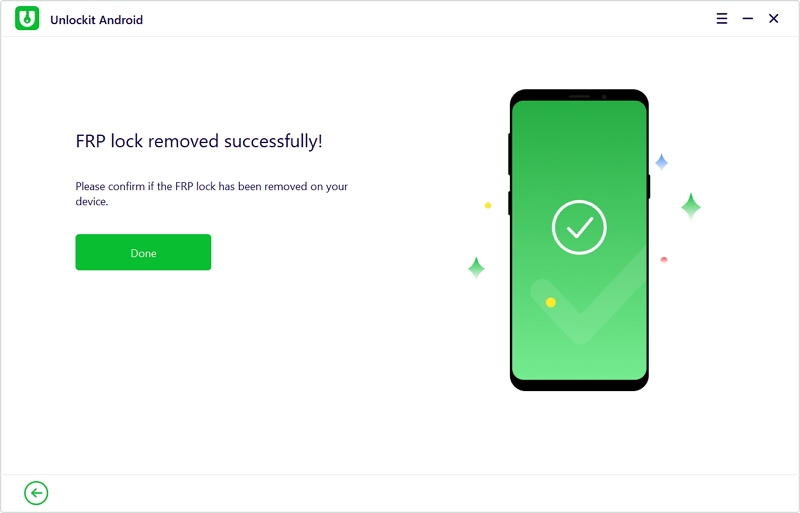 Samsung FRP Bypass Using Talkback
If you don't have a PC, you can also bypass FRP using talkback with just your smartphone. This process is a bit more tedious than the previous method, so make sure to follow the specific steps listed below.
First, turn on your Samsung device and then click on the Start button.
Agree to terms and conditions and connect your phone to a WiFi network.
Next, press the volume up and power button at the same time, then click Use.
Repeat the previous step to enable talkback.
Now, draw a reversed L "⅃", and select Use voice commands.
Then, say "Open Google Assistance" and Disable Talkback by pressing Volume up + Volume down.
Now, select the keyboard icon and type YouTube, and open it.
Select the user icon, then go to Settings > About > Youtube Terms of Service.
After that, it will lead you to the Chrome browser. Now type https://tiny.cc/frptools or https://bit.ly/2NKxXYs .
Go to FRP bypass APK and then tap to open the FRP apps selection.
Now, select the Galaxy Store to open it.
After leading you to the Galaxy store, type on the search bar "OS14 Launcher".
Next, tap on the OS14 Launcher search result and then install it.
Sign in next using your Samsung Account and wait while it installs and launches OS14.
Next, it will require a different Android phone to create a cloud backup, which we will then use to restore our FRP-locked phone.
Go to the Settings and select Accounts & Backup.
Type in your own Google and Samsung accounts.
Open Chrome browser and search https://tiny.cc/frptools or https://bit.ly/2NKxXYs.
Download and install the Notification Bar & Package Disabler Pro.
Go to Settings > Accounts & Backup > Backup and Restore > Backup Data.
Now, unselect all options except Apps and then tap Back up.
After all your data is backed up, tap Done.
Go to Settings > Accessibility > Interaction and dexterity, and then turn on the Assistant menu.
Tap Select Assistant menu items and then proceed to remove all items except menu settings.
Go to Accounts and backup > Restore Data > Select Restore Data, and immediately tap the assistant menu to prevent the automatic updating of the Samsung cloud. During this process, ensure not to update the Samsung cloud.
Press the back key once.
Only restore Apps and then Install.
Now, tap Done and return to the Main menu.
Go to Accessibility > Installed Services > Notification Bar > Turn on > Allow.
Test and drag down the notification bar to see if it's working properly.
Go to Settings > Privacy > Permission Manager > FIles and Media > Select the kebab menu (3 dots) > Show system > Select Package Disabler Pro, and allow management of all files.
Return to the Menu, drag down the notification bar, and disable the WiFi and mobile data.
Open the Package Disabler Pro App, select I agree, and enable admin.
Once on the KLMS agent, enable WiFi or Mobile data from the notification bar and then tap Agree.
After waiting, the Package Disabled Pro app will open after validation of the Knox license has been done.
Click the search icon and type in Setup.
Select the Android setup (com.google.android.setupwizard) and then disable it.
Next, tap the Samsung select wizard (com.google.android.SecSetupWIzard) and then clear data.
Finally, your Samsung phone has bypassed the FRP.
Bypass FRP Lock on Samsung Using Google Keyboard
This last method is the most basic way to bypass FRP Lock using just your device. Here's how to do it.
After doing a factory reset and choosing your language of choice, proceed by:
Connecting the device to a Wifi Network. After which, you will be asked to provide your Google Account.
On your keyboard, tap and hold @ to access the Settings menu.
Select Google Keyboard Settings then tap on the 3 dots on the top right corner of your screen.
Select the Help & Feedback item.
On the Help section, tap on Using Google Keyboard.
Then long press to select any text on the page and click on Websearch.
A search bar will appear so type in Settings.
Scroll down the menu again and select About Phone.
Enter the menu and look for Build Number. Tap on it 7 times to enable Developer Options.
Now go back to the previous menu and open the Developer Options.
Enable OEM Unlocking and tap back twice.
Restart the device and connect to the Wifi again.
This time, you will be asked to provide a new Google Account.
Add your new account. You will now have full access to your device.
Keeping in mind that this is how to bypass Google Account Verification on a Samsung device, it may not work on other device brands.
Samsung FRP Bypass by Contacting the Previous Owner
If you purchased a used Samsung device, you can use this way to bypass Google FRP on Samsung online by logging out of the Google account associated with the device.
This will effectively remove the Google account from the Samsung A01 and bypass Google FRP online. However, this method only works if you can contact the previous owner and they are willing to help you.
To begin the process, follow these steps:
Step 1: Navigate to the website https://myaccount.google.com/ and enter the login credentials for the Google account that is linked to the Samsung A01.
Step 2: Once logged in, select the option "Security" and then find "Your Devices".
Step 3: From there, click on "Manage all devices " to proceed with the Samsung A01 FRP bypass online.

Step 4: Select the Samsung device that you would like to remove the FRP lock on.
Step 5: Click on the "Sign Out" option.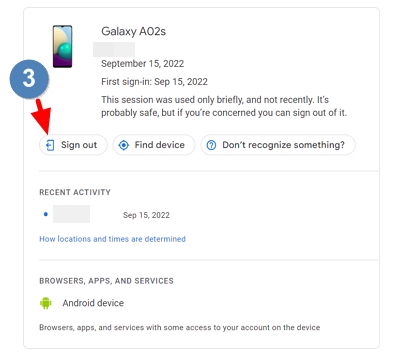 Step 6. Confirm your operation and the selected Samsung device will be removed from your Google account and therefore Google FRP will also be deactivated. It may take up to 28 days for the new status of the device to take effect.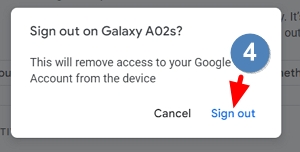 Wrapping Up
As the details above suggest, there are many methods to bypass Factory Reset Protection on your Samsung device, but using Unlockit Android to bypass FRP on Samsung devices is much simpler and fast compared to the complex and long method of using TalkBack or Google Keyboard.
However, Unlockit Android does not come for free. Users may only use the free version to see if the software is compatible with their device.
To access all the amazing features of Unlockit, you must have the premium version. Unlockit Android offers yearly, monthly, and lifetime plans for $29.95, $39.95, and $49.95, respectively.
Having said all of this, Unlockit is still worth it for its price because, without a doubt, it is one of the greatest Android unlocker tools on the market.
You can rely on Unlockit to resolve a variety of Android lock problems. It is safe, quick, and effective in unlocking your Android in just a few minutes.
Plus, the user interface is simple and straightforward and supports various Android devices.