FRP or Factory Reset Protection is a built-in security feature for Android devices that is automatically enabled once you set up your Google account on your Android device.
It was first introduced in the release of Android 5.1 (Lollipop) and has been a part of each succeeding Android OS release since. However, some users do have problems unlocking FRP on their phones.
Though it's supposed to protect your phone from unwanted users, it can sometimes block you from setting it up, especially when you've just bought it second-hand from a previous owner, if it was given to you as a gift, or if it was passed down to you from a family member.
This guide will show you how to bypass FRP on a Samsung A01 model, with or without a computer, or online. Read on to learn more.
Samsung A01 FRP Bypass in 1 Click with Unlockit Android
Unlockit Android is a desktop FRP bypass tool that bypasses Google FRP on Samsung device in minutes.
Unlike the complicated methods available on the internet, it simplifies the bypass process, allowing you to bypass the Google verification screen on your device with a single click.
After removing the FRP lock using Unlockit Android, you will be able to add a new Google account to your device and use all features of it.
Furthermore, the tool is compatible with the majority of Samsung devices running from Android 6 to 12.
You will need a Windows computer to use this since it is not yet available on Mac.
To bypass FRP on a Samsung A01 using Unlockit Android, follow the steps or watch the video below:
Step 1. Download and install Unlockit Android to your Windows computer.
Step 2. Launch the app and from the main screen, click the Start button.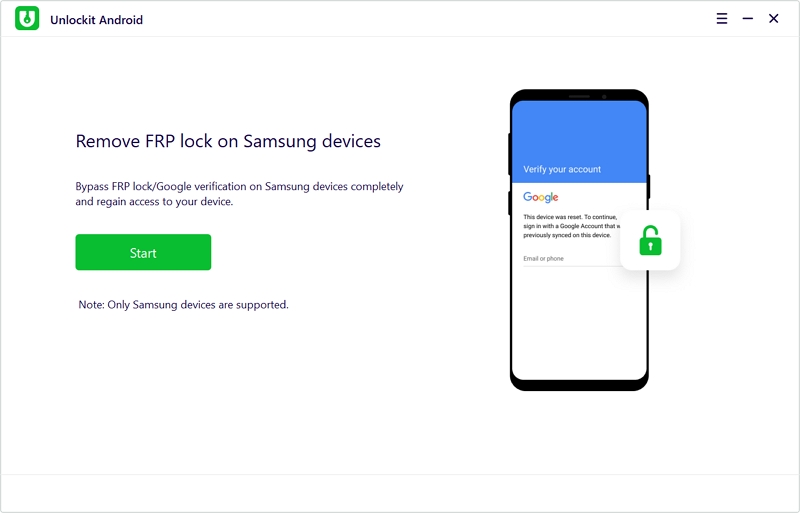 Step 3. Connect your Samsung A01 to your computer via USB cable.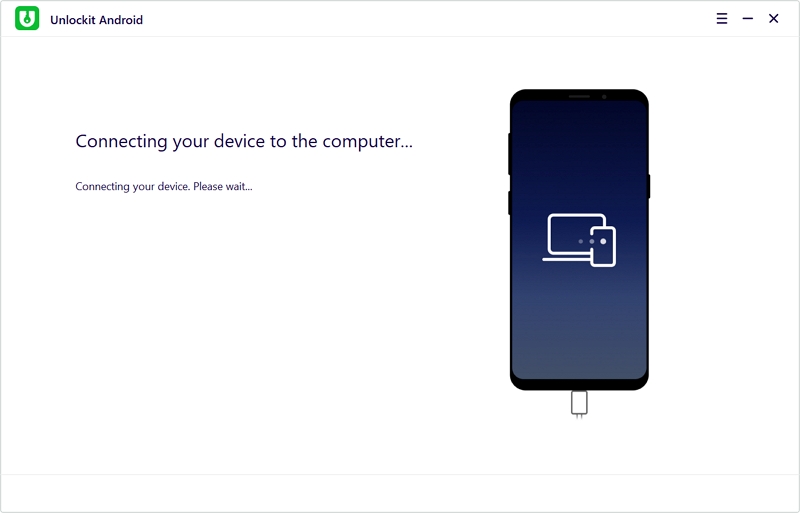 Step 4. Next, choose the "All Android version" from the list, which allows you to bypass the FRP in less time.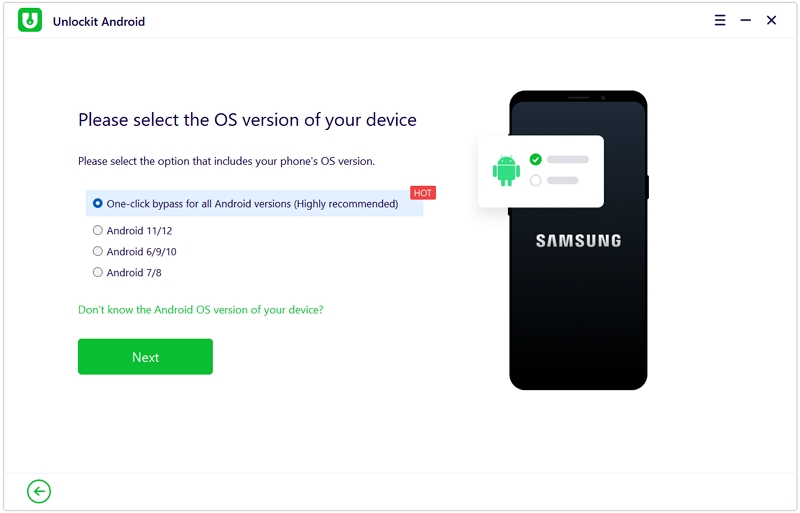 Step 5. Then,Unlockit will begin the removal process. Follow the next on-screen steps to set up your phone.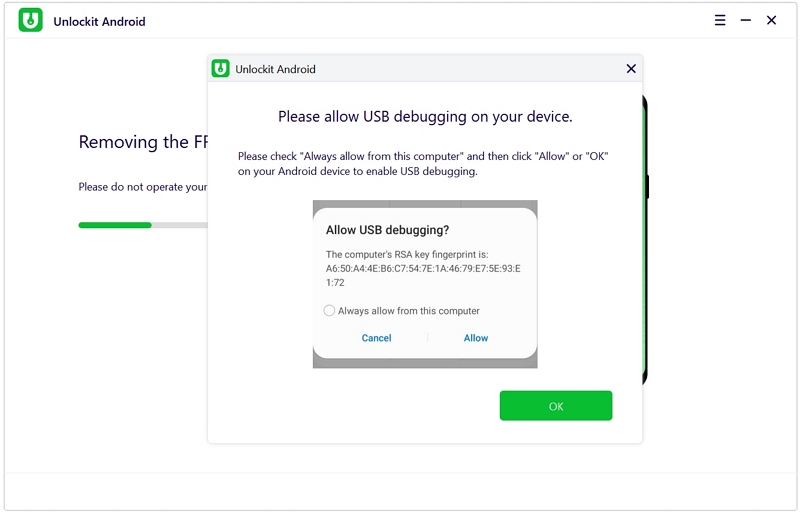 Once you enable the USB debugging from your device, your device will reboot itself and your phone should be FRP-unlocked instantly.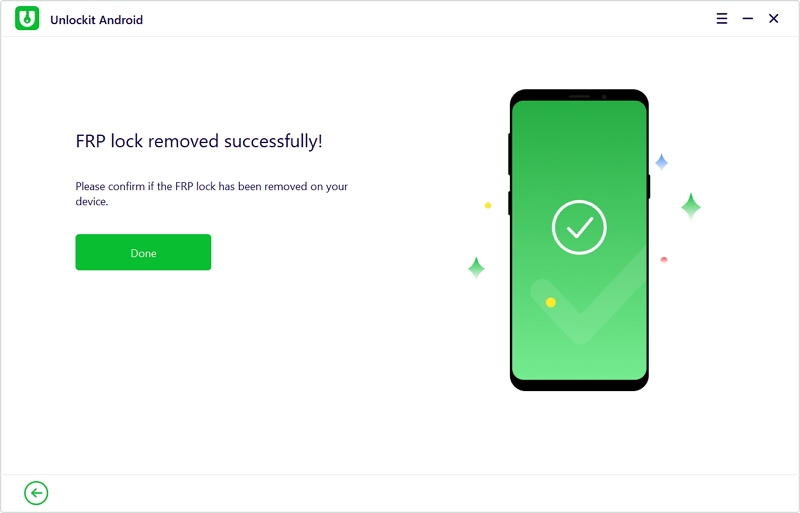 Samsung A01 FRP Bypass Without PC
Alternatively, you can bypass FRP on your Samsung A01 without connecting it to a PC. And this process can even be done for free.
However, this will be a tedious and complicated process so follow each step carefully to avoid getting stuck as this can lead to unintended data loss.
It is therefore recommended to proceed with caution. To bypass FRP on your Samsung A01 without PC, proceed to these steps:
First, turn on your Samsung A01 and connect it to its charger.
Then, tap the Start button and select Agree on the Terms & Conditions.
Connect your phone to a stable Wi-Fi network and select Next.
Press the Volume Up and Power keys simultaneously. This will open the TalkBack pop-up.
Tap Use. Then, press again the Volume Up and Power keys to enable TalkBack.
Draw a reverse L "⅃ " on the screen to open the voice commands pop-up.
Tap Use voice commands and speak open Google assistance to the phone's mic.
Then, disable TalkBack by pressing both Volume Up and Power keys.
Tap the keyboard icon and type in YouTube. Select the YouTube app from the search results to open it.
Select the Profile icon and navigate to Settings > About > YouTube Terms of Service.
The Chrome browser will now open. Select Accept & Continue.
Tap the search bar and type in one of the following links to download FRP Bypass APK: https://tiny.cc/frptools or https://bit.ly/2NKxXYs.
Once installed, launch FRP Bypass APK and select Open FRP Apps.
Select Galaxy Store and tap Open. The Galaxy Store app will now launch.
Search for the OS14 Launcher on the app and tap Install.
Once installed, select Open and sign in with your Samsung account.
Now, log in to your Samsung Cloud account using another Android device to backup your files from the Samsung A01. To do this, go to Settings > Accounts & Backup.
Log in to your Samsung account and navigate to Backup & Restore > Backup Data. It will now begin to backup the files from your FRP-locked device.
Then, go back to your FRP-locked device and go to Settings > Accessibility > Interaction and Dexterity.
Find Assistant Menu and turn it on.
Tap Select Assistant Menu Items and remove all other items except for the Menu Settings.
Next, go to Accounts and backup and select Restore data. Remember to avoid updating your Samsung cloud on this step.
Tap Restore data and quickly tap the Assistant Menu. Then, tap the Back key.
Uncheck the Select all option from the selected data list and only select Apps.
Wait while it's restoring data and tap Done.
Next, go to Accessibility > Installed Services and turn on the Notification Bar. Select Allow on the pop-up window.
Go to Notifications and turn on the Notification Bar option. You can try testing it by pulling down from the top of your screen to see if it's working.
Next, go back to Settings > Privacy > Permission Manager and select Files and Media.
Tap the More Options (three vertical dots) icon at the top-right part of the screen and select Show System.
Find and select the Package Disabler Pro and select Allow management of all files.
Then, go back to the home menu and pull down the notification bar.
Tap the WiFi icon to disable and open the Package Disabler Pro app by tapping its icon from the home menu.
Tick the Agree on Terms and Conditions checkbox and tap Activate.
The KLMS Agent window will now show up. Pull down the notification bar and enable Wi-Fi.
Tap Agree and wait until your phone receives a notification from Samsung Knox.
On the Package Disabler Pro app, tap the Search icon and search for Android Setup.
Select Android Setup (com.google.android.setupwizard) and disable it by tapping the Disable checkbox.
Next, select the Samsung setup wizard process (com.google.android.SecSetupWizard) and tap the CLEAR DATA button.
Your Samsung A01 has now bypassed FRP.
Proceed to follow the setup process and install all necessary apps. Also, you can log in to your Google account once you have one.
Samsung A01 FRP Bypass Online
If you purchased a used Samsung device, you can use this way to bypass Google FRP on Samsung A01 online by logging out of the Google account associated with the device. This will effectively remove the Google account from the Samsung A01 and bypass Google FRP online. However, this method only works if you can contact the previous owner and they are willing to help you.
To begin the process, follow these steps:
Step 1: Navigate to the website https://myaccount.google.com/ and enter the login credentials for the Google account that is linked to the Samsung A01.
Step 2: Once logged in, select the option "Security" and then find "Your Devices".
Step 3: From there, click on "Manage all devices " to proceed with the Samsung A01 FRP bypass online.

Step 4: Select the Samsung A01 device that you would like to remove the FRP lock on.
Step 5: Click on the "Sign Out" option.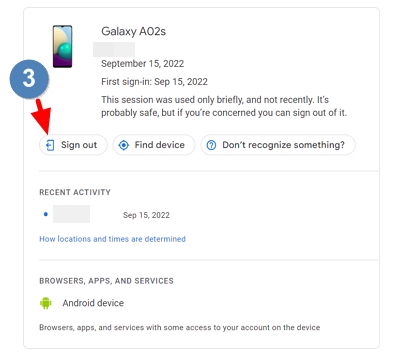 Step 6. Confirm your operation and the selected Samsung device will be removed from your Google account and therefore Google FRP will also be deactivated. It may take up to 28 days for the new status of the device to take effect.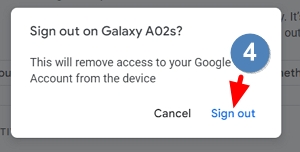 Final Thoughts
Bypassing FRP can be overwhelming if you've come across it for the first time. Hopefully, this guide has given you an idea of how to bypass FRP on your Samsung A01.
From the options above, we highly recommend you use Unlockit Android, especially if you have a working Windows PC ready. It is easier, quicker, and safer to do compared to an FRP bypass without a PC.
However, if you want to risk doing an FRP bypass without a PC, then proceed with caution and follow the steps carefully so you can avoid getting lost and stuck.