FRP locks are kind of a double-edged sword at times. It may protect your data and files if your device gets stolen and the thief tries to access your device.
However, it may also give you a hard time if you get locked out of your own device after a reset.
Lucky for you, this article will guide you through how you can bypass FRP locks on your Samsung A11 with or without a PC.
Let's get to it.
Bypass FRP Lock on Samsung A11 Using Unlockit Android (In One Click)
When you add a Google account to your Android phone, the FRP is trigged by default. When you perform a factory reset without first removing the Google account, your device will then get stuck on the FRP lock screen after reset.
Even though there are numerous methods to bypass the FRP lock on the internet, most of them are difficult and unsafe to use. What's more, they may not be compatible with the Android OS or the model of the device you are using.
To solve the issue, we recommend using Unlockit Android FRP bypass tool, which allows you to easily remove Google verification on your Samsung device in just one click.
Once the FRP lock has been removed, you can regain access to your device and create a new Google account. Additionally, the program is compatible most of of Samsung devices running Android versions 6 to 12.
To bypass FRP using Unlockit Android, follow these steps:
Step 1. First, download Unlockit for Android from your computer. After that, install the application.
Step 2. Click Start to start the FRP bypass process.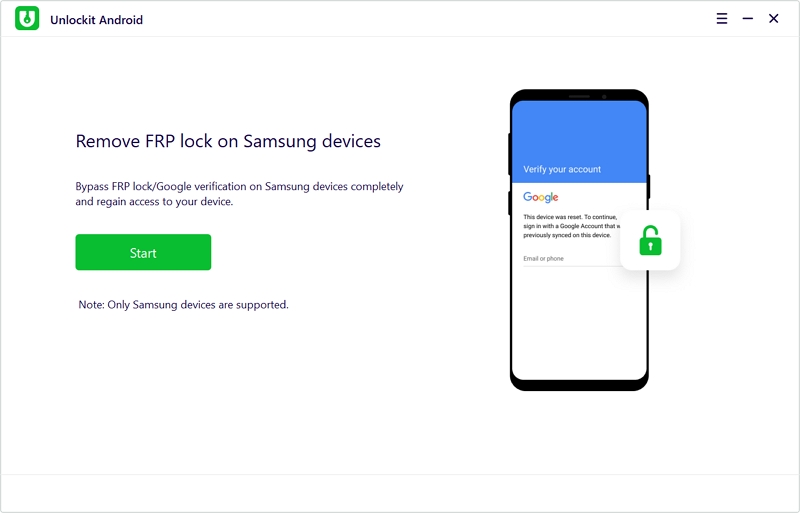 Step 3. Next, connect your device to your PC and launch the app.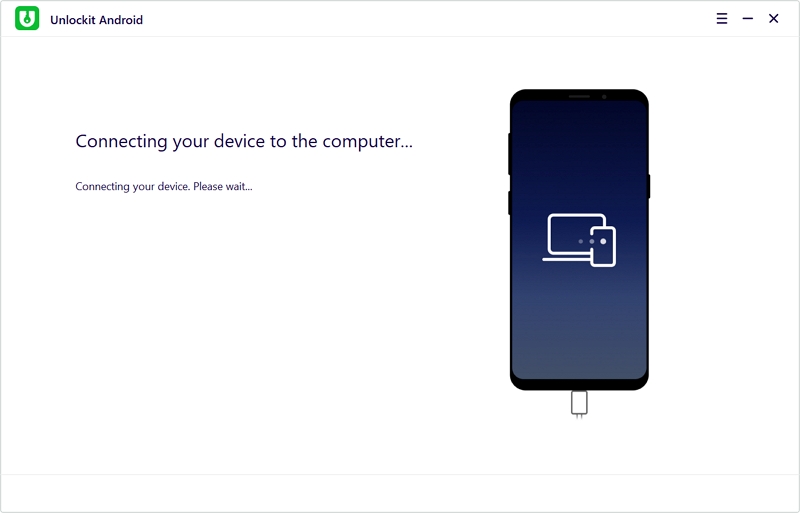 Step 4. Now, choose All Android Versions which allows you to bypass the lock screen in just one click, then click on Next.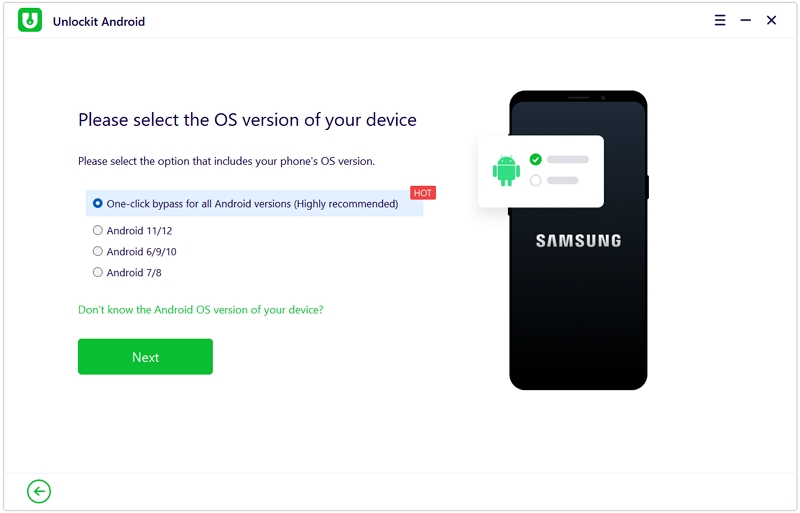 Step 5. After that, Unlockit will ask you to enable test mode and USB debugging on your device.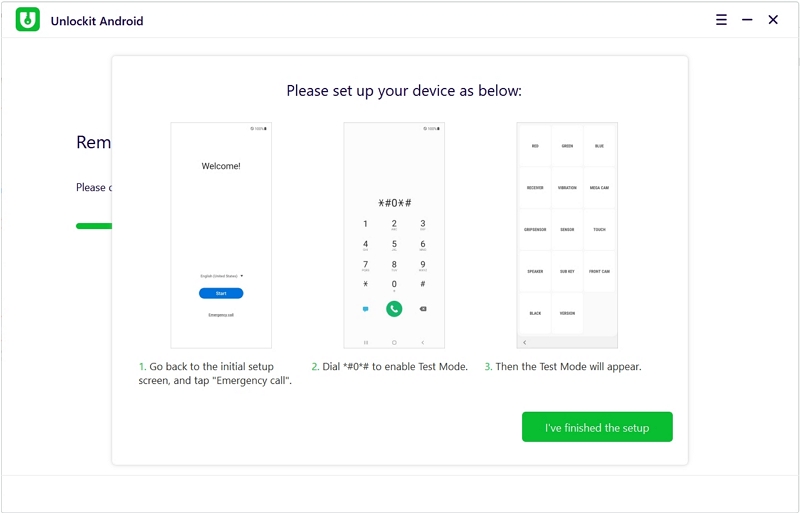 Once you have finished the setup on your device, Unlockit Android will remove the FRP instantly. When the process is complete, your device will restart and the FRP should be removed.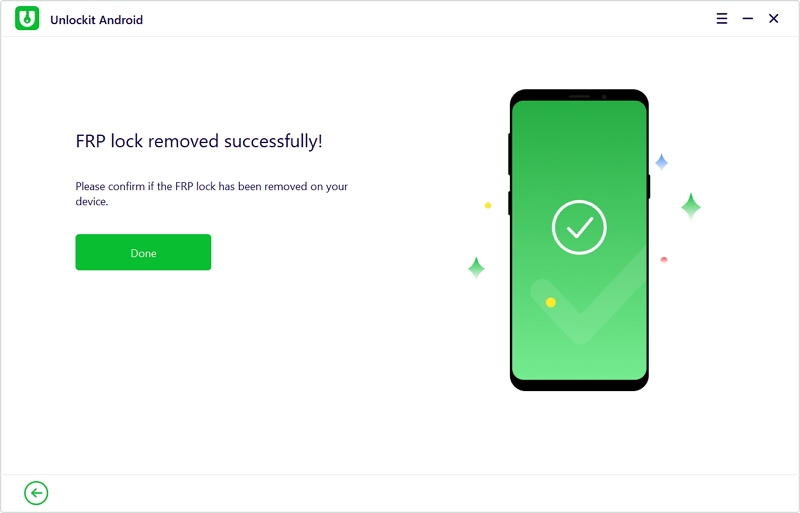 If you choose Android 11 & 12, Android 6, 9, and 10 from the Android OS page, the steps branch out depending on the Android version your device runs.
For Android 11 & 12:
Once you have received the notification, tap on View.
Tap on Next and follow the on-screen instructions.
After that, tap on Confirm to proceed.
Now, tap on View. This will lead you to the Galaxy Store wherein you should install the Alliance Shield app and launch it.
Register an account on your PC then log in to the account on your device. Follow the on-screen steps as provided.
Finally, tap on Allow for USB debugging. This will finally bypass the FRP lock.
After doing so, the bypassing process should begin. Once it is completed, head to Settings then navigate to General Management.
Finally, select Reset to factory reset your device, which will complete the bypassing process. Don't worry, they won't be requiring you to enter your Google Account credentials this time.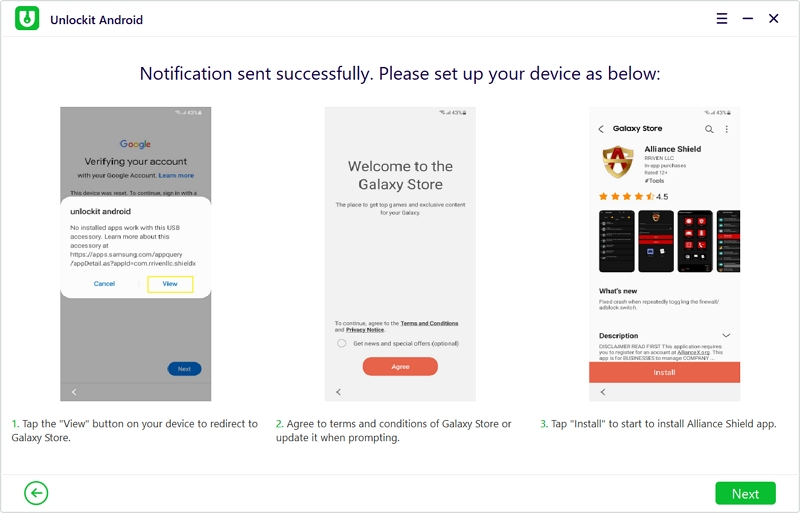 For Android 6, 9, and 10:
Once you have received the notification, tap on View.
Tap on Next and follow the on-screen instructions.
After that, tap on Confirm to proceed.
Just like the Android 11/12 method, you should receive a notification. tap on View and this will take you to the Galaxy Store.
Tap on Open and type the shown URL on the search bar.
Now, set up a new PIN for your device. Follow the on-screen instruction after setting it up.
You will be redirected to another page, enter the PIN code you set earlier.
After that, you will be redirected to a Google Sign-In page. You can log in to any Google Account, or simply press Skip.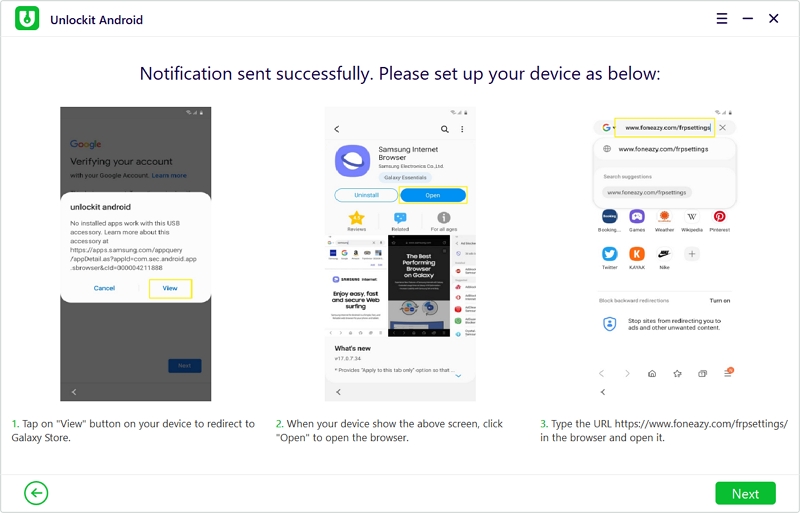 Finally, restart your device to finish the process.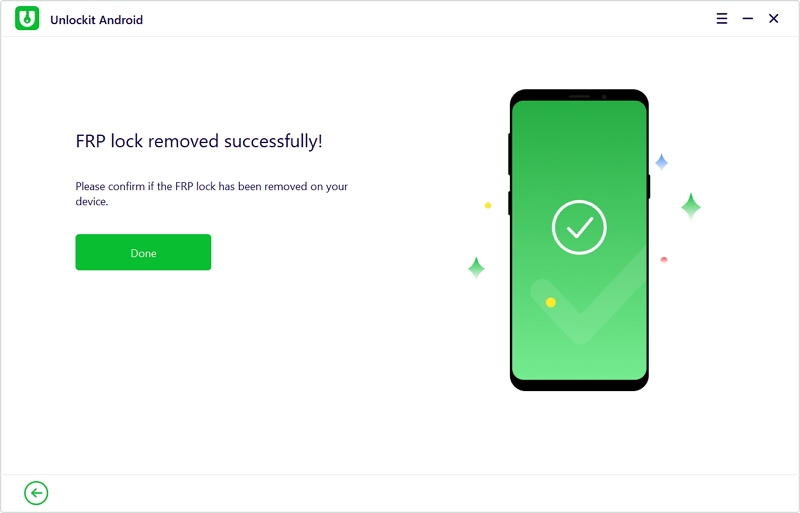 The steps are pretty straightforward so you won't get lost in the middle of bypassing the FRP lock on your device.
PC-less Method of Samsung A11 FRP Bypassing
A more time-consuming way is available to help you avoid FRP if you don't have a PC to carry out the previous method.
You should also be aware that the procedure should begin with the following device reset. So before doing the next method, ensure that the device is in the setup phase.
Before proceeding, you have to follow these pre-requisite steps:
First, have a second device ready. It should be unlocked and usable.
Next, download and install Notification Bar.apk and Package Disabler Pro.apk from learnonetech.com.
Once installed, head to Settings then Accounts.
Navigate to Backup and look for On the Samsung Cloud option.
Now, tap on Back Up Data and deselect everything except for Apps.
Finally, tap on Backup Now.
After doing the prerequisite steps, follow the steps below to bypass the FRP lock:
First, insert a SIM Card into your device. Press and hold the Volume Up and Power Key simultaneously for three seconds.
After doing so, a prompt should appear. Tap on Use.
Hold both buttons again for three seconds, this will activate TalkBack.
Once TalkBack activates, tap or press two times on the option shown on the screen before proceeding.
Now, draw a reverse "L" (⅃) on your screen and tap on "While Using the App".
Select the Use Voice Command option and say "Google Assistant".
Once Google Assistant is open, disable TalkBack by simultaneously pressing Volume Up and Power Key again.
After that, say "Hey Google, Open Settings.". This should open the Settings tab. If not, then you could also tap on the Google icon which will show if Google does not understand your speech command.
Once Google opens, tap on the microphone icon and say "Hey Google, Open Chrome." This will redirect you to the Chrome app.
Now, click on Accept & Continue and then No, thanks on the next page.
Here, navigate to the URL bar and type in this URL: bit.ly/frpunlocktools
Once you're there, tap on Open Settings App and log in to your Samsung Account. Cancel the Faster way to sign in the recommendation.
Tap the back icon and navigate to Accessibility. Go to Interaction Dexterity Universal Switch.
Here, keep on tapping on Next until you see a Done option. Click Done to proceed.
After that, tap on Universal Switch Shortcuts, then select Turn It On. Tap on Allow, then enable the Accessibility Button option.
Go back to Settings then head to Accounts and Backup.
Tap on Restore Data and the Accessibility Icon at the same time.
Here, you should select all and tap on Restore. Install Backup then tap on Done.
Now, click on Samsung Account then head to Samsung Apps and services.
Once there, head to Galaxy Store and update Samsung Galaxy.
Next, click the back icon and check if it asks you to update it again. If so, then kindly update the app again.
After that, click on Samsung Galaxy Store and tap on Agree Continue Skip.
Now, search on the search bar: "S7, S8, S9 Launcher for galaxy"
Install the app and click on Open.
Next, head to Settings Privacy Permission Manager Files and Media.
Click on the three dots in the upper right corner of the screen.
After that, click on Show System and give permission to the Package Disabler Pro app. Tap on Allow afterward.
Once that's done, go back to the home screen and open the Notification Bar.
Tap on Accessibility Installed Service Notification Bar and switch it to ON.
A notification should appear, click on it and allow the Notification Bar.
Next, turn off all internet connections and data.
Now, open Package Disabler Pro, select "I agree", and tap on Enable Admin. Tap on the Activate option to confirm.
If it asks you to retry, tap on the Retry button until the validation is completed.
After the validation, a "Please Wait" screen will appear.
Here, you should tap on the search icon and look for Setup.
Look for Android Setup then Disable. Tap on the back icon to continue.
Finally, tap on the Samsung Setup Wizard and tap on Clear Data.
Once you receive a notification, it means your device has successfully bypassed the FRP lock.
As you can see, it is truly a grueling process and it might get too complicated to follow at some points making it an impractical option for the inexperienced.
Wrapping Up
Bypassing FRP locks on your Android device is pretty hard if you don't use a PC to help you.
However, having a PC is not enough. You have to subscribe to a license key to use a 3rd party software such as Unlockit Android to help you bypass FRP.
It may cost money but it is worth every penny since it saves you time and effort trying to go through a tedious and complicated process of bypassing it without a PC.
If you have any questions or queries about FRP locks on Samsung A11, feel free to drop some comments down below.