FRP or Factory Reset Protection is a feature that has been integrated into Android phones running the Lollipop OS and greater.
It protects your phone from unwanted access in case it gets lost or stolen. However, it can sometimes backfire and lock owners out of their devices instead.
In this guide, we'll show you how to bypass FRP in one of the more affordable Samsung phone models, the Samsung A12.
Samsung Galaxy A12 Overview
Released in late 2020, the Samsung A12 is a mid-range phone with an impressive display. It has a 6.2-inch HD+ display with a resolution of 720 x 1280 pixels.
It also has a vibrant IPS LCD panel that's useful for viewing high-quality photos, videos, games, and other content.
The base model of the Samsung A12 provides storage of 32 GB and supports microSD cards with a maximum memory capacity of 512 GB.
It features an octa-core chipset that comes in handy for both basic apps and graphic-intensive apps like games and streaming applications that work best in HD.
Also, Samsung A12 comes with a 4000 mAh battery which can last up to a day when just doing basic smartphone tasks.
When it comes to the camera, the Galaxy A12 has a rear quad-camera setup with a resolution of 48 megapixels.
On the other hand, the front camera has 8 megapixels which is decent for well-lit environments.
Considering its price, the Samsung A12 is an all-rounder smartphone that can compete with other mid-range smartphones in the market today.
Samsung A12 FRP Bypass In 1 Click with Unlockit Android
Upon setting up your Samsung A12, you'll be required to register your Google account. Once you do this, you will then gain access to your phone's features and Google will automatically enable FRP on your phone.
This feature can only be bypassed by entering the Google account login details that you used when setting up your phone, or other Google accounts that are synced to your device.
However, you might be in a situation where you've forgotten the login credentials for your Google account. This can happen if you haven't used it for a long time.
Fortunately, if you have a Samsung 1-Click FRP bypass tool like Unlockit Android, you can quickly bypass FRP on Samsung smartphones without having to go through a complex procedure.
It is an all-in-one tool which enables you to easily remove Google lock on Samsung devices running Android from 6 to 12.
To download and use Unlockit Android, follow these steps or watch the video below:
Step 1. Download Unlockit Android onto your computer. Install the app by clicking the downloaded file and following the on-screen installation instructions.
Step 2. Once installed, open the app and click on Start.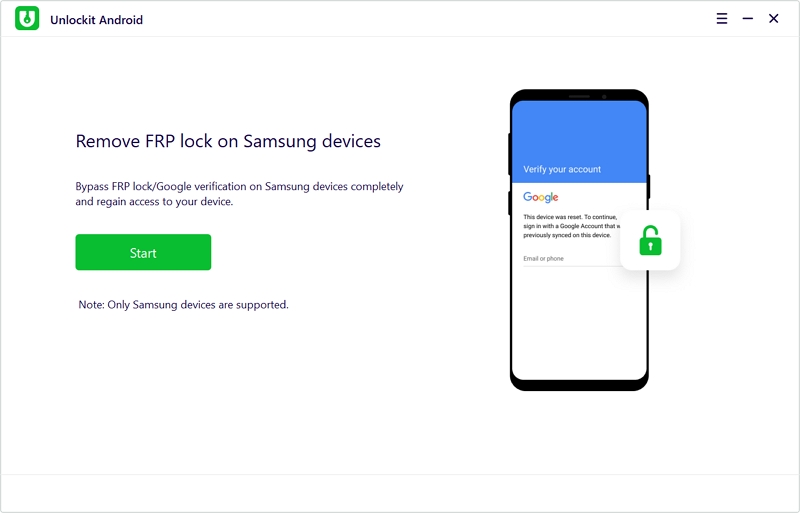 Step 3. Now, connect your Samsung phone to your computer via USB.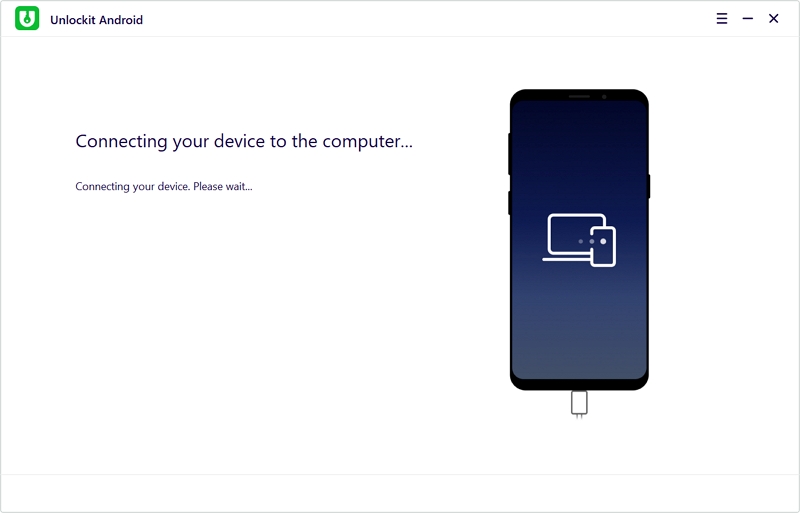 Step 4. Then, select the Android version of your phone. To remove the FRP in one click, it is recommended to choose All Android Versions. Next, click Start.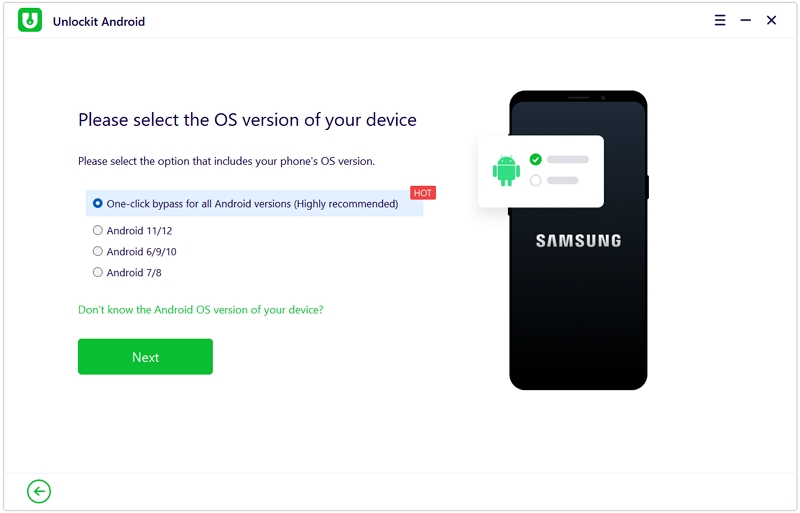 Step 5. Next, just follow the on-screen instructions set by the app. After following the steps, your phone should be ready for the bypass process which will be done by the Unlockit app. This will take only a few minutes.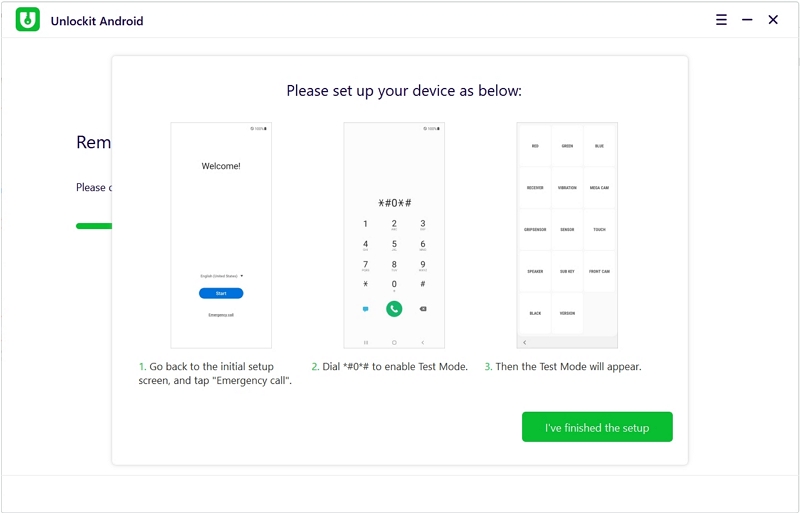 Once it's done, your device will reboot and the FRP should be bypassed. You can set up your phone using your new Google account details.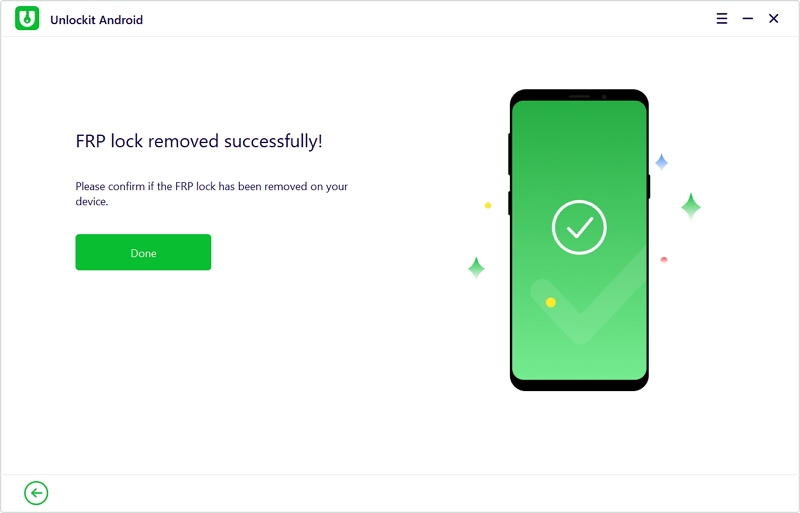 Samsung A12 FRP Bypass Without PC
It is possible to bypass FRP on your Samsung A12 without a PC, but compared to the process earlier, it will be harder to do. If you're willing to try, follow the process below:
Turn on your Samsung A12 and tap Start on the setup screen.
On the terms and conditions screen, click Next and connect your phone to a Wi-Fi network.
Next, quickly press the Power and Volume Up keys at the same time.
On the TalkBack window, tap Use. This will enable the TalkBack feature.
Draw a reverse L (⅃) symbol on the screen and select Use Voice Commands.
Then, verbally tell your phone to "open Google assistant".
Disable the TalkBack feature by pressing both Volume Up + Volume Down buttons.
Select the keyboard icon and type in youtube. Tap the YouTube app to open.
Go to your user icon and navigate to Settings > About > YouTube Terms and Service. This will open the Google Chrome app.
Using the search bar, download the FRP Bypass APK app by entering this link.
After installing, open the app and go to Tap to Open FRP Apps > Open Galaxy Store App.
In the Galaxy Store, download Alliance Shield APK and open it.
Register to the app and follow the on-screen instructions.
Once fully set up, select App Manager and search for the Android setup app. Click it to open.
Under the Actions tab, select Force Stop and Wipe App Data. Do the same for the following apps:
Samsung Setup Wizard
Google Play
Next, go back to the Samsung Setup Wizard app and go to Activities.
Finally, select the first activity and tap Open.
The Google FRP should now be bypassed. You can now begin setting up your phone again.
Final Thoughts
Bypassing an FRP-locked phone can be quite tricky to do. It requires steps that you'll need to accurately follow to successfully bypass the FRP login screen.
But with Unlockit Android, the process becomes much easier since the app will guide you through each step. Although it's not entirely free to use, it guarantees a safe and quick FRP bypass process.
Feel free to send us a message below if you have any questions about bypassing FRP locks on Samsung A12.