If you try to reset an FRP-locked Samsung A20 device, you may find yourself stuck on the FRP lock screen and the only way to get out of this problem is to sign in with your Google account.
If you have forgotten the Google account that is associated with the device or if this is a second-hand device that is still connected to the previous owner's Google account, you will need a way to bypass the FRP lock or you will not be able to access the device.
Here, we will share with you two highly effective solutions to bypass FRP lock on a Samsung A20 device.
Quick Solution to Samsung A20 FRP Bypass
If you want a solution that is as easy to use as it is fast, then we recommend using Unlockit for Android.
This desktop tool is more efficient and has a higher success rate than other FRP bypass tools in the market.
You will need to install the program on your computer to use it. Download the set-up file and use the installation wizard to install it on your PC and then follow these simple steps to use it:
Step 1: Open Unlockit for Android and then click on the "Start" button on the main screen.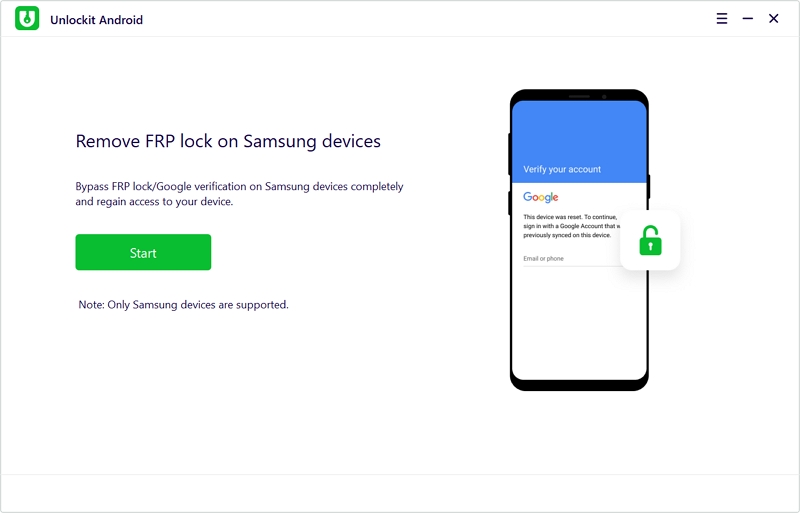 Step 2: Use the USB cable to connect the device to the computer.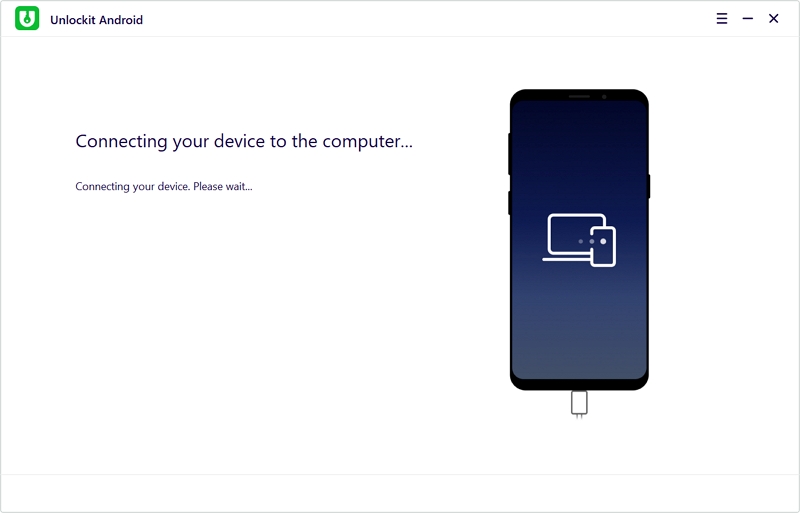 Step 3: Select the version of Android on your Samsung A20 device and then click "Next."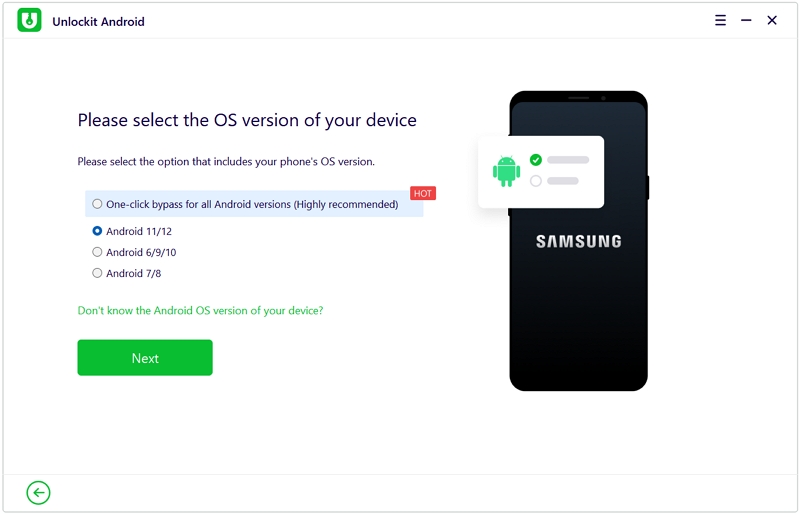 Step 4: Unlockit Android will send a notification to the device. Tap on the View button when it appears on your device.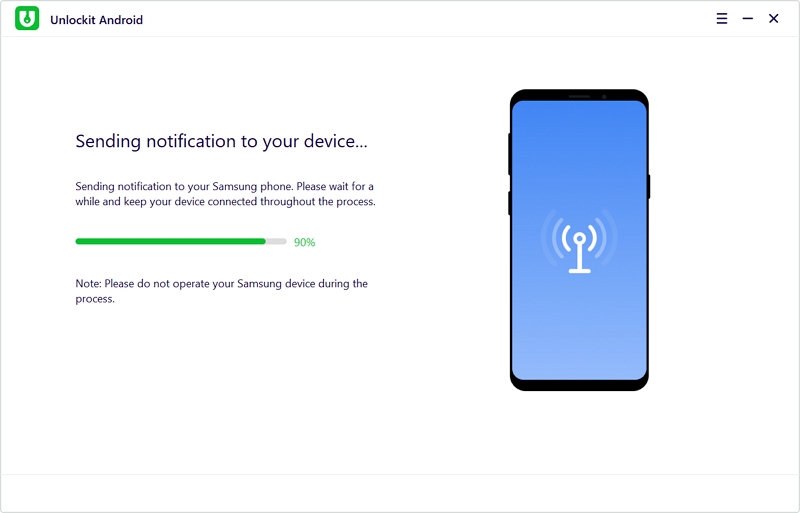 Step 5: Follow the on-screen instruction to set up your device step by step. Once this is done, you can restart the device and unlock it without Google Verification.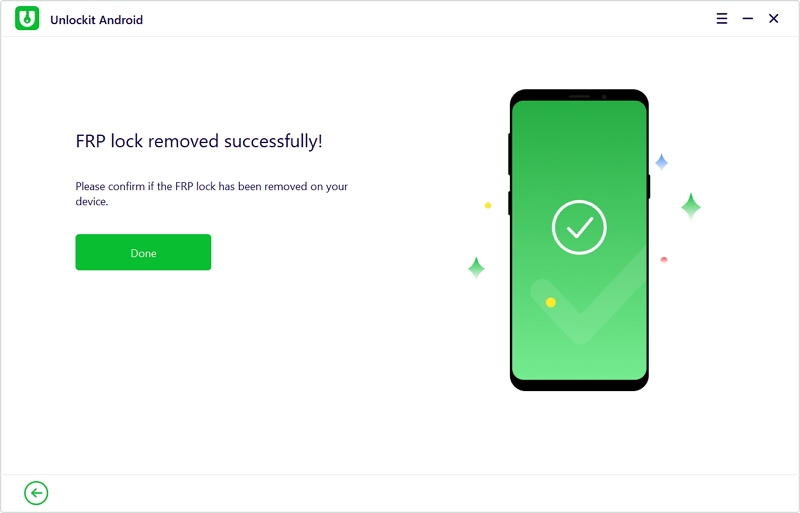 Samsung A20 FRP Bypass Without PC
Although using a desktop tool like Unlockit Android is the simplest way to bypass FRP lock, sometimes connecting the device to the computer is not a viable option.
If you can't connect the device to your PC, use these steps instead:
Step 1: Turn on the Samsung device and on the "Welcome" screen, tap on the "Start" button. Agree to the "Terms and Conditions" and click "Next."
Step 2: Connect the device to a Wi-Fi network.
Step 3: Press the Power and the Volume Up buttons at the same time and tap "Use."
Step 4: Press the Power and the Volume Up keys again to enable "Talkback."
Step 5: Draw the letter "L" in reverse and select "Use Voice Command."
Step 6: Clearly and loudly say, "Open Google Assistant."
Step 7: Press the Volume Up and Volume Down buttons to disable TalkBack.
Step 8: Select the keyboard when it appears and type in "YouTube." Open the YouTube app.
Step 9: Tap on the user profile and go to Settings > About > YouTube Terms of Service."
Step 10: When Google Chrome opens, use it to access one of the following webpages:
Step 11: Go to the FRP Bypass APK and tap on the "FRP Apps" section to open it.
Step 12: Select "Open Galaxy Store" and tap "Open" to access the Galaxy Store App.
Step 13: Install the Alliance Shield APK. Tap "Install" and when prompted to sign in with your Samsung account, tap "Cancel."
Step 14: Confirm the installation of Alliance Shield APK and open the Alliance Shield X App
Step 15: Tap Next > Next > Next > Got it
Step 16: Tap "Register" and provide the details requested. Tap "Submit" and use the verification link sent to your email address to verify your account.
Step 17: Enter the name of the device as "Android 11 FRP" and tap "Next."
Step 18: Ensure that "Device Admin" is enabled and then tap "Activate." Tap "Next" to continue.
Step 19: Enable "Knox" and tap "Confirm."
Step 20: Make sure that the Knox license validation is successful and then tap "Next > Finish."
Step 21: Ensure that both "Knox" and "Admin" are in green before tapping on "App Manager."
Step 22: Search for and open "Android Setup." Tap on "Actions > Force Stop & Wipe App Data."
Step 23: Search for and open "Samsung Setup Wizard." Tap on "Actions > Force Stop & Wipe App Data."
Step 24: Search for and open "Google Play Services." Tap on "Actions > Force Stop & Wipe App Data."
Step 25: Then search for an open "Samsung Setup Wizard" and tap on "Activities."
Step 26: Select "com.sec.android.app.SecSetupWizard.SecSetupWizardActivity" and open it.
You will have successfully bypassed the FRP lock on your Samsung A20.
Conclusion
Bypassing the FRP lock on Samsung A20 devices can be a difficult process if you don't have the right tools. The solutions above can help in this regard, but while they are both effective,
Unlockit for Android remains the most attractive solution. It is not just easy to use, allowing you to bypass the FRP lock in a few simple steps, it also has a very high success rate.