Android devices are getting more and more secure as time goes by, and the Samsung Galaxy A50 is no exception to this.
It has the Factory Reset Protection Lock feature, better known as the FRP lock, which prevents people from using their devices after a reset.
The device will not be unlocked unless they log in to the Google account that was first registered on that device.
However, this may backfire on those who have forgotten their Google account credentials because being unable to log in will get them locked out of their device.
If you have a Samsung Galaxy A50 and are looking to address this issue, this article is for you.
Here, we will talk about how you can bypass FRP locks on your Samsung Galaxy A50 with or without a PC.
Let's head right in.
What Is Samsung Galaxy A50
The Samsung Galaxy A50 is a mid-range smartphone that was released in February 2019. It measures 158.5 mm in height, 74.7 mm in width, and 7.7 mm in thickness.
Its system runs on Android 9.0 and comes with a 6.4-inch Super AMOLED capacitive touchscreen display and a resolution of 1080 x 2340 pixels.
This smartphone runs on an Octa-core 4x2.3 GHz processor and is equipped with either 64 or 128 GB of internal memory, depending on your choice.
Of course, the higher the gigabytes, the pricier the phone. This also applies to its RAM, wherein you can opt for 4 GB or 6 GB of memory.
In terms of battery, the Samsung Galaxy A50 has a non-removable Li-Po 4000 mAh battery. The front and rear cameras both have 25-megapixels.
You can connect it to WiFi, FM radio, GPS, 3G, and 4G. For sensors, it is equipped with a fingerprint scanner, accelerometer, and proximity and compass.
New Way to Bypass Samsung A50 FRP Lock (in 30 Minutes or Less)
In general, using a PC is an easier way to bypass FRP locks. This is because you usually use third-party software such as Unlockit Android to do the nitty-gritty process of bypassing for you.
The steps are simple but lengthy. Here they are:
Step 1. First, download and install Unlockit Android.
Step 2. After that, launch the app and tap on Start.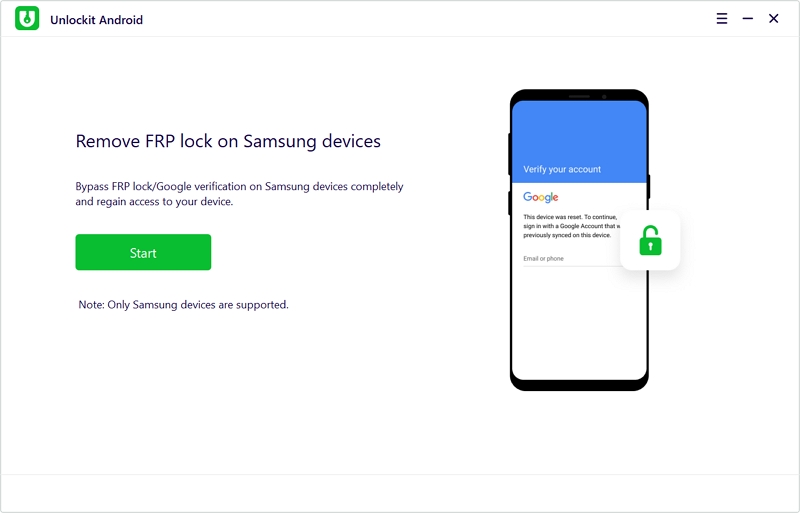 Step 3. Now, connect your Samsung device to your PC.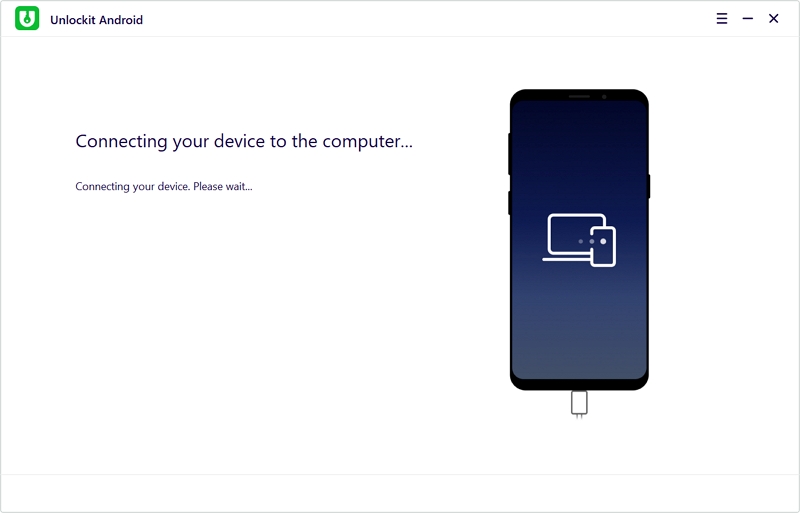 Step 4. Here, you must enter your device's Android version and click on Next.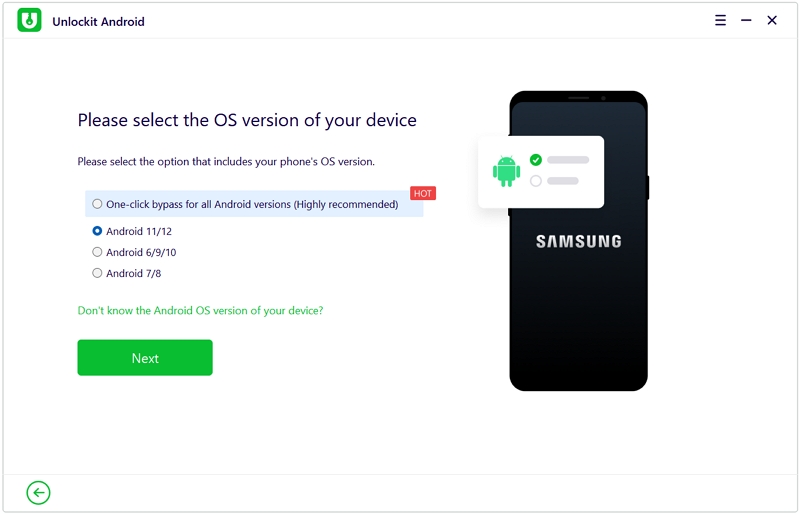 Step 5. At this point, a notification should be sent to your device. Note that this step takes time and you might have to wait a while.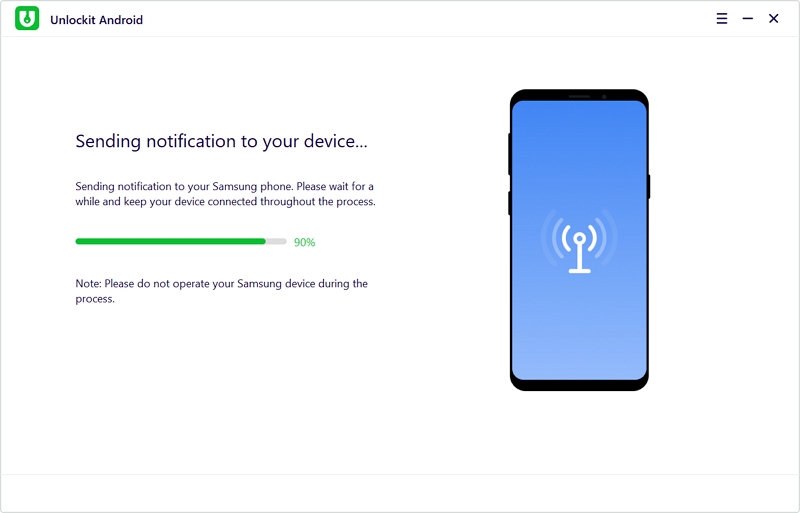 Step 6. Once you have received the notification, tap on View. This will take you to the Galaxy Store and redirect you to the Alliance Shield application. Download the app and launch it.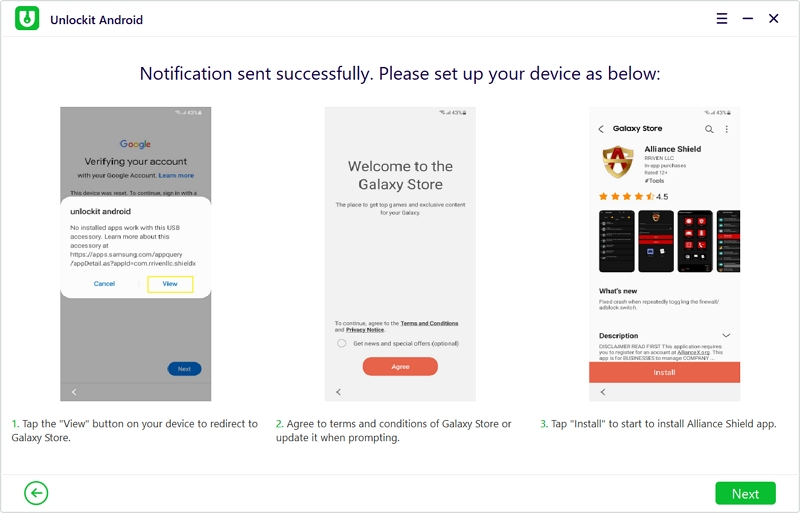 Step 7. Next, register an account and enter the device model. Click Next to proceed.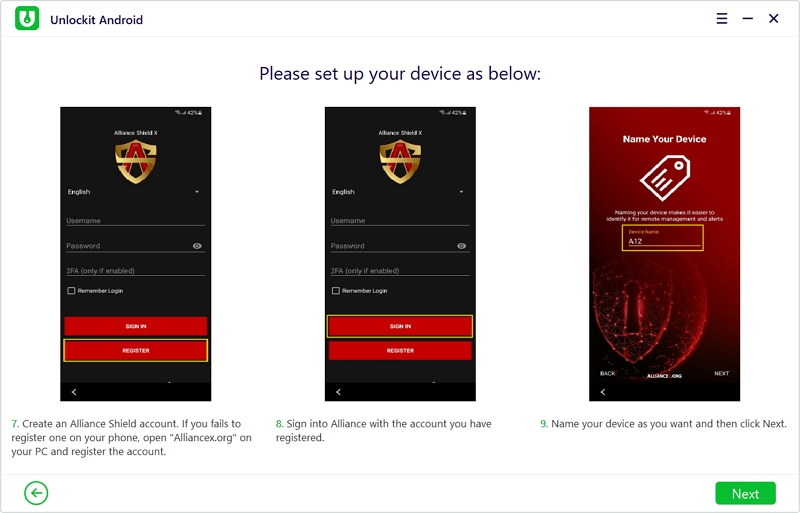 Instructions will be shown on-screen. Follow them to complete the whole setup process. Once this is done, wait a couple of minutes for the process to finish.
If you just follow the steps as shown, the process should be easy and over in a few minutes.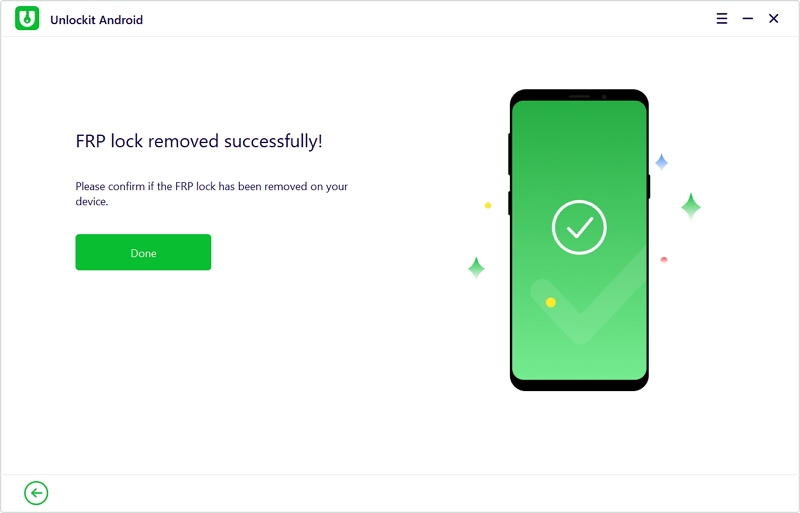 How to Bypass FRP on Samsung A50 Without a PC
If you don't have a PC to perform the previous method, there is a more tedious method available to help you bypass FRP.
However, this is only applicable to Android 11 devices. You should also note that the process should start after resetting your device.
So make sure that the device is at the set-up phase before doing the steps below.
These are the steps to bypassing FRP without a PC:
First, tap on Start. Then agree to the Terms & Conditions.
Next, tap on Next and connect to a Wi-Fi network.
After that, press the Volume Up and Power Key simultaneously. A prompt should appear. Tap on Use.
Now, press the Volume Up and Power Key again quickly. This should enable the Talkback feature.
Next, draw a reverse "L" on your screen and select Use Voice Command. This should activate the voice command feature.
Say, "Open Google Assistance".
Once this is done, disable TalkBack by simultaneously pressing Volume Up and Volume Down again.
Now, select Keyboard, then type "YouTube".
After typing, a dropdown list should appear. Select YouTube to open the app.
As soon as you are in the app, tap on the User icon.
Head to Settings > About > Youtube Terms of Service. It should lead you to a Chrome Browser.
Now, type either https://tiny.cc/frptools or https://bit.ly/2NKxXYs on the search bar.
After that, head to FRP bypass APK > FRP APPS section.
Next, select Open Galaxy Store App, then tap Open. The Galaxy Store App should appear on your screen.
Now, direct install Alliance Shield Apk – New. Tap on Install to confirm the installation.
At this point, a prompt will appear asking you to sign in with a Samsung Account. Note that you can sign in with any account, so it doesn't necessarily have to be the one that is registered to your device.
If it asks you to register a faster way to sign in, tap on Cancel. Select Confirm Install to start the installation process.
Once it has been installed, launch the app.
Now, register an account and then verify it.
Once signed in, it will ask you to name your device. Name it "Android 11 FRP", then tap Next to proceed.
After that, enable Device Admin, tap on Activate, then select Next to proceed.
On the next screen, enable Knox and then tap Confirm.
Tap on Next and then Finish.
Now, head to App Manager and look for Android Setup. Go to Actions > Force Stop & Wipe App Data.
Repeat step 24, but instead of Android Setup, this time select Open Samsung Setup Wizard.
Repeat step 24 again, but this time, select Open Google Play Services.
You're almost there! Go to Search and then Open Samsung Setup Wizard > Activities.
Finally, select and open the 1st activity: com.sec.android.app.SecSetupWizard.SecSetupWizardActivity
After doing all those steps, your device should be good to go. Considering the different steps you need to do, with some being too complicated and long to follow for others, this method takes patience and may not be for everyone.
Wrapping Up
There are a lot of ways you can bypass the FRP lock on your Samsung A50. You can do it on a PC with the help of a third-party software like Unlockit Android, or you can do it manually without a PC.
Of course, the latter requires a bit more understanding of technical terms and a dash of patience as the method is lengthy and quite complicated.
This is why we recommend using a Unlockit Android on your PC to bypass the FRP lock instead. Using third-party softwares such as Unlockit makes things simpler for users and practically completes the process for you.
If you have any questions or queries about bypassing FRP locks on a Samsung A50, shoot us a comment down below.