Bypassing FRP on Samsung Android 12 is not an easy thing to do. FRP is a Google security feature that is meant to protect your Samsung device and the data on it from unauthorized users.
Once it is enabled, you will be unable to get past the verification window without entering the password for the Google account that the device is connected to.
This verification process is required every time you perform a factory reset of the device.
But if you forget the password for that Google account, the only solution would be to bypass FRP on your Samsung device.
This is a process that often requires a specially designed tool for that purpose and it can be difficult to find solutions that will work on a Samsung device running Android 12.
If you are looking for a great solution to help you bypass FRP on your Samsung device running Android 12, the two options we will be talking through here are the best options you have.
Bypass Samsung FRP Lock Running Android 12 in Less Than 5 Minutes
The best way to bypass FRP on your Samsung device running Android 12 is to use Unlockit for Android.
This is the only solution to choose if you want a quick and easy solution that will allow you to bypass FRP in 5 minutes.
It is fast because the user interface is very easy to navigate and it applies the latest FRP bypass technique.
When the FRP lock is removed, you can get into your device again and create a new Google account.
Furthermore, the program works great with most of Samsung devices running Android 6 to 12.
The following simple steps will show you how you can use this program to bypass FRP very quickly:
Please watch the video if you prefer to do so than reading the texts.
Step 1: Download and install Unlockit Android on your computer.
Step 2: Once the installation is complete, open the program and click "Start" on the main screen.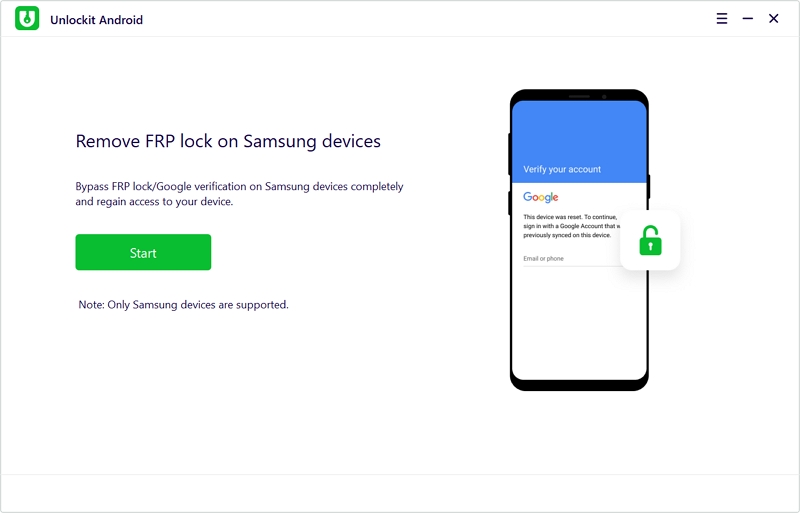 Step 3: Then, connect the Samsung device to the computer using a USB cable.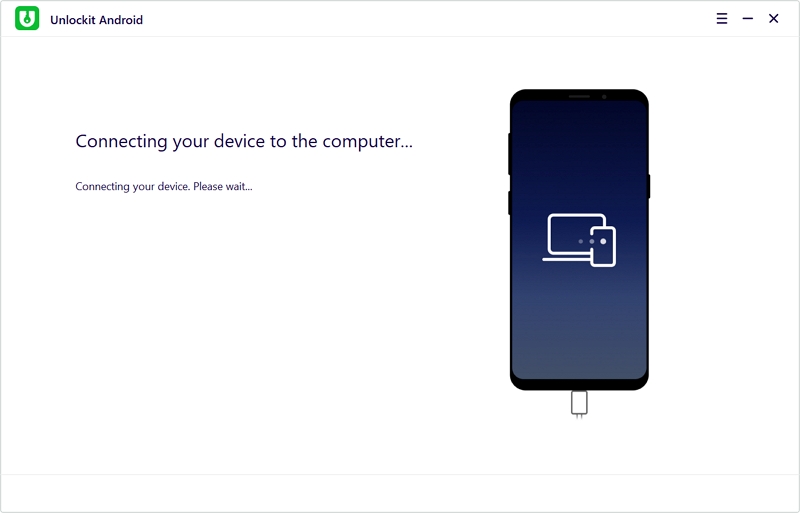 Step 4: You will see some details about the device in the next window. Choose "All Android Verions" and then click on "Next" to continue.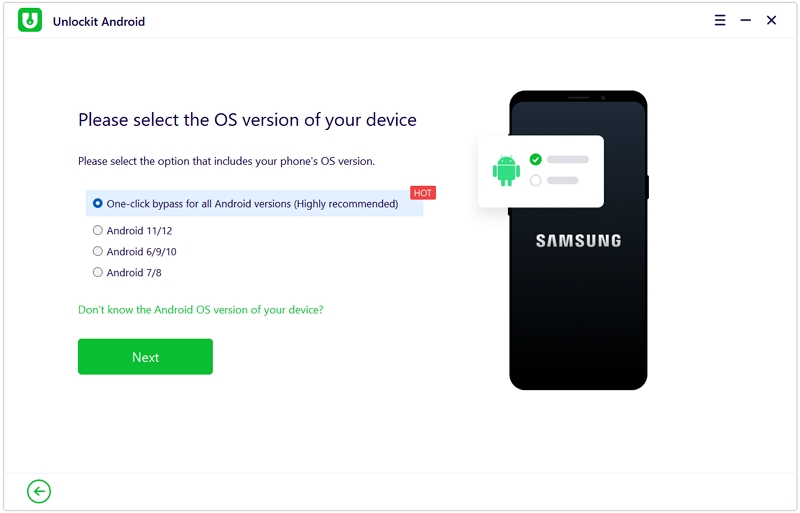 Step 5: After that, Unlockit Android will guide you on how to enable Test Mode and enable USB debugging on your device. Follow the instructions on the screen to set up your device.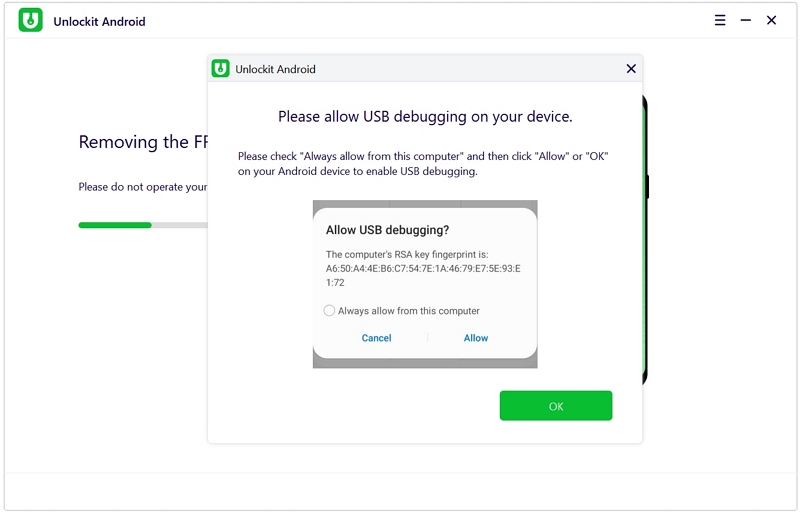 When the setup is finished, your device will restart itself and you should then see a notification that the FRP bypass has been successful.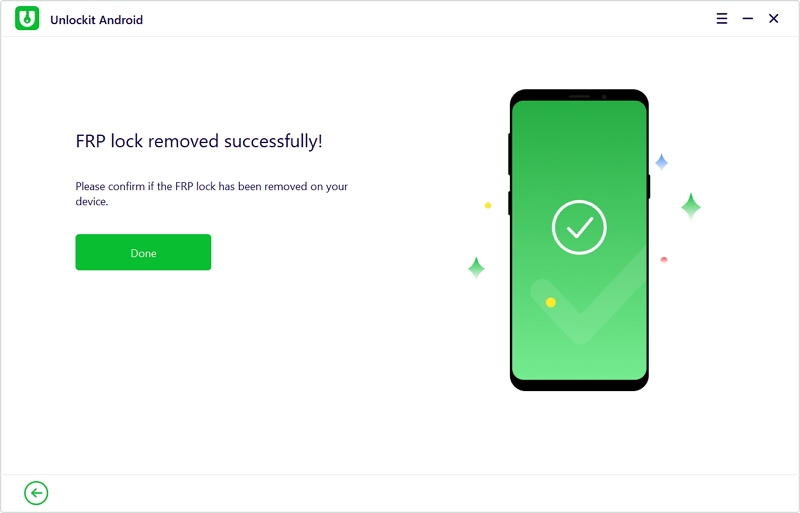 Bypass FRP on Samsung Running Android 12 without PC
If you don't want to connect the Samsung device to your computer to bypass FRP, there is a way that you can do that directly on the device.
But this method will only work if Knox Security is enabled on the Samsung device.
The following steps will help you bypass FRP on a Samsung device running Android 12:
Step 1: Turn on your Samsung device, tap on the "Start" button, and agree to the terms and conditions. Tap "Next" to continue.
Step 2: Ensure that your Samsung device is connected to a stable Wi-Fi network.
Step 3: Now press the Volume Up and the Power key at the same time and tap "Use." Tap the same buttons again to quickly enable Talkback.
Step 4: Draw a reverse "L" on the screen and double-tap to choose "Use Voice Command."
Step 5: Say "Open Google Assistant" and disable Talkback by pressing the Volume Up and the Volume Down buttons at the same time.
If Bixby appears instead, Tap "Sign in" and sign in with your Samsung Account. Tap "Get Started > Continue."
Step 6: Now choose the Mic or the Keyboard and search for the Chrome Browser.
Step 7: Hit "Enter" to open the Chrome Brower on your device. Then enter the following URL:
Step 8: Now go to the FRP Bypass APK and tap on the "Open FRP APPS" section.
Step 9: Tap on the Search icon and use it to find the Samsung S8/S7 Launcher.
Step 10: Open the Launcher when you find it.
At this point, you will need another Samsung Android phone to create a cloud backup that we will then restore to the FRP-locked device.
Step 11: On this second device, go to Settings > Accounts & Backup.
Step 12: Enter the Google and Samsung account details that you would use on the locked device.
Step 13: Open the Google Play Store and download the "Alliance Shield X App."
Step 14: With the app installed, go to Settings > Accounts & Backup > Backup & Restore > Backup Data.
Step 15: Uncheck all the types of data except Apps and tap "Back up." When the backup process is complete, tap "Done" and then go back to the FRP-locked device.
Step 16: On the locked device go to Settings > Accessibility > Interaction and Dexterity.
Step 17: Tap "Universal Switch > Skip".
Step 18: Then tap on "Universal Switch Shortcut," enable it and then tap "Allow."
Step 19: Tap "Accessibility" and check to make sure that the Accessibility icon has been added.
Step 20: Go back to Settings and tap "Accounts & Backup > Restore Data."
Step 21: When prompted to update the Samsung Cloud, do not update it.
Step 22: Tap on "Restore Data" and the Accessibility icon at the same time to avoid updating the Samsung Cloud.
Step 23: Once the backup has been restored, tap "Cancel" to close the Accessibility popup.
Step 24: Select "Apps" and then tap "Restore > Install > Done > Later and you will have successfully restored the backup onto the locked device.
Step 25: Go back to the S8 Launcher Menu and open the Alliance Shield X App.
Step 26: Tap Next > Next > Next > Got it.
Step 27: Tap "Register" and provide the details requested including your username, password, email, and confirmation code. Tap "Submit" and a verification link will be sent to your email.
Step 28: Now sign in to your Alliance Shield Account. Enter the device name as "Android 11 FRP" and tap "Next."
Step 29: Enable "Device Admin" and tap "Activate." It is very important that you enable "Device Admin." Tap "Next" to continue.
Step 30: Enable Knox and tap "Confirm." Ensure that the Knox license validation is successful.
Step 31: Tap Next > Finish and make sure that Knox and Admin are marked in green.
Step 32: Now go to the App Manage and search for "Service Mode > Activities."
Step 33: Search and open the following entry: "com.sec.android.app. modemui. activities. Usbsettings".
Step 34: check "MTP + ADB" and then connect a USB cable to the device.
Step 35: Now go to the Samsung FRP Tool V. 1.4 and click on "Reset FRP (ABD)".
Step 36: On your phone, tap on "Allow" and then wait while the FRP is removed and the Samsung device reboots.
Step 37: If you see the "To Unlock, sign in with your Google Account" notification, press the Power Key to lock the device.
Step 38: Use the Notifications bar to go to the settings. Tap "General Management > Reset > Factory Data Reset."
Step 39: Enter your Samsung Account Password and then tap "OK".
Once this is done, the FRP lock will be removed completely and you can then continue using your device normally.
Removing FRP from any Android device, especially one that is running Android 12 is never easy.
The steps can be complicated, making it easy for you to mess up and affect the data on the device or even its functions.
To avoid all these problems, it may be a better idea to use a tool like Unlockit that does all the work for you.
Wrapping Up
So, we've provided detailed instructions for bypassing FRP on your Android device running Android 12 with or without the use of a computer.
That's all there is to it. If you get lost between steps or don't understand something, please let us know in the comments section.