Are you unable to complete the setup process for your Samsung device because of the FRP lock? While the FRP lock is meant to protect your data in case your device is stolen or lost, you may find yourself stuck on this page if you have forgotten the password linked to your Google account.
In this case, you may need a way to bypass FRP on your device. In this tutorial, we will show you two solutions to help you bypass FRP on Samsung devices running Android 9.
Let's begin with the simplest solution you could use for this purpose.
Latest Samsung FRP Bypass Method for Android 9: 1-Click FRP Bypass
Unlockit Android is one of the best solutions to bypass FRP on Android 9. This is the solution you should go for if you don't consider yourself tech-savvy or if you would rather not spend hours going through a lengthy, complicated process.
It's a specialized Samsung FRP bypass tool that helps you to remove the FRP screen with a single click. Furthermore, it is compatible with all Samsung phone models running Android 6, 7, 8, 9, 10, 11, and 12.
Besides, the Unlockit team will always look for the simplest way to bypass FRP, and they will update the software regularly to apply the latest FRP bypass technique.
With this tool, all you have to do is connect the device to the computer, follow a few instructions and the device will be unlocked. Here's a step-by-step guide to help you use this program:
Step 1: Install Unlockit Android on your computer, open it after installation.
Step 2: Then use a USB cable to connect the Android device to the computer. In the main window, click "Start" to continue.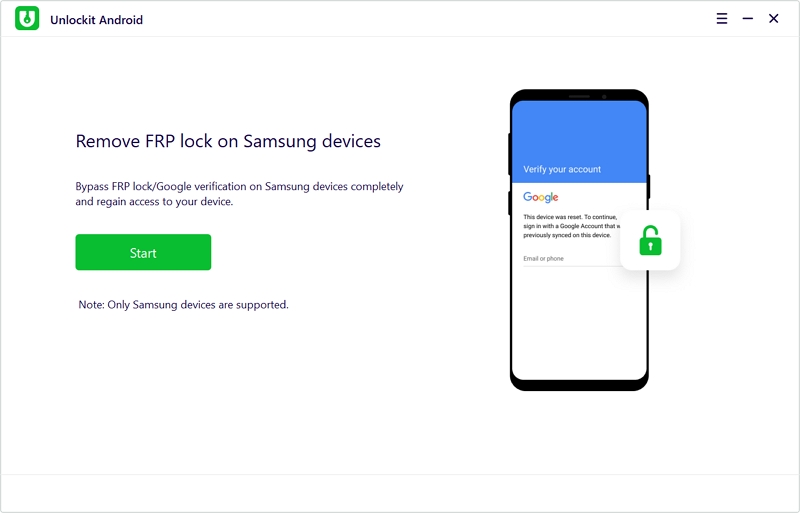 Step 3: Then choose the One-Click FRP bypass mode, which will work for all android versons including Android 9, then click "Next" to proceed. Ensure that your device is connected to s stable Wi-Fi network.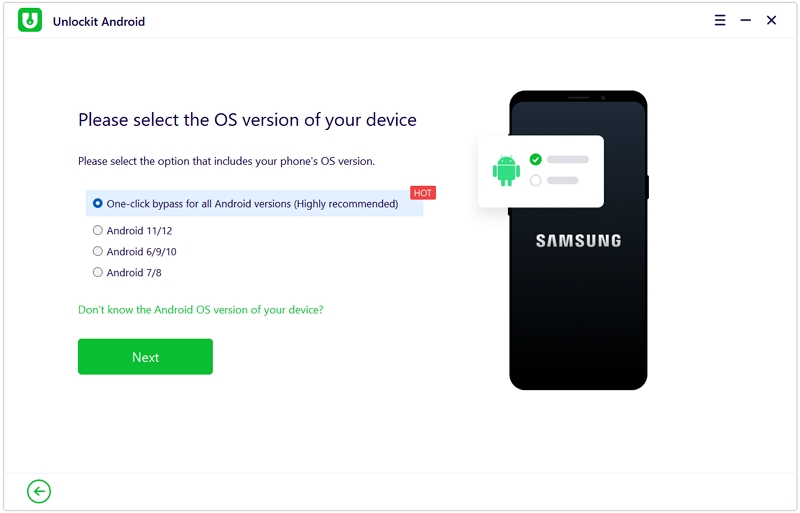 Step 4: Unlockit Android will begin removing the Google Lock and in a few seconds, you wil be asked for enabling test mode and USB debugging fron the deivce. Follow the instructions on the screen to set it up.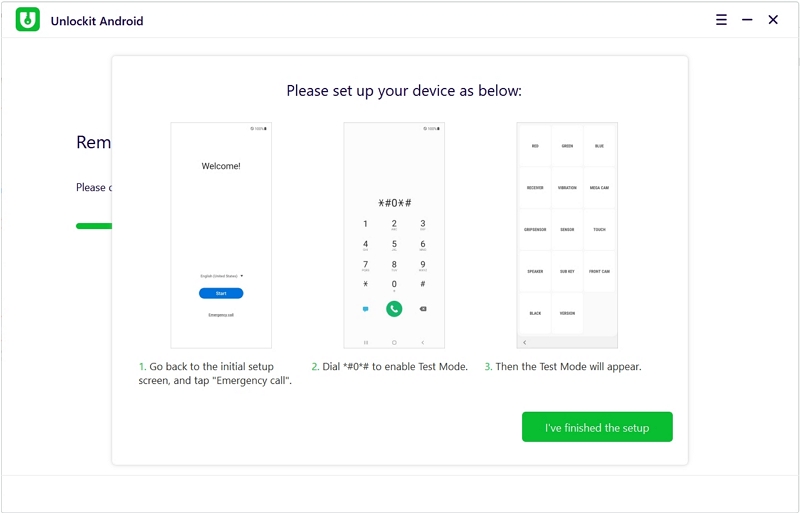 Step 5: Once you finish the setup, your device will restart and the FRP lock should be removed from your device instantly,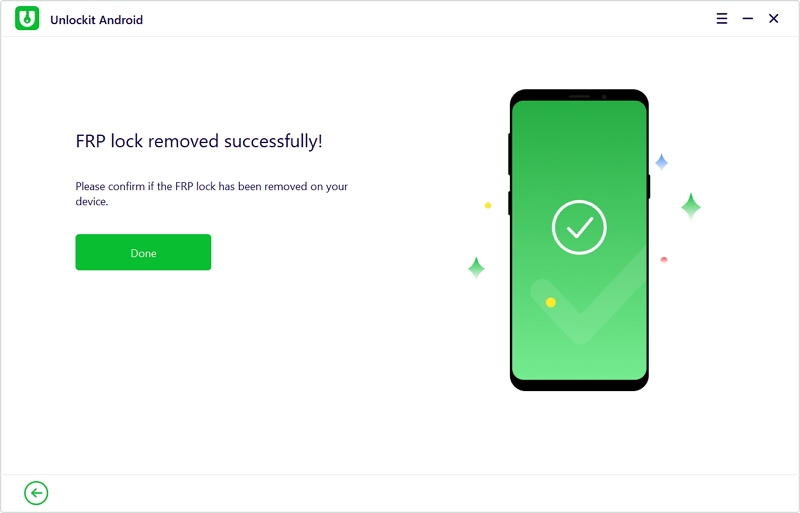 Samsung Android 9 FRP Bypass: No PC
You can also remove the FRP lock from the device by deleting the Gmail account that is associated with the device from the settings before factory resetting the device.
Follow these steps to do that:
Step 1: Turn on the Android device and then tap on the "Start" button. Agree to the Terms and Conditions and click "Next."
Step 2: Make sure that your device is connected to a Wi-Fi network.
Step 3: Then download and extract the Samsung FRP Tool V1.4 onto your computer. Open the extracted file.
Step 4: Make sure that you run the Samsung FRPTool_v1.4.exe as Administrator.
Step 5: Once the FRP tool opens click on "Disable Drive Signature Enforcement." This will restart the PC.
Step 6: Connect the Samsung device to the computer in Normal MTP Mode.
Step 7: Open the Device Manager on your PC and check if the Samsung Mobile USB Modem & Portable Device appears. If it doesn't, you need to install the Samsung USB driver from the FRP folder.
Step 8: Reopen the FRP Tool and then check on "Install Alliance Shield X App."
Step 9: Click on "Bypass FRP (MTP)."
Step 10: A "Direct FRP" popup will appear on your phone. Tap on "View" to install "Alliance Shield X App" from the Galaxy Store.
Step 11: This will open the Galaxy Store and when prompted to update the app, tap "Update" and then go back to the browser process described above.
Step 12: Tap "Install" and when prompted to sign in to your Samsung Account, tap "Cancel."
Step 13: Confirm the installation and open the Alliance App Shield X App on your FRP Phone.
Step 14: Tap "Next > Next > Next > Got it."
Step 15: Click "Register" and then enter your username, password, email, and confirmation code in the fields provided. Tap "Submit" and then you will receive a verification link in your email.
Step 16: Use your account details to sign in to the Alliance Shield Account.
Step 17: Enter the name of your device as Android 9 FRO and tap Next.
Step 18: Enable "Device Admin" and then tap "Activate." Make sure that Admin is enabled, before tapping "Next."
Step 19: Enable Knox and then tap "Confirm." Make sure that the Knox License validation is successful.
Step 20: Tap "Next > Finish" and make sure that Knox and Admin must be in Green to facilitate this process.
Step 21: Now go to App Manager and search for "Services > Activities."
Step 22: Look for "com.sec.android.app. modemui. activities. usbsettings" and open it.
Step 23: Check "MTP + ADB" and then connect a USB cable to the device.
Step 24: Go to the Samsung FRP Tool and click on "Reset FRP (ADB)."
Step 25: On your phone, tap "Allow" and wait for the removal of the FRP lock. Reboot the device.
Step 26: If you see the notification "To Unlock, sign in with Google Account," press the Power key to lock the device.
Step 27: Pull down the notification bar and click on the gear icon to go to the settings.
Step 28: Tap "General Management > Reset > Factory Data Reset."
Step 29: Enter your Samsung Account Password to confirm and then tap "OK."
When the factory reset is complete, the FRP will be removed completely and you can continue with the setup process and use your device as you normally would.
To Conclude
Unless you have the right tool, removing FRP lock from any Android device is never easy. Most solutions can make the process unnecessarily long.
If you don't want to spend too much time trying to unlock your device, we recommend choosing Unlockit Android over other solutions. It works and it is very simple to use.