Nowadays, Android developers have been finding ways to better secure their devices. One of these features is the Factory Reset Protection Lock, also known as the FRP lock.
In this article, we'll talk about what the FRP lock is and how it affects your phone. We will also talk about how we can bypass FRP locks on your Samsung phone in case of unfortunate events.
For this guide, we'll focus on bypassing the FRP lock without a PC. Let's get started.
What is FRP Lock?
FRP is short for Factory Reset Protection. It is a built-in security feature that can be found on all new Android devices Version 5.1 (Lollipop) and higher. With FRP, a factory reset will not be completed until you login with the correct Google account credentials.
However, there are times when you could forget your Google account credentials, and you happen to reset your device without thinking about it. If you have FRP enabled, you won't be able to access your phone unless you know your Google credentials
Bypass Samsung FRP without a PC using FRP Bypass APK
If you are locked out of your own device, you can bypass FRP in various ways. The easiest and the most efficient way is by using an external software on your computer. However, not everyone has the luxury of owning a PC or can afford the software needed.
With this, you can try bypassing FRP using another Android device instead.
For this method, we will be using two devices. The first would be the FRP-locked device, and the other would be the unlocked Android device. Make sure that both devices have SIM cards inserted.
Here are the steps on how to bypass FRP lock without a PC:
First, head to your second device⁠—the unlocked device⁠—and install the HushSMS app.
After installing, launch the app.
Next, select WAP PUSH SL, then tap on Use https:// URL prefix.
Now, type in the URL www.youtube.co.
Here, you will be prompted to enter a phone number. Enter the phone number of your first device⁠—the FRP-locked device.
After that, tap on SEND WAP PUSH SL.
Head over to the first device and wait for a notification. Tap on OK to continue.
After that, you should be redirected to Youtube. Tap on the account icon at the top-right of the screen.
Next, tap on Terms & Privacy policy, and then click Internet. The browser app should open at this point.
Now, select the address bar and type in the URL FRPTools.com.
Once you're there, scroll down the website and look for All FRP Bypass Download option. Select it.
You will be directed to the next page, wherein you should look for and download the file named Apex_Launcher.
Now, head over to your device's download folder and tap on the downloaded APK and install it.
After installing, go to Settings > Security > Device Administrators. Then, disable Find My Device.
Now, go to Settings > Apps. Tap on Google Account Manager, then, select Disable. Do the same for Google Play Store Services.
Next, open a browser app again. Head to FRPTools.com and go to All FRP Bypass Download.
After that, download the All J Series APK file and install it accordingly. If prompted, enable the Unknown Sources security setting.
Now, go to Settings > Cloud and Accounts > Account, and add a Google account.
After doing so, head back to Settings > Apps and now enable Google Account Manager and Google Play Store Services.
Finally, restart your device and set it up accordingly.
After doing these steps, you should now be able to fully access your device again. If you are more of a visual learner, you can try watching this video for a step-by-step process of the method.
Bypass FRP without a PC for Samsung Running Android 11
There is also another method to bypass FRP locks without a PC. But this method is exclusive to Samsung F12 Android 11 devices only.
After resetting your device, make sure that the device is at the set-up phase before proceeding with the steps.
Here are the steps on how to do it:
First, tap on Start and agree to the T&C. Tap on Next to proceed.
Next, connect to a Wi-Fi network.
After connecting, press the Volume Up and Power Key simultaneously.
A prompt should appear, tap on Use.
Now, press Volume Up and Power Key again quickly. This will enable the Talkback feature.
Here, draw a reverse "L" (⅃) on your screen then select Use Voice Command.
It will now activate the voice command feature wherein you should say Open Google Assistance.
After that, disable TalkBack by pressing Volume Up and Volume Down simultaneously.
Now, select Keyboard, then type "YouTube". To open, you can select it from the dropdown list that will appear.
Next, tap on the User icon and go to Settings.
Head to About and then select Youtube Terms of Service. It should lead you to a Chrome Browser.
Here, tap on the search bar and type either https://tiny.cc/frptools or https://bit.ly/2NKxXYs.
Once you're there, head to FRP bypass APK, then FRP APPS section.
Next, select Open Galaxy Store App, then tap Open. It should lead you to the Galaxy Store App.
Now, direct install Alliance Shield Apk – New.
Tap on Install. It will ask you to sign in with a Samsung Account. It can be any account and doesn't necessarily have to be the one that is registered to your device.
After installing, open the app. Register an account and then verify it.
Next, go back to the app and sign in. It will ask you to name your device. Name it "Android 11 FRP".
After doing so, tap on Next.
Here, enable Device Admin and then tap on Activate. Tap on Next afterwards.
Now, enable Knox and then tap Confirm. Tap on Next and then Finish.
Next, go to App Manager and look for Android Setup. Go to Actions and select Force Stop and Wipe App Data.
Repeat step 22, but this time, instead of Android Setup, look for Open Samsung Setup Wizard. Do the same for Open Google Play Services as well.
Now, head to Search and head to Open Samsung Setup Wizard. Go to Activities.
Finally, open the 1st activity: com.sec.android.app.SecSetupWizard.SecSetupWizardActivity
It is quite a complicated and grueling process, so be sure to follow the steps carefully. After doing all these steps, the FRP lock should be bypassed, and you can now access your device again.
Easier Way to Bypass Samsung FRP: With Computer
If you are not technically skilled, the above FRP bypass methods may be complicated to follow and may cause problems.
You will need to use TalkBack and FRP bypass APK together to get the job done. If you are in a hurry, it may put your patience to the test.
Instead of using No-PC methods, we recommend that you go over a more reliable desktop solution — Unlockit Android that bypasses FRP rapidly without requiring the download of APK file onto your devce, which increases privacy risk.
You can add a new Google account and password to your device after removing the FRP lock with Unlockit. Furthermore, it may remove the Google FRP lock from Samsung devices running Android 6 to 12.
Here are the steps on how you can bypass FRP using Unlockit Android on your PC:

Step 1. First, download and install Unlockit for Android by clicking the download button.
Step 2. Now, launch the app and click on Start to begin.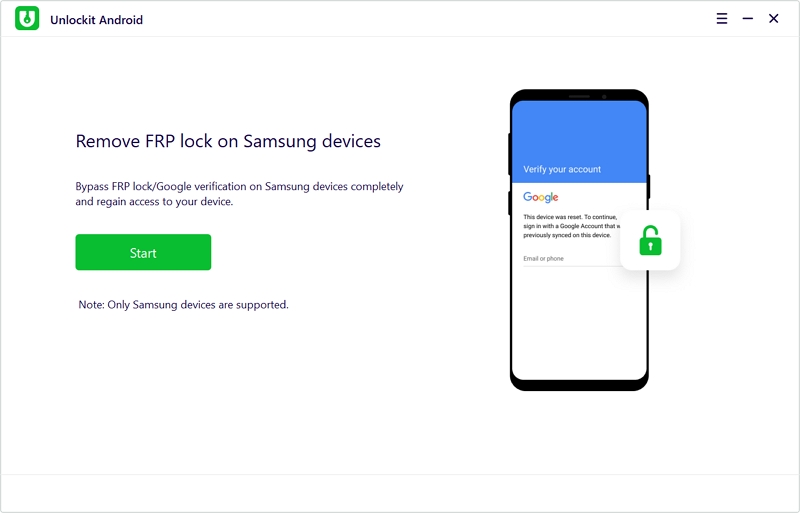 Step 3. Next, connect your device to your PC through a USB cable.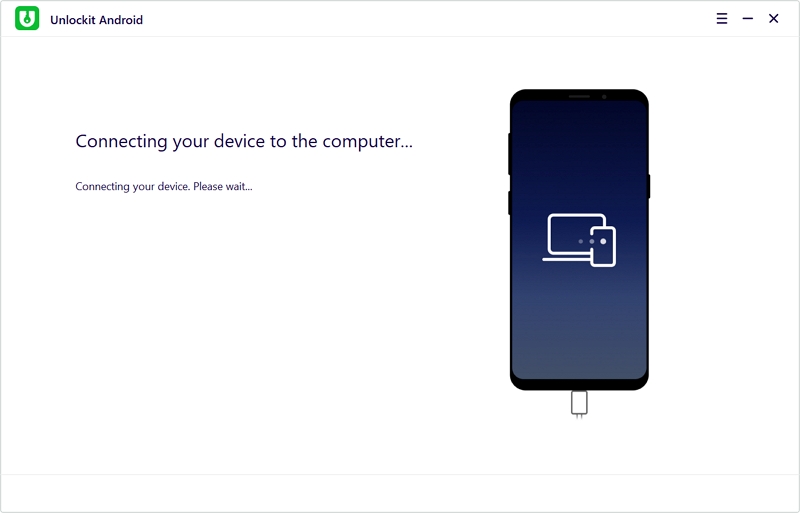 Step 4. After that, select your device's Android OS version, then click on Next.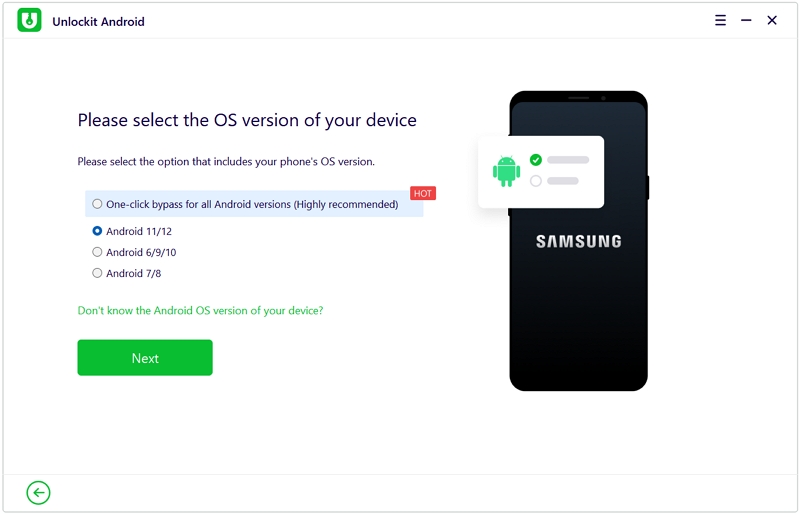 Step 5. Then, Unlockit Android will send a notification to your device. Head to your device and click View.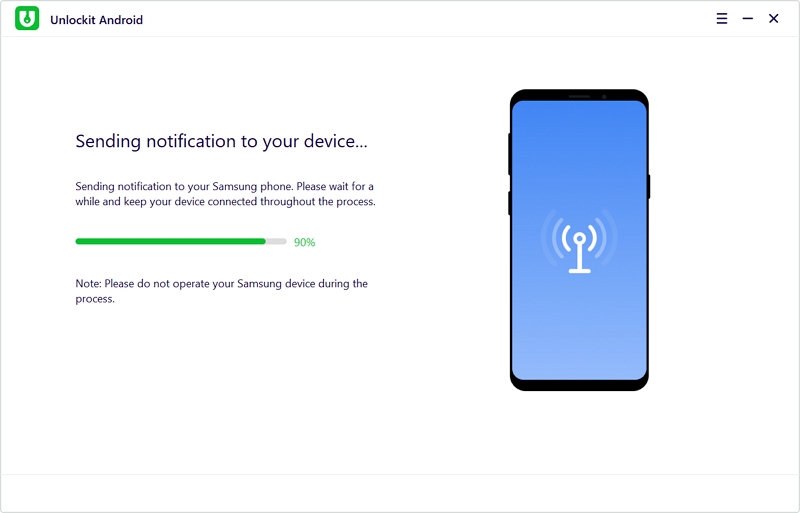 Step 6. Next, you will be given steps on how to set up your device step by step. Follow those steps and Unlockit will handle the rest.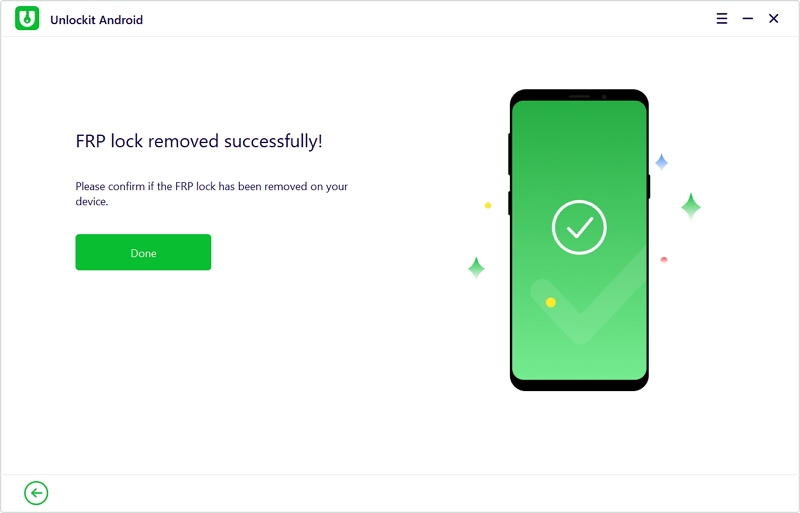 The process is easy to follow compared to the previous methods that even a beginner could bypass FRP locks easily with this app.
Wrapping Up
There are multiple ways how you can bypass FRP on your Android device. You can either do it with or without a PC. Doing it without a PC requires patience since the methods are dragging and can be a bit confusing.
Bypassing FRP locks using a PC, on the other hand, is easier and won't take that much time. External software such as Unlockit Android have an easy-to-use interface that makes the process simpler for the users.
If you have any questions or comments about bypassing FRP locks, feel free to comment down below.